DAAP grad Lee Wilger lands job at Relativity Textiles in Chicago, after co-op there
Cooperative education allows students to explore their options, can lead to employment
Erin Minckley is a successful artist, author and business owner in her own right, but still finds time to extend herself and her business acumen to fine arts students through the University of Cincinnati's co-op program.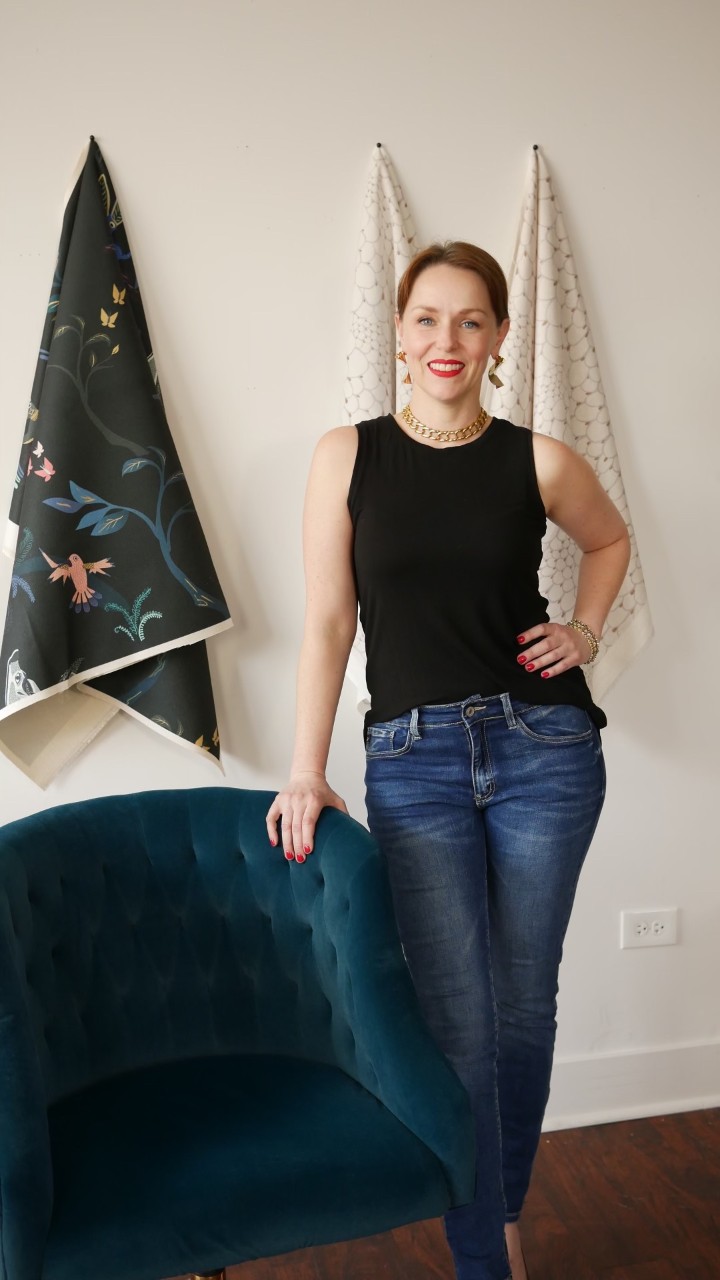 "I was once an art student too and wish I would have had a similar experience that offered insight into the real world," says Minckley, owner of Relativity Textiles, a brick-and-mortar storefront and gallery in Chicago. At the company, which she founded in 2015, Minckley creates luxury wallpaper designs based on her drawings and hand-painted artworks.
In addition to the store, she has an e-commerce business and is the author of "Artists Who Thrive," a guidebook for budding artists that she wrote during the pandemic to help artists succeed.
And she walks that talk, by offering UC fine arts students in UC's College of Design, Architecture, Art, and Planning a four-month cooperative education experience at her Chicago store.
"They get to see it all, the entire process…the boring stuff and the fun designing stuff," Minckley says of having students do everything from setting up window displays to packing and shipping orders.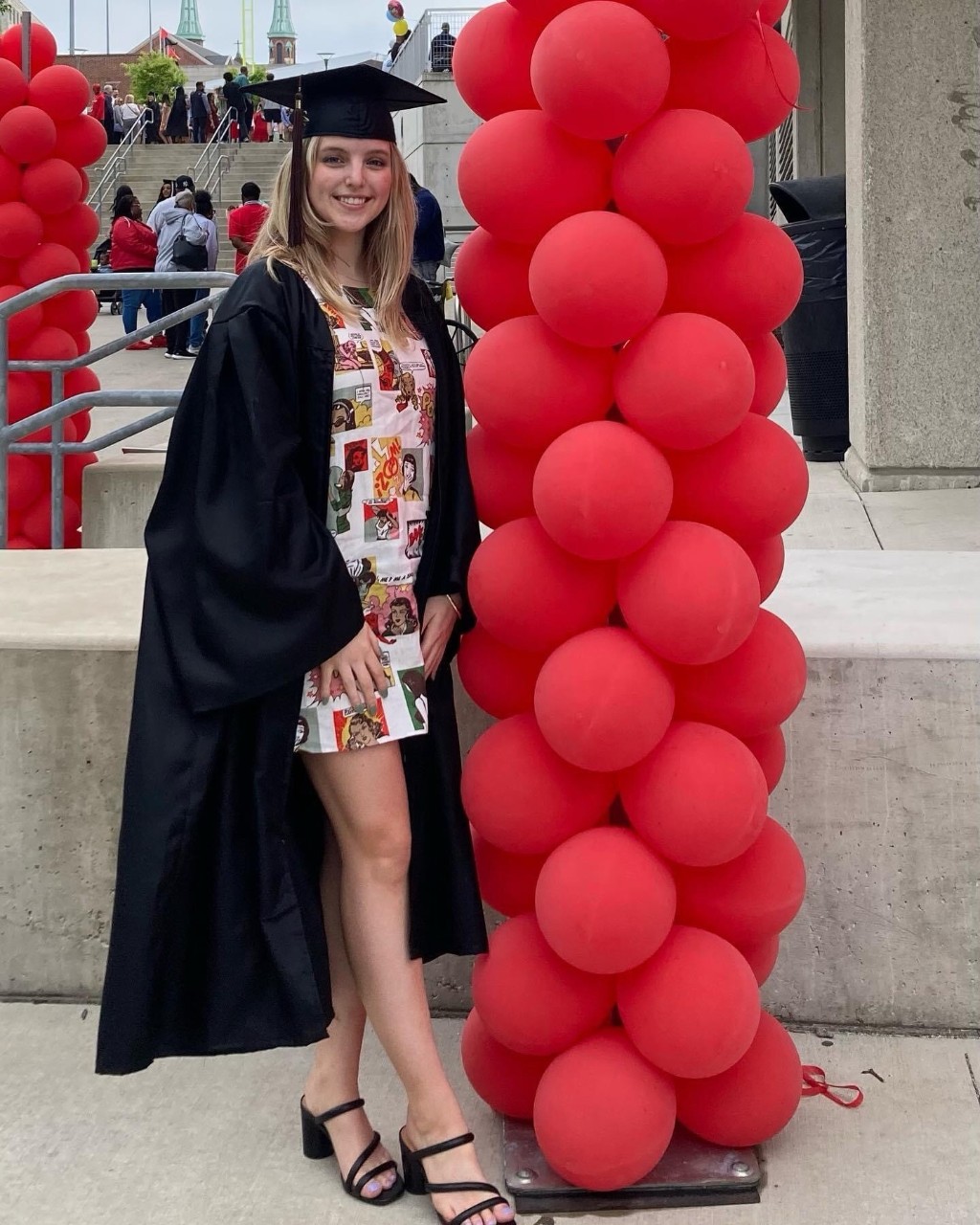 "I didn't expect myself to be interested in the business side of art, but it was really interesting and fun and gave me more of the structure that I wanted in a job," says Lee Wilger, one of five UC co-op students Minckley has mentored since 2018.
Wilger, who graduated in spring 2022 with a bachelor's degree in fine arts and sculpture, enjoyed the experience so much that she landed a job at her co-op, Relativity Textiles, where she starts in July.   
Maureen Buri, assistant professor in UC's Division of Experience Based Learning and Career Education, served as Wilger's co-op advisor and supported her through the job search and interview process. "Our program allows students to explore and define what being an artist means for them individually," says Buri. "We examine diverse approaches to creative professions, and students learn how their skills can translate into opportunities. I'm very proud that our program opens up a variety of possibilities for students to consider in creative fields."
This co-op, Wilger says, was her favorite of the three that she needed to complete her degree. The others were as an instructor in a ceramics studio and the creative director at a specialty bakery.
"I wanted to have as many experiences as possible, and co-op gives you the leeway to see what opportunities are out there and where you can go," says Wilger, who heard about the co-op from classmate Bailey Hess (DAAP '22).
Relativity Textiles was the third co-op experience for Hess, who first spent time co-oping at an artist's studio in Hawaii and then at an art consultancy in Cincinnati. Hess describes Minckley as "a really inspiring mentor" who taught her that you don't just automatically become successful: "You have to do the work."
And that work isn't always on-site. Students accompany Minckley to client meetings, site visits and professional events.
"It's so valuable to have that real-world experience and make those connections in the business," says Minckley, adding, "I just love [UC] and what they are doing with co-op. I hope that when the students leave here, they say: 'That was pretty easy, I can do that.'"  
Beyond the classroom
UC invented cooperative education more than 100 years ago, and we continue to innovate all aspects of experience-based learning, including internships, service learning, virtual co-ops, community projects and industry partnerships.
1
UC recognized as a 2022 ALL IN most engaged campus for college...
December 2, 2022
In 2022, the University of Cincinnati's UC Votes team worked with student groups and community partners to register students to vote, educate students on voting, ensure ballot access, and turn out the student vote. The University of Cincinnati has been recognized by the ALL IN Campus Democracy Challenge (ALL IN) as a 2022 ALL IN Most Engaged Campus for College Student Voting.
2
Venture Lab, Center for Entrepreneurship merge to boost...
December 1, 2022
The UC Venture Lab and the UC Center for Entrepreneurship will merge into a single unit. The newly integrated team will be led by Kate Harmon, executive director of the Center for Entrepreneurship and the El and Elaine Bourgraf Director of Entrepreneurship.
3
UC research seeks to protect athletes from brain injuries
December 1, 2022
Former football players worry about the effects of concussions suffered during their playing careers and hope research from the University of Cincinnati will help them and future generations avoid the worst consequences of brain injuries. UC's Office of Research hosted a panel discussion in the Flashpoint Series, "Brain Injuries in Sports: How we can help our athletes," which addressed the effects of brain injuries and how research aims to develop solutions to protect athletes.
Debug
Query for this