External email header coming to faculty, staff June 8
Beginning Wednesday, June 8, faculty and staff email accounts at the University of Cincinnati will automatically add an external email header to any incoming messages sent from a non-UC affiliated email address. ​​​​​​​
About the external email header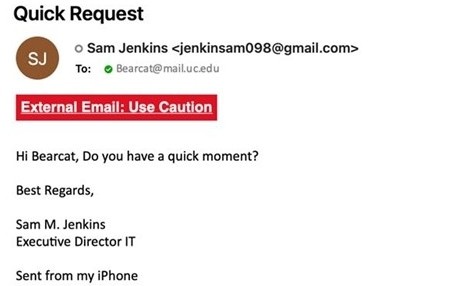 ​​​​​​​"External Email: Use Caution" (white text over UC red background) will automatically appear on messages sent from anywhere other than a uc.edu email account. Messages from legitimate uc.edu senders will not display the "External Email" header.
Recognize and report suspicious emails
Phishing emails often appear to be sent from an internal and trusted source and ask recipients to open attachments or click links. The External Email Header is a simple nudge to encourage recipients to be a little more cautious when opening emails sent from senders outside of UC.​​​​​​​
Follow these guidelines from UC Office of Information Security before clicking links or opening attachments in email messages.
Review the email header information. Do you recognize the sender and their email domain?
Consider the email content. Is this message typical for this sender?
Hover over links to review the address before clicking. Is the email trying to panic you into clicking a link?
Review the signature. Do you recognize the sender's name or department?
Report the message. ​​​​​​​​​​​​​​​​​​​​​If you answer YES to any of the above questions, forward the email to infosec@ucmail.uc.edu. ​​​​​​​You can also select the "Report Message" button located on the right-side of your home ribbon tab.

Please contact the IT@UC Service Desk.
Or, call us: Dial (513) 556-HELP (4357) or (866) 397-3382 from your personal phone. Dial 6-HELP (4357) from a university phone on campus. Then, select option 2.