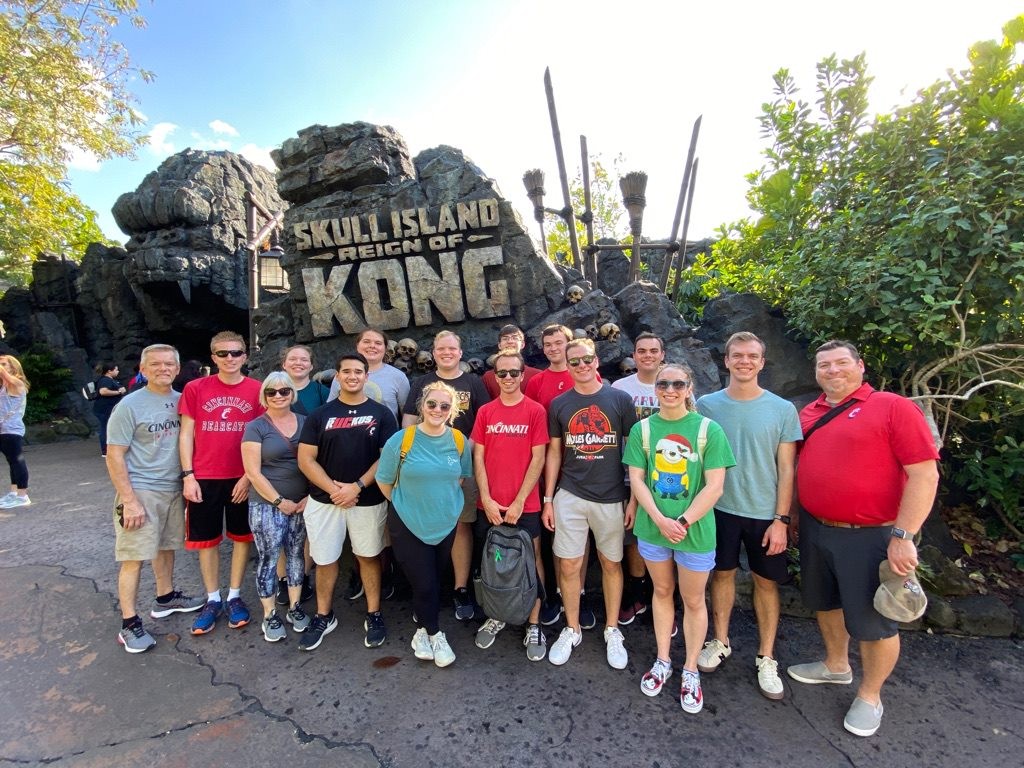 UC makes connections to key players in the theme park industry
New theme park design class and an active student networking group lead to more student co-ops
Andrew Holcroft's love affair with theme parks started after a trip to Disney World.
The Madison, Indiana, resident was a 10-year-old who was "absolutely blown away" as he marveled at the 40-square mile recreation and entertainment complex, which is described by some visitors as the most magical place on earth.

For Holcroft, now a fourth-year industrial design student at the University of Cincinnati, Disney World was a place for family memories and entertainment, but as he entered high school he seriously began to think about fields of study, careers and if he could do more than just visit theme parks.
Maybe he could be part of a team creating or enhancing a theme park. Holcroft had a background in musical theater while in high school and initially considered stage design before an adviser suggested he also take a look at UC's College of Design, Architecture, Art, and Planning.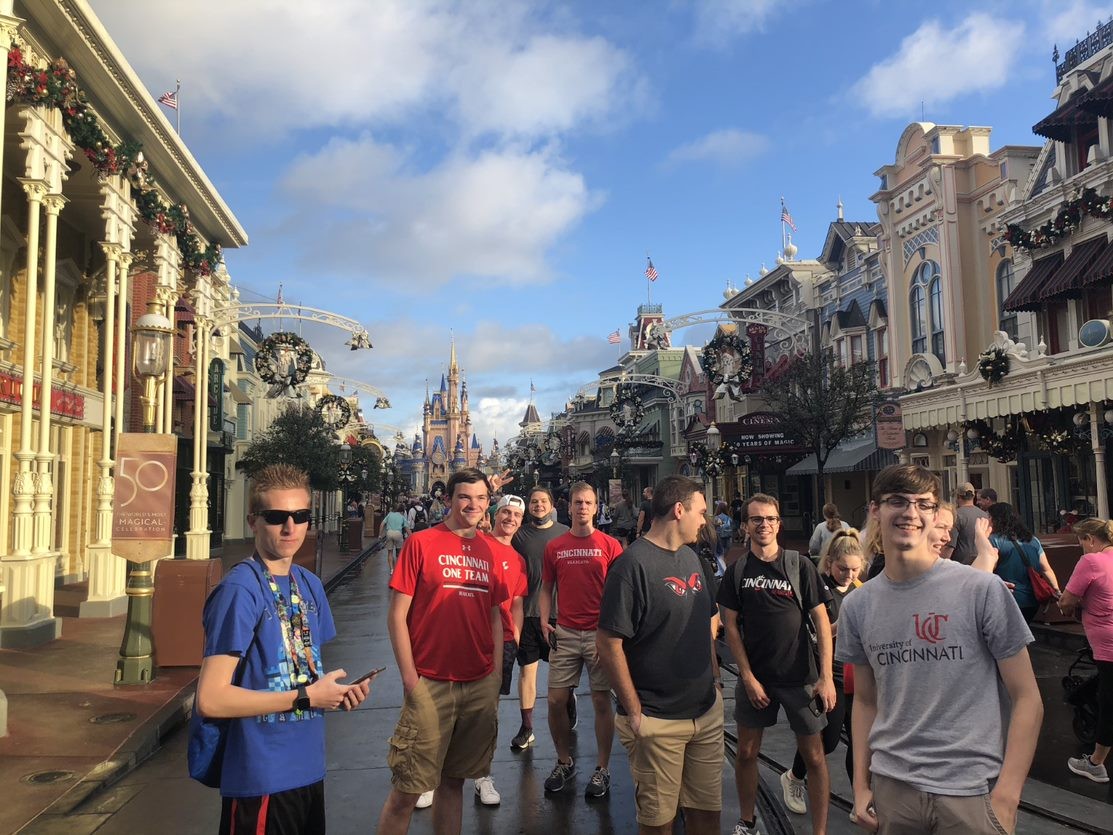 "The first time I visited that building was the week before school and I absolutely lucked out and fell in love with it," says Holcroft. "This is where I wanted to be. I came to UC because of co-op, and I knew even then that the theme park industry was very based on who you knew and what experience you have in order to enter the field."
"I couldn't just walk into a firm and say, 'Here's my resume. You know I have the skills listed on this paper, you should hire me,'" says Holcroft. "Networking and having that hard experience matters. So co-op had to be part of my journey and that's been one of the greatest relationship building experiences."
Holcroft made those connections thanks to a couple of avenues: a new class launched during the fall 2021 at UC titled Domestic Study Tour: Industry and Experience of Theme Park Design and his involvement in the UC chapter of the Themed Entertainment Association NextGen (TEA). 
Holcroft is president of TEA, which hosts monthly meetings and invites creators, designers, developers and producers in the theme park industry to address interested students at monthly meetings. Holcroft is co-oping at JRA - Part of RWS Entertainment — a Cincinnati-based firm that creates immersive experiences for theme parks, museums, brand attractions and leisure destinations worldwide.
The theme park design class at UC is taught by Cindy Damschroder, associate professor and senior director of academic operations in the Division of Experience-Based Learning and Career Education, and Todd Foley, PhD, professor of digital innovation, future of work and remote work.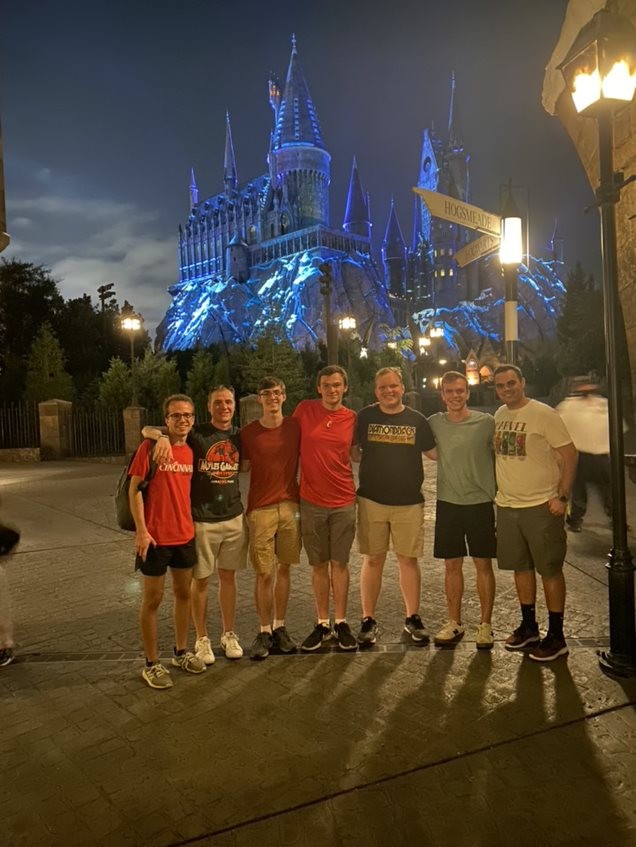 The class allows students to design their own theme park area from the ground up, network with professionals and UC alumni in the industry and finally travel to Orlando, Florida, for a visit to Disney World and Universal Studios.
"There were like 16 or 17 of us in that class last year, and I found 16 people on campus who had the same interests and passions that I did," says Holcroft. "I would 100% recommend and encourage anyone with a love of the theme park industry to enroll."
Damschroder says she and Foley started the class after hearing from industry partners that UC students had interest in the theme park industry. They met influential industry leaders during a 2018 trade show event hosted by the International Association of Amusement Parks and Attractions in Orlando, Florida.  
"It's a very tight industry and kind of hard to get into, but once you're in there, everyone kind of knows everyone," she explains.
"We made a presentation about how UC could be a pipeline to talent," says Damschroder.  "Some of them were interested in hiring for family entertainment centers or they wanted college students for summer work. But there were others like Universal Theme Parks. We started a relationship with the company hiring co-op students."
Foley said he was surprised at how many top design firms for the themed entertainment world are in Cincinnati. Cedar Fair Entertainment Company owns Kings Island Amusement Park in Mason, Ohio, and is one of the world's largest regional theme park operators.
"They were hiring students, but we weren't really engaging the industry as a university, like we would with the GE's of the world or the Fifth Third Banks or other big companies," says Foley. "The course is one of the ways we could make the connection between what students want, what the industry needs and what we as a university desire."
While in Orlando, Damschroder and Foley tapped into a UC alumni network of designers, engineers and other professionals working for Disney World. When the theme park class launched, UC alumni at Disney were instrumental in arranging behind-the-scenes tours of Disney during a class trip to Orlando.
"The students were saying, 'We would never have had this kind of access otherwise,'" explains Damschroder. "We were able to walk on certain rides and get that kind of backstage information about the amusement park. Hopefully, that just gave them confirmation that this not only is a passion, but it could be realized as a career objective for our students."
Lainey Sage, a fifth-year mechanical engineering technology major with a minor in robotics and automation, says she was eager to take the theme park design class. It got delayed because of COVID-19 restrictions, but Sage has enjoyed co-op experiences at The Walt Disney Company and LifeFormations, an entertainment agency in Madeira, Ohio, prior to the class. 
Sage has a passion for developing high-quality animatronics for theme parks. During her time at LifeFormations she was able to partake in the design, fabrication, and assembly of multiple animated figures that are now featured in Disney's Jungle Cruise attraction in both Disneyland Park and Magic Kingdom.
Once the theme park design class at UC opened, Sage says she was "super excited" to participate.
"I thought it was the single most helpful class I've taken at UC in teaching me about something I was passionate about outside of my engineering classes," says Sage. "I of course loved my engineering classes throughout the years, but knowing I wanted to go into this industry, I felt a little unaware of where to begin. We were introduced to so many people in the industry, with an emphasis on UC grads, that it truly helped me develop professional relationships with people who could help me learn and grow."
Sage, who will graduate this spring, has accepted a job offer at 3DX Scenic, a custom scenic design and fabrication facility in Blue Ash, Ohio. 
"I have very quickly realized that a career in themed entertainment is very fast-paced and stressful," says Sage. "Everything needs to be bigger and better than the last product made and it must top the competition's product. It's a lot of pressure but as someone who grew up loving theme parks, I never get over knowing my work is making other people smile and that I get to work in a place where we make the impossible a reality."
Featured image at top: UC students and faculty in front of the Skull Island Reign of Kong attraction at Universal Studios in Orlando, Florida/provided
Become a Bearcat
Whether you're a first-generation student or from a family of Bearcats, UC is proud to support you at every step along your journey. We want to make sure you succeed — and feel right at home.
2
Fox19: UC hosts international aerospace conference on AI
June 2, 2023
UC College of Engineering and Applied Science Professor Kelly Cohen talks to Fox19 about how artificial intelligence is becoming more ubiquitous as it becomes more trustworthy. UC is hosting an international conference on artificial intelligence.
3
Making music and paying it forward
May 31, 2023
Newly minted University of Cincinnati alum Hayden Glasgow says the path to becoming a working artist can be challenging. Fortunately for Glasgow, CCM '23, the generosity of others is allowing him to pursue a music career.
Debug
Query for this