UC exchange student shoots for the stars
Paula Vulić performs COSMOS astrophysics research as part of international exchange program
Paula Vulić, a master's student in astrophysics from the University of Zagreb (UZg) in Croatia set her sights high during an internship exchange semester this spring at the University of Cincinnati. 
Her graduate internship to expand her research on the evolution of galaxies is the first of its kind for UC's astrophysics department, a unique student exchange between the two universities. UC and UZg have had a formal collaborative relationship since 2016 and have connected through summer internships, visiting scholars, and joint research.
"I'm kind of an experiment, I'm the first person who's enrolled in that kind of program here," said Vulić. "[The astrophysics faculty members] were really friendly and they were really open for different options."
Student and faculty research mobility is critical to developing global teams capable of solving real-world problems. It drives UC's innovation agenda, part of the Carnegie-1 research university's Next Lives Here strategic direction. 
Researchers at UC and UZg are part of an international community of scientists analyzing telescopic data from the Cosmic Evolution Survey (COSMOS). COSMOS studies a two-square-degree section of the skies chosen to be as free as possible of interference across the electromagnetic spectrum. Through this window on the universe, focus ground- and space-based telescopes to gather data on over 2 million galaxies in the hopes of understanding the evolution of our own.  
Vulić's mentor, UZg professor Vernesa Smolčić, is one of the global leaders of the COSMOS project. After a decade abroad, Smolčić returned to Croatia in 2013 to start her own research group. Vulić explained that having such a world-renowned scientist in her country shaped her interest in astrophysics.
"I can't even describe how good [Smolčić's presence] is, because it gave a lot of opportunities to young people," explained Vulić. "If she didn't come back, probably, definitely, I wouldn't be in astrophysics."
Smolčić stressed the importance of gaining international experience for students in the field. An exchange semester in the United States gave Vulić the opportunity to analyze x-ray data that complements the radiowave research she was able to do in Croatia.
As Vulić explains, that astrophysical data is the culmination of years of preparation—and a few 30-second rotations using a space telescope.
"It doesn't sound like much, but you can get enough data from that 30 seconds," said Vulić. "But it takes a lot of time to reduce the data, to do all of the calculations."
"Basically, my job as an astrophysicist is, I'm sitting behind my laptop and I'm working with these data," she said.
She and other astrophysicists are trying to find galaxies in the process of evolution, merging and changing shape over time. Those changes could inform other scientists on the origin of our own galaxy, the Milky Way, as well as predict its future.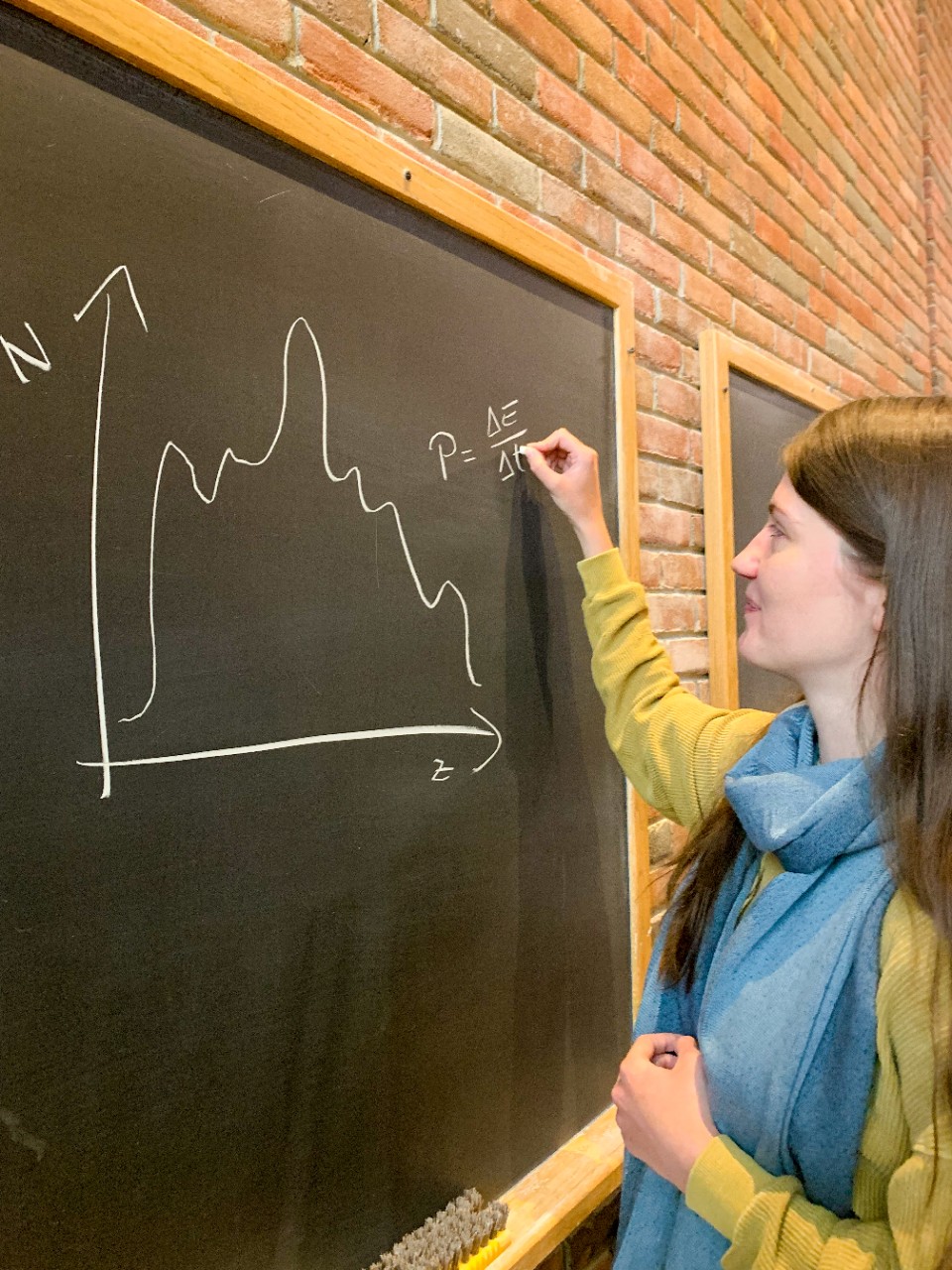 During her semester at UC, Vulić continued her research on the potentially dynamic galaxy cluster designated 10913, lightyears away from Earth.
"I'm trying to find some patterns in x-ray emission which could tell me more about the evolution of this cluster of galaxies," said Vulić. "We really hope to find something dynamic there, something interesting happening, because by observing that, we could understand better how our galaxy became what it is today."
To produce a clearer picture of the galaxy cluster, Vulić uses a method known as "stacking"—filtering the noise from the vast array of data she has available by identify the signals that appear repeatedly within iterations of the image.
While Vulić's research is in its early stages, her internship supervisor, Matthew Bayliss, professor of astrophysics at UC, has been pleased with her accomplishments this semester. 
"I'm grateful for the opportunity to explore collaborative work with Paula and her thesis advisor at University of Zagreb, Professor Vernesa Smolčić," said Bayliss.
"Paula has been a fantastic addition to my research group. She asks great questions and is a very productive, independent researcher. I am optimistic that the work she has completed while visiting UC will be a part of an article that she will ultimately submit to a refereed journal."
Vulić sees her experiences at UC as the first stage of a career in academic research.
She is polishing up her master's thesis, preparing to defend it and graduate when she returns to Croatia in May. She has already applied to a handful of doctoral programs in the hopes of continuing her academic journey and research.
Her first priority? Finding a program with close access to space telescopes. Vulić notes that the best space telescopes are controlled by NASA and the European Space Agency, so her most likely choices will be in the United States, Germany or Denmark.
"I like Cincinnati, but if I come [to the United States] again, probably I'll go somewhere more southern where it's warm…. We have all four seasons, but not in one week!"
No matter where Vulić ventures next, she has a stellar future ahead of her.
Feature image at top: Vulić captured a photo of the stars during an outing with the UC Mountaineering Club. Photo/provided.
2
Hoffman Honors Scholars honor University of Cincinnati alumnus
December 4, 2023
The estate of Hugh Hoffman, MBA '63, has established a new scholarship program at three University of Cincinnati colleges. A $56 million gift will create the Hoffman Honors Scholars Program and support student-athletes with an extraordinary endowment.
3
What is UC's 4 + 1 program?
December 4, 2023
You may be a UC student thinking about taking your education to the next level — UC's College of Arts and Sciences has a pathway to help you do just that. A&S has no fewer than 15 five-year programs — from biological sciences to Spanish to psychology — where you can earn both your bachelor's and master's degrees in just five years, versus the traditional six-year track. The Bachelors and Master's 4 + 1 Program is designed to increase your marketability and deepen your understanding of the subject matter. And in an increasingly competitive job market, you may want to investigate an additional year of study.
Debug
Query for this