UC names chief digital officer
President Neville Pinto announces hiring of Bharath Prabhakaran to guide digital transformation
University of Cincinnati President Neville Pinto announced today that Bharath Prabhakaran has been named UC's new vice president and chief digital officer.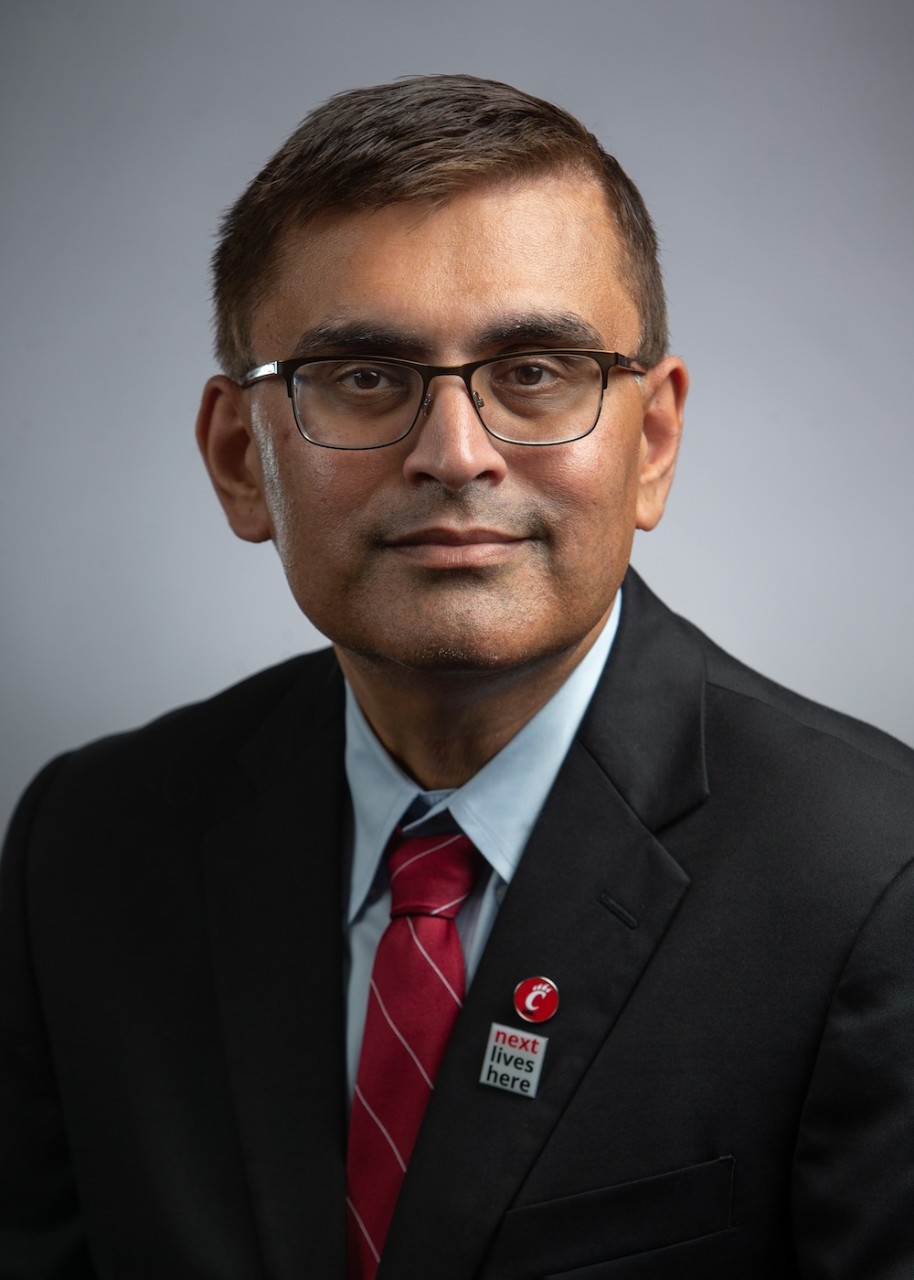 Prabhakaran will begin August 22. He will lead IT@UC and provide leadership and support to digital transformation initiatives across the university. Prabhakaran emerged as the top candidate following a national search and comes to UC from the University of North Texas System, where he has served as deputy chief information officer and associate vice chancellor of enterprise applications.
He is recognized as a collaborative and empowering problem solver in information technology. In his role at the UNT System, he has focused on formulating IT strategies, governance and policies. He also established the vision and strategic leadership for all enterprise applications.

"I'm confident that Bharath is the innovative and agile leader UC needs to guide us through our digital transformation," said Pinto. "He will lead us in answering a key question: 'How will rapid changes in digital technology impact higher education?'" 

Pinto said two UC task forces have begun this important work. One task force is studying the opportunities for digital transformation on the core academic experience of our students. The second group is focused on the larger campus experience of students. In addition, he said, UC is working on a detailed assessment of its overall digital infrastructure.
In the past, the leader of IT@UC has reported to the provost. Moving forward, the chief digital officer will report directly to President Pinto and serve on the President's Cabinet.
Prabhakaran said his initial goals will involve connecting with teams all across campus and learning about the current portfolio of core IT services at UC. He looks forward to bringing the IT@UC and Business Core Services teams together with a common vision, mission and values.
"I am really excited about the simple but profound transformative vision 'Next Lives Here' laid out by President Pinto and the leadership team and how technology can support digital transformation and play a key part in helping us get there," said Prabhakaran. "In my view, technology can be a strategic partner to the business and enterprise and help accelerate progress toward enhancing the student experience and success."
Prabhakaran has over 25 years of experience in IT in both on-premise and cloud deployment models. He has worked at start-ups and large companies in the private sector including 18 years at Oracle, where he rose from a senior program manager to a senior manager to director, then senior director. Among his accomplishments, he led the transformation of Oracle Fusion Applications to the cloud. He also has significant experience working in non-profits and serving on boards.
Pinto thanked the search committee led by Executive Vice President Ryan Hays, as well as those who took the time to participate during open campus sessions with faculty, staff and students. In addition, he thanked Annette Ready, associate vice president for innovation & partnerships in IT@UC, for stepping up to lead the unit throughout this transition.
Impact Lives Here
The University of Cincinnati is leading public urban universities into a new era of innovation and impact. Our faculty, staff and students are saving lives, changing outcomes and bending the future in our city's direction. Next Lives Here.
1
Cincinnati Opera and CCM announce details of next Opera Fusion:...
March 24, 2023
Cincinnati Opera and the University of Cincinnati College-Conservatory of Music (CCM) are pleased to announce the next events in their joint program, Opera Fusion: New Works. The two new operas—Robeson by Scott Davenport Richards and David Cote and The Righteous by Gregory Spears and Tracy K. Smith—will receive workshops this April and May, and the public is invited to attend a sneak peek.
2
Cincinnati Edition: U.S. joins a growing number of governments...
March 24, 2023
TikTok has 1.5 million users in the United States, and is currently under review by the U.S. congress. The Chinese company has been accused of aggregating data for nefarious purposes, as it is ultimately controlled by the Chinese Communist Party. Cyber security expert Richard Harknett was a guest speaker on "Cincinnati Edition" to discuss measures that might be, or should be, taken to protect Americans privacy and national security
3
What is Mathematical Sciences?
March 24, 2023
Misconceptions can arise when it comes to pursuing a mathematics degree. It is commonly assumed that undergraduates studying mathematics are on the path to becoming math teachers or professors, but this is not always the case. The mathematics department at the University of Cincinnati's College of Arts and Sciences, for instance, equips students with the skills and knowledge needed for a diverse array of careers, such as biomathematical researcher and cryptographer.
Debug
Query for this