UC Foundation trustee comes back strong
Arun Murthy's story shows mutual rewards of re-engaging with alma mater
It's a fairly common alumni tale: A student is active on campus and retains that enthusiasm upon graduation, but then "life happens," he moves away and the connection to his alma mater gradually fades, along with the wealth of resources and opportunities it offers.
For many alumni, the story sort of ends there, and that may have been Arun Murthy's story, too. Except fate intervened, his own irrepressible "inner Bearcat" resurfaced, and he became a volunteer leader in UC's institutional advancement. His story is still being written, but he loves the plot twist it took.
Murthy, BUS '95, grew up in Cincinnati and as a high school student went to work for a local life insurance company in the late 1980s. Around the time he was being accepted by UC as well as Indiana's honors program, a leader in the company's investment division brought him over to that side of the business, which quickly began to shape Murthy's destiny.
"He said to me, 'I'm going to break away and start my own registered investment advisory firm, and I'd like you to come with me,'" Murthy recalls. "Then he asked if I'd be willing to stay home and go to UC rather than IU. I thought that if I want to be in the investment or finance field, I could go to UC and already have this good job, or I could go to IU, probably work at McDonald's for a couple years and then hopefully figure it out. So I agreed to stay home."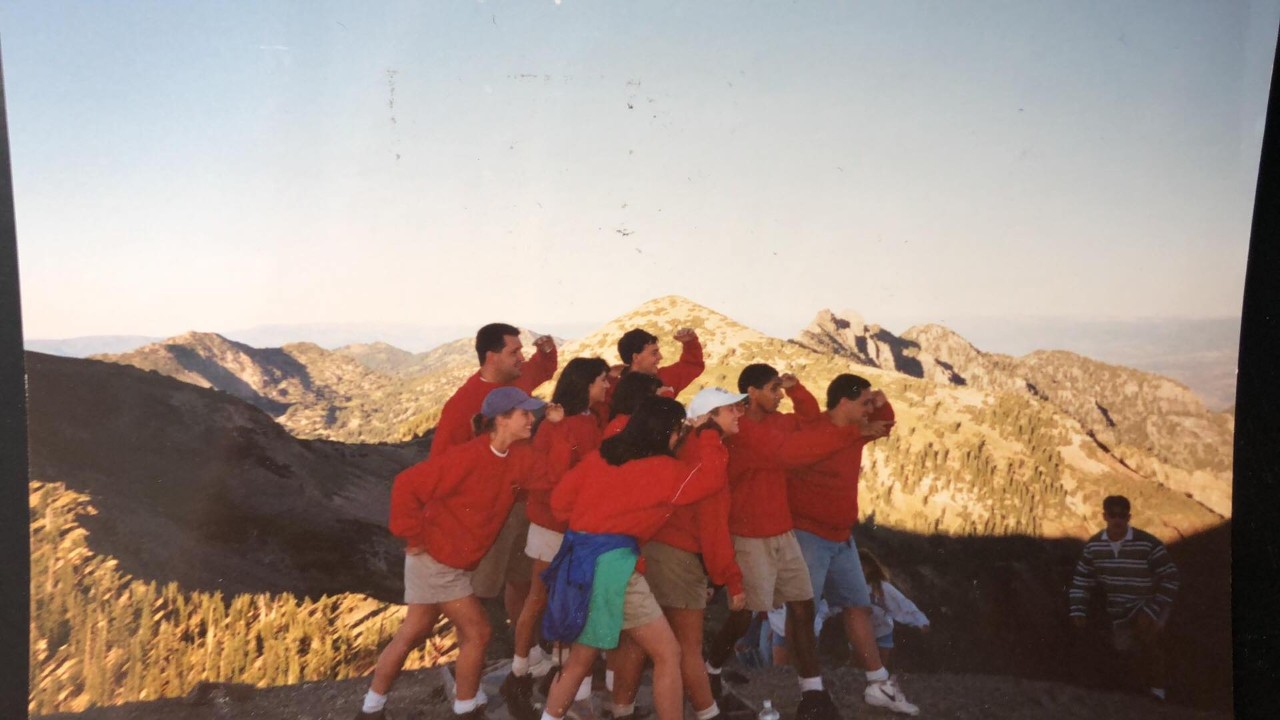 Getting onto a successful path in life is largely a matter of finding rewarding opportunities and falling in with the right people early on, and Murthy did both. He became part of CBA Tribunal, Alpha Kappa Psi business fraternity, Student Ambassadors, Student Government and the Student Alumni Council, and was named OΔK (Omicron Delta Kappa Honor Society) Freshman of the Year in 1990-91. Along the way he befriended such student leaders as Patty Klingbiel, BUS '91, Kirk Perry, BUS '90, HON '15, and Sean Connell, A&S '91, all of whom have been extremely active alumni leaders through the years. "Seeing how people could be so active and make a difference in a large university made me think I could do that, too," Murthy says.
"Arun and I met as part of the College of Business Tribunal, and I remember him being incredibly enthusiastic and engaged," says Klingbiel. "He was a standout as a student leader."
Arun and I met as part of the College of Business Tribunal, and I remember him being incredibly enthusiastic and engaged,
Patty Klingbiel, BUS '91
Murthy continued to work for the same company, TruePoint Wealth Counsel, after graduation, and stayed involved with UC in his young alumni years. He moved to Boston in 1999 to work for Fidelity, which was TruePoint's primary custodial partner, and pitched in to help UC co-ops find placements in the city. After a couple years, business opportunities took him to Dallas where he has remained for more than 20 years. Murthy works for TD Ameritrade Institutional and Charles Schwab Advisor Services as a relationship manager, consultant and salesperson for registered investment advisors overseeing assets at TD Ameritrade and Schwab. He likens his role to being a quarterback — helping his clients grow their businesses with issues ranging from human capital to technology.
UC Foundation trustee comes back strong
Murthy's undergraduate career had demonstrated the great value he placed on being involved, yet new priorities, plus the distance from Cincinnati, caused his personal UC connection to wane over the next decade-plus, which he recognized and regretted. He can trace the reversal to April 3, 2014, when then-UC President Santa Ono's #Hottest College in America Tour stopped in Dallas, piquing Arun's curiosity.
"I brought my parents, both of whom are UC alumni, to the event with me," Murthy remembers. "And I thought, 'Maybe I need to start thinking about giving back to the university — it's been a while since I've done anything outside of athletics.'"
Word of Murthy's interest started circulating. Before long he heard from a former TruePoint co-worker who was good friends with Judy Pershern, LAW '84, a current UC Foundation trustee, who wanted to further explore Murthy's interest in volunteering. From there, his reengagement continued to ramp up, which also strengthened his reconnection with some of his college friends. In fact, Klingbiel, who had been very involved in the work supporting UC's Bicentennial a few years ago, nominated him in 2021 for a seat on the UC Foundation board.
"I knew Arun's leadership profile would benefit the board, and I really like the fact that he has lived in different places — outside of Cincinnati and Ohio," she says. "That broader geographic diversity is important for the board and something I relate to myself, having lived in New York and Chicago."
Murthy's term as a UC Foundation trustee began last October, and it didn't take long to recognize the synergistic relationship he found himself in.
"The experience and passion of the people on this board is overwhelming," he says, enamored of the wide range in age, professional fields, academic backgrounds, interests and geographic regions of his fellow trustees. "Joining the board has revitalized my desire to know all about what's going on at UC. For example, I'm learning so much about what UC Health is doing, and I've pushed a little further into my own college … I had a nice meeting with Lindner College of Business Dean Marianne Lewis about possibly setting up a program in certified financial planning, a field that has gained more relevance in recent years."
Given his circumstances, Murthy often reflects on how alumni engagement in far-flung locations might become easier and more fulfilling. He knows, for instance, that there are a lot of Bearcats in the Dallas-Fort Worth area — many more than those who are active in the UC Alumni Association's Dallas alumni network. He loved seeing so many Bearcats at the 2021 Cotton Bowl, played about 25 miles from Murthy's home, but to him that just proves the point: Alumni passion to follow UC Athletics, especially with the Big 12 Conference looming, can be a tremendous springboard to broader, mutually rewarding involvement across the full spectrum of the UC community. And noting that philanthropic support is a fundamental aspect of alumni engagement, Murthy can easily put himself in his fellow alumni's shoes.
Making It Easier to Be Involved
"I remember the immediate reaction in seeing that '513-556-' number when our phone rang —, 'UC is calling for support,'" Murthy says. "I had a friend who would say, 'I know that number — I used to work part-time there.' Unfortunately, I think there's a misperception that gifts just go to some general bucket of funds. People may not realize they can designate their gift and support whatever is personally important to them. If they understand that their $50 or $500 is going to something very specific that they care about, most people will be interested in giving.
"When I looked at this year's UC Day of Giving, I was impressed by the ways you could target your gift, the various challenges that could double it, and how much better that is for the donor. Five or 10 years ago we weren't able to do that and it probably kept some alumni from being as engaged as they might have been. Now you can see how easy it is to make a real difference."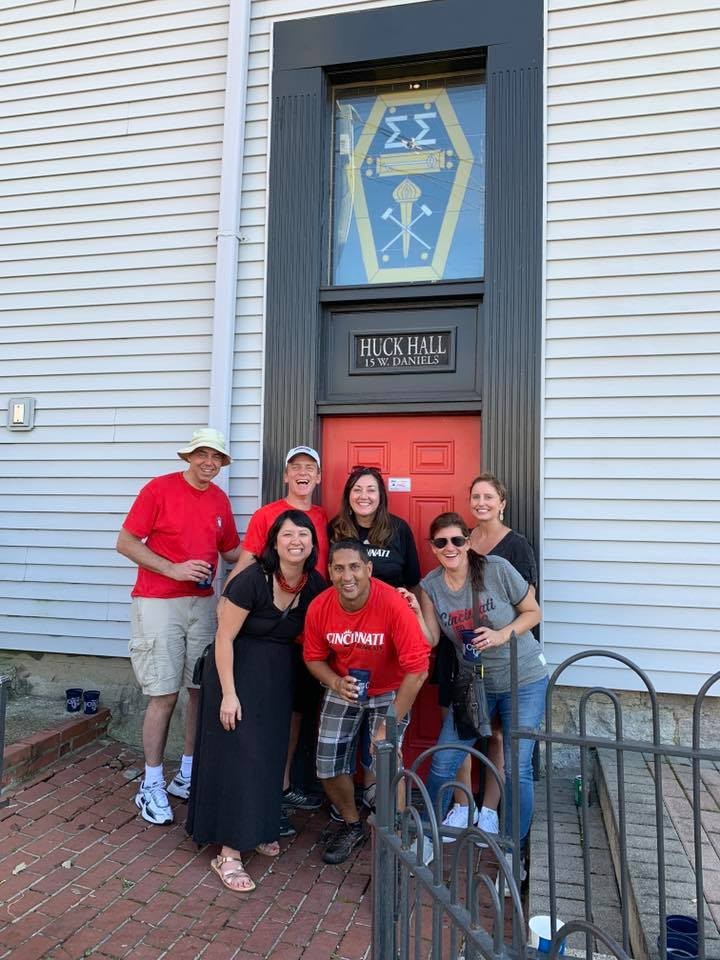 Murthy also wonders about the possibilities of the next frontier to further personalize and facilitate the philanthropic and engagement experience. It's precisely the what-if thinking that vibrant organizations need. The UC Foundation board naturally thrives on new blood, new ideas and new energy from new leaders. And when the UC Foundation and UC Alumni Association thrive, so will the university as a whole, along with its alumni family. That process is what animates Arun Murthy.
"It's been exciting to re-engage," he says. "I lived and breathed UC for five years as a student and was involved as a young alumnus before somewhat drifting away for a while. To come back and see what's happening here, I kind of wish I could be a student now! I get back to campus periodically and post some pictures — 'This used to be Lot 1, there were 1,000 cars parked there, look at it now!' — and it's amazing how many of my old college friends post comments expressing their excitement.
"There's a lot of passion around UC. We just need to keep channeling that and making it easy for others to rekindle their relationships with the university."
This story is part of a series of profiles of members of the University of Cincinnati Foundation's Alumni Association Committee, composed of volunteers who help guide the UC Alumni Association's efforts within the framework of the Foundation's larger advancement mission on behalf of the UC community.