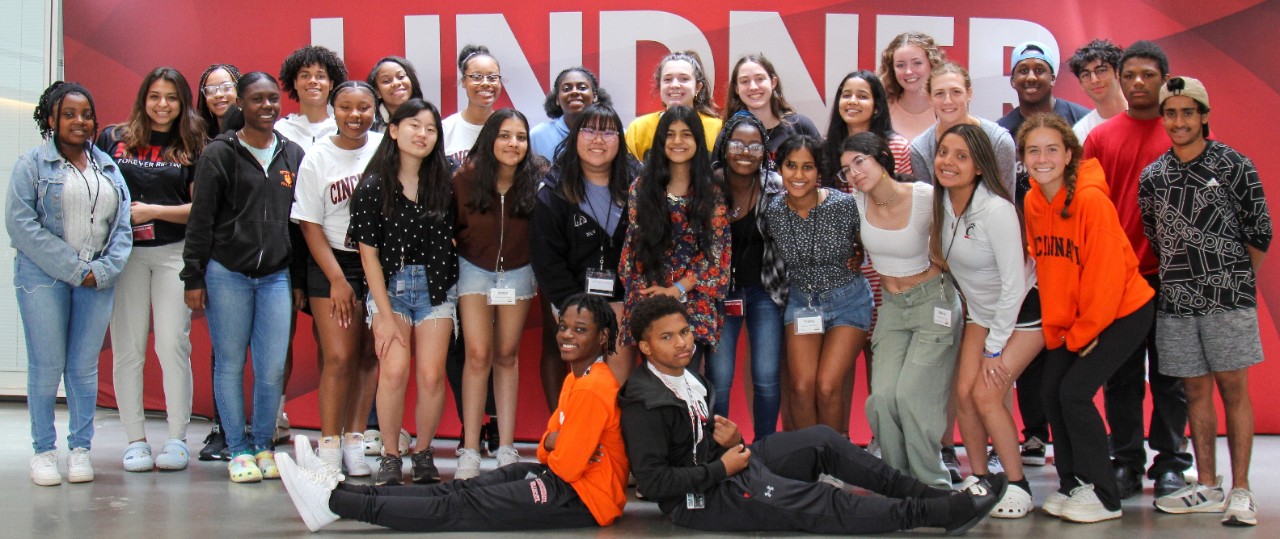 Lindner Summer Institute educates future business problem solvers
Thirty high school students receive a taste of Lindner, UC experience
The Lindner Summer Institute recently provided a glimpse of what the University of Cincinnati and the Carl H. Lindner College of Business offers its students to 30 rising high school sophomores, juniors and seniors from Ohio, Kentucky and Indiana.
During the multi-day, overnight program organized by Lindner's Office of Inclusive Excellence, students engaged in activities with and listened to presentations by Lindner students, staff, faculty and alumni. Participants were fully immersed in the on-campus experience, eating in dining halls, sleeping in Marian Spencer Hall, enjoying free time at the Campus Recreation Center, partaking in a campus scavenger hunt, attending a Cincinnati Reds game and visiting the 1819 Innovation Hub. Even with their days packed full of activities and instruction, the students quickly formed friendships and built community.
The Lindner Summer Institute was originally created to attract and introduce historically underrepresented groups to the world of business, including women or all students who identify as Black and African American, Hispanic and Latinx, and Native American.
"Our goal was to provide students with an impactful and motivational experience to get them energized and excited about pursuing a business education. We achieved that goal by connecting them with current student entrepreneurs, faculty experts in project management and operations, and fun activities to bond with fellow participants," said Nick Castro, assistant dean, office of inclusive excellence. "It was great to see the students connect almost immediately when they arrived for the program. Their collaborative nature was on full display as they supported and cheered each other on."
Lessons in entrepreneurship
During an afternoon in Lindner Hall's Kautz Attic, participants listened to both current students and UC graduates discuss a wide range of topics centered around entrepreneurship.
Jaden Walton, BBA '24 and the Center for Entrepreneurship's student entrepreneur-in-residence, shared his background in the field, which includes involvement with the start-up ripple and aiding students with their burgeoning businesses. Lindner Summer Institute participants displayed their curiosity, posing questions to Walton about ripple's logistics, scalability, and when and how to elicit venture capital investment. Walton's advice for the students was simple: be ambitious. He recalled a story about how a ripple team member cold-emailed Amazon CEO Andy Jassy, who surprisingly agreed to join ripple for a video call.
Nick Nguyen, BBA '25, is the owner of Sidewalk Cincy, a shoe reselling business. An immigrant from Vietnam, Nguyen detailed the beginnings of his business and why he pays close attention to trends. "You have to know which commodity people are willing to spend extra money on," he said. "Know your area, your market and your niche."
The following session featured James Marable, BBA '06, and Abby McInturf, DAAP '18, recounting their respective career paths and fielding a variety of queries from the students, notably on subjects related to mentorship, teamwork and imposter syndrome.
Marable, product marketing manager-design programs for Amazon and previously the founder/operator of a fashion boutique for nearly seven years, reminded students of the fruits born from collaboration.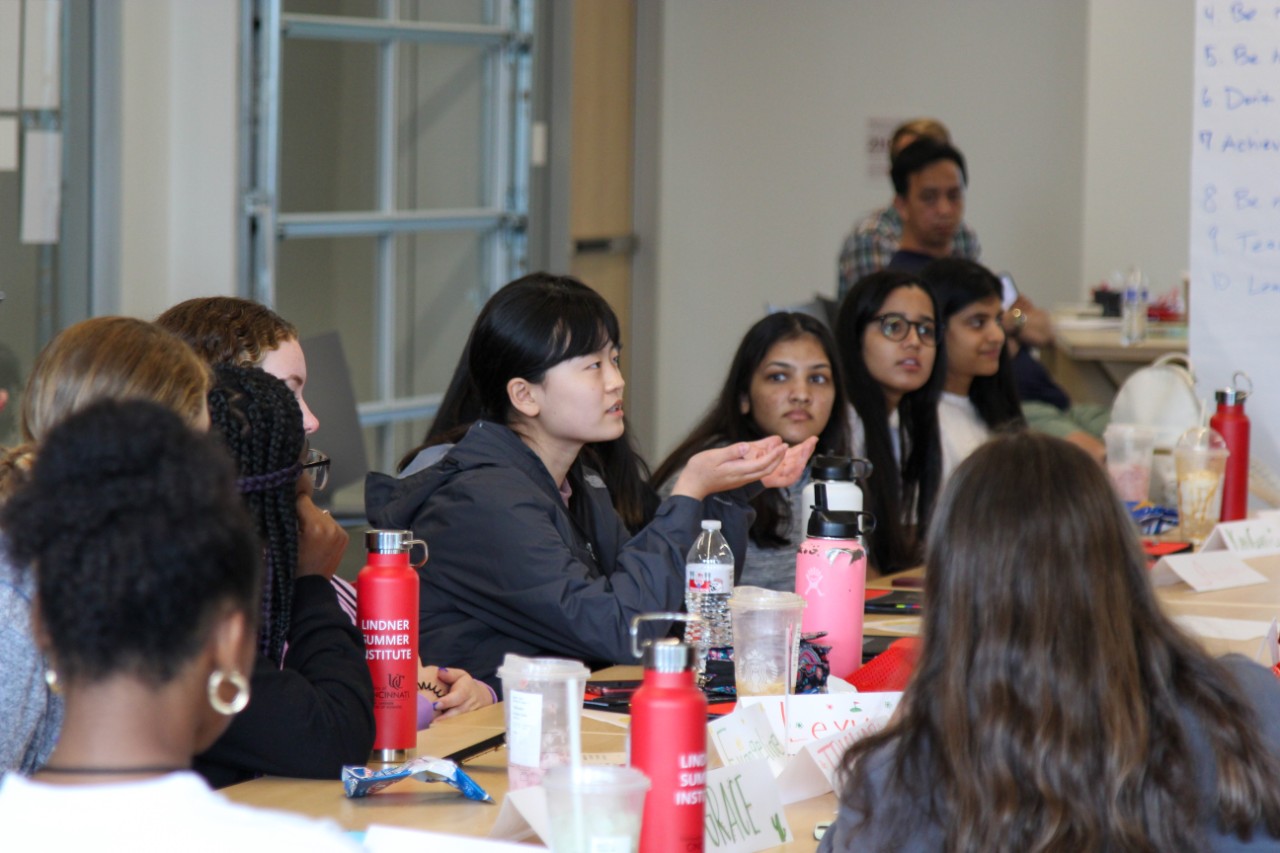 "If you want to move fast, work by yourself. If you want to go far, work with a team," Marable said. "I'm a natural do-it-all type of person, but at some point, you have to realize that you don't know everything. Make sure you check in with your people, that you're there for them." 
McInturf is the co-founder of Band Connect, a digital health start-up developing sensor-outfitted, physical therapy-focused fitness equipment. In 2021, Band Connect launched from UC's Venture lab, a pre-accelerator program within the 1819 Innovation Hub.
McInturf observed that with UC's highly ranked co-op program, "you get that experience that no one else can." She was also open about her occasional struggles with imposter syndrome and supplied solutions to cope with self-doubt. 
"It's getting comfortable with being uncomfortable. It's hard as someone that is young and female," McInturf said. "Everyone's figuring it out along the way. When I feel like that, I make small, tangible goals."
Lindner staff, faculty lend problem-solving expertise
Lindner Summer Institute participants also logged ample time with Lindner staff and faculty. Kendra Dewberry, assistant director, student recruitment, undergraduate programs, reviewed UC's Common App and conducted a question-and-answer period about the application process and Lindner's major offerings.
Melissa Newman, PhD, associate professor-educator, department of management, held a session entitled "Crafting Your Elevator Pitch." As the students worked on their pitches, Newman offered five tips and tricks:
Focus — one to two areas
Attention — make it memorable
KISS (Keep It Simple Stupid) — simple, no jargon
Adapt — tweak for various situations
Practice
Newman's parting advice: "Once you make it, bring others up with you."

Steven Jones, assistant professor, department of operations, business analytics and information systems (OBAIS), delivered a "Possibilities in Business" presentation. His address included "Seven Steps to Create a Life You Want to Live."
"My objective was to get them to expand their horizons on what they thought they could or would accomplish by getting them to focus on their individual purpose, passion and vision," Jones said.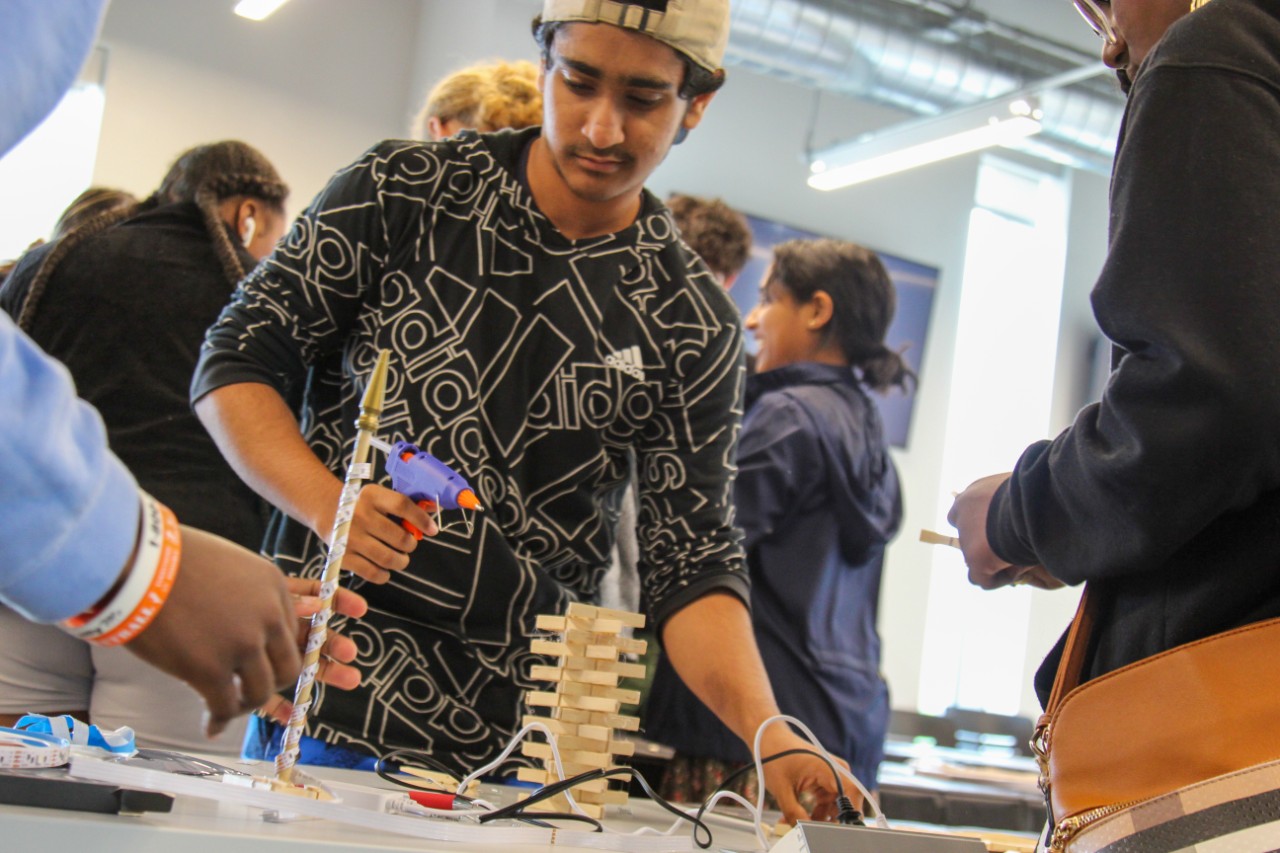 Chanda Monroe-Williams, executive director, urban impact and project learning and an adjunct instructor for OBAIS, presented the students with a group project: construct LED light towers from wooden clothes pins, popsicle sticks, chopsticks/dowels and glue guns in under 45 minutes.
"They worked collaboratively, learned how to extract user requirements, and managed technical specifications, job safety and the importance of job assignments," Monroe-Williams said. "They implemented quality assurance and defect mitigation procedures, monitored their competitors, learned how to unit cost and rework impact profit margins, and how to present their products to executives.
"Most importantly, they had fun while learning the importance of teamwork, completing a common goal, providing and receiving constructive feedback, and applying their learnings to their current programs."
Goodbye, but hopefully not for good
Castro closed the 2022 Lindner Summer Institute, first by thanking those responsible for administering the first in-person program since 2018, singling out members of his Office of Inclusive Excellence team — assistant director Victoria Regan and program coordinator Arielle Betts — as well as offering gratitude to Dewberry and Gwen Roemer, associate director, international programs.
Our goal was to provide students with an impactful and motivational experience to get them energized and excited about pursuing a business education.
Nick Castro, assistant dean, office of inclusive excellence
Castro then presented each participant with a certificate of completion and reflected on the group's time at Lindner and UC.
"I've truly learned so much by watching you all interact together. I've been inspired by your passion, drive and energy, and I'm super-excited about what the future holds for you," Castro said. "I don't know that all of you are coming to UC — I wish you all would — and some of you may not be in business. But what I do know is that your future is bright, and that you're going to do amazing, spectacular, game-changing things."
Featured image: 2022 Lindner Summer Institute students pose on the first floor of Lindner Hall. All photos by Gavin Vargas unless otherwise noted.
Inclusive Excellence Lives at Lindner
The Carl H. Lindner College of Business is powered by inclusive excellence, which is rooted in fairness and respect, valuing others and promoting belonging. We enable servant leaders that inspire confidence and empower others to do their best work and be their authentic selves. Contact the Office of Inclusive Excellence to become a corporate partner and for other ways to get involved.
1
Warren Bennis Leadership Institute opens its doors at 1819...
September 27, 2023
On Sept. 15, inside the University of Cincinnati's 1819 Innovation Hub, leaders from the university gathered on the third floor to celebrate and cut the ribbon outside the door housing the Warren Bennis Leadership Institute.
2
Spectrum News: Rover developed at UC helps clean waterways
September 25, 2023
A University of Cincinnati Venture Lab-backed startup has developed a robot that can clean garbage, an oil spill or fish kill from waterways in a way that's safer and more effective than doing it manually, Spectrum News 1 reported.
3
Venture Lab startup seeks to revolutionize physical therapy
September 20, 2023
When Abby McInturf was a University of Cincinnati College of Design, Architecture, Art, and Planning (DAAP) student on her way to a degree in industrial design, she studied ways to enhance human health through better design. Her research and experiences in the UC Venture Lab led her, shortly after graduation, to found a company called Band Connect that improves physical therapy rehabilitation for a host of musculoskeletal injuries.
Debug
Query for this