Lynn Fisher remembered as a trailblazer
Scholarship in alumna's memory will support women in law
The thud of a book falling on the floor each night was a regular occurrence during the 38-year marriage of Lynn Toby Fisher and John Lee Compton. Fisher, JD '73, worked long hours as a corporate attorney at Kaye Scholer LLP (now Arnold & Porter LLP) in New York City, and would often fall asleep reading, dropping her book.
Fisher, who grew up in Baltimore, and attended the University of Cincinnati College of Law in the early 1970s, faced many obstacles and exclusions early in her career as an attorney. She began her profession in Cincinnati, moving back to the East Coast and her position at Kaye Scholer. Her perseverance paid off when she made partner in 1982, at a time when it was still unusual for women to do so. In 2008, she received the peer recognition as a New York Super Lawyer. Both Fisher's trials and successes inspired her to become an advocate and mentor for women at her firm.
"I was proud of what she did to support young women," Compton says.
Sadly, Fisher passed away in March 2020. Compton is honoring her work and generous spirit with a $1 million gift to Cincinnati Law creating the Lynn Toby Fisher '73 Scholarship Fund. The fund will support students needing financial aid in the Women in Law program or University of Cincinnati Law Women Student Organization.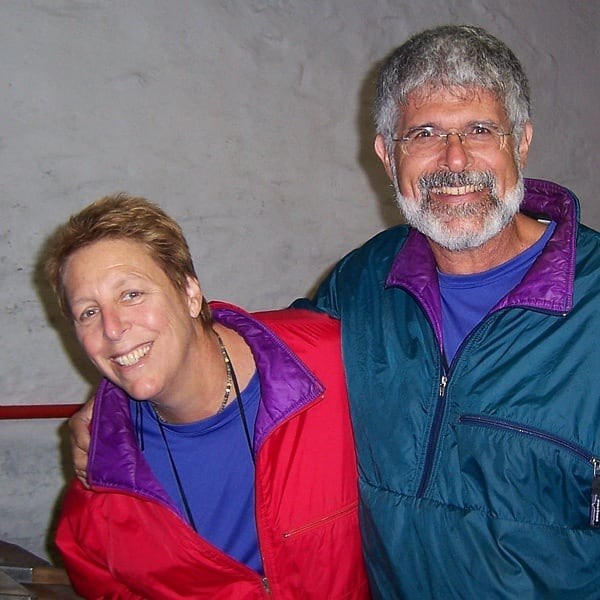 "Lynn loved her clients," Compton adds. "She believed in a model where your attorney was a counselor. You develop personal relationships and people come back to you; and she thrived on that."
She also thrived on helping others and would give small businesses a significantly reduced rate for her work. Helping and connecting with others extended to Fisher's personal life as well. She served on nonprofit boards, including that of her alma mater Goucher College, Engineering World Health and Housing Conservation Coordinators. Nurturing friendships with her nieces, nephews and younger friends was important to her, as was a yearly commitment to travel abroad with her parents.
After retirement, she was able to turn her attention to cooking, baking and gardening. The couple bought property in Tucson, Arizona and built the house where Compton now lives. Fisher created a beautiful garden of native plants complementing Compton's fishpond.
"We had a remarkable life together," he says.
Now, Fisher's legacy will live on to support others, just as she lived.
Featured image at top: Lynn Toby Fisher and John Lee Compton. Photo/Provided.
Next, Now
With its focus on innovation and impact, Next, Now: The Campaign for Cincinnati is where ambition meets action. At the University of Cincinnati and UC Health, we're driven by next; thinking bolder and dreaming bigger to create the tomorrow we envision, today. Learn more at nextnow.uc.edu.
2
Using bacteria to target cancer treatment
March 28, 2023
Researchers led by the University of Cincinnati's Nalinikanth Kotagiri, PhD, have published new research showing proof of concept for using engineered bacteria as an adapter to deliver targeted radionuclide treatment to tumors.
3
FLASH proton therapy trial begins on bone cancers in chest
March 28, 2023
Treatment of the first patient in a clinical trial of FLASH proton therapy for cancers in the bones of the chest has been completed at the Cincinnati Children's/University of Cincinnati Medical Center Proton Therapy Center.
Debug
Query for this