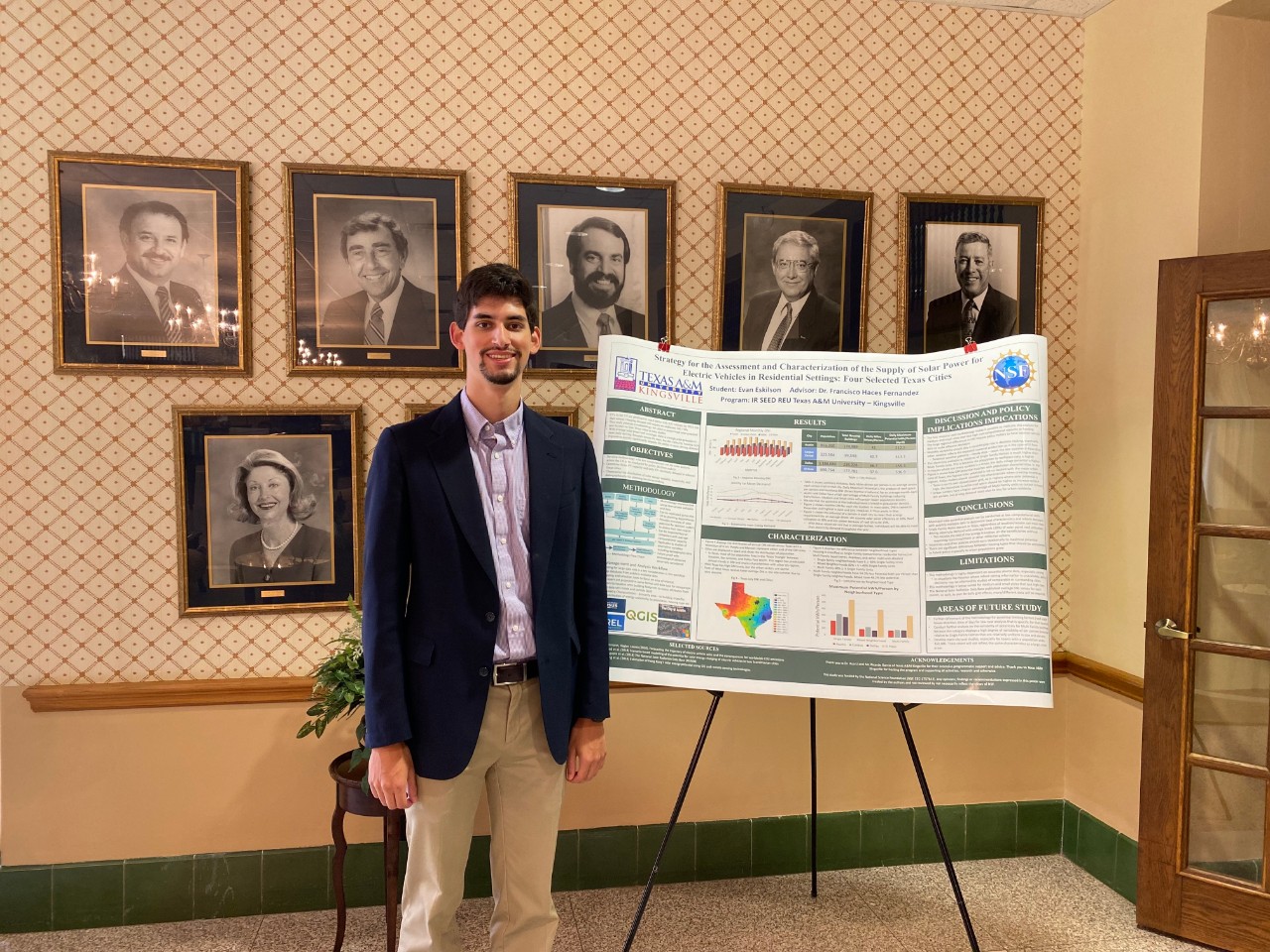 Evan Eskilson to have 'front row seat' in learning, shaping global ecological economics
Recent Lindner graduate earned a full-tuition scholarship to Stockholm University
Before he was a Kautz-Uible Fellow, the youngest speaker at an American Solar Energy Society conference and granted a full academic scholarship to attend graduate school at a prestigious European university, Evan Eskilson yearned to be a collegiate swimmer.
Eskilson, BBA '22, grew up in Lawrence, Kansas, home to the University of Kansas, but was keen on exploring college options outside of his home state. His original intent was to pair a strong education with a spot on a collegiate swimming team.
Coaches held a different view of Eskilson's collegiate swimming aspirations.
"I realized I wasn't as good as I thought at swimming," Eskilson said with a laugh, "which was a tough realization — I was getting all of these rejection letters from coaches."
If Eskilson dealt with a steady stream of spurning from collegiate swim coaches, Ruth Seiple, director of Lindner Business Honors and professor-educator, department of operations, business analytics and information systems, delivered the opposite message. Seiple, who actively recruits potential Honors students, also was born in Kansas. Though she conceded her memories of the Sunflower State are limited after moving away before grade school, Seiple said that her Kansas connection with Eskilson might have "spoke to my heart in some way."
"Evan presented a more difficult challenge due to the distance. It meant he needed a name and face with a stronger connection than someone more familiar with the UC campus and the Cincinnati area," Seiple said. "Each student coming into Honors has a unique story and interest. I try to find that storyline to allow them to envision living that out as a Bearcat."
Eskilson also was courted by Business Fellows. Adison Nelson, Lindner's former director of diversity and inclusion, and former student Marcos Aull — who wound up being Eskilson's Business Fellows mentor — wrote letters attempting to convince Eskilson to relocate to southwest Ohio. 
Eskilson acknowledged that this treatment "felt really awesome," and he eventually chose Lindner and UC.
"I took the leap," Eskilson said. "I couldn't imagine doing college differently." 
Industrial management was Eskilson's initial major of choice. However, following a fruitful, yet clarity-bringing summer internship — plus the enjoyment he experienced taking ECON 1002 (Introduction to Macroeconomics) — Eskilson switched his major to business analytics, with economics as a minor.
Another major change was in the cards after a study abroad experience in the Netherlands, though. Eskilson developed an interest in climate change, as well as social and ecological exploitation. He had found his path, which was to major in business economics and minor in political science and environmental science and policy.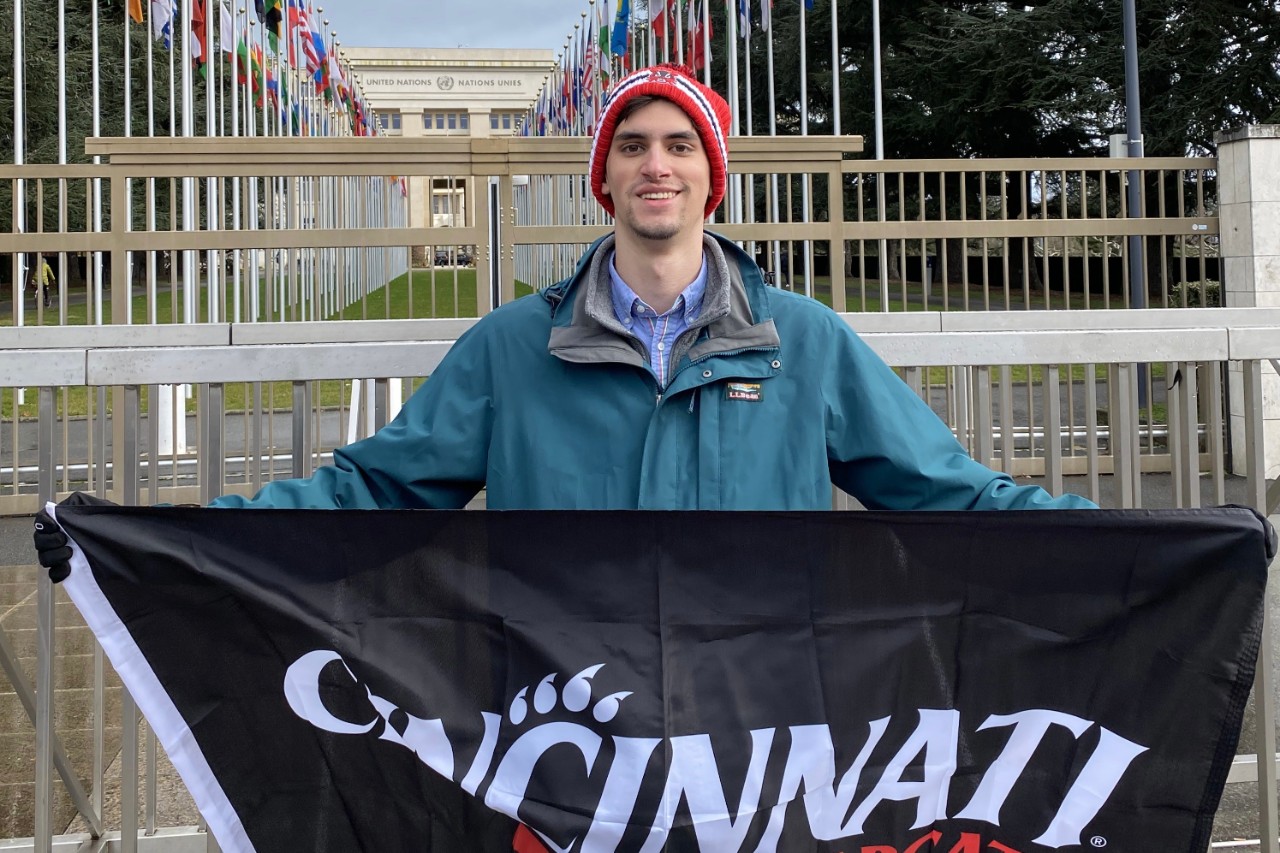 "That's how I came to where I am now, being interested in the structural factors that lead our society to tend to exploit people and nature," Eskilson said.
Associate economics professor Hernan Moscoso Boedo was Eskilson's instructor for ECON 1002, which was for Honors students. Eskilson was a Kolodzik Business Scholar, which, along with Lindner Honors-PLUS, are Lindner's legacy Honors programs.
"He was always sitting in the front and asking questions before class started, and he would be the last one to leave at the end," Moscoso Boedo said. "He was absorbing everything. And he was thinking about his questions. He wasn't taking everything I said at face value. He would process it, and then question it."
I took the leap. I couldn't imagine doing college differently.
Evan Eskilson
Eskilson liked Boedo's teaching style, which for ECON 1002 incorporated discussion on the relationship between current events and issues to macroeconomics. Moscoso Boedo would be Eskilson's reference for the Kautz-Uible Fellowship scholarship Eskilson earned for his third and fourth years at Lindner.
"He was appreciative of how economics could be used to interpret more things than [what was in] the book," said Moscoso Boedo, who also instructed Eskilson in ECON 2030 (Intermediate Macroeconomics).
As the end of April approached and graduation neared, Eskilson had to decide where to pursue a master's degree. His decision came down to University of Leeds in Leeds, England, and Stockholm University in Stockholm. Past and spontaneous mentors helped Eskilson come to a decision.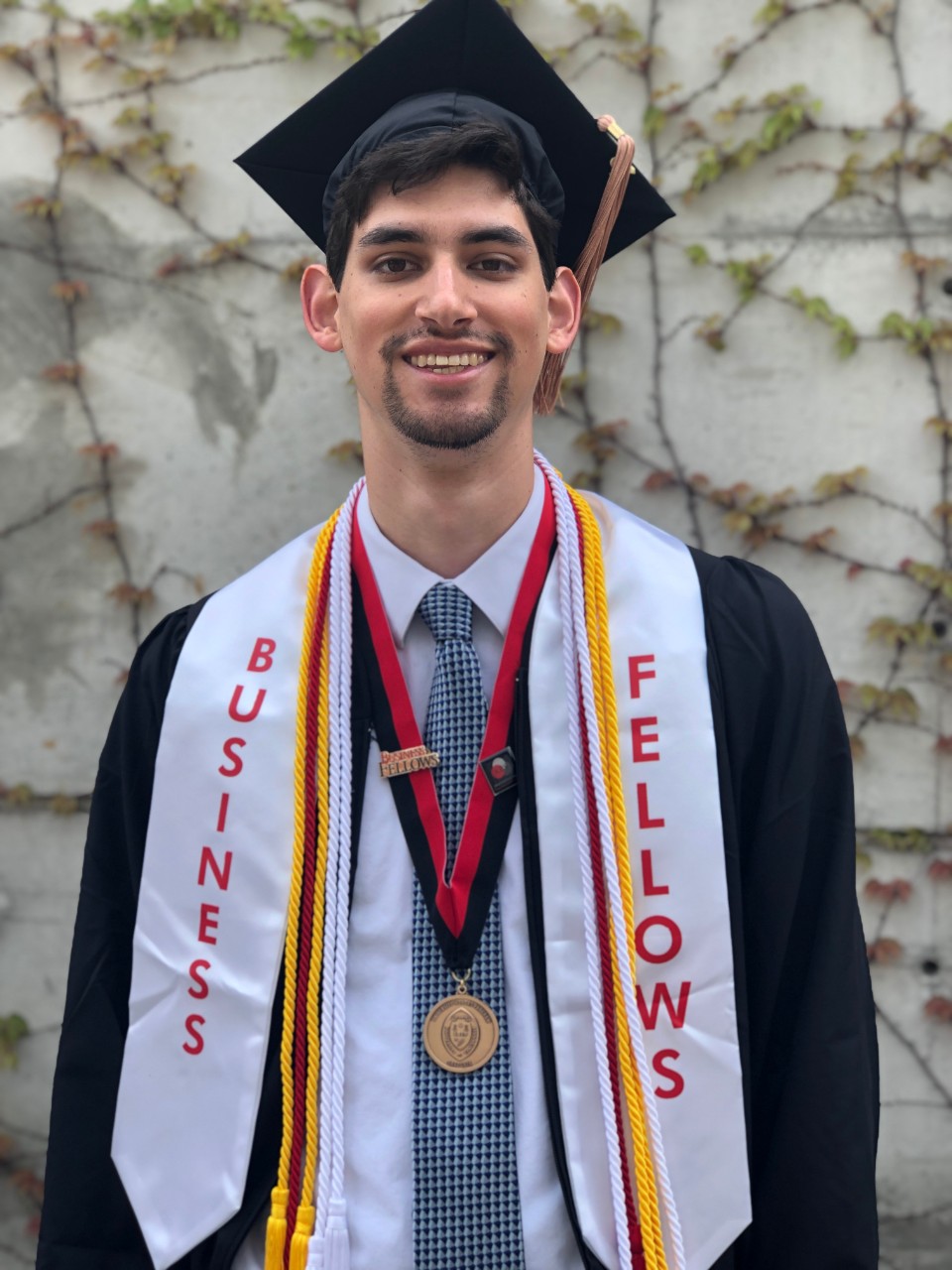 "My suggestion was to look at Stockholm more closely because it is more well-renowned and broad," said Moscoso Boedo, recalling a conversation he had with Eskilson at the The Toast 2022.
Paul Polman, MBA/MA '79, Hon '09, a former CEO of Unilever and a longtime advocate of promoting social equality, also encouraged Eskilson to choose Stockholm University during a brief meeting when Polman visited Lindner in the spring. 
Beginning this fall, Eskilson will move to southern Sweden to pursue a master's in global political economy.
"Sustainable societal development" is a "central issue" for Stockholm University, which works to reach the goals in the United Nations' 2030 Agenda for Sustainable Development through "education, research and collaboration."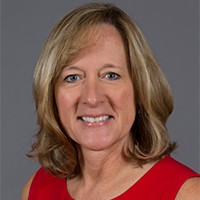 Seiple, who wrote a letter of recommendation to Stockholm University for Eskilson, noted that "this opportunity is highly selective" and presents Eskilson with a "front row seat to global economic politics and policy making."
"The tuition coverage speaks to the program's insight into what this young man can accomplish and how Evan can augment that area of study for us all to benefit," Seiple said. 
Moscoso Boedo put Eskilson's accomplishment in perspective.
"You have a UC student going to a top program in Europe with global reach," Moscoso Boedo said. "From there, the sky is the limit." 
Eskilson's cooperative education opportunities included stints at Kroger (process specialist intern), the National Science Foundation (research fellow), Divisions Maintenance Group (provider analyst intern) and General Tool Company (operations intern).
Time spent with the National Science Foundation showed Eskilson that he was interested in being a researcher. 
"I want to develop myself. That's the thing I find the most value in. I want a job where I have to learn all the time," Eskilson said. "I want learning to be my job, but you don't really get to have that. If I'm in an academic institution, then I get to have that."
You have a UC student going to a top program in Europe with global reach. From there, the sky is the limit.
Hernan Moscoso Boedo, associate economics professor
In late June, Eskilson presented at the American Solar Energy Society's 51st annual National Solar Conference in Albuquerque, New Mexico. As part of the Clean Transportation and Economic Justice session, Eskilson presented his work with the National Science Foundation, which included an abstract titled "Strategy for the Assessment and Characterization of the Supply of Solar Power for Electric Vehicles in Residential Settings: Four Texas Cities."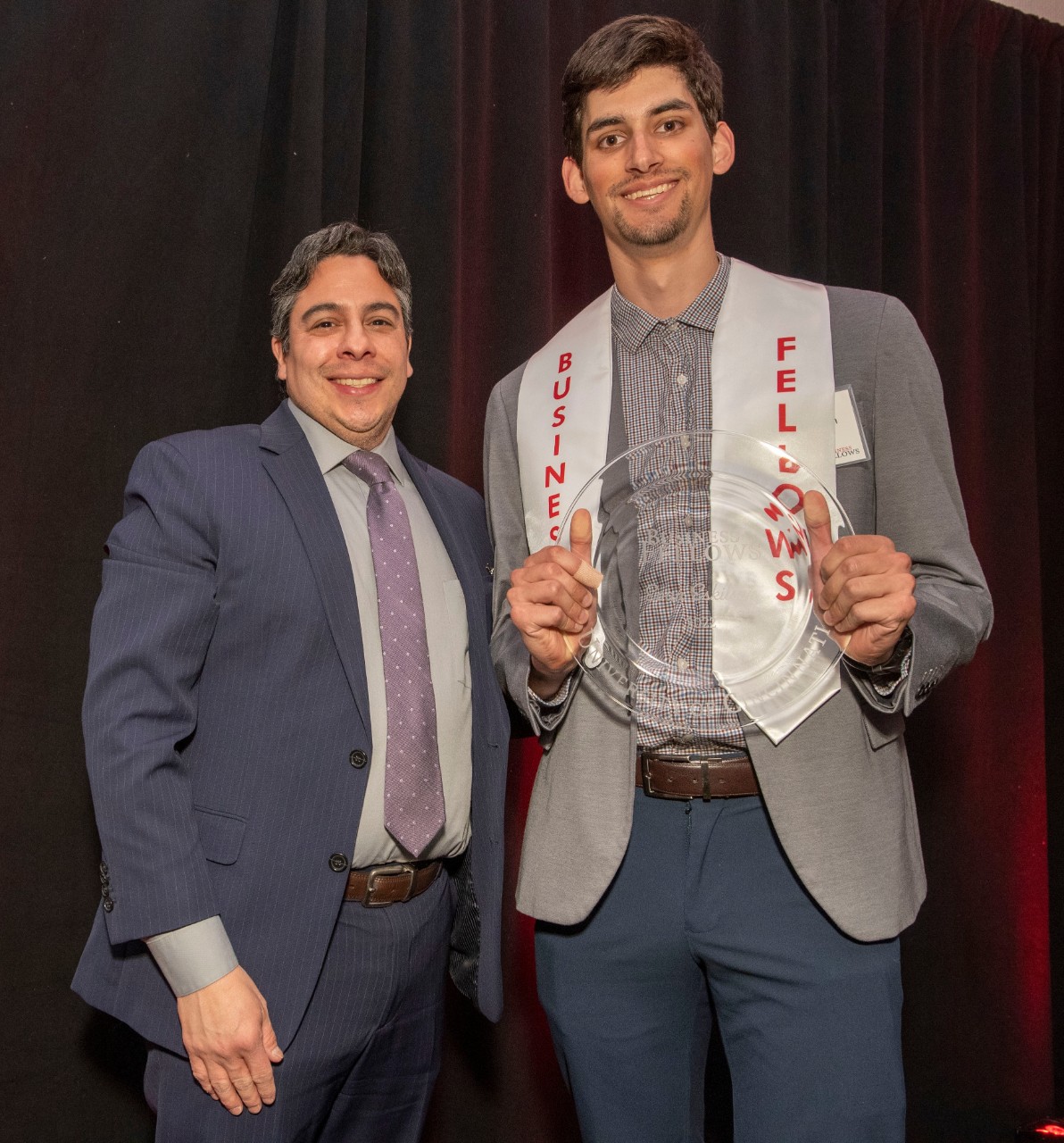 "I presented my research on a methodology designed to reduce the barriers small- and medium-sized municipalities face to completing solar potential analysis as they look to inform municipal policy around electric vehicles," Eskilson said. "This methodology uses free tools and software and won't require extensive training or help from consultants, empowering local communities.
"As my first time speaking in front of a crowd outside of UC or internships, I could barely sleep the night before. But I was calm and happy presenting because the other presenters were exceptionally welcoming."
Eskilson noted that much of the "ecosystem" surrounding ecological economics exists in European academia, hence his pursuit of graduate studies across the Atlantic.
"Stockholm has a lot of organizations that are doing work that is interesting to me, so I want to lean into that and put myself in that area in the same way that I chose UC," he said. "You can access it, and there's a bunch of people doing really smart, cool things." 
Featured image: Evan Eskilson presenting his research findings in Kingsville, Texas, following his fellowship with the National Science Foundation. Photo courtesy of Evan Eskilson.
The Lindner Advantage
The Carl H. Lindner College of Business empowers its future business problem solvers to tackle the world's business challenges with a distinctive combination of academic and hands-on experience that fuels professional growth. Apply to Lindner for an education that matches your ambition.