Women forge their own path in UC's soccer program
Push for equality and inclusion on the field continues
The University of Cincinnati's women's soccer program had humble beginnings.
It was put together as a club sport in 1978 by two friends and UC students, Mary Meyer and Kim Vorbroker.

Vorbroker and Meyer met one day at UC's Nippert Stadium in 1977. While kicking a soccer ball by herself, Meyer was approached by Vorbroker. The two began passing the ball back and forth to each other. At one point, Vorbroker asked Meyer if she would be interested in starting a women's soccer team at UC. Meyer said she was all in on the idea.
Now determined, the pair placed an ad in the school newsletter, recruiting players.
Five years before their meeting, the Department of Education had passed the education amendments of 1972, which involved Title IX. Title IX prohibits discrimination based on sex in education programs or activities that receive federal financial assistance. It helped spur a surge in women's sports at the collegiate level and helped open the door for women who wanted to play college sports on scholarship.
Vorbroker, a Purdue transfer, switched her major from engineering to business — the same as Meyer. Together, the two began studying Title IX and putting together documentation for a team.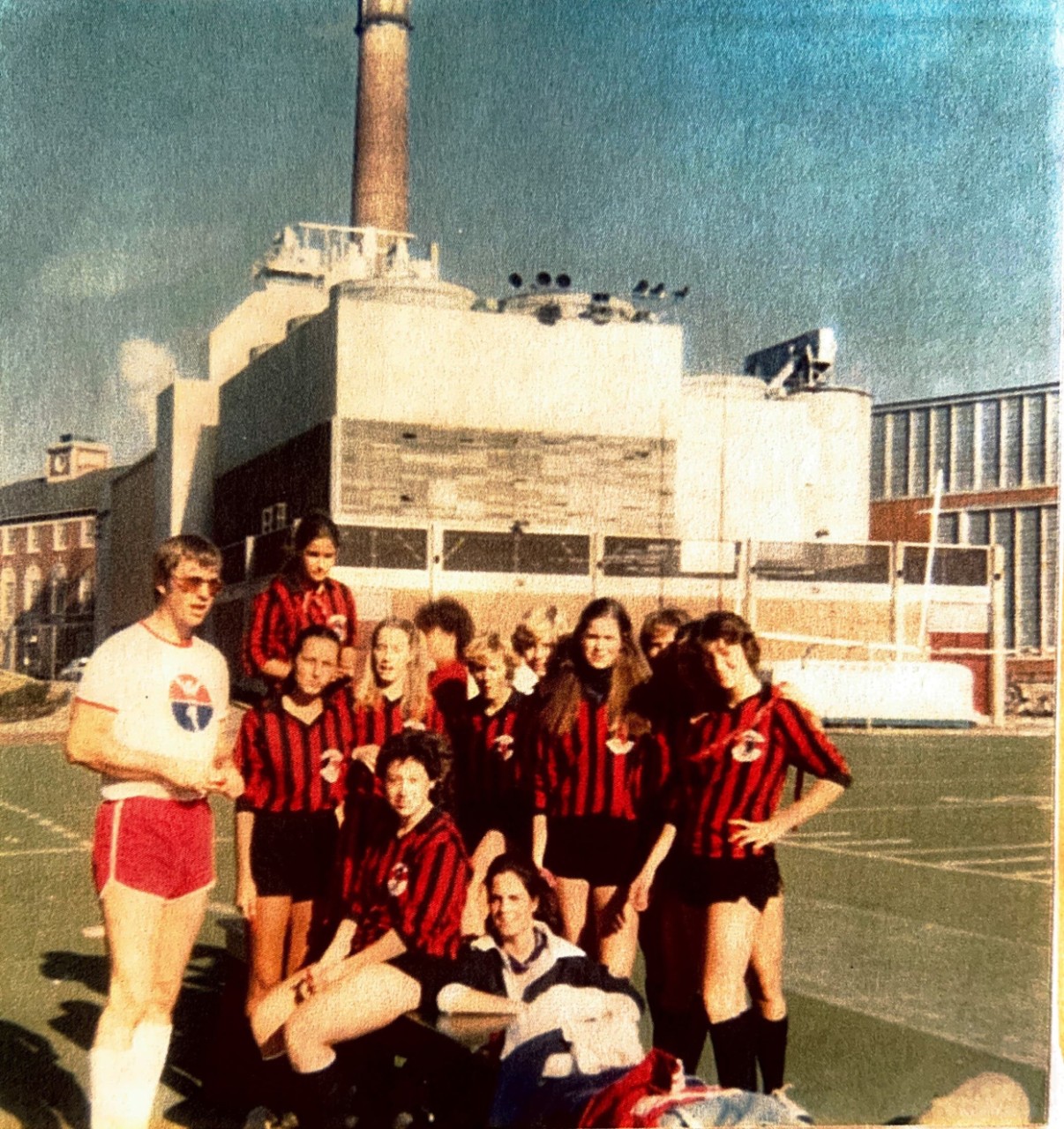 Once the squad was formed in 1978, it competed in the Midwest Intercollegiate Soccer League (MISL) against teams like Purdue, Wisconsin, Miami of Ohio and Ohio State. With almost no sponsors, the athletes were forced to pay for everything themselves when they traveled.
After winning all its games in that first season, the club approached the women's athletic department, seeking more financial support. Then head coach Jim Heath, an attorney, helped Vorbroker and Meyer leverage Title IX. They wrote up a contract and presented it to the head athletic director — who responded with laughter, Meyer said.
The two then got more information about Title IX. They had proposed a $10,000 team budget. When they learned from the athletic director that $10,000 was the amount of money spent on athletic tape for just one football game, Meyer decided to change the proposal to $15,000. It was accepted.
I just wanted to play because I loved the sport.
Cathy McMahon
In 1980, women's soccer became a varsity sport at UC. Cathy McMahon, my mother, was a freshman when the women's soccer club was formed in 1978. Vorbroker approached her at a party and asked her to join.
"I just remember being excited and saying to her, 'Heck yeah! Let's do it,'" said McMahon, whose high school didn't have a girls soccer team. "I wasn't really sure it was going to happen, but I was excited about the possibility. I just wanted to play because I loved the sport. I wanted to be part of the team and play a game I didn't get to play in high school."
Scheduling and transportation were left up to the players. McMahon remembers calling Miami of Ohio about scheduling a game.
"That was just how it worked back then," McMahon said. "If we wanted to play, we had to reach out to other schools and ask them if they wanted to play us. Then we would pile into cars and take road trips to other schools."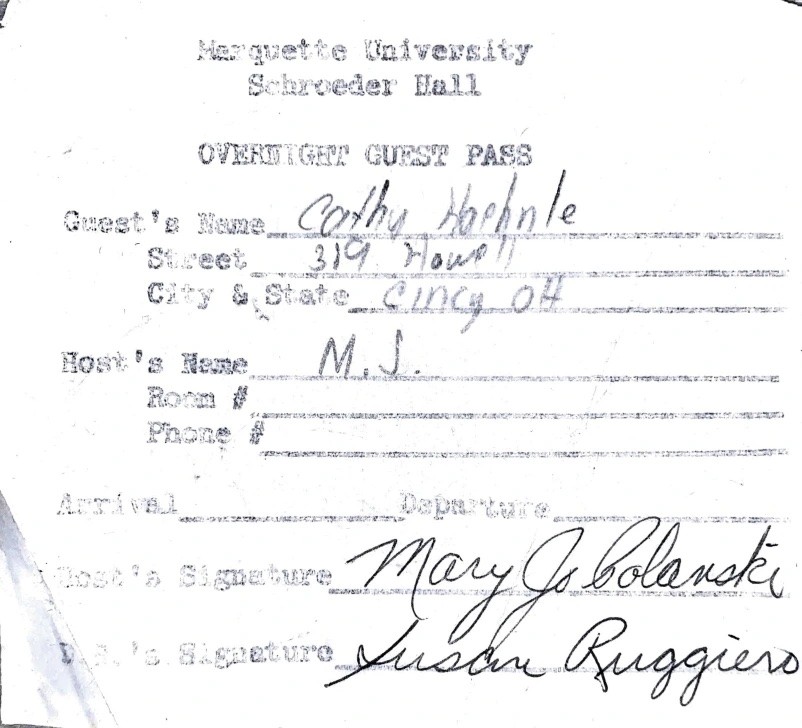 On one occasion, the team was forced to sleep in the hallway of Schroeder Hall at Marquette University.
The inaugural 1978 season consisted of just seven games. It included trips to Miami of Ohio, Ohio State and Marquette. The team finished 7-0 and ended the year with a win over the men's team.
In the summer of 1983, Meridy Glenn, who also served as a men's assistant coach, was hired as the head coach. The job was considered part-time, and she was not paid much – just $2,000 per year. In her first year, she was put in a room in Dabney Hall without receiving compensation for room and board.
The following year, Jean Turk, then the senior women's administrator, convinced then-athletic director Mike McGee to make the position full-time and to raise Glenn's salary to around $15,000 a year.
When Glenn arrived at UC, the per diem for players was $8 a day. Looking for a cheap meal, players often would head to Calhoun Street.
"They had to go to what I used to call 'fast food row' on Calhoun Street," Glenn said. "So, these kids, I mean, they ate Arby's, McDonald's, whatever. I don't know how they survived, to be honest."
Another challenge facing Glenn and her team was finding a field to practice. Before it was a soccer field, UC's Gettler Stadium was nothing more than a poorly kept grass field. Most of the practices were held there and at Nippert Stadium, which meant the team was forced to compete for time with the football team, the pep band and intramural sports.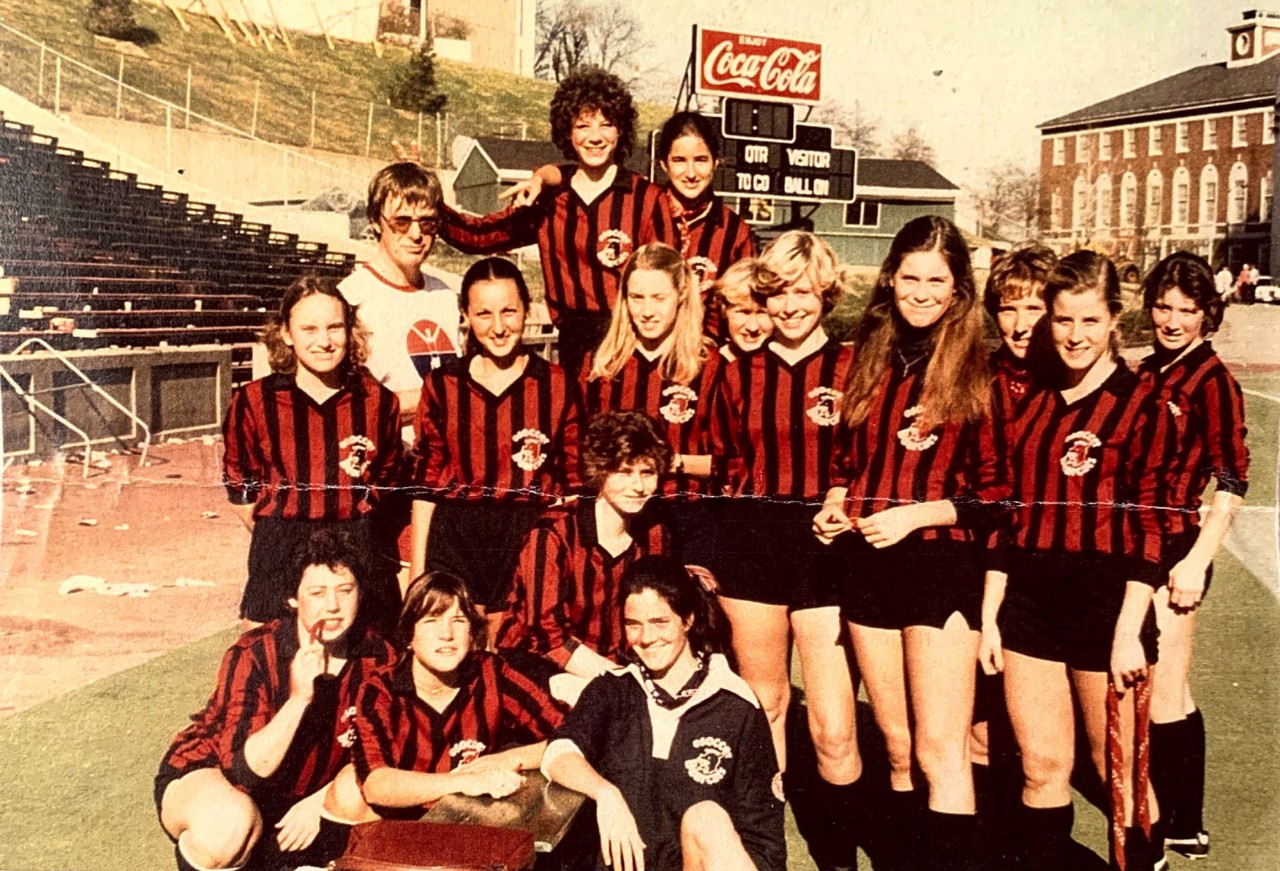 "The facilities were not conducive," said Glenn, who coached until 2007. "UC was really tight. We just didn't have fields. And if you think of what we have now, it's just incredible."
Colleen Beckman was a four-year starter and two-year captain for UC women's soccer from 1982 to 1986 and played under Glenn. Beckman says that she and her teammates never cared about vying for practice time at UC facilities. They just loved the game.
"It was just fun," Beckman said. "It was a comradery. It wasn't a job. I mean, yes it was, but you played for the love of the sport. I wouldn't trade the time frame of when I played."
Though Beckman was recruited out of high school and received a scholarship from the university, she was still forced to work during the offseason to help cover her tuition. During the summer, Beckman worked two jobs, often 40 to 60 hours a week. In the winter and spring months — after the season was over — Beckman worked 12 to 20 hours a week. She focused on soccer in the fall.
While playing soccer and working when she could, Beckman was studying for a nursing degree. Balancing the responsibilities of work, school and soccer proved to be difficult and even caused her grades to dip.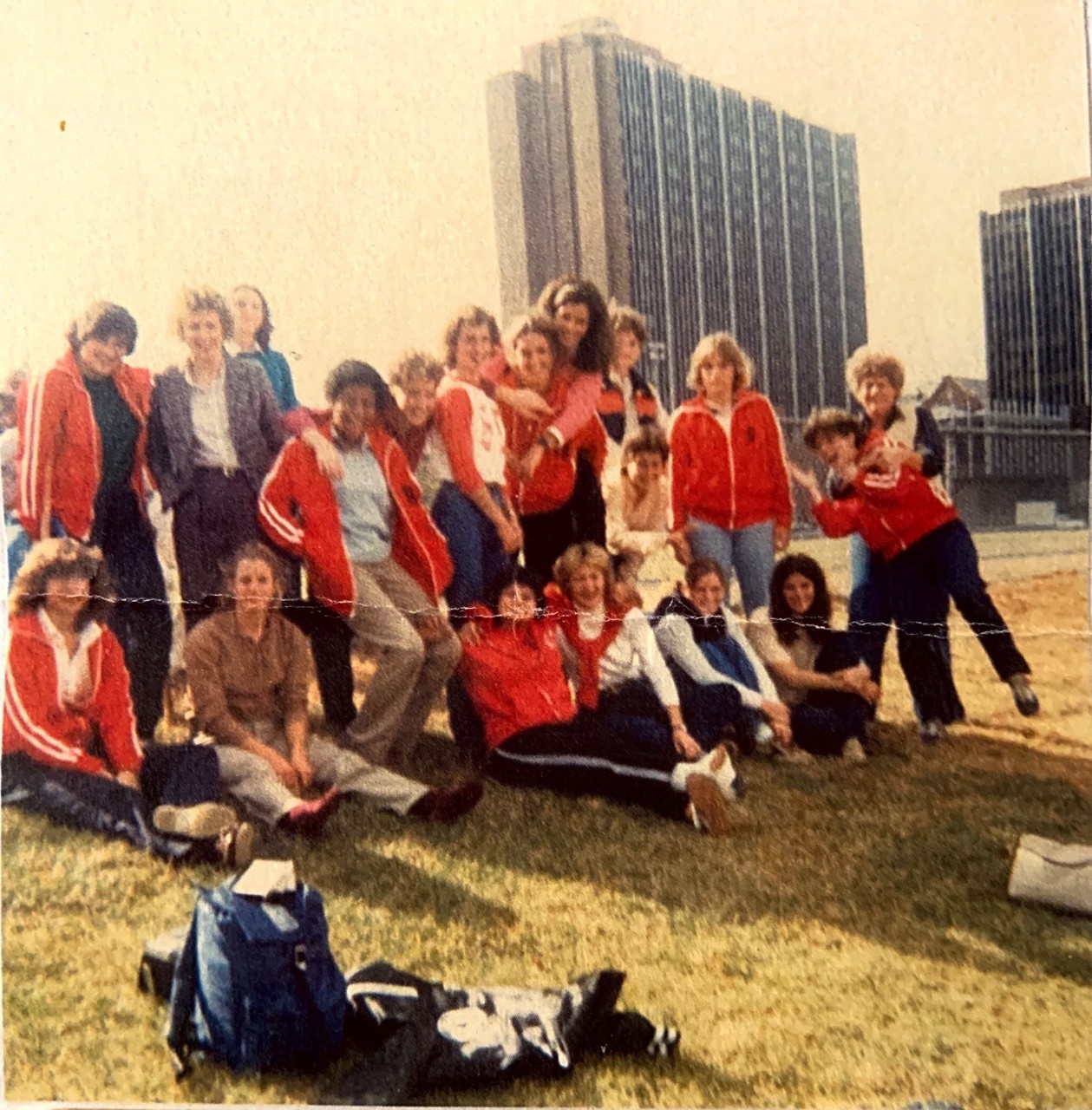 "Was it difficult? Yes," Beckman said. "But I think that being a student-athlete and having to work a job certainly provided me with a strong work ethic. I feel like I'm a better person because of that."
The money Beckman earned wasn't just going toward her tuition. Players had to pay for the ball they used at practice. If they lost the ball, they had to buy a new one.
In addition, buying jerseys with UC's logo and red and black colors simply was not feasible, according to Glenn. So Glenn custom-made them. The jerseys were then reused from one season to the next.

"We recycled jerseys as much as possible," Glenn said. "And I was awful. If [the players] didn't turn their jersey in, I would hunt them down. If you lost a sock, I would go after it."
Getting her players to stay on campus proved to be a challenge as well. Most players were from the Cincinnati area; to save money, they commuted to campus rather than live in the dorms. Furthermore, the dorms were not as nice then as they are now. In fact, the campus looked very little like it does today. The billions of dollars invested in campus improvements throughout the 1980s through the 2000s were huge for recruiting, Glenn said. The addition of Shoemaker Center (now Fifth Third Arena), Turner and Schneider Halls, and the Lindner Athletic Center made UC much more appealing to recruits.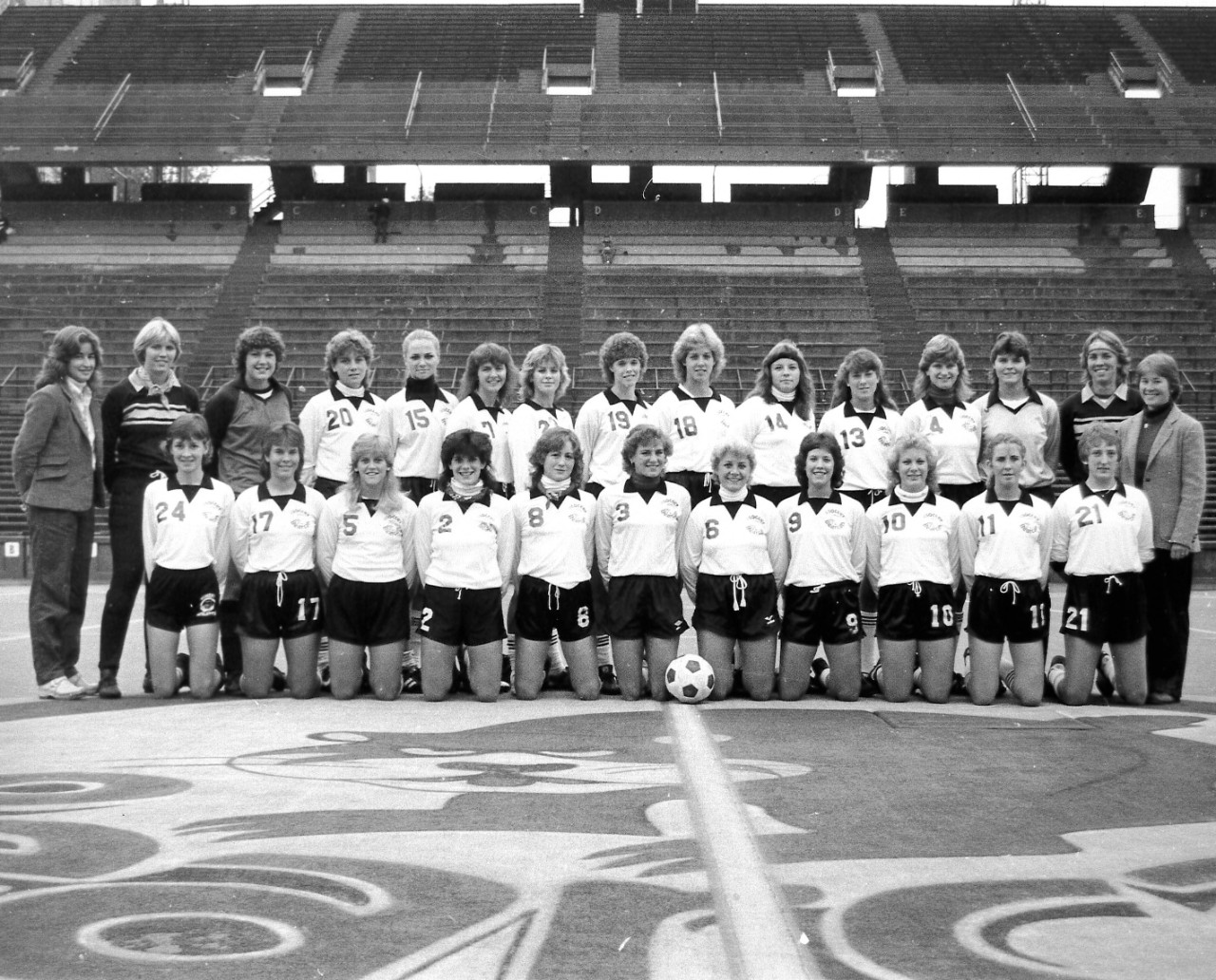 One of the three prongs of Title IX is proportionality. It states that the number of female athletes to male athletes must be proportional to the student population. In 1992, universities across the country faced lawsuits alleging that the women's programs were not being treated equally. UC took notice of the lawsuits and began offering better opportunities to women athletes.

But not immediately. In Jaime Eversole's four-year career at UC from 1992 to 1995, she and her teammates did not get to eat in the same cafeteria as the football players did until her senior year. For her first two years, UC did not provide meals to women players in the preseason, resulting in some players losing weight. In her third preseason, the team ate its main meal at Larosa's Pizza, formerly on Calhoun Street.
Another major landmark that helped spur the growth of the women's soccer program was better funding. In 1999, the program became fully funded. According to Glenn, the results were noticeable after that. Facilities continued to improve, and equipment and clothing became more readily available. The food got better. Recruiting also improved, along with the team's records. Also in the late 1990s, UC struck a deal with Nike that gave them uniforms and team gear, which was a massive step for the program, according to Glenn.
In 2005, UC joined the Big East Conference, which had schools like Marquette, Syracuse, Pittsburgh and Louisville. The women's soccer program and UC athletics, in general, continued to grow. The Richard E. Lindner Athletics Center was built, funding took another jump, and recruiting improved. Though she only saw two seasons during this time frame, Glenn believed this was another major step in the right direction.
The quality of life for athletes in today's UC women's soccer program continues to improve. UC now has modern housing and better funding. It has made significant improvements to its facilities. In addition, UC recently announced it is joining the Big 12 Conference starting in the 2023 academic year, and with that, revenue will skyrocket.
Chloe Spitler, who has just wrapped up her sophomore season with the UC women's soccer team, spoke about some of the major differences between the program's early days and today. One of the differences is how the team is treated on the road.
Spitler also talked about the many resources available to her and her teammates. Today's Bearcats no longer have to worry about access to nutritional food as they once did. Athletes have access to campus dining halls, including one on the seventh floor of the Lindner Center. Also on the second floor of the Lindner Center is a so-called "fuel station," where athletes can grab sports drinks, protein shakes and healthy snacks.

"You have to truly fuel your body for what is going to help you perform the best," Spitler said. "I could never imagine eating McDonald's before or after practice. I would probably throw up."
Furthermore, student-athletes can engage with university-provided mental health resources. They can talk to trained therapists at any time just by setting up an appointment on an app. The athlete maintains anonymity.
Student-athletes have better housing. All freshmen of the women's soccer program are required to live in the University Park Apartments on the south side of campus. The units have two full bathrooms, bedrooms, a full kitchen and a living area. After their freshman year, players typically move to the 65 West Apartments at the corner of West McMillan Street and Ohio Avenue.
Thanks to a recent ruling by the Supreme Court, student-athletes can earn money using their name, image and likeness, also referred to as NIL. Many high-profile athletes, such as Heisman Trophy winner Bryce Young, are making millions because of this legislation. Athletes such as Spitler in less-popular sports aren't receiving those kinds of deals, but Spitler did sign with a company called BSB Sports and will earn some money. With UC moving to the Big 12, she believes more opportunities will arise, and that NIL will prove to be valuable for all student-athletes.
Current UC women's soccer head coach Neil Stafford is a big believer in the importance of legacy. He feels that Meridy Glenn and Mary Meyer should forever be etched into the cornerstone of UC women's soccer. Stafford calls them "strong and incredible women." He refers to Meyer as the godmother of the program.
The year 2020 marked the 40th anniversary of women's soccer at UC as a varsity sport. It also marked the beginning of the COVID-19 outbreak. Stafford used some of the pandemic downtime to have his players read Legacy, a book about the rugby team from New Zealand called the All Blacks and their historic dominance in the sport.
"Legacy for me is bridging the past, the present and the future together," Stafford said. "But what's important about legacy is the fabric of the women's soccer program is just so much bigger than anybody or anything. There is no head coach, there's no all American, there's nobody bigger than the fabric of UC women's soccer. That's what this is all about.
"And the legacy that Mary, Meridy, Kim, your family… it's almost like you're planting seeds for trees that you'll never see. When you have that mentality, then you're always going to leave it in a better place than you found it. That's always the responsibility of any coach and players and teams."
One of the strongest links to the past is Katarina (Kat) Vorbroker, Kim's niece, who is a student manager on the current team. Kat remembers the 30th-anniversary celebration in 2010 when Kim was honored for her role in starting women's soccer at UC. Since that day, Kat has made it a goal to be a part of the program even if she wasn't a player.
Just this spring, coach Stafford presented Kat with the Kim Vorkroker Berman Award. It honors her late aunt and the spirit she brought to the program.
"To receive the award that was named after my aunt, godmother and role model means more than I can even put into words," Kat Vorbroker wrote in a text. "To receive an award that represents all the qualities Kim demonstrated — including her courage, fight, perseverance, leadership and passion for the things she loved — means more to me than anyone will ever know.

"My end goal in doing this job is to make her proud and continue the legacy she built. I just hope that when she's looking down on me, she's smiling. That's all I could ever ask for."
Featured image at top: The women's soccer team practices at UC's Nippert Stadium in 1981. Photo/provided
This story originally ran online as part of a UC journalism capstone course.
1
College Matters. Alma Matters: UC grad and UC faculty featured...
September 29, 2023
College Matters. Alma Matters. podcast features molecular geneticist Dr. Anil Menon, associate dean of undergraduate education and director of the undergraduate program in biomedical sciences in the UC College of Medicine and Pateek Raj, graduate of SPIA.
2
Everything you need to know about UC alum Travis Kelce
September 29, 2023
Cincinnati went wild for Taylor Swift when she brought her Eras Tour to the Queen City this summer. Now her ties to Cincinnati grow as she's been linked to University of Cincinnati alum and NFL star Travis Kelce. Swifties everywhere are asking: Who is Travis Kelce? Here's everything you need to know about Taylor's latest rumored romance.
3
NatGeo: Pompeii has secrets to uncover — should we keep digging?
September 28, 2023
UC Classics Associate Professor Steven Ellis talks to National Geographic about the controversial topic of excavations at Pompeii. Some researchers say there is more to learn by unearthing the city. Ellis said preserving what is there is key.
Debug
Query for this