Through time and space, a family grounded in education
Tom and Gloria Davis honor parents with athletic and engineering scholarship support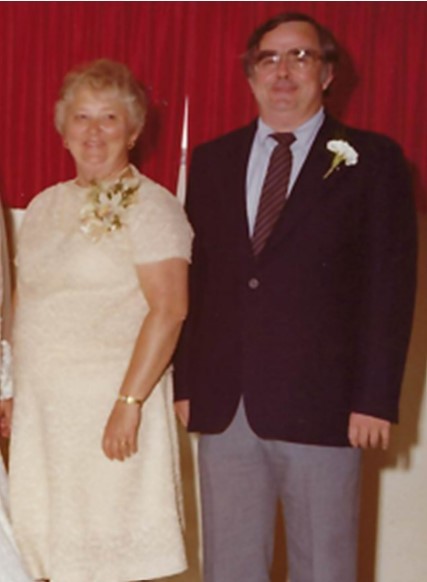 It was typical for Tom Davis, '83 CEAS, during his teenage years, to find guests at the dinner table. He often dined with students that his parents had met through their work at the University of Cincinnati.
Tom's father, R.T. Davis, was the chair of aerospace engineering at the UC College of Engineering and Applied Science in the 1970s. His mother, Barbara Davis, tutored students at the former University College. He remembers his mother meeting student-athletes for additional early-morning tutoring sessions and his father mentoring engineering students.
Their kindness and focus on helping others have served as a life compass for Tom and his wife, Gloria Davis.
"I tell people that the luckiest thing I ever was given was two great parents," Tom says.
Tom and Gloria recently made a $570,000 gift to UC benefiting the Professor R.T. Davis Endowment Fund, which provides scholarships for undergraduate and graduate aerospace students. This gift also established the Thomas J. and Gloria J. Davis Endowed Athletic Scholarship Fund supporting student-athletes. 
I tell people that the luckiest thing I ever was given was two great parents.
Tom Davis '83 CEAS
Tom followed his father's path at UC, majoring in aerospace engineering after a brief stint in civil engineering.
"At first, I chose civil engineering because when you're 18 years old, you don't want to be that close to your dad," he says. "But I figured out that aerospace was more interesting to me."
Fortunately, having his dad as a professor was a good experience, even though he had to take the occasional ribbing when he did not score 100 percent on exams. Professor Davis would write on his son's papers, "stopped you at the goal line," since a 100 percent would excuse students from an exam.
The father-son duo spent a summer in California, where Tom was a co-op student at the NASA Ames Research Center. R.T. was on sabbatical and they shared a one-bedroom apartment.
Tom met Gloria, a computer engineer, during this co-op. She shares that her love for UC began with her in-laws.
"Tom's dad was always so interested in my career and was a great supporter of me," she says. "His mom spent so much time tutoring athletes and giving back. And every time I visit UC, you get a great feeling."
It really is like having three jobs when you are a student-athlete — practices, games and school.
Gloria Davis
Both Tom and Gloria are avid sports fans and have enjoyed UC's recent successes and upcoming move to the Big 12 Conference. Their family experiences influence their desire to help student-athletes. Two of their sons — they have four sons and two daughters — played baseball in college and one went on to the major leagues.
"It really is like having three jobs when you are a student-athlete — practices, games and school," says Gloria. "And many student-athletes don't come from a lot of means. I was not a student-athlete, but I know what it is like to need support."
"We know what those kids are going through and how much effort it takes," adds Tom. "And my parents were very generous towards UC's athletes."
Student-athletes were not the only ones at the Davis dinner table. Tom says his father's colleague, Neil Armstrong, was sometimes a guest.
"When he came over, my parents had a rule," he remembers. "You can't ask him about the moon unless he brings it up. He's just another guest. I remember sitting at the dinner table, looking at his feet and thinking, 'Wow, those feet stepped on the moon.'"
The foundation provided by their educations has served Tom and Gloria in their respective careers. Tom spent more than 36 years at the NASA Ames Research Center in California and is currently the chief executive officer of Aerial Advantage in Cary, North Carolina. He stayed in touch with his alma mater, meeting with engineering students, faculty and staff during visits to Cincinnati. He also hosted UC leadership at NASA in California. Gloria excelled at both NASA and Cisco Systems, where she consults in logistics.
The couple's most outstanding achievement is their six adult children who successfully followed their own education and career paths. Most importantly, they have the kind hearts of their grandparents.
"I believe that R.T. Davis and Barbara Davis had a significant hand in our children," says Gloria. "And that makes me love UC. It is easy to honor the legacy of two wonderful people who gave so much."
Featured image at top: The Davis family. Photo/Provided.
Next, Now
With its focus on innovation and impact, Next, Now: The Campaign for Cincinnati is where ambition meets action. At the University of Cincinnati and UC Health, we're driven by next; thinking bolder and dreaming bigger to create the tomorrow we envision, today. Learn more at nextnow.uc.edu.
1
Mission not impossible
May 30, 2023
UC's School of Criminal Justice offers pathways to career placements with the U.S. Secret Service through connections and experience-based learning. Meet the students who found work experience through internships and alumni that hold career positions in the federal law enforcement agency.
2
A conversation with UC football coach Scott Satterfield
May 30, 2023
UC football coach Scott Satterfield was the centerpiece of a fireside chat hosted by Ryan Hays, the Executive Vice President & Chief Innovation and Strategy Officer at the University of Cincinnati at the 1819 Innovation Hub.
Debug
Query for this