UC economics professor explains why inflation is persisting
Cincinnati Edition panel discussion explores ways individuals, leaders can respond
The COVID-19 pandemic and subsequent supply chain disruptions combined with lax monetary and fiscal policy as a result of the pandemic are causing inflation to persist, a University of Cincinnati economics professor said.
Hernan Moscoso Boedo, an associate professor in the Carl H. Lindner College of Business, joined a Cincinnati Edition panel discussion to discuss what is driving inflation and how policymakers and individuals can respond.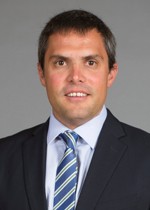 Early in the pandemic, the United States government pumped more money into the economy to prevent it from collapsing. The policy helped, but now the country is dealing with the consequences.
"The Fed is now trying to control the consequence of increasing the money stock by raising interest rates, and they have a tough job there because they want to balance controlling inflation versus stopping the economy too hard," Moscoso Boedo said. "The risk there is getting into a recession while they're trying to control inflation."
The United States is not unique in its precarious situation. Countries throughout the world are dealing with the lingering effects of the pandemic, which combined with Russia's invasion of Ukraine is disrupting the economy worldwide.
"Most developed nations follow the same strategy of increasing the stock of money, so you have inflation in Europe, you have inflation in the U.S. together with the supply chain disruptions that made some goods more scarce like [computer] chips," Moscoso Boedo said. "And we have the geopolitical tension now in Europe with the Russian aggression of the Ukraine. Everything is going toward the same direction of pushing prices up. It's not one. It's not only the Russian aggression or only the supply chain disruption. In the background, we have this humongous increase in the stock of money, which worked to keep the economy from going into a deeper collapse, but now we have to get our house in order."
Listen to more from Cincinnati Edition.
Featured image at top courtesy of Unsplash.
Next Lives Here
The University of Cincinnati is classified as a Research 1 institution by the Carnegie Commission and is ranked in the National Science Foundation's Top-35 public research universities. UC's medical, graduate and undergraduate students and faculty investigate problems and innovate solutions with real-world impact. Next Lives Here.