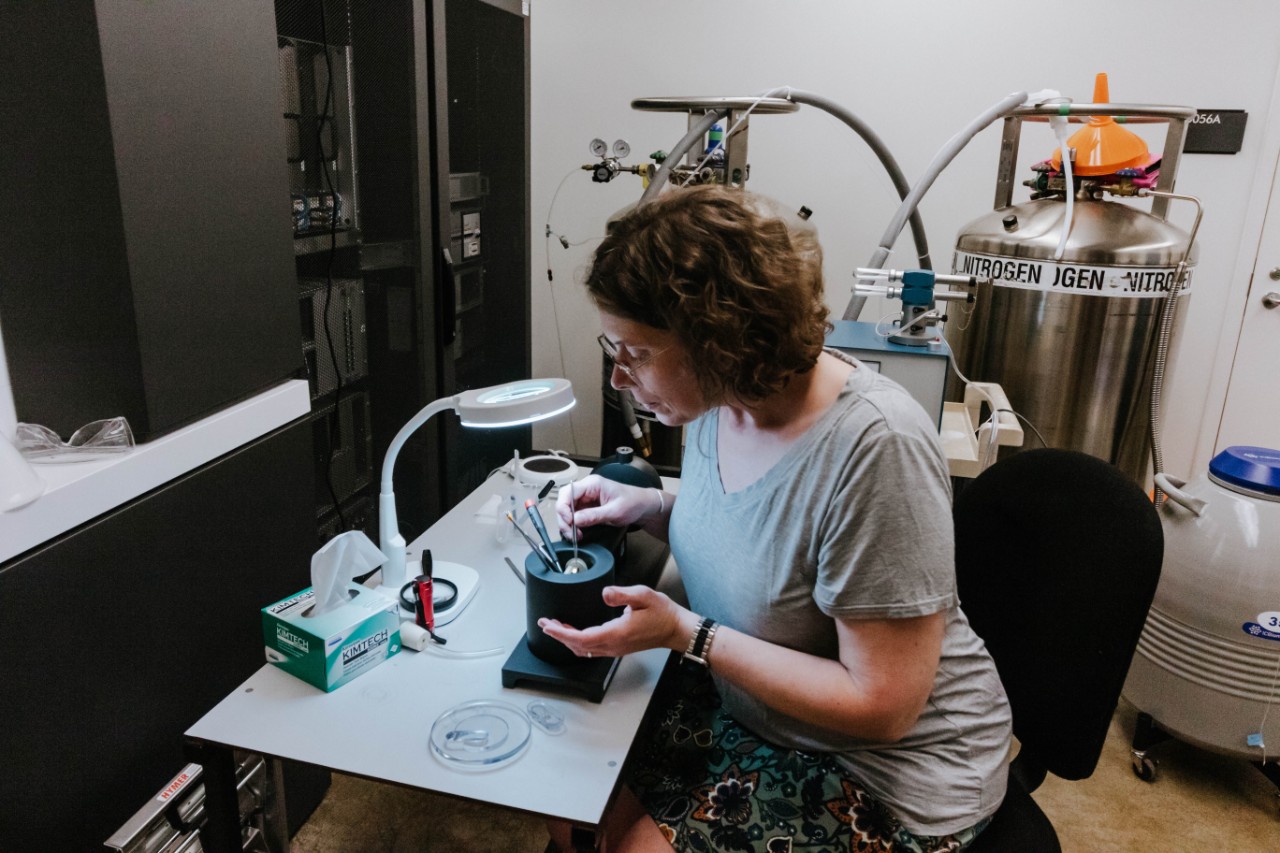 WVXU: UC scientists are deep-freezing molecules. Here's why they're so excited about it
Cryo-EM technology is a powerful disease-fighting weapon
The University of Cincinnati is making a significant commitment of funds and resources to establish the latest innovation in microscopy as the focal point of the Center for Advanced Structural Biology in the College of Medicine. The project will be built out in three phases over the next five years. WVXU covered the story by interviewing Desiree Benefield, PhD, the lab manager and researcher Rhett Kovall, PhD, both of the Department of Molecular Genetics, Biochemistry and Microbiology at the UC College of Medicine. 
Cryo-EM technology allows researchers to prepare and image samples at very cold temperatures to visualize them in a near-native hydrated state. This helps them get a look at proteins at the atomic level.
"We're actually visualizing a single protein," says Kovall. "This is quite different from other structural techniques where you don't get this direct visualization."
For research scientist and facility manager Benefield, PhD, it's valuable for studying any kind of proteins that are related to human disease. She first learned about cryo-EM in graduate school.
"I just fell in love with it because you could actually see the science," she says. "It wasn't a clear liquid in a tube or a band on a gel — you were looking at your question, which is really exciting to me."
The samples are flash-frozen with a Vitrobot (specimen preparation unit) and then scientists study them on the Talos L120C Transmission Electron Microscope, WVXU reported. 
The $1.5 million to buy the equipment came from Research 2030 as part of a JobsOhio grant.
Eventually, Cincinnati Children's Hospital, the University of Kentucky and Miami University will have access to UC's equipment.
Read more about the research here. 
Lead photo of Desiree Benefield/Marley Bangert
Impact Lives Here
The University of Cincinnati is leading public urban universities into a new era of innovation and impact. Our faculty, staff and students are saving lives, changing outcomes and bending the future in our city's direction. Next Lives Here.