Continuing the confidence
UC Marian Spencer Scholar found direction and determination in Early IT Program
After discovering confidence and direction in high school, Jalen Tucker sees the University of Cincinnati as the perfect place to continue his personal growth and further develop into a leader.
Tucker, a recent graduate of Shroder High School in Cincinnati, is one of the 10 inaugural Marian Spencer Scholarship recipients. He expects his studies at UC and his time as a Marian Spencer Scholar will help him achieve his goals of expanding his worldview and becoming a better leader.
"UC is a place where people from all over the world come together," he said. "What I hope to gain from UC is a solid understanding of how the world works around me and how to improve it."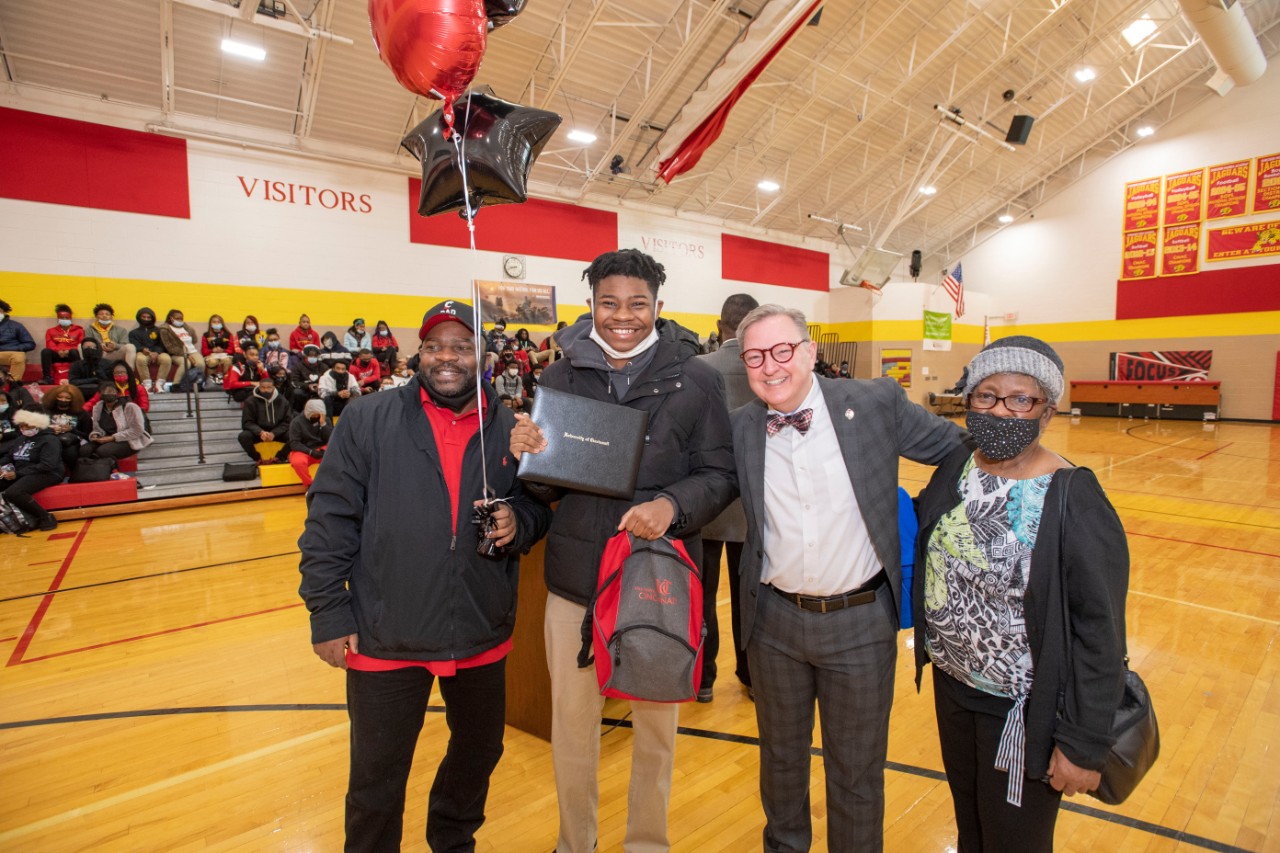 Tucker's personal growth has been connected to UC since he was in eighth grade. Before then he didn't have confidence in himself or his abilities and wasn't sure what he wanted to do with his life.
One of his teachers suggested he should consider UC's Early IT Program, which allows students to complete the first year of a bachelor's degree while still in high school and receive automatic admission to complete the program after high school. The program included many tough classes, Tucker said, which challenged him as a student and helped him find what he enjoyed.
"What I want to do and what I'm into were shaped by just the stress and rigor that was involved in the IT program," he said.
Tucker's dad, Michael Tucker, and uncle, Walter Tucker, work in information technology, so he knew the industry was growing and offered exciting potential for his career. He also liked how the field offered applications in his everyday life and helped him better understand technology.
Within the field of IT, Tucker discovered he enjoyed database management and cybersecurity, which he plans to study at UC. He also took part in UC's Biology Meets Engineering course — a three-week program that integrates the study of biology and engineering through examining the sensory guidance of animal behaviors with robotics — and found he could incorporate his passion for science with IT.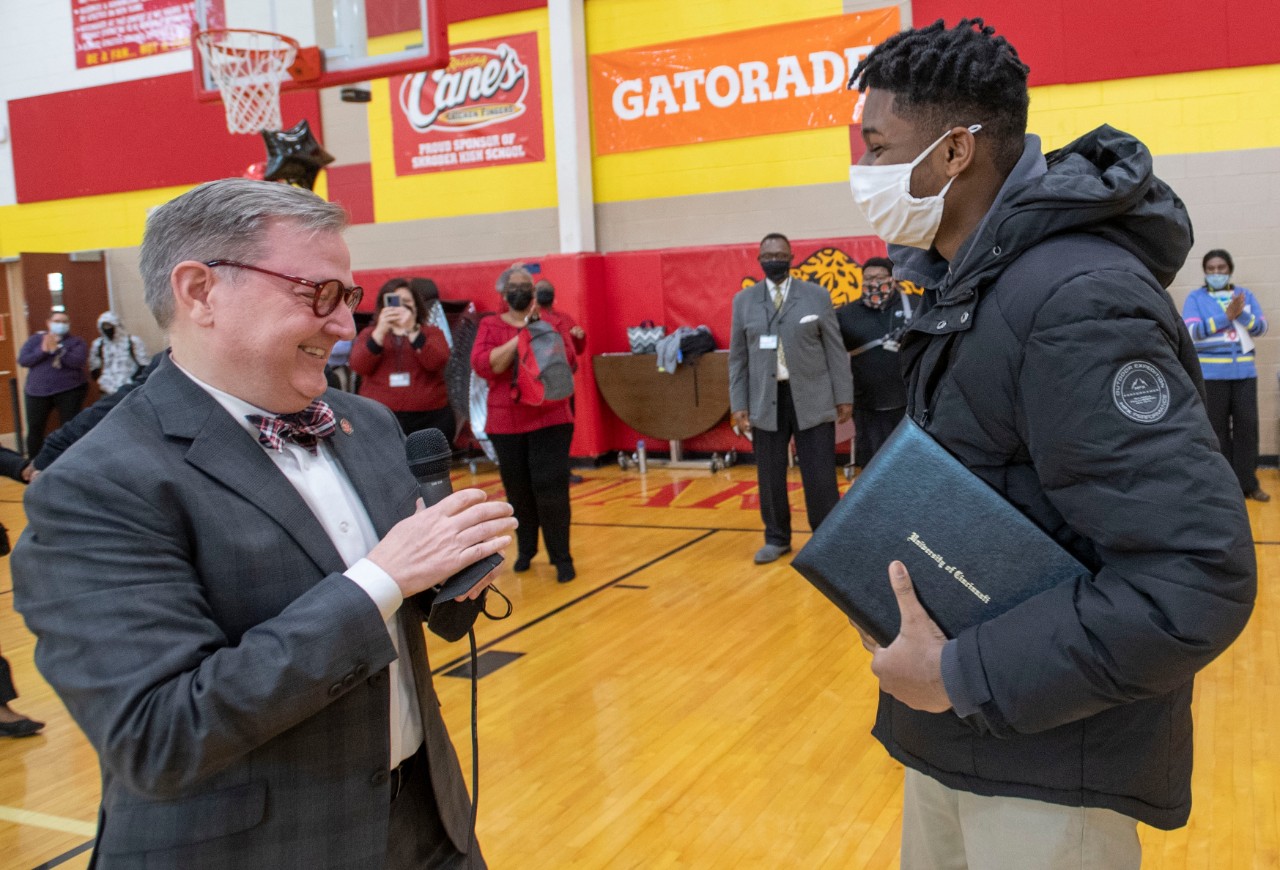 To maintain his rigorous academic course load, his participation in sports and a job, Tucker had to learn to allot his time wisely during his high school years. He embraced the demanding schedule, confident it would help him achieve his goals, which included earning a college scholarship.
"Dad and my stepmom reinforced the belief that you speak it into existence," said Tucker, who also credited his mom, Tiffany Thompson, and cousin, Brian Arnold, for supporting him and pushing him to be the best version of himself. "I was surprised a little bit, but I ultimately envisioned myself in this."
Tucker received the Marian Spencer Scholarship in front of his family and classmates during a surprise assembly in February at Shroder High School.
"My dad had always told me I could get [a scholarship] if I worked hard enough, if I wanted it bad enough," Tucker said. "The look on his face [said], 'I told you so.' It's just fantastic."
The Marian Spencer Scholarship is made possible thanks to an investment of $6 million — the result of a gift from UC alumnus and venture capitalist Jim Goetz and university matching funds — and will allow 10 students annually from Cincinnati Public Schools (CPS) to receive full tuition, room and board scholarships and other opportunities. The first 10 Spencer Scholars will enroll in fall 2022, and by 2023 the program will include at least one student from each of the 18 high schools within CPS.
Among the opportunities for the Marian Spencer Scholars will be a service abroad trip to Tanzania.
"I've never been outside the country before," Tucker said. "It really just seems so surreal that I'll be able to be a part of something like this. I've always wanted to travel, and I'm just glad to be a part of it."
With more than 1,500 students, UC's School of Information Technology is home to the largest computing program on campus and Ohio's first bachelor's and master's degrees and doctoral programs in information technology.
Featured image at top: Jalen Tucker smiles after receiving the Marian Spencer Scholarship at at Shroder High School. Photos/Joseph Fuqua II
Become a Bearcat
Whether you're a first-generation student or from a family of Bearcats, UC is proud to support you at every step along your journey. We want to make sure you succeed — and feel right at home.
1
Architecture co-ops give Josh Bennett a better idea of what...
September 26, 2023
Fourth-year architecture major Josh Bennett reflects on his undergraduate experiences with co-op. Bennett hails from Louisville, Kentucky, but came to UC after a visit during his high school years. Three co-ops later he says his architectural style leans more toward the modern world.
2
Playbill: CCM ranks in top 10 most represented colleges on...
September 25, 2023
The University of Cincinnati College-Conservatory of Music has once again been named as one of Playbill's "Big 10." Ranked as one of the top star-producing institutions in the nation, CCM was represented by at least 24 alumni performing on Broadway stages during the '22-23 season.
3
PAC brings special events to UC
September 25, 2023
Find fun, free things to do on campus. UC's Programs and Activities Council (PAC), a student-run organization responsible for special events and concerts and bringing speakers and comedians to campus, offers activities for student engagement throughout the year.
Debug
Query for this