Leenellett named EMRA Faculty Mentor of the Year
Emergency Medicine resident's organization honors her for being an outstanding role model
Elizabeth Leenellett, MD, W. Brian Gibler Endowed Chair for Education in Emergency Medicine and vice chair in the Department of Emergency Medicine, has been named Faculty Mentor of the Year for 2022 by the Emergency Medicine Residents' Association (EMRA).
The award recognizes an EMRA alumnus who has demonstrated exceptional service as a mentor for emergency medicine medical students, residents and fellows. The recipient is viewed as an outstanding role model for future emergency medicine physicians and consistently helps others develop and progress in their emergency medicine careers.
"When Dr. Leenellett began her career, there were hardly any women in the field of EM (emergency medicine)," her nominators wrote. "The young women currently in our specialty, which is still majority male, probably cannot even imagine the challenges Liz faced, especially early in her career. Many persons, male and female, adopt the attitude that junior members of their field should meet and surmount the same challenges they faced—not Dr. Leenellett. She has dedicated her career to paying forward the lessons she has learned and to removing barriers disproportionately facing women and underrepresented groups in medicine, establishing UC Emergency Medicine Program of Women in LeadERship (EMPOWER) in 2017, developing UC Leadership Excels in Achievement of Diversity (UC LEADS), and creating her current position as vice chair of diversity for the department."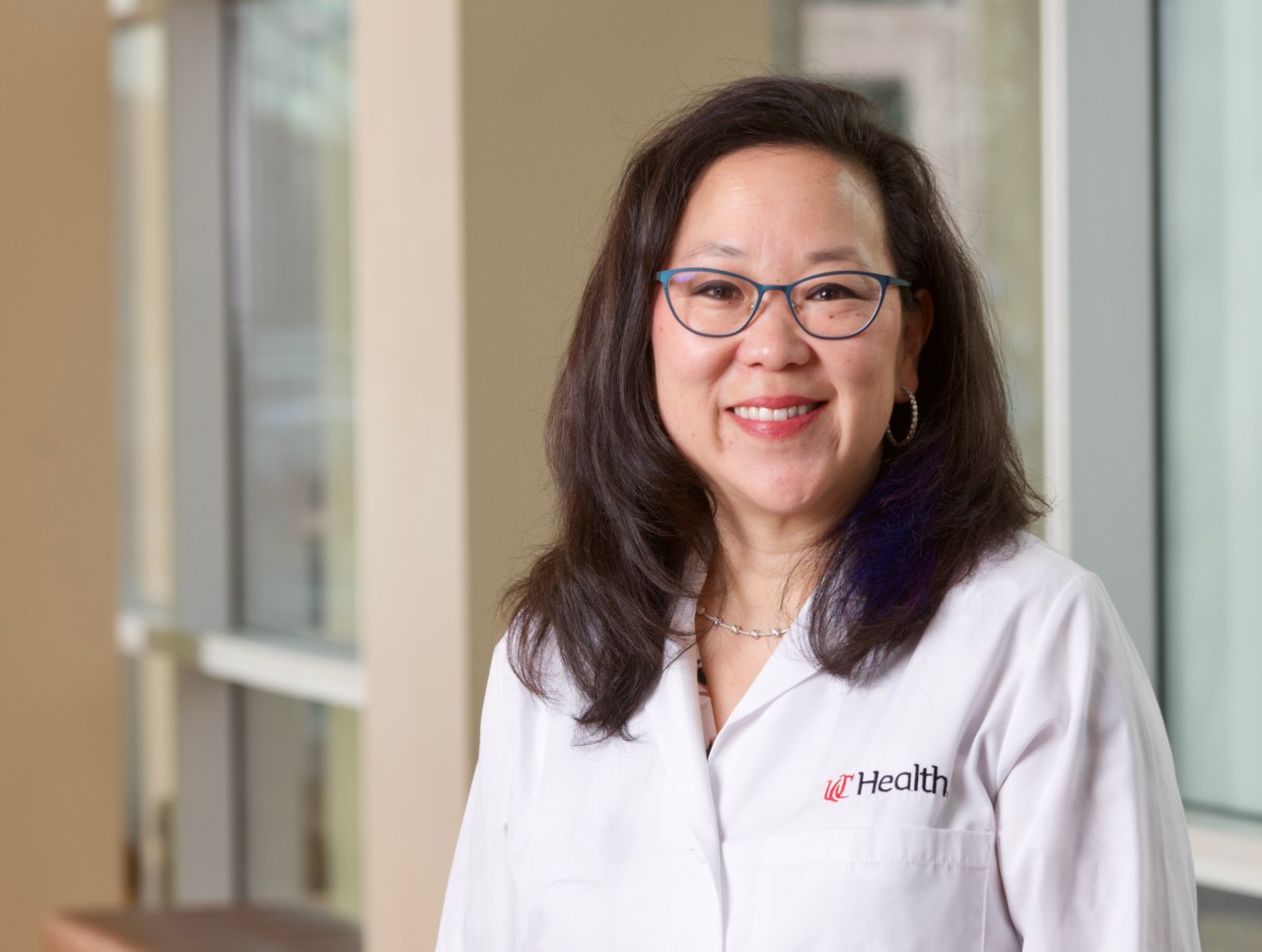 Under Leenellett's leadership, EMPOWER has helped increase the number of female emergency medicine faculty at the college, now up to 30% of current faculty, with two-thirds of those women holding director level positions. She also has provided education on gender-based issues, promoted inclusion through physical cues, such as pronoun badge cards, and equity initiatives, such as a wearable breast pump program.
Leenellett was nominated for the award by Hannah Hughes, MD, and Kelli Jarrell, MD, both assistant professor in the department, Sarah Wolochatiuk, MD, 2022 graduated resident, and Melanie Yates, MD, third-year resident. All are mentees of Leenellett and have also received honors from EMRA or other emergency medicine organization: Jarrell won the 2021 EMRA Fellow of the Year, Hughes is a former EMRA president and the 2020 Outstanding Ohio American College of Emergency Physicians (ACEP) Resident of the Year; Wolochatiuk is the 2021 Ohio ACEP Outstanding Resident of the Year and EMRA Clinical Excellence award winner; and Yates won the Best of IGNITE! presentation at the Society of Academic Emergency Medicine 2022 conference and serves as the EMRA Health Policy Committee assistant vice chair.
"They fill my wellness bucket and inspire me to be better," Leenellett says about her nominators. "As vice chair and one of the first women to be internally promoted to full professor in my department, I feel that it's my responsibility and privilege to pave the way, open doors and support them in their careers. In turn, they serve as role models for other aspiring female leaders, proof that it is possible. I was incredibly touched and humbled by their nomination letter and am so lucky to call them friends. They are the future of emergency medicine and I can't wait to see how their careers and lives unfold!"
Leenellett will receive the EMRA Faculty Mentor of the Year award in October during the EMRA awards ceremony dinner at the national ACEP Scientific Assembly 2022 in San Francisco.
"Mentorship has been key to my career development and I'm forever grateful to the many people who have served as my mentors over the years, particularly Drs. Art Pancioli (current Richard C. Levy Chair of the department), Brian Gibler (former chair of the department), Greg Fermann (professor in the department), Dawn Kleindorfer (former UC professor of neurology and associate dean for faculty development and women's initiatives) and Rick Ryan (professor in the department)," Leenellett adds. "Knowing how important mentorship is to career growth and advancement, I've made a conscious effort to pay it forward, with particular attention to our female residents and faculty, in effort to retain our outstanding women in academic medicine."
Last month, Leenellett received the 2022 Grace Kawas LeMasters "Lift While You Climb" Mentoring Award from the College of Medicine Women in Medicine and Science Group (WIMS). The award honors recipients for embodying the same spirit that LeMasters maintained in lifting less senior women toward achieving both personal and professional goals. Grace LeMasters, PhD, is an emerita professor in the Department of Environmental and Public Health Sciences.
EMRA is a national organization representing more than 16,000 fellows, residents, medical students and alumni members in emergency medicine.
1
UC COVID-19 studies awarded $425K
April 15, 2020
Understanding that time was of the essence in combating this highly infectious disease, UC and its College of Medicine's Office of Research conducted a rapid review and distribution of $425,000 in novel pilot grants to researchers, focusing on eradicating the disease.
2
Educational breast cancer event focuses on empowerment
Event: November 3, 2018 9:00 AM
"Beyond Breast Cancer: The Path to Empowerment" is an educational event for breast cancer survivors, their families and the community; it will be held from 9 a.m. to 3 p.m. Saturday, Nov. 3, at the Kingsgate Marriott Conference Center, 151 Goodman Drive.
3
Yahoo News: Five Black UC faculty members receive National...
September 8, 2020
Five African-American researchers and healthcare professionals on UC's medical campus have received sizable grants from the National Institutes of Health during the past 18 months. The faculty members were interviewed by WCPO to help showcase innovation and the diverse voices and perspectives they bring as the healthcare community attempts to ease health disparities in communities of color in Cincinnati and beyond.
Debug
Query for this