President Pinto welcomes UC community back to campus
UC President Neville G. Pinto shares enrollment news, building updates and more
The below message was shared with faculty, staff and students today:
Dear Campus Community,
As we begin our 203rd year at the University of Cincinnati this week, allow me to officially welcome you to our campuses.
For about 10,000 of you — including our biggest first-year class and around 1,600 transfer students — this week kicks off a brand new and exciting journey at UC. Thank you for choosing to be a Bearcat.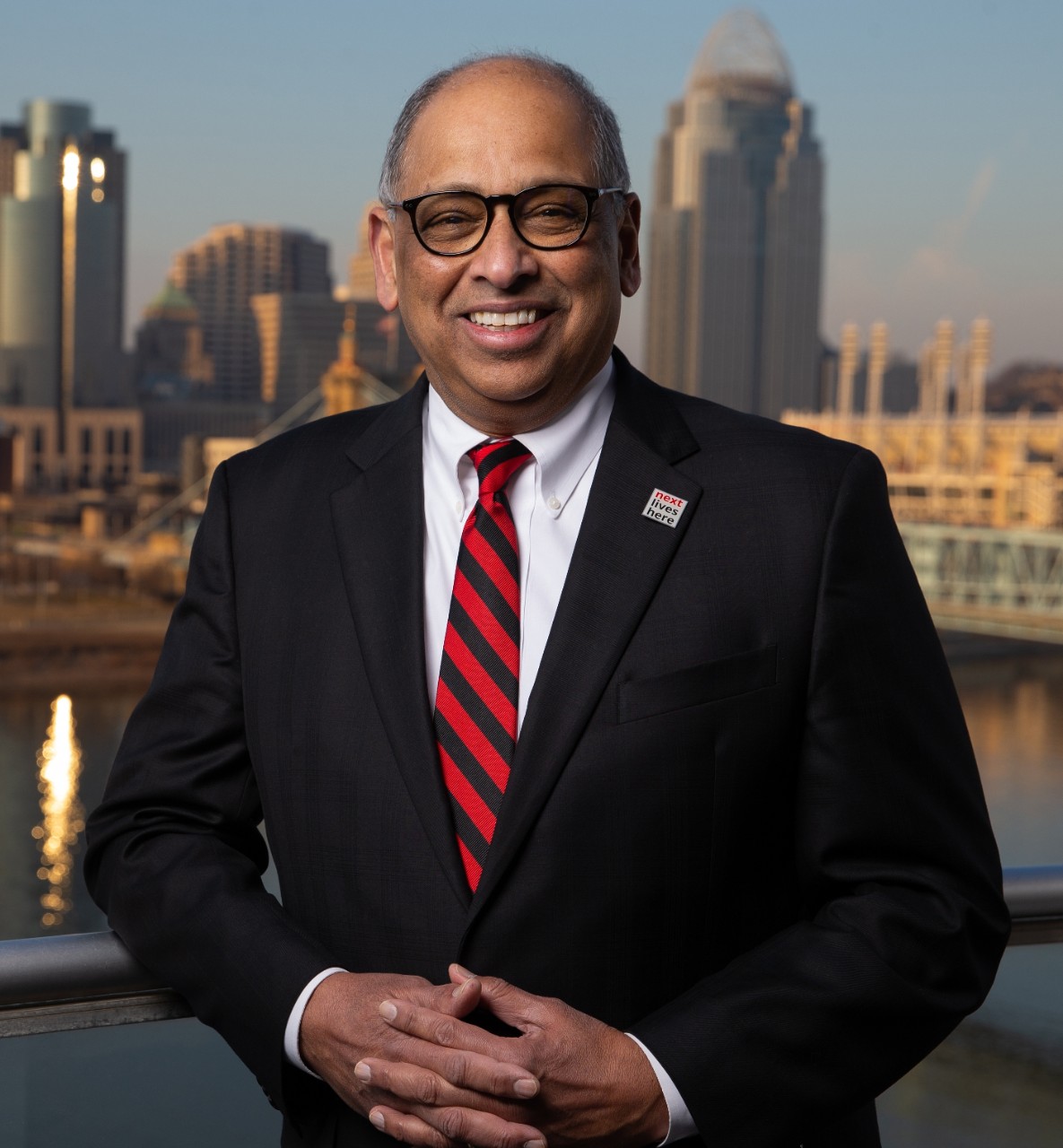 You help make up our largest-ever student body, expected to exceed 48,000. Let me assure you and those returning that you have made a fantastic choice. The quality of our academic programs and the overall student experience at UC have never been better.
I'm extremely thankful for the dedicated and talented faculty and staff who work so hard to build a welcoming, innovative and inclusive culture here. We have much to celebrate and look forward to this year, and I'll touch on a few of the highlights.
We are nothing without our wonderfully diverse community of students, faculty and staff. Last fall we announced inspiring new investments in diversity, equity and inclusion, including the new Marian Spencer Scholarship Program for select Cincinnati Public Schools students. How thrilling that our first class of Spencer Scholars have now moved into Marian Spencer Hall. I'm certain you will each serve as outstanding leaders and representatives of your incoming class, which is the most diverse in our history.
We are nothing without our wonderfully diverse community of students, faculty and staff.
President Neville G. Pinto
Our faculty are making significant strides in teaching, scholarship and research. The latest figures reveal that our researchers have attracted UC's highest-ever external funding with more than $551 million. This is up nearly $100 million in five years.
Digital Futures Grand Opening
Next month we will cut the ribbon on one of the most important physical developments in our history when we officially open the new Digital Futures complex near the Martin Luther King interchange at I-71. This 189,000-square-foot facility — an anchor of the Cincinnati Innovation District — will be home to 17 innovative research labs filled with interdisciplinary teams of researchers and students focused on "solving problems that matter to our society." Stay tuned for details, and join us during the grand opening on September 23.
As announced last week, UC's Chief Innovation Officer David Adams has accepted a new role as Commissioner of the Indiana Department of Workforce Development under Governor Eric Holcomb. I want to thank David for the tremendous foundation of excellence he established for UC's fast-growing innovation ecosystem. Starting next month, the Office of Innovation will report to Executive Vice President Ryan Hays. Hays will assume the additional title of Chief Innovation & Strategy Officer. As chair of UCRI's Board of Directors from 2014 to 2022, Hays played a pivotal role in recruiting the first CIO, launching 1819 and establishing the Cincinnati Innovation District.
New Home for College of Law
The College of Law is also celebrating its new home at the former Lindner College of Business building, which has been transformed to create a state-of-the-art 116,000-square-foot facility. The grand opening ceremony will take place September 13.
More Architectural Updates
The UC BioScience Center will open this fall. The renovation of the former Hamilton County Coroner's building will include modern teaching and research labs to serve the needs of UC's Biomedical Engineering department.
The 16-story Calhoun Hall is getting a complete makeover and is set to reopen by Spring semester.
Work is also continuing on the beautiful new Clifton Court Hall, the 185,000-square-foot academic building on the northwest corner of campus, which will open in time for the 2023-24 academic year. The building's spaces will be devoted predominantly to the social sciences and humanities.
By the end of this academic year, UC will be on the brink of joining the Big 12 Conference, a move that will allow our best and brightest athletes to compete where they belong — on the biggest stages of collegiate athletics. See how UC is getting Day One Ready.
As we begin fall semester, I'm grateful for the contributions all of you make to our incredible university.

Wishing you a productive and rewarding new school year,
Neville G. Pinto
President
Impact Lives Here
The University of Cincinnati is leading public urban universities into a new era of innovation and impact. Our faculty, staff and students are saving lives, changing outcomes and bending the future in our city's direction. Next Lives Here.