INSIDER: Here's everything TikTok says it's doing to fight misinformation
Misinformation will be around as long as there are social media users, says UC expert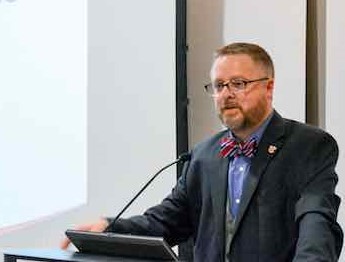 Social media is rife with misinformation, but TikTok recently announced it's going to take two new precautions – in the form of enforcement and education – leading up to the 2022 midterm elections.  
"No matter how well-intentioned these policies are - what users must keep in mind - is that there is no foolproof way to combat misinformation," professor and social media expert Jeffrey Blevins told Business Insider.
Blevins, who heads UC's Department of Journalism, is an often-cited media source and has conducted extensive research on social media platforms and how misinformation is spread.
TikTok is partnering with fact-checking organizations, including Politifact and SciVerify, to assess the accuracy of content; however, there is so much user generated content that some misinformation is bound to slip through the cracks, Blevins said.
Professor Blevins is the co-author of "Social Media, Social Justice and the Political Economy of Online Networks."  He holds affiliate faculty positions at UC in the Department of Communications and the School of Public and International Affairs. His scholarship is grounded in U.S. telecommunication law and policy and engages critical political economy theory.
Read the Business Insider article 
Featured image of cell phone with apps courtesy of Unsplash.
Impact Lives Here
The University of Cincinnati is leading public urban universities into a new era of innovation and impact. Our faculty, staff and students are saving lives, changing outcomes and bending the future in our city's direction. Next Lives Here.