Cincinnati media visit UC campus for the first day of class
UC students, administrators and staff discuss what's new on campus
Natalie Bennings and Marcus Elliott got a chance to meet UC's most famous resident as a Tristate television audience watched.
The Bearcat mascot joined the two first-year students and stood near student body president Isaac Smitherman and student body vice president Yulia Martinez to perform UC's school spirit cheer, Down the Drive, for WKRC-Local 12 journalist Kristin Cornett.
It was the first day of class for UC and more than 48,000 students were anticipated - that's nearly a 3% increase over last year's enrollment. It's also the university's largest, most diverse and most academically gifted class in school history. 
"We are already seeing people walk across campus and I am so excited," says Smitherman during his interview. "This is our first year without COVID restrictions and we are here on campus and campus is about to come alive. We have traffic advisory warnings, it's going to be crazy, but we are so excited."
Smitherman and Martinez, both engineering majors, are completing their fifth year at UC. They remember the campus before COVID and how things changed to ensure safety.  A sense of normalcy is returning this year, they say.
"It feels like we are coming full circle just knowing that campus is going to be just exactly like it was for my first year," says Martinez. "Everything is in person and having that experience is really going to give me a full feeling for when I graduate in May."
First-year students, Natalie Bennings and Marcus Elliott, were also out and ready for a Down the Drive demonstration. Bennings and Elliott were part of the inaugural class of 10 Marian Spencer Scholars. 
The Marian Spencer Scholarship program was launched last year to bolster UC's commitment to Cincinnati Public Schools by granting scholarship support for high-achieving CPS students. An investment of $6 million — made possible by a gift from UC alumnus and venture capitalist Jim Goetz and university matching funds — will allow 10 CPS students a year to receive full tuition, room and board scholarships and other opportunities.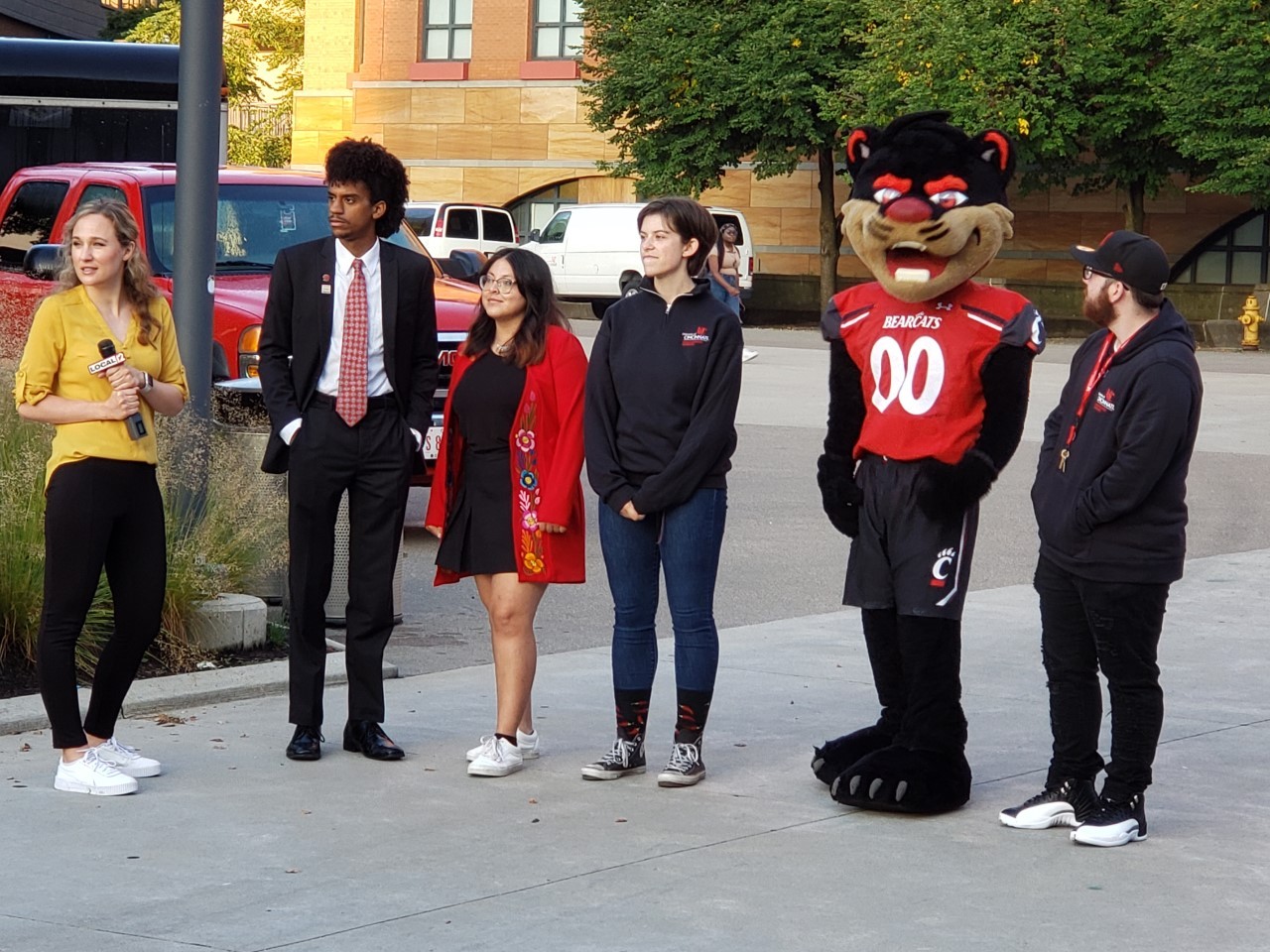 The first 10 Spencer Scholars will enroll in fall 2022, and by 2023, the program will include at least one student from each of the 18 high schools within CPS. 
Jack Miner, vice provost for enrollment management, also spoke to WCPO-TV Channel 9, telling viewers UC has more than 8,000 incoming students this year. "We have more than 48,000 students at the University of Cincinnati and that's more than a 16% growth in enrollment," he explains.
"Altogether we will have 7,500 students in residence halls this year," says Miner. "That's a growth of about 1,100 students. It really is a reaction to COVID. We have had more students from Cincinnati that would have normally been a commuter student that wanted to be in a residence hall.
"We have seniors that wanted to be in apartments," says Miner. "When I was in college I was dying to get out of the residence halls, but now everyone wants to stay in the residence hall and they want to have the whole campus experience and be involved in all the organizations. It is really a great place to be."
View or read some of the stories about UC's first day of classes:
Featured photo of UC students at incoming student convocation during Welcome Week. Photo by Andrew Higley/UC Marketing + Brand.
Become a Bearcat
Whether you're a first-generation student or from a family of Bearcats, UC is proud to support you at every step along your journey. We want to make sure you succeed — and feel right at home.