Wireless sensor fits like a second skin
UC's new electronic skin sensor says goodbye to integrated circuit chips
A University of Cincinnati electrical engineer and his research partners have created a new flexible skin sensor that fits like a Band-Aid to monitor your health wirelessly without bulky electronics.
Unlike previous generations of wearable sensors, the design has no rigid parts and relies on surface acoustic wave technology to transmit health data wirelessly.
"It's thin and lightweight — an amazing fit. And quite imperceptible. You're hardly able to feel it," said inventor Yeongin Kim, an assistant professor in UC's College of Engineering and Applied Science.
"It marks a big leap forward in wireless sweat-sensor technology," he said.
The study was published in the journal Science.
The reason doctors turn to wireless skin sensors is the ability to monitor a patient over hours or even days without restricting wires. Convenience and comfort are big considerations, Kim said.
Conventional skin sensors use integrated circuit chips made from hard, inflexible parts that require thicker supporting material like rubber to adhere to the skin. Sweat tends to accumulate under the plastic and rubber. Their transistors require power that can generate heat, which can make them uncomfortable to wear for long periods, Kim said.
"The thousands of transistors in an integrated circuit chip consume a lot of power. If you want more accuracy, you need to consume more power. That's the fundamental limit of an integrated circuit approach," Kim said. "There is a lot of heat generated from integrated circuit chips. Even if it doesn't cause injury, it can be uncomfortable."
My device is almost as soft as actual skin.
Yeongin Kim, UC College of Engineering and Applied Science
But the novel design created by Kim and his collaborators at the Massachusetts Institute of Technology relies on a thin gold-film antenna arranged in a dumbbell pattern connected to a 200-nanometer-thick piezoelectric film that generates an electrical charge from mechanical stress. Both the antenna and the film adhere to a microns-thick perforated material thinner than a sheet of notebook paper that closely molds to the contours of your skin.
Last year, Kim and his collaborators tested this perforated "skin" on 19 patients and found that it was both comfortable and breathable, even during intense sweating. (They fed their volunteers spicy-hot food.)
Kim said the new chipless, wireless approach complements the breathable platform. 

"It's conformable, flexible and stretchable," Kim said. "My device is almost as soft as actual skin."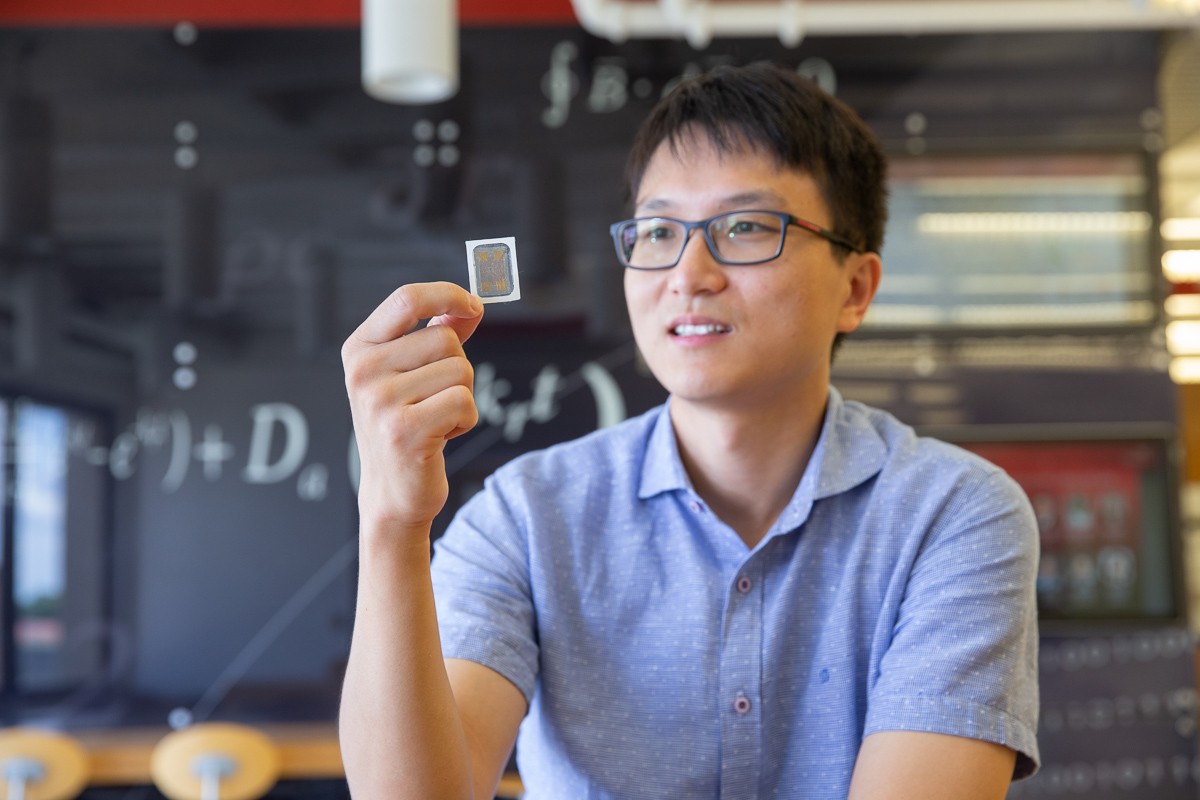 The film had to be thin enough to ensure the sensor was sensitive to changes observed through the skin. But if it's too thick, this piezoelectric material can create "damping," a decrease in the strain input from the skin.
"The quality of piezoelectric film becomes worse as you have thinner material," Kim said. "We maintained the same material quality at 200-nanometer thickness as that of other films 10 times thicker. That was a major breakthrough. We overcame the challenge of preparing the material."
But the sensor itself is equally elegant.
Surface acoustic wave sensors convert electrical energy to mechanical energy through the piezoelectric effect, the ability of materials like lead zirconate titanate, which is toxic — or in this case, harmless gallium nitride — to generate acoustic waves — think the ripples in a pond — at a resonant frequency in response to applied mechanical stress or attached mass.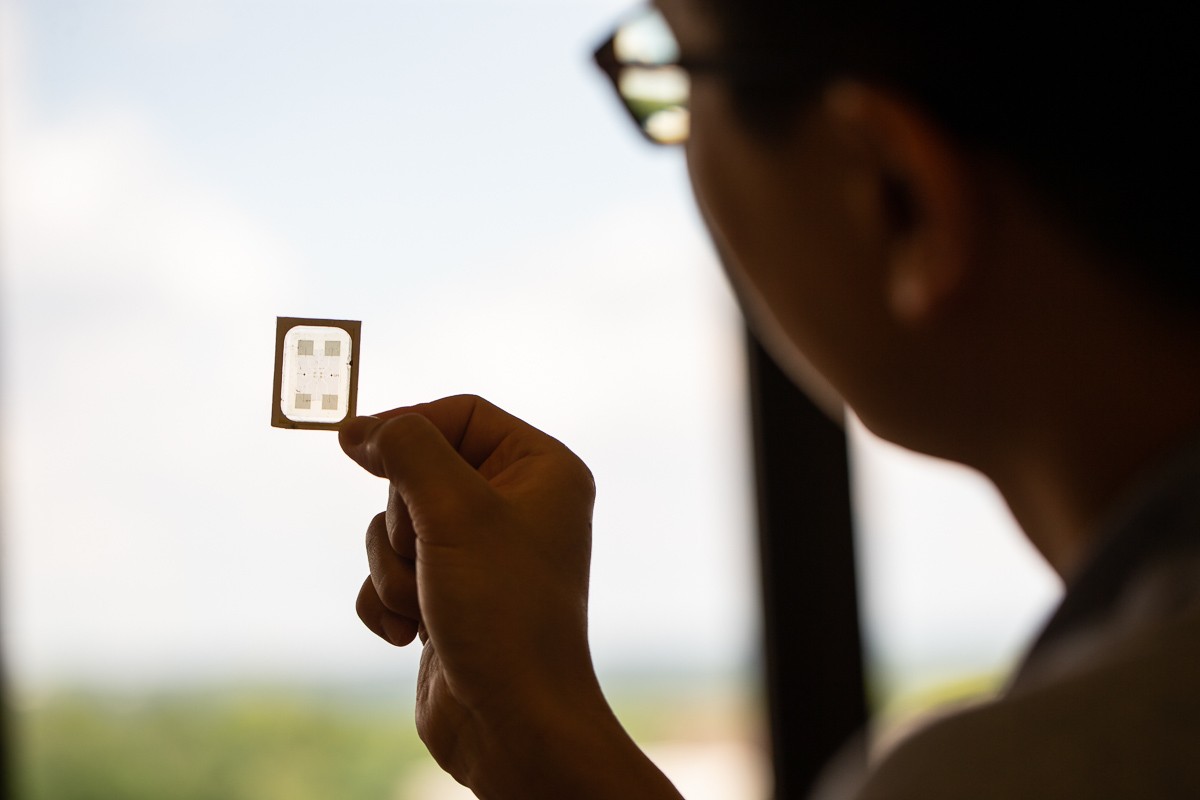 The sensors provide real-time information about the wearer.

The potential applications for such a sensor are profound. The sensors can measure any of a number of biomarkers for conditions like diabetes, anxiety or heart disease.
"Perhaps the biggest application is health monitoring," Kim said. "You can monitor a patient's heart rate all the time with wearable sensors."
And since the sensor is comfortable and barely noticeable, it could be used on newborns to monitor an irregular heartbeat or other health concerns, he said.
"Mental health is quite important these days. Some people have depression. In that case doctors can monitor stress levels to quantitatively diagnose patients," he said. "How severe are the symptoms related to the patient's hormone levels?"
Among the paper's 24 co-authors are MIT associate professor Jeehwan Kim and Jun Min Suh, Jiho Shin and Yunpeng Liu, also affiliated with MIT.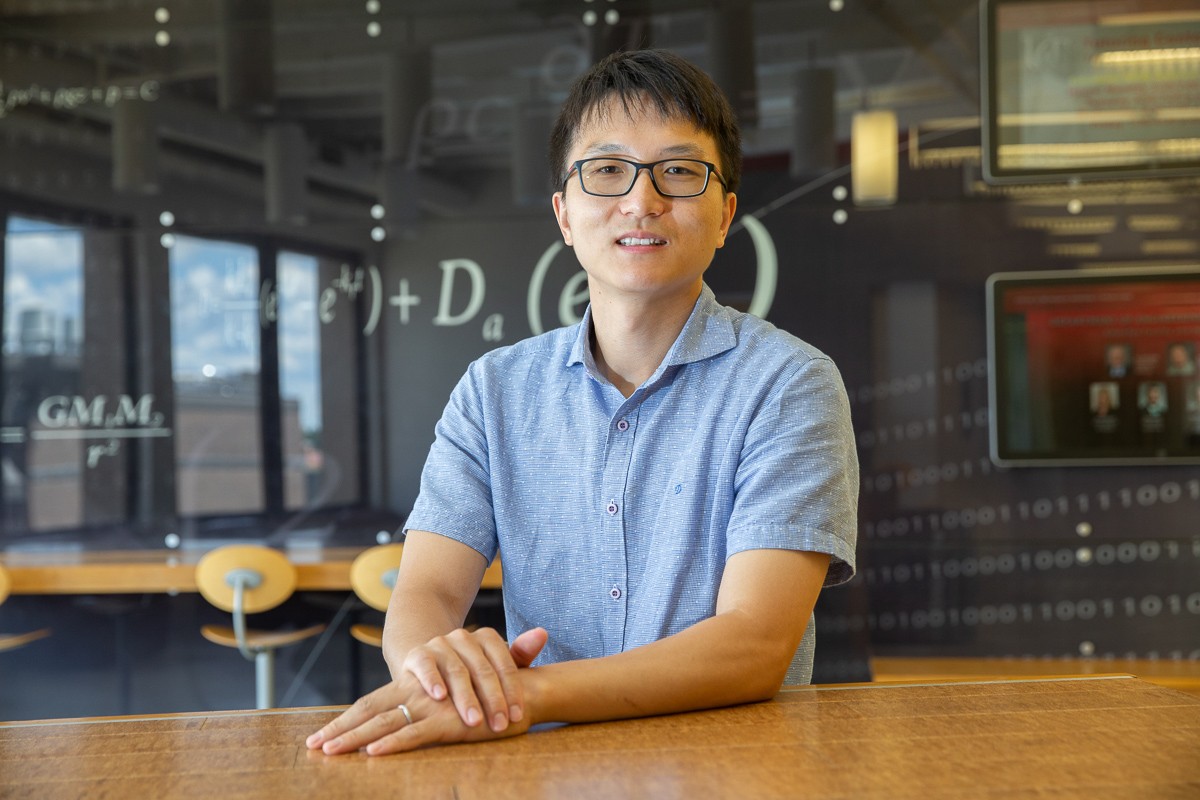 Next Lives Here
The University of Cincinnati is classified as a Research 1 institution by the Carnegie Commission and is ranked in the National Science Foundation's Top-35 public research universities. UC's graduate students and faculty investigate problems and innovate solutions with real-world impact. Next Lives Here.
2
UC partners with Thales on aerospace research
March 21, 2023
The University of Cincinnati signed a research agreement to work with one of the world's leading aerospace companies on national defense, space exploration and aeronautics.
3
Electrical engineering student encourages young women in STEM
March 21, 2023
For four years, University of Cincinnati doctoral student Brooke Campbell has been a graduate assistant in the UC Undergraduates Pursuing Research in Science and Engineering (UPRISE) program. After working for five years in the tech industry, she returned to school to pursue a graduate degree. Her research work focuses on using a process called electrospinning to create nanofibers loaded with medicine for targeted drug delivery. She was named Graduate Student Engineer of the Month by UC's College of Engineering and Applied Science.
Debug
Query for this