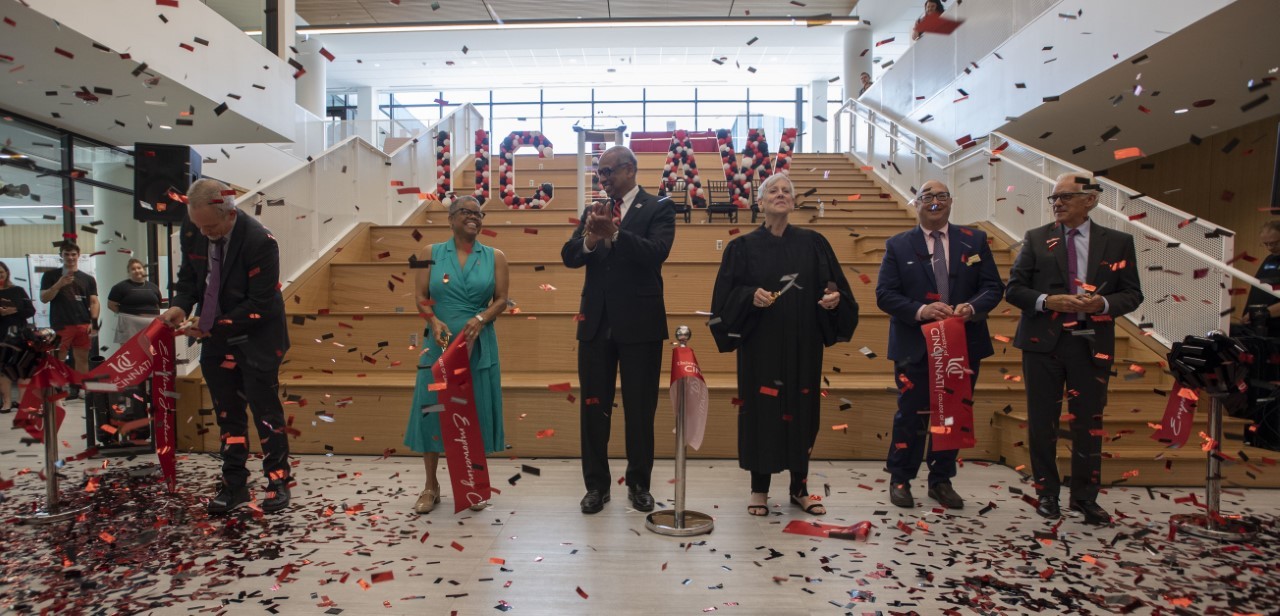 UC Law celebrates a new beginning with a move to the heart of Uptown campus
Hundreds of well-wishers attend grand opening of a new state-of-the-art building
An enthusiastic crowd packed a light-filled atrium to listen to speeches from dignitaries and witness a ribbon-cutting before a blast of confetti marked the grand opening of the UC College of Law's new $45.6 million building.
The state-of-the-art facility is located in the center of the Uptown campus and replaces the former building that once housed the Lindner College of Business. Planners reinvented and reconfigured the building producing a 116,735-square-foot structure designed to meet the technological and specialized needs for 412 law students and 78 faculty and staff.
Verna Williams, the former law dean, who stepped from her post last week for a new position leading Equal Justice Works, a nonprofit organization based in Washington, D.C., welcomed visitors to the Sept. 13 grand opening. More than 400 people registered for the event which also featured UC President Neville Pinto; Ohio State Supreme Court Justice Maureen O'Connor, who offered a keynote address; UC Foundation President Peter Landgren and Michael Whiteman, the new interim dean of the College of Law.
"This beautiful space puts our students at the very center, providing them with open spaces that fuel community and creativity," said Williams. "Our new location at the heart of campus puts us within walking distance to Lindner College of Business and within the orbit of the Digital Futures building and the 1819 Innovation Hub, encouraging new and enhancing existing partnerships."
The Cincinnati Enquirer, the Cincinnati Business Courier, the university's student newspaper The News Record  the National Jurist and four television stations covered the grand opening of the new building.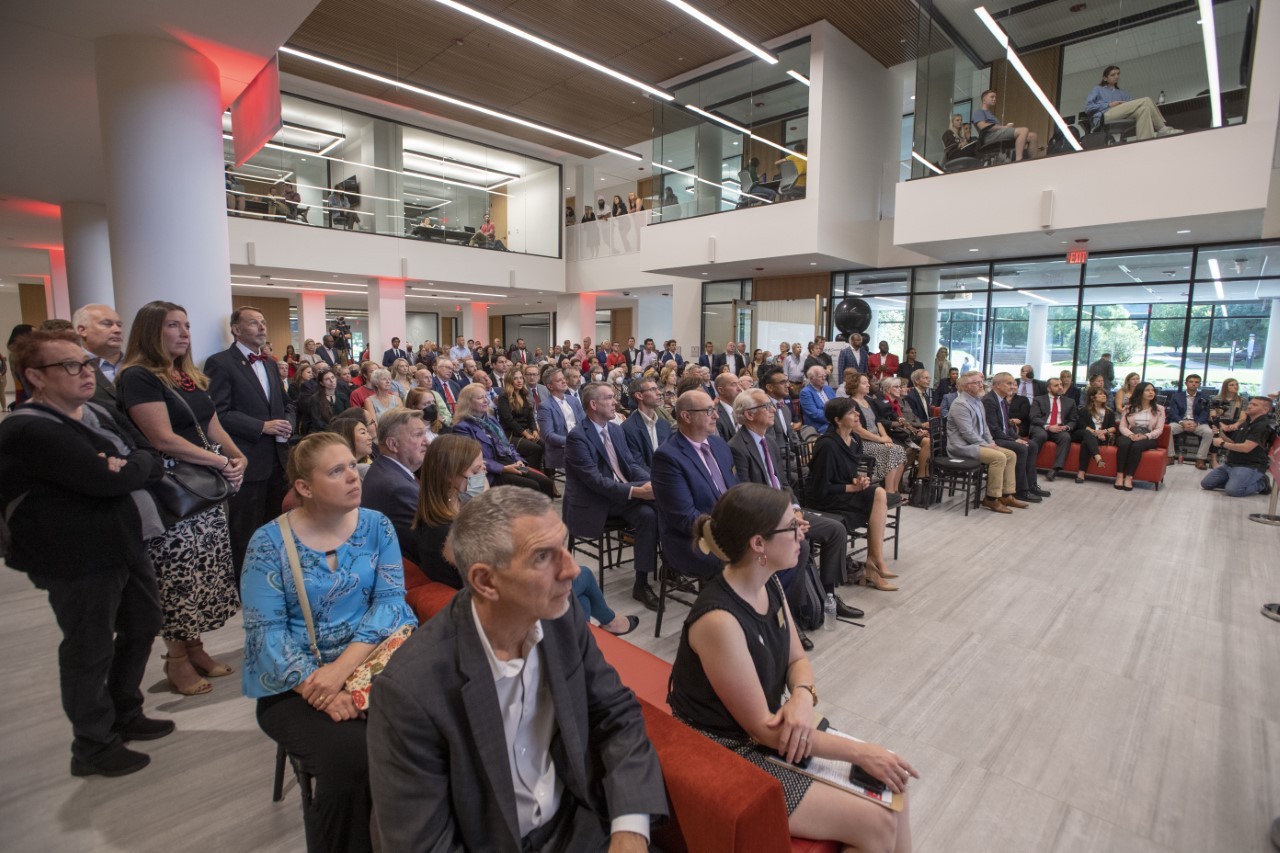 "The new location reminds us of the importance of law to every aspect of society, connected as it is to every discipline taught on this campus," according to Williams. "Finally, our new home faces a major artery named for Dr. Martin Luther King, who called himself a 'notorious litigant.' From the time of the Montgomery bus boycott when he was only 26 years old, until his assassination at 39, just 13 years, Dr. King hired 70 attorneys.
"Situating the college on this thoroughfare drives home the power of law to make change, which is central to our mission of educating and inspiring leaders," said Williams. "In design, function and location, this new home advances that goal, providing us with tools that will adapt to new challenges, settings that will stimulate new ideas and the space to invite new voices to the table to solve problems."
The new building will help advance the work of UC Law programs which impact the broader community such as the Ohio Innocence Project, which exonerated its 36th client; the Domestic Violence/Civil Protection Order Clinic, whose new director Kristie Bluett brings extensive experience in human rights law; and the new Legal Access Clinic, directed by Sarah Adkins, designed to narrow the access-to-justice gap plaguing too many in the community.
Features of the new law school weren't lost on O'Connor, who is the tenth chief justice of the Supreme Court of Ohio and the first woman to lead the state judicial branch of government. Since 2015, she has endowed Ohio local courts with more than $35 million to add and enhance technology. This funding has increased access to justice for litigants, defendants and the public.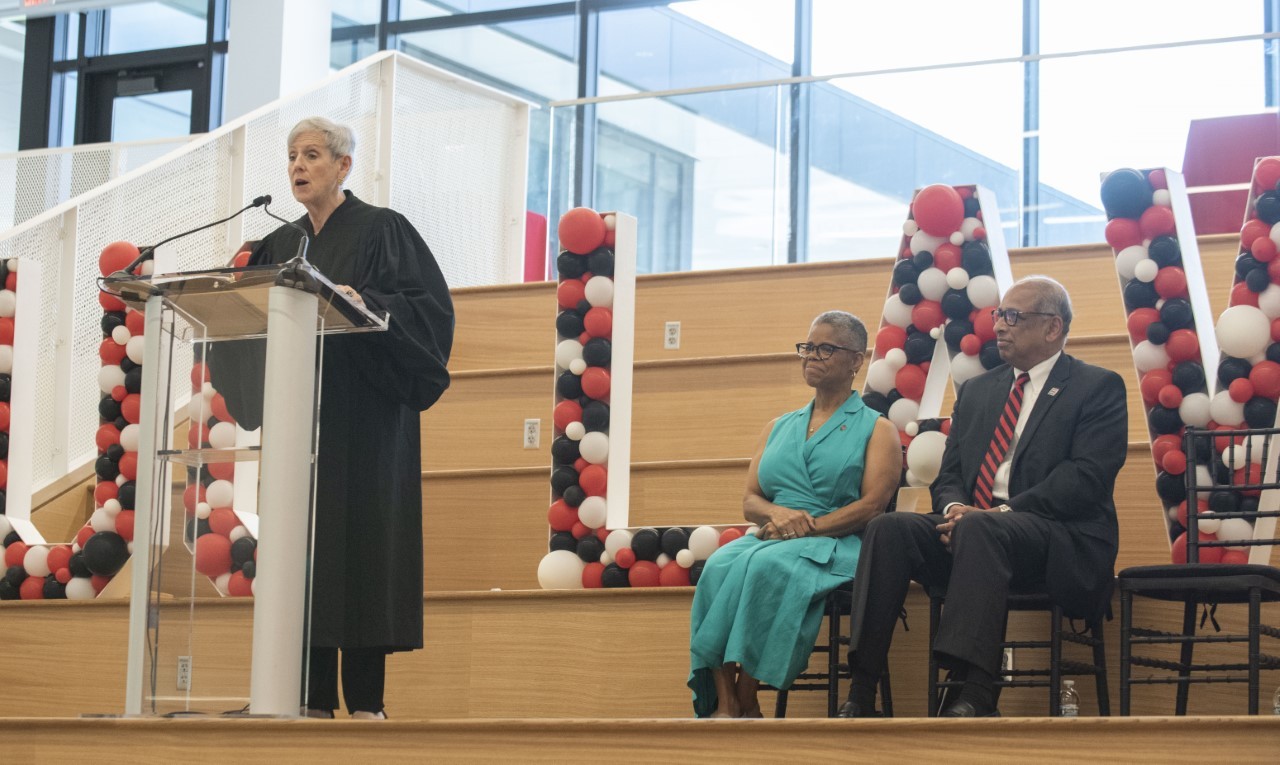 "Technology equips us all to practice smarter in law, in business and in the national and global society," O'Connor said during her speech.
She said the UC College of Law would enter into a new era of teaching, learning and practice of law with the opening of its new structure. O'Connor urged UC law students to take advantage of the opportunities provided with the new facility. It could be a catalyst to facilitate collaboration, partnership and discussion to excel as a lawyer. 
UC President Neville Pinto said the building marks an exciting new era for the College of Law — which is currently in its seventh home since its founding in 1833. "The college has hosted numerous leaders and champions for justice, both national and local, our guest speaker today among them," he said.
Pinto also thanked Williams for her leadership of the college during a critical junction in its history.
"It is not an overstatement to say that we would not be celebrating today's grand opening without your efforts to lead the college to this moment," said Pinto. "The college is thriving because of your dedication and devotion to UC over the last 21 years. We know you are returning to a place near and dear to your heart to pursue your passion for the public interest. And you will be greatly missed."
Learn more about the new UC College of Law online.
Featured image of the UC College of Law ribbon-cutting with former UC Law Dean Verna Williams, UC President Neville Pinto, Ohio State Supreme Court Justice Maureen O'Connor, Interim Law Dean Michael Whiteman and UC Foundation President Peter Landgren taken by Joseph Fuqua II.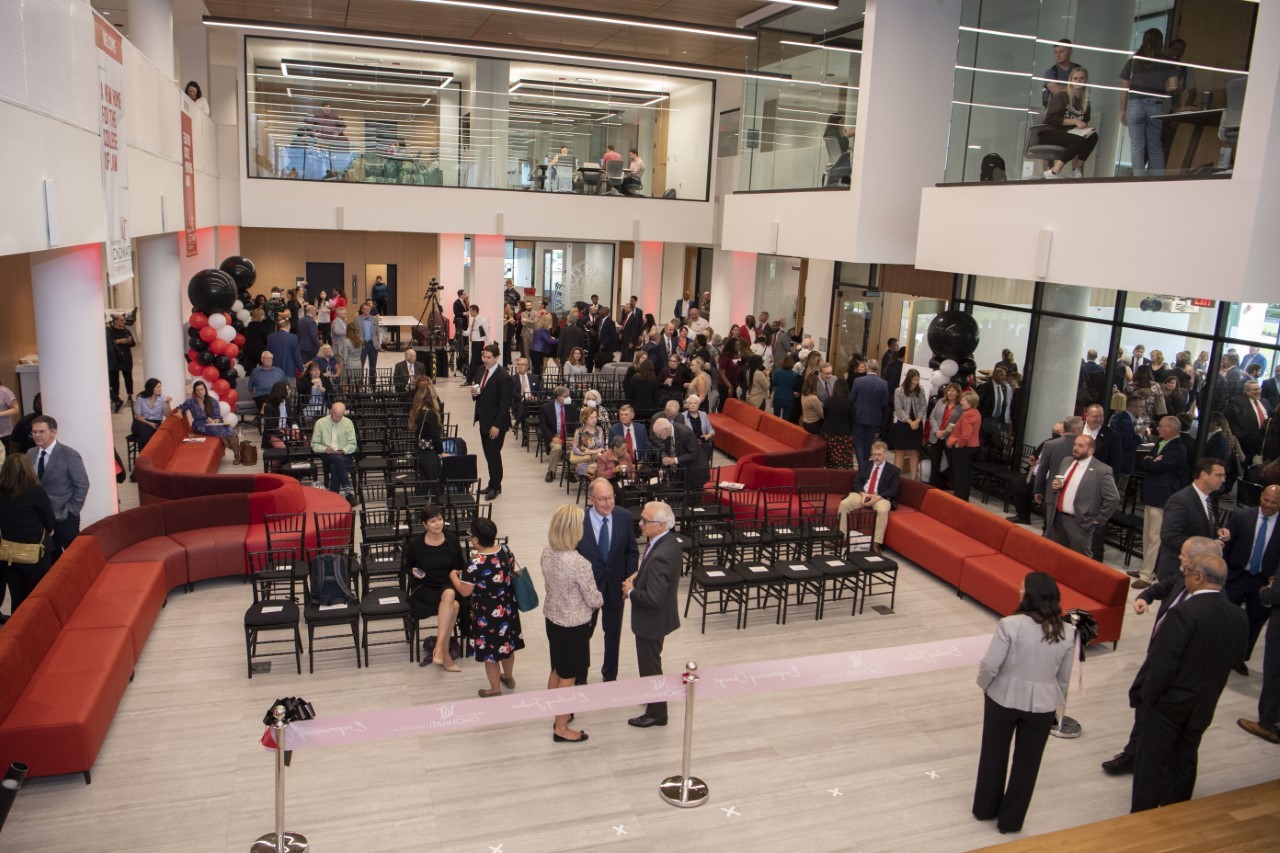 Impact Lives Here
The University of Cincinnati is leading public urban universities into a new era of innovation and impact. Our faculty, staff and students are saving lives, changing outcomes and bending the future in our city's direction. Next Lives Here.

Learn more about UC's new College of Law building or take a UC virtual visit and begin picturing yourself at an institution that inspires incredible stories.
1
Just in: UC tops 50,000 students
August 21, 2023
The University of Cincinnati is anticipating a record fall enrollment with a projected 50,500 students. The growth represents a 5.39% increase and reflects the university's core values around academic excellence, access and inclusion, and affordability.
2
'Unforgettable weekend': GameDay, Homecoming help Bearcats make...
November 9, 2021
The University of Cincinnati was in the national spotlight with ESPN's College GameDay and Good Morning America featuring the UC Bearcat football team's rise in football ranking. UC defeated the University of Tulsa on the football field during Homecoming.
Debug
Query for this