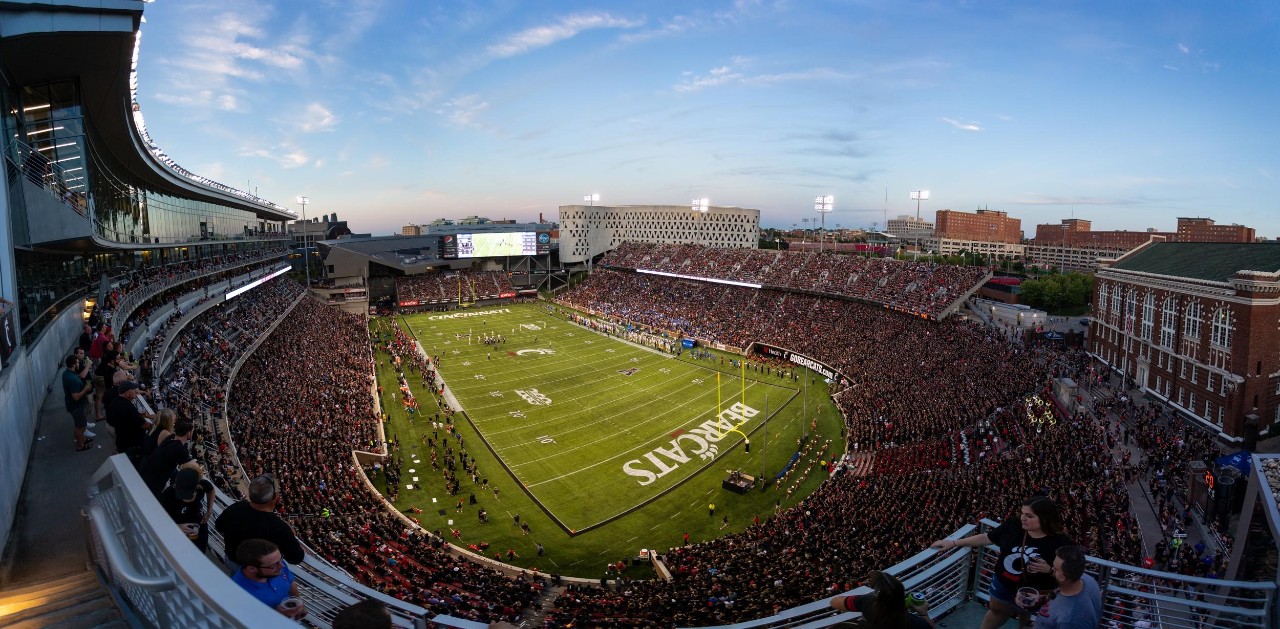 Spectrum News: Bearcat football offers a great game and more to UC fans
Success on the athletic field boosts school spirit and draws more prospective students
First-year students choose UC for many reasons: a top-ranked cooperative education program; lots of programs of study to choose from; and a great city that hosts the university are plenty to consider. But success on the athletic field is also an undeniable initial attraction to many and also a way to encourage others to be forever Bearcats.
Baylor Rowell, a first-year student, told Spectrum News that his initial visit to UC was successful in large part because of the central location of Nippert Stadium to campus. He was interested in UC's co-op program and academic offering, but the visual impact of Nippert helped seal the deal.
"It helped me picture myself as a student here, going to games with friends and just having the college experience," Rowell told Spectrum News.
This year UC admitted its largest first-year class ever with 8,215 students. Its overall student body neared 48,000 students and it is the largest and most diverse group of students in school history.
"Even if you are completely here for academics and not at all a football fan, when you walk around campus on Saturday and hear the crowd roar when the team comes onto the field, it makes you feel a sense of school spirit," UC's Jack Miner, vice provost for enrollment management told Spectrum News. "Once you experience it, you'll absolutely be a lifelong Bearcat from that point on."
Read the entire news story on the Spectrum News website.
Featured image of Nippert Stadium taken by UC Marketing + Brand.
1
UC Family Weekend draws more than 5,000 participants to the...
September 22, 2022
UC Family Weekend was designed to introduce families to university life. The three-day event attracted more than 5,000 people to the Uptown campus Sept. 16-18. A pep rally, a movie night in Nippert Stadium, an evening barbecue along with host of activities on Schneider Quad offered something for UC students, their siblings, parents and other supporters.
2
UC ranks 12th in nation for social media
September 28, 2022
Social media analytics platform Rival IQ ranked UC No. 12 among NCAA Division-I schools in its annual Higher Education Social Media Engagement Report. The ranking represents a major move for the university, up from No. 179 in 2021. Notably this year, UC's Instagram presence ranked No. 7.
3
'Unforgettable weekend': GameDay, Homecoming help Bearcats make...
November 9, 2021
The University of Cincinnati was in the national spotlight with ESPN's College GameDay and Good Morning America featuring the UC Bearcat football team's rise in football ranking. UC defeated the University of Tulsa on the football field during Homecoming.
Debug
Query for this