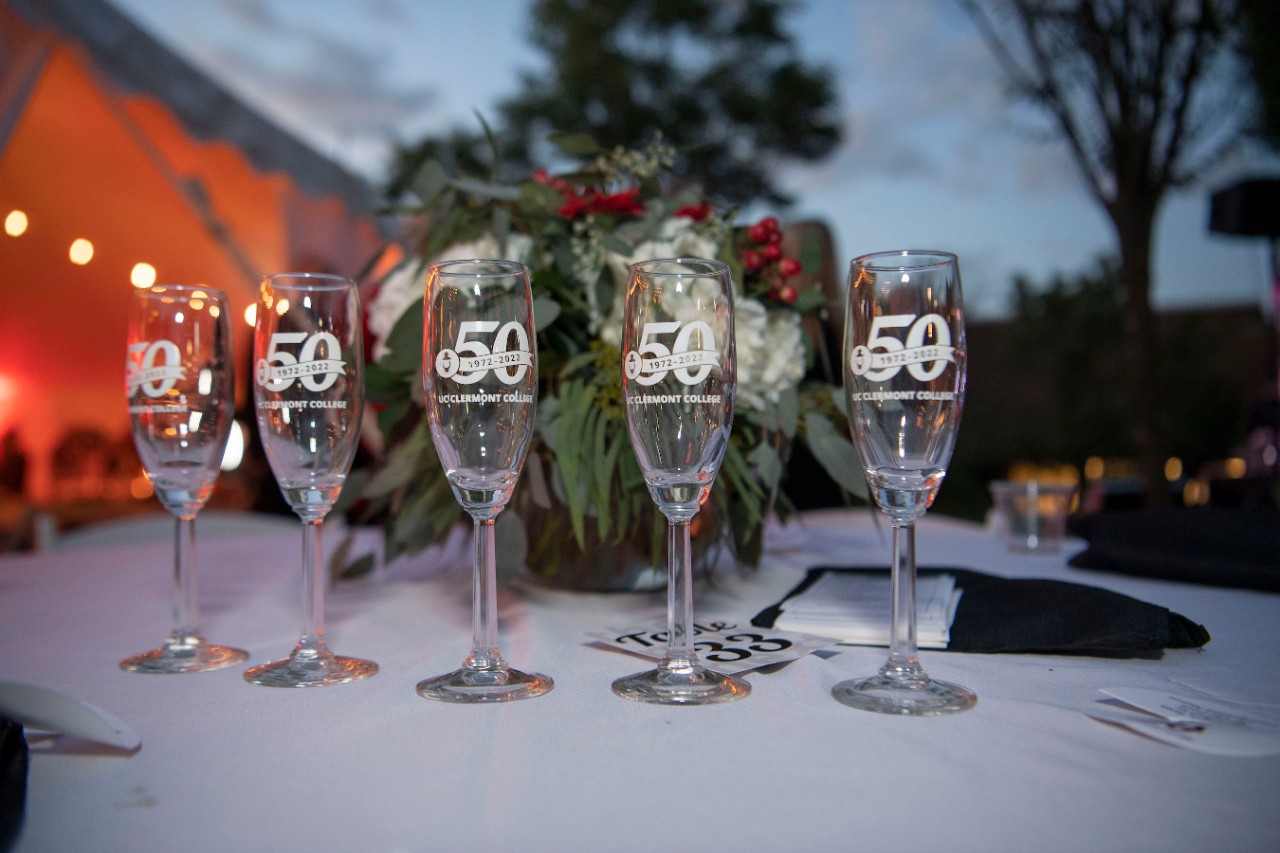 UC Clermont celebrates 50 years
Alumni, students, faculty, staff and community members gather to commemorate college
Nearly 300 alumni, community partners, students, faculty and staff gathered Thursday, Sept. 22, to celebrate UC Clermont's 50th anniversary at the college's Batavia campus.
The event was part of yearlong festivities to mark five decades of UC Clermont's service to students and the community. Since its inception in 1972, more than 100,000 students have attended the idyllic University of Cincinnati regional college set high on a wooded hilltop.
Guests were treated to cocktails, dinner, dessert and dancing on the college green. Among those in attendance were UC President Neville G. Pinto, Provost Valerio Ferme, UC Foundation President Peter Landgren and current UC Clermont Dean Jeffrey Bauer. Also on the guest list were four former UC Clermont deans: James McDonough (1996-2002; interim, 2007-09); David Devier (2002-07); Robert "Mick" McLaughlin (interim, 2009-10); and Gregory Sojka (2010-15).
"While the college and enrollment have grown, the themes — faculty who care; students starting here and going anywhere; quality, affordable education that's close to home — still remain true 50 years later," Bauer remarked during the celebration. "Bearcats are still beginning here."
Bauer is acutely aware of the profound impact the college has on the community. He has served as dean since May 2015 and as a business faculty member for 27 years. The 50th anniversary theme — Then. Now. Next. — was chosen to recognize the institution's past accomplishments while celebrating its growth and future.
"UC Clermont's founders envisioned a college that could provide academic and technical support for the region. They envisioned transformative learning accessible to everyone," President Pinto said. "With the help of the community, our talented faculty and staff, and generous donors, UC Clermont has been able to deliver on that mission."
UC alumnus Harry Snyder, president and CEO of Great Oaks Career Campuses, also spoke about his family's special connection to UC Clermont. Dorothy and Cooper Snyder, Harry's parents, were instrumental in the college's growth.
Cooper chaired the education committee in the Ohio Senate from 1979-96 and played a key role in securing funds for UC Clermont. He also introduced the College Credit Plus program, allowing high school students to enroll and earn dual credit in college courses, further fostering access to education in Clermont County and throughout the state.
While the college and enrollment have grown, the themes — faculty who care; students starting here and going anywhere; quality, affordable education that's close to home — still remain true 50 years later. Bearcats are still beginning here.
Jeffrey Bauer UC Clermont Dean
Dorothy, Cooper's partner for more than 70 years, served beside him in the statehouse and shared a deep belief in education. UC Clermont's Dorothy and Cooper Snyder Building, opened in 1993, bears the couple's names.
"My parents were committed to education as a path to economic independence," Harry said. "My father was a proponent of leveraging public institutions for the benefit of all Ohioans. He made sure that money was earmarked for UC Clermont to be the gateway for southern Ohio to higher education attainment."  
The seeds for the regional college were planted in the late 1960s, when Clermont County community founders and UC leaders sought economic growth along the Appalachian corridor — and a college to provide academic and technical training for residents. On Sept. 25, 1972, Clermont General and Technical College opened its doors with 97 full-time and 184 part-time students.
Today, UC Clermont College (the name was officially changed in 1987) boasts more than 2,400 students and 60 academic programs, including associate, bachelor, certificate and transfer pathways. The college currently serves students in 41 states and six countries.
More information, including photos and video from the event, can be found at https://ucclermont.edu/50.html.
Featured photo: Champagne glasses commemorating UC Clermont's 50th Anniversary. Photo/Joseph Fuqua

1
UC surprises future Bearcats on Decision Day
January 24, 2022
Decision Day marks the moment when thousands of incoming Bearcats learn they've been accepted to the University of Cincinnati. University officials surprised four area high school seniors at their schools and homes, making them among the first to be accepted into UC in 2022.
3
UC's OIP helps free 29th defendant
April 21, 2020
Christopher Smith served 12 years in prison for a crime he didn't commit and then even after a federal judge ordered his release when his conviction was overturned on constitutional violations, faced a COVID-19 scare when prison officials refused to release him. He's finally free, thanks to the Ohio Innocence Project at the University of Cincinnati College of Law.
Debug
Query for this