UC launches Cincy BEARCAT study
Research hopes to learn more about the causes of cardiac arrest
Each year in the U.S., there are more than 356,000 sudden cardiac arrests. Researchers at the University of Cincinnati are hoping to learn more about the causes of cardiac arrest through the Cincinnati Biorepository to Enhance the Acute Resuscitation of Cardiac Arrest Patients (Cincy BEARCAT) study.
"We know a little bit about what causes cardiac arrest," says Justin Benoit, MD, assistant professor in the Department of Emergency Medicine at the UC College of Medicine. "Sometimes it can be due to a heart attack, or a severe infection, a respiratory problem. However, once that person is actually in cardiac arrest, we don't really understand what's going on with the human body at that point in time. Cincy BEARCAT is all about finding out what's actually going on, and how we can reverse it quickly to save someone's life."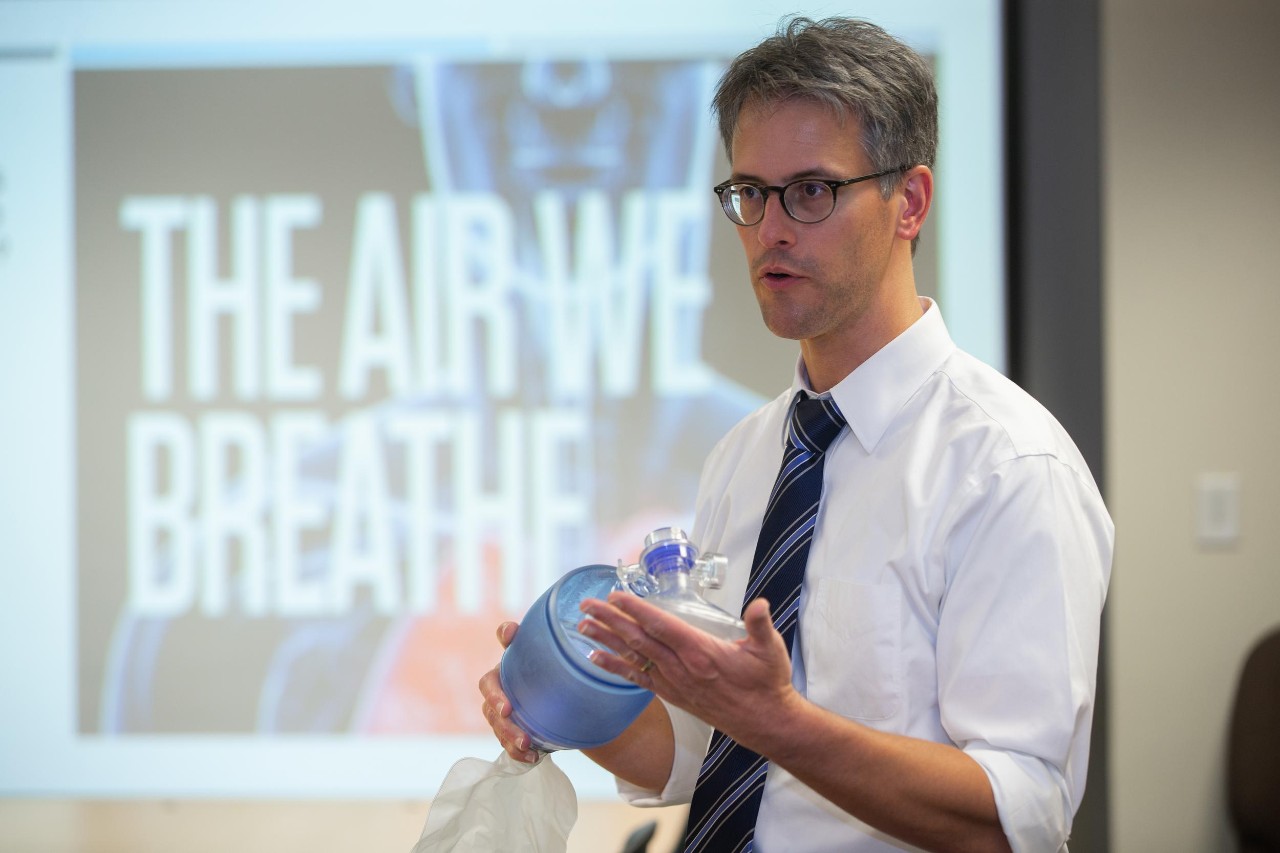 Benoit says no one routinely collects blood samples on cardiac arrest patients in the U.S. He says that while all cardiac arrest patients are currently put into one of two categories, he believes there is a lot more diversity in those patients. The working theory of Cincy BEARCAT is that before the patient ever gets to the hospital, they are going to find differences between patients that are currently unknown. 
"Not only that, but we believe these differences will change over the course of the time EMS is with the patient," Benoit says. "Ultimately, we hope that knowledge of these differences will allow us to better target our treatment efforts based on the exact problem(s) of each specific patient."
Benoit says they will be collecting blood samples of around three tablespoons which will be stored in a biorepository to examine later and try to determine if the sample can reveal what caused the cardiac arrest and how it can be reversed in the future. Those samples may also be used in current and future research.
"My goal is, 20 years from now, if somebody's in cardiac arrest, when Cincinnati Fire and other EMS agencies roll up on scene, they're going to be able to get a little blood sample, run it through a point of care machine and it's going to tell us, 'the patient is having this kind of cardiac arrest, you need to treat it this way,'" says Benoit. "We're going to be a lot more specific about how we treat patients in the future."
WKRC-TV, Local 12, produced a story on the research that was syndicated across the U.S. See that coverage here. 
1
UC COVID-19 studies awarded $425K
April 15, 2020
Understanding that time was of the essence in combating this highly infectious disease, UC and its College of Medicine's Office of Research conducted a rapid review and distribution of $425,000 in novel pilot grants to researchers, focusing on eradicating the disease.
2
Yahoo News: Five Black UC faculty members receive National...
September 8, 2020
Five African-American researchers and healthcare professionals on UC's medical campus have received sizable grants from the National Institutes of Health during the past 18 months. The faculty members were interviewed by WCPO to help showcase innovation and the diverse voices and perspectives they bring as the healthcare community attempts to ease health disparities in communities of color in Cincinnati and beyond.
3
Educational breast cancer event focuses on empowerment
Event: November 3, 2018 9:00 AM
"Beyond Breast Cancer: The Path to Empowerment" is an educational event for breast cancer survivors, their families and the community; it will be held from 9 a.m. to 3 p.m. Saturday, Nov. 3, at the Kingsgate Marriott Conference Center, 151 Goodman Drive.
Debug
Query for this