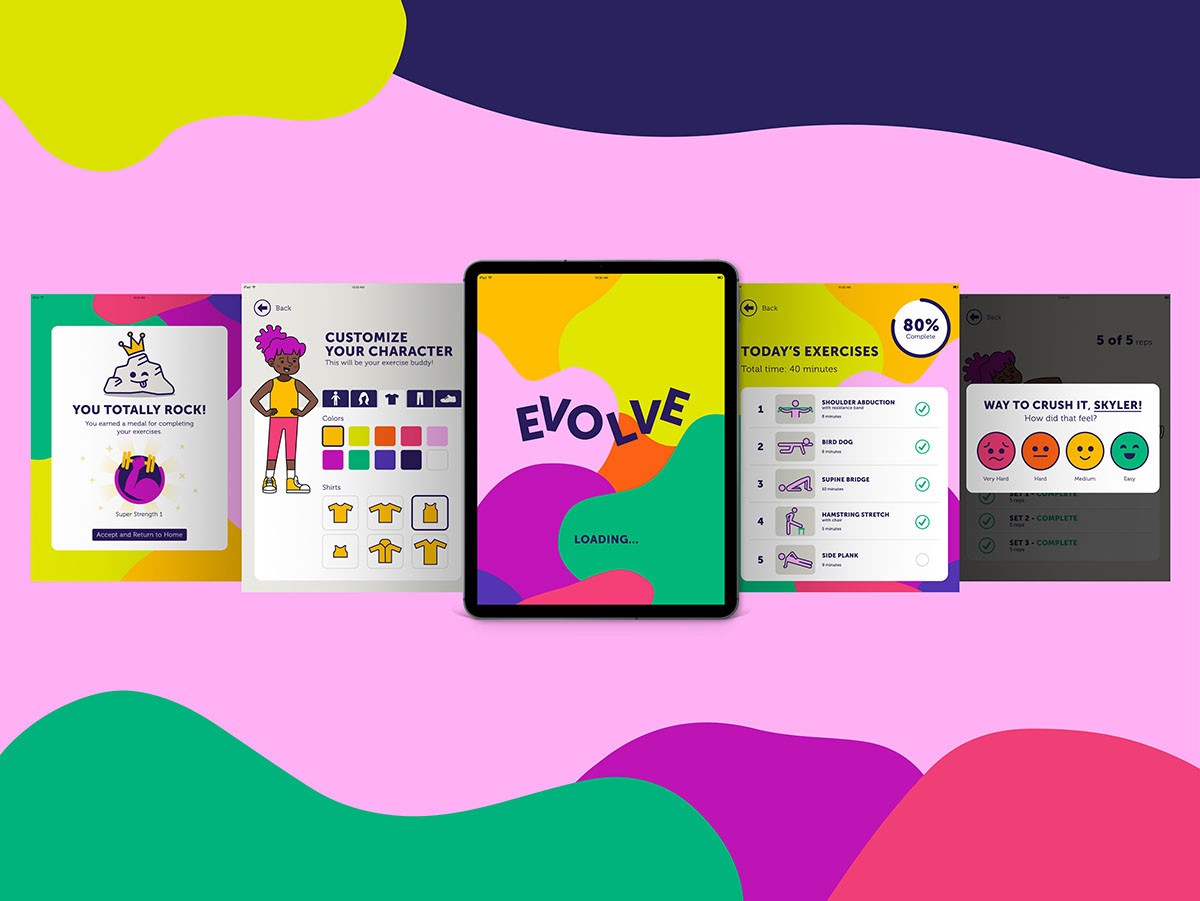 UC grad makes physical therapy more engaging for children
Venture Lab-backed startup EVOLVE 'gamifies' therapy
Having found the guidance she received for physical therapy to be boring and confusing, a University of Cincinnati alumna is developing an app that will make the process more engaging and enjoyable for children.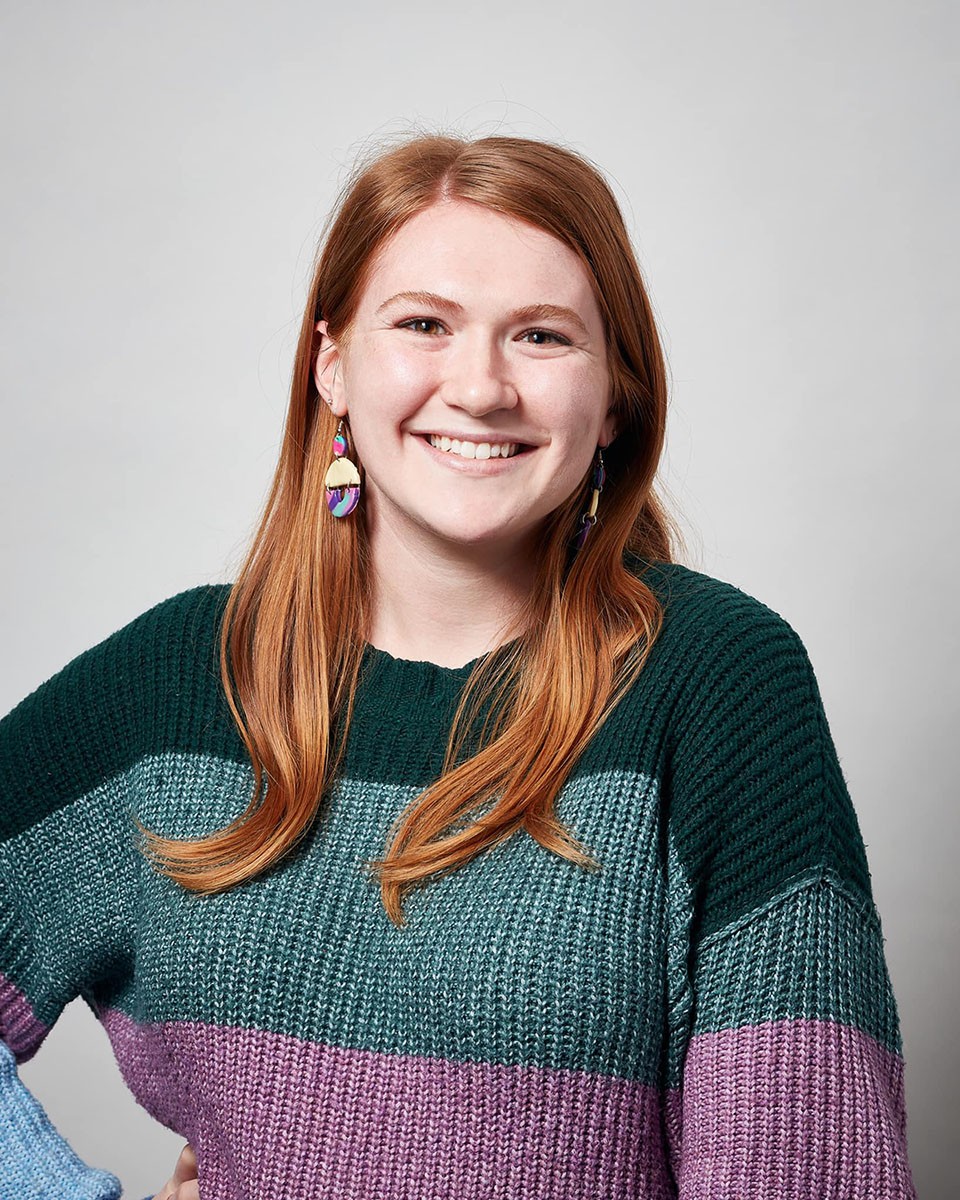 As a 20-year-old college student, Nicole Chance went to physical therapy for pain management of scoliosis. That's when she decided there had to be a better way to engage children during their therapy.
"I realized a lot of the tools they give kids in particular to complete at-home exercise programs are really outdated, and they're hard to understand," said Chance, who studied communication design in UC's College of Design, Architecture, Art, and Planning (DAAP). "They're often black-and-white printouts with illustrations or photos that aren't very clear. They don't often depict children. It's just really boring, and it's hard to keep up with.
"Me, at the time, being 20, I was like, 'Man, if I'm having a hard time with this, I can't imagine what all of these kids younger than me are going through, especially those who are 6, 7 or 8 and can't read well on their own yet.' As a visual problem solver, that really stood out to me. I have to be able to help because this is a visual problem."
To solve the problem, Chance launched a startup called EVOLVE, which is one of the many startups that have come out of the UC Venture Lab pre-accelerator program and received seed funding.
"The Venture Lab has been really helpful and a foundation of knowledge to learn from," Chance said. "I think there's a lot more opportunity within it that I'm sort of just cresting into. I think I'm still very early in my relationship of learning and collaborating with them."
UC's Venture Lab provides a launch pad for entrepreneurs to turn their ideas into reality. The lab is located in the 1819 Innovation Hub in the Cincinnati Innovation District (CID), providing a connection point to talent, support and funding.
The Venture Lab pre-accelerator program is available for free to all members of the university community. The seven-week program provides guidance for launching a startup and pairs aspiring entrepreneurs with executives for mentoring.
Before she started the process of launching a startup, Chance began to work on her idea as a personal project during the spring of 2018.
She felt confident in her ability to take on the project with the knowledge she gained studying animation and motion graphics at DAAP and from her experience as an intern at Cincinnati-based Cloverleaf. At Cloverleaf, where Chance now works as an associate graphic and motion designer in addition to her freelance animation work, she had an opportunity to work with developers on their app and discovered she could do that kind of work, too.
"Working there I realized, 'Wait, this isn't above my head. This isn't out of reach. I can understand it,'" she said. "It's kind of fast-paced. It's fun. It's kind of different than working in an agency, [or the] corporate world that's a little slower. You have more creative freedoms and liberties, which is really cool.
"The co-op program is one of my favorite things about UC. I'm so thankful that I went to UC for that reason, and whenever I have friends with siblings who are looking at colleges, I'm like, 'Hey, don't sleep on that UC internship program because almost everyone I know gets a job that way.'"
She further refined her idea during her senior year at UC when she pursued it as a senior capstone project, revamping the look and feel of her project.
The Venture Lab has been really helpful and a foundation of knowledge to learn from. I think there's a lot more opportunity within it that I'm sort of just cresting into. I think I'm still very early in my relationship of learning and collaborating with them.
Nicole Chance Creator of EVOLVE
Wanting to protect her work by getting a patent, Chance went to the 1819 Innovation Hub for assistance. She was encouraged to partake in the Venture Lab pre-accelerator program, which she did shortly after her graduation in the spring of 2021.
The Venture Lab taught her about business and helped connect her with entrepreneur-in-residence Kara Uchtman, who has experience in startups and developing products.
"It was very informative. I was very thankful for being able to connect with many different local entrepreneurs. They do a great job of trying to give you different perspectives and challenge you," Chance said. "I learned a lot more about how to pitch myself. As a designer, I know how to build something that's a 'pretty pitch.' I know how to make a PowerPoint look nifty. But they've done a great job of 'how do you tell a story through the pitch? How do you give them the information they need but also how do you paint a picture of the future with your idea?'"
Chance also is working with occupational therapists who have helped her refine her app to make it appealing to children.
While EVOLVE started off with the ability for users to earn badges for completing a certain number of exercises, Chance discovered that wasn't the greatest motivator for kids.
She learned children identify with avatars they've created, so she's working to add customizable characters that can be a playful exercise buddy for kids to do their exercises alongside. Also, instead of having a list of tasks to complete, Chance is looking into creating a game board that kids will progress through by finishing exercises.
"What they need is a fun way to get kids to actually engage, to gamify the process and make it fun as opposed to homework," said Chance, who has studied what's been successful in other games and received feedback from past physical therapy patients and her younger siblings. "How do you make this thing that feels like a chore actually fun and rewarding while also being able to have the data from the care provider's perspective, 'Are they actually doing their exercises?'"
The characters in EVOLVE's app will have a human look so they can demonstrate how to properly complete exercises.
"One of the problems with the current tools is you might have a still image but you can't really see where that hand is, how that muscle is moving," Chance said. "So it's really crucial to be able to complete the exercises properly so that you're showing the movements as anatomically correct as you can. Not so dry it's a medical textbook but still accurate enough to help them do the exercises on their own correctly."
Chance's goal is to have a version of her app by the end of the year with exercises for adolescent anterior knee pain and ankle injuries. She'll seek more grants to help build a more comprehensive library of exercises for a wider array of conditions, which will enable EVOLVE to begin user testing with care providers and patients and move forward into commercialization.
"I'm not somebody who came up with this idea and thought this is going to get me rich," Chance said. "That's not what I care about. For me, it was that I went through this problem multiple times where I was not able to do well on my own. I saw kids not being able to do it as well. My biggest thing was, can I actually make a tool that someone can use? Can it actually help a kid who is in the same position I was?"
Featured image at top: Art from the EVOLVE app. All images courtesy of Nicole Chance

About UC Venture Lab
A leading model for urban-centered universities, the UC Venture Lab activates a high density of rapidly curated startup opportunities that attract outside entrepreneurial talent and investors. We connect university students, faculty, staff, and alumni to talent and funding to help launch new companies. Our team includes Office of Innovation staff as well as Entrepreneurs-in-Residence (EIRs), coaches, curated service providers, and subject matter experts.
About the Cincinnati Innovation District
The Cincinnati Innovation District® is a unique and thriving ecosystem that attracts, produces, retains and develops talent by co-locating and collaborating with organizations. Unveiled in 2020 by Ohio Governor Mike DeWine and Lt. Governor Jon Husted along with JobsOhio and innovation district leadership, the district envelops myriad innovation assets and access to some of the world's leading academic and research centers, organizations and talent pools. Powered by the University of Cincinnati, the CID includes the world-renowned Cincinnati Children's Hospital Medical Center and other national research centers. The district's mission is to become a globally recognized talent hub and lead a transformational movement. The combination of industry engagement, unique experiential platforms and accessible research expertise — working at the pace of change — will become a model nationwide. For more information on the Cincinnati Innovation District, visit www.cincyid.com.