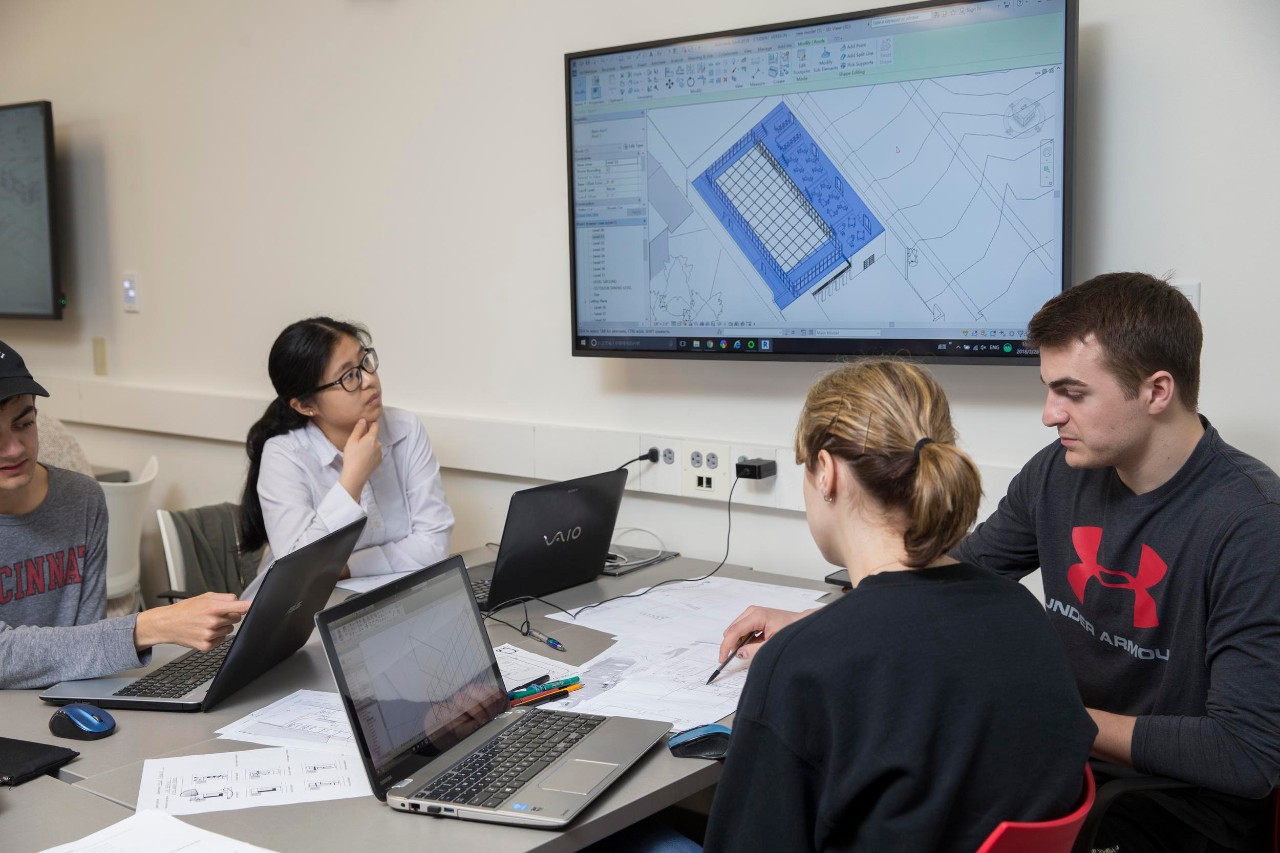 UC students take on net-zero building challenge
Architecture and engineering students design buildings to be energy efficient
Buildings are responsible for a whopping 42% of energy usage in the United States, so even subtle improvements in efficiency can have a significant impact.
Students in architecture and engineering programs at the University of Cincinnati are learning about the latest materials and strategies to create more energy-efficient indoor spaces.
"UC architectural engineering graduates are getting quite a bit of notoriety because they have this skill," said Anton Harfmann, director of architectural engineering in UC's College of Engineering and Applied Science. "Our students are finding jobs pretty easily because they know how to operate in this arena."
In 2007, his students showcased their solar-powered house on the National Mall in Washington, D.C.
It's a passion for Harfmann, who also teaches architecture and directs facilities and technology in UC's College of Design, Architecture, Art, and Planning.
Harfmann put his skills and experience into practice by converting an 1834 brick farmhouse into a home that requires almost no energy from the grid while maintaining its architectural and historic character.
It was a challenge he was uniquely suited to tackling.
As part of their required capstone, his students are taking part in the Solar Decathlon Design Challenge. They must incorporate net-zero energy efficiencies across four team projects: an office building, a school, mixed-use recreational vehicle dealership with residential housing above it and senior housing.
Harfmann conceived the hypothetical project for a European city where the winters are long and cold and the summers short but mild.
"This year the narrative I'm pushing is designing four buildings on a large site in Gouda, Netherlands," he said.
Graduates of these programs will join the front lines of our fight against the climate crisis by designing sustainable buildings that bring the benefits of our clean energy future to all.
Carolyn Snyder, U.S. Department of Energy
He regularly visits his stepdaughter and her family in this town of 73,000 people. His students will learn a little about the town through web chats with local residents.
"They'll get a chance to speak to people in the Netherlands and live through their eyes a little," he said.
In September, the U.S. Department of Energy recognized UC and 11 other institutions with its first-ever Zero Energy Design Designation for preparing future architectural and engineering leaders to design and build the most sustainable buildings possible.
The agency's designation distinguishes programs like UC's that impart the best practices of zero-energy design on students.
"Graduates of these programs will join the front lines of our fight against the climate crisis by designing sustainable buildings that bring the benefits of our clean energy future to all," said Carolyn Snyder, deputy assistant secretary for energy efficiency for the U.S. Department of Energy.
The students have to make complicated calculations of energy demand and use based on a variety of factors, including the hours of daylight and the particular needs for heating, lighting and ventilation.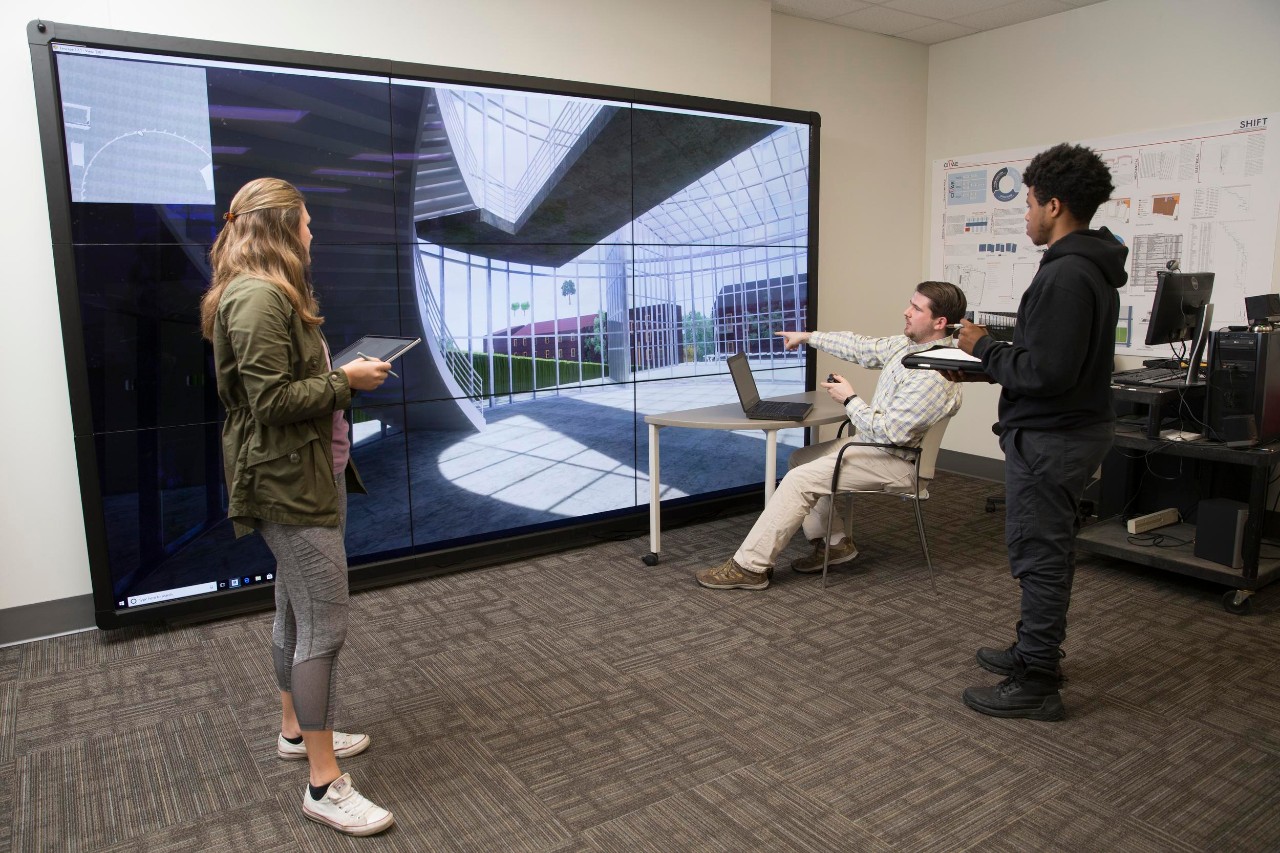 At his rural Ohio farmhouse, Harfmann added solar panels to the roof of its tall barn. He couldn't do much to improve the double brick walls without ruining their historic charm, but he put 12 inches of insulation in the attic, added good storm windows and swapped out appliances and lighting with energy-efficient ones.
He also replaced the oil-fired forced-air furnace with a more efficient liquid propane one and installed a solar thermal collector on the garage roof to provide hot water in the house.
But the biggest change was a wood gasification boiler, a heating boiler with a unique combustion design, and its 957-gallon thermal energy storage tank that pumped hot water through the house to warm it in the winter. The farm was surrounded by woods that provided ample fuel.
"I had 15 acres in the country. I used an electric chainsaw and split the wood by hand. It was good exercise," he said.
While the house never quite reached net-zero energy demand, it did provide enough electricity to power his electric vehicle and saved him $4,700 per year in utility bills. For a $50,000 investment, it was a great annual return, he said.
Harfmann later sold the farmhouse, including its many cost-saving efficiencies that the buyers were eager to keep.
His students, too, are learning how to incorporate these systems into their own elegant architectural designs.
"Their design should be seamless and integrated, working in harmony with each other rather than against each other," Harfmann said.
Harfmann's students are getting noticed for their innovative work. In 2019, they designed a net-zero energy school that earned a $10,000 Engineering Education Award, from the National Council of Examiners for Engineering and Surveying.
In 2022, UC was one of 55 international teams competing in the U.S. Department of Energy Solar Decathlon 2022 Design Challenge, winning first place in the education building division.
Meanwhile, more of these efficiencies are being adopted as standard construction practice, which means UC graduates with this experience are in big demand.
"Companies know that our students are capable of doing net-zero energy design. They can operate in this environment, so it's a credential on their degree," he said.
Featured image at top: UC students are learning about the best materials, techniques and designs for energy-efficient buildings. Photo/Lisa Ventre/UC
Next Lives Here
The University of Cincinnati is classified as a Research 1 institution by the Carnegie Commission and is ranked in the National Science Foundation's Top-35 public research universities. UC's medical, graduate and undergraduate students and faculty investigate problems and innovate solutions with real-world impact. Next Lives Here.
1
Engineering students showcase capstone projects at CEAS Expo
May 6, 2022
Graduating engineering undergraduates from the University of Cincinnati's College of Engineering and Applied Science gathered for the inaugural CEAS Expo in April to showcase their senior capstone projects to more than 500 attendees, including faculty, staff, alumni and industry representatives. The event, organized by the college and CEAS Tribunal student government, was held in downtown Cincinnati at the Duke Energy Convention Center.
Debug
Query for this