Hoxworth Blood Center selects winner of summer #DonateToDrive promotion
Blood donor accepts the key to MINI Cooper for rolling up a sleeve to save lives in our community.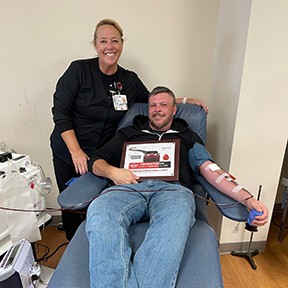 With much anticipation, Hoxworth Blood Center and Cincinnati MINI are proud to announce the winning donor of the 2022 #DonateToDrive summer promotion.
David Reece, 50, is the winner of a custom 2023 MINI Cooper for donating blood over the summer during the June 1 through September 16 #DonateToDrive promotion that saw 32,212 Greater Cincinnatians roll up a sleeve and donate to save lives in our community.

As a new donor and an ICU nurse at UC Health, Reece understands the importance of donating blood and platelets and plans to continue his lifesaving journey to give back to our community.
Reece was shocked, surprised and thankful to hear of the news from Hoxworth's Customer Experience Manager Lisa Cowden.
"What, really?" Reece responded when first told the news over the phone. "I wasn't expecting this kind of call. Best call of my life. I'm so thankful," he said.
Reece made his third lifesaving donation on November 18 at Hoxworth's North location, where Hoxworth and Cincinnati MINI officials were onsite to celebrate his win.
Cincinnati MINI, iHeart Media Cincinnati, and Kiss107 also participated in the promotion and helped Hoxworth award one of our amazing donors with this special gift.