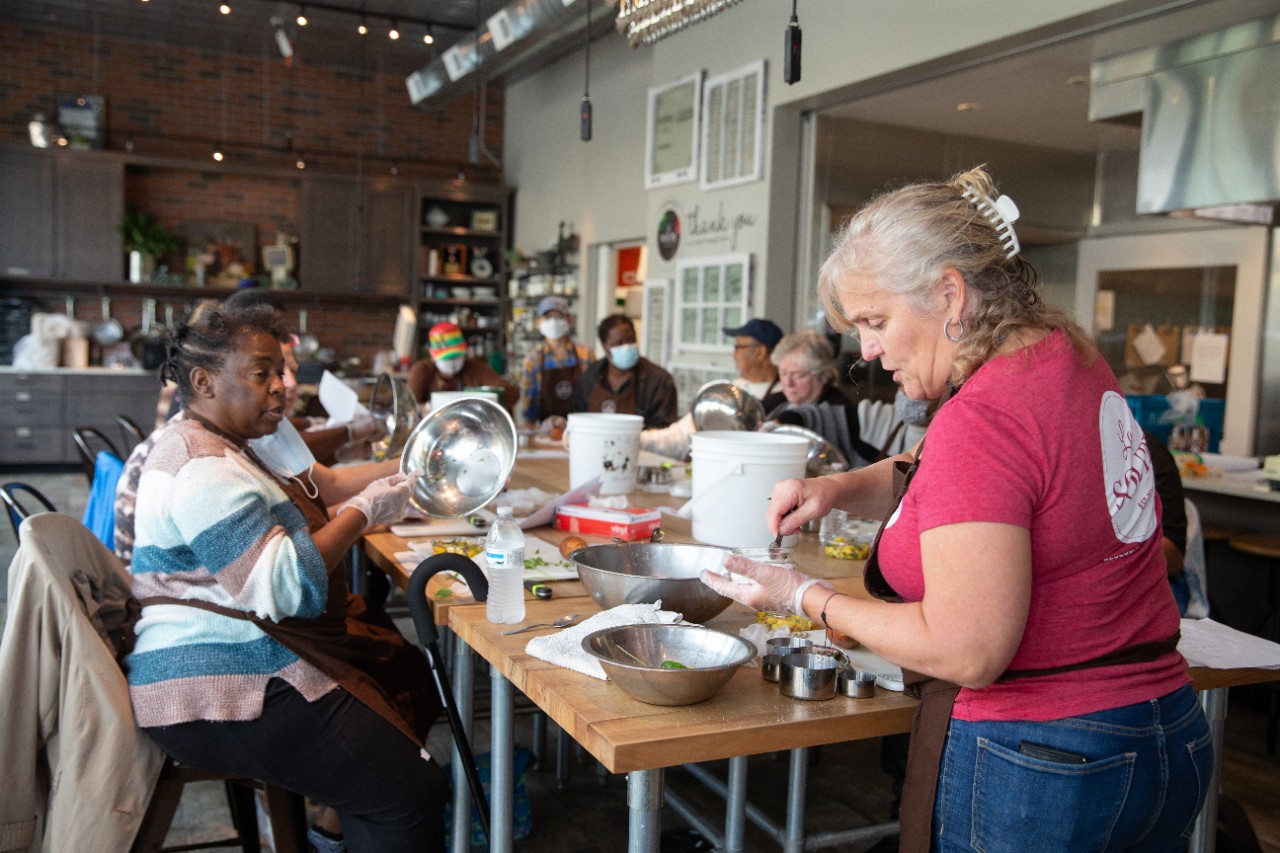 Taking a bite out of diabetes and hypertension
Community food education program from UC hopes to improve diets
According to a report in early 2022 from the Centers for Disease Control and Prevention, more than 37 million people in the United States have diabetes, which is more than 11% of the population.
Diabetes was the seventh leading cause of death in the United States in 2017 based on the death certificates in which diabetes was listed as the underlying cause of death.
A newly launched University of Cincinnati partnership is aiming to slice into those numbers in Greater Cincinnati.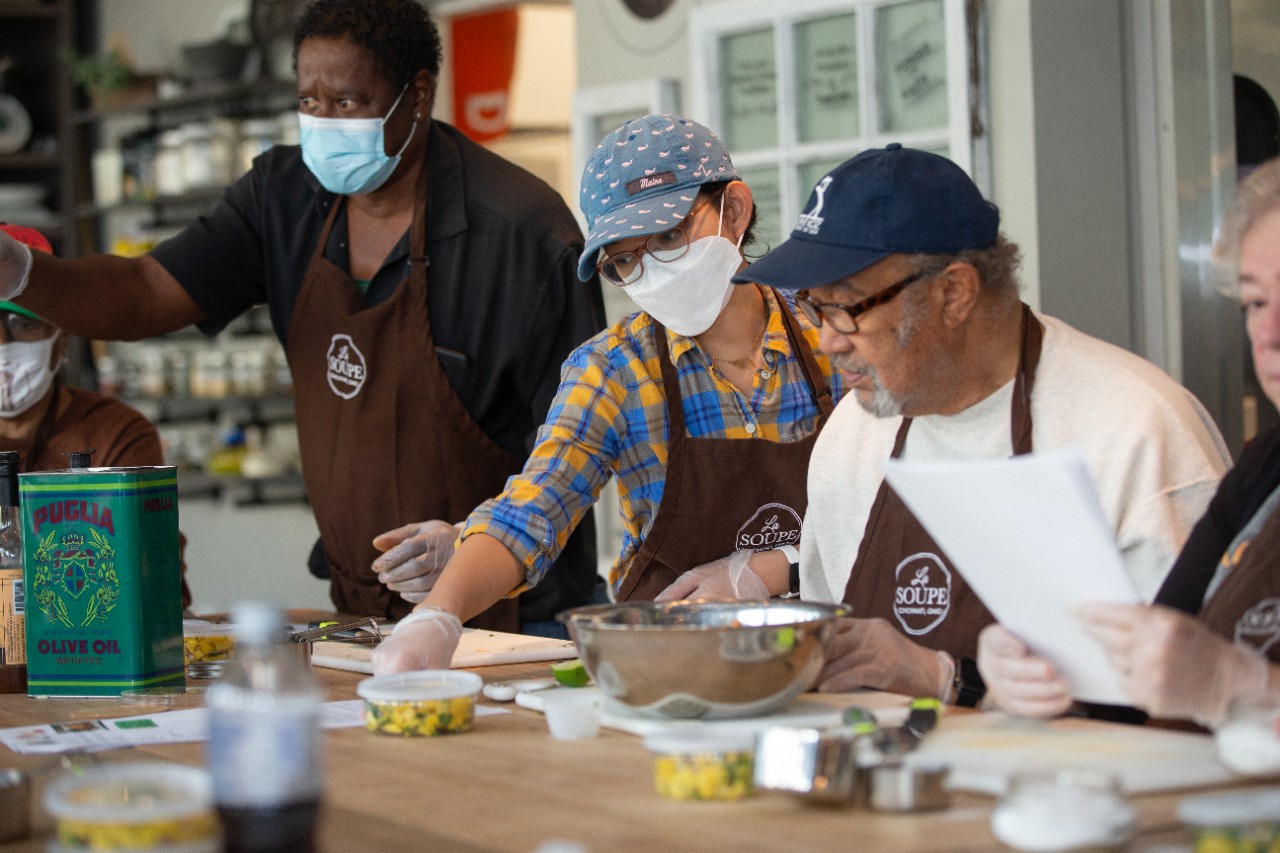 "I'm tired of only giving prescriptions," says Diva Jonatan, nurse practitioner, of the Division of Endocrinology, Diabetes and Metabolism in the Department of Internal Medicine at the UC College of Medicine. "These are diabetes patients. I'm tired of only giving medication. I feel that we may be missing the bigger picture and we need to help solve the first issue to begin with."
In an effort to come up with a more proactive approach to helping her patients with diabetes, Jonatan followed the example of a clinic in Pennsylvania that featured a "Fresh Food Farmacy" which provided food to prepare healthy and nutritious meals for patients and their families. Patients also work closely with a nutritionist, a chef and a health coach to support them in establishing a healthy lifestyle. Jonatan says patients in this program saw their A1C, a common blood test used to diagnose diabetes, drop on average of 2% within 12 months of health food and lifestyle changes. 
She began the menus featuring chicken as a main component because she wanted the members of the group to be excited at first, and then moved into more plant-based menus in the middle and end of the program as the patients became captive audiences.
Jonatan got some funny looks from the patients when she started doing black bean burgers but she says they and their families ended up liking that option. "Who would've thought black bean burgers can be good, easy to make and affordable," participants said. 

With a desire to make the program more sustainable for more patients, she contacted a friend who was a chef in Cincinnati and was familiar with a local nonprofit, La Soupe. La Soupe partners with local restaurants, farms, bakeries, grocery stores and food pantries to accept donations of still-useable ingredients that would otherwise be discarded and delivers them to local chefs who prepare meals in their restaurant kitchens. The chefs turn the rescued food into ready-to-eat meals, and La Soupe distributes them to communities with food insecurity.
The connection with La Soupe led to a collaboration with the Centering Program at the Primary Care and Osher Center for Integrative Health at UC. Once-a-month sessions provide lessons on diabetes education, nutrition, physical activity and stress management. The program also features four monthly classes in a kitchen, one of which was held at the La Soupe facility in Cincinnati on the first Wednesday in November, which happens to be National Diabetes Month.
I've learned how to be more conscious when I'm cooking, to make sure I have the right portions and the right servings. It's just been a dream.
Sabina Barron, program participant
One of the 13 participants that afternoon was Sabina Barron of Cincinnati who says she wants to have a healthier diet to help her battle with high blood pressure and diabetes.

"I've learned how to be more conscious when I'm cooking, to make sure I have the right portions and the right servings," she says. "It's just been a dream. It allows you to experiment at home which is absolutely perfect. I try to do more things with vegetables. Before I would just roast them or saute them. [Now] I try to do more and combine them with my regular dishes, and I've tried more fruit, too. It's been perfect."
Sitting at the other end of the long wooden table at La Soupe was Donald Jackson, another patient of Jonatan, who hopes learning how to prepare healthier meals will help improve his diabetes.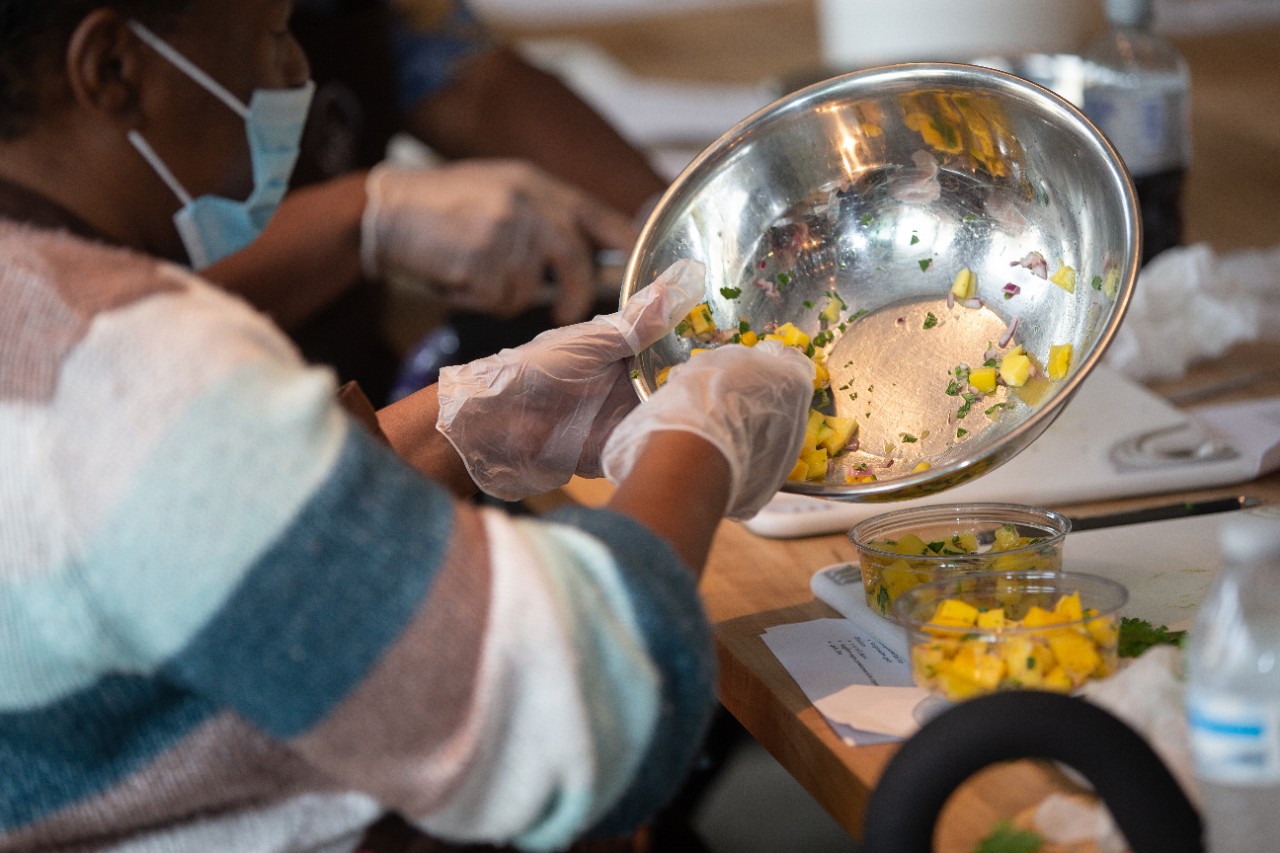 "I love these classes," he says. "I love learning to cook the right way and eat healthy, and meeting the people. It's changed my eating habits and makes me cautious about what I'm doing now."

Jonatan says she's a researcher by training, so she's trained to observe the data.
"The data is showing me that there are many upstream social determinants of health that need to work together in order for patients to have enough tools on their belts to create sustainable healthy behaviors," she says. "To name a few — financial support, transportation, the social support that allows people to have exposure to healthy food and cooking styles, the support to help manage chronic conditions and stress while managing other life stressors — all play an important part in leading a healthy lifestyle."
Specifically, the program provided tools for patients to sustainably address their own barriers to healthy lifestyle modifications, says Jonatan.
"Couched within the group model, patients are empowered to learn from each other in an open and supportive environment with an authentic sense of community. The result is a program that provides behavior change in [the management of] chronic disease — an outcome that cannot be accomplished with traditional one-on-one care," she says.
Lead photo/Andrew Higley/UC Marketing + Brand
Impact Lives Here
The University of Cincinnati is leading public urban universities into a new era of innovation and impact. Our faculty, staff and students are saving lives, changing outcomes and bending the future in our city's direction. Next Lives Here.
1
UC COVID-19 studies awarded $425K
April 15, 2020
Understanding that time was of the essence in combating this highly infectious disease, UC and its College of Medicine's Office of Research conducted a rapid review and distribution of $425,000 in novel pilot grants to researchers, focusing on eradicating the disease.
2
Yahoo News: Five Black UC faculty members receive National...
September 8, 2020
Five African-American researchers and healthcare professionals on UC's medical campus have received sizable grants from the National Institutes of Health during the past 18 months. The faculty members were interviewed by WCPO to help showcase innovation and the diverse voices and perspectives they bring as the healthcare community attempts to ease health disparities in communities of color in Cincinnati and beyond.
3
Educational breast cancer event focuses on empowerment
Event: November 3, 2018 9:00 AM
"Beyond Breast Cancer: The Path to Empowerment" is an educational event for breast cancer survivors, their families and the community; it will be held from 9 a.m. to 3 p.m. Saturday, Nov. 3, at the Kingsgate Marriott Conference Center, 151 Goodman Drive.
Debug
Query for this