Engineering alumnus presented with lifetime achievement award
Michael Valentine is an entrepreneur and philanthropist
Michael Valentine's career as an innovator and entrepreneur has spanned more than four decades, and has included the creation of an industry-changing radar detector and two successful companies, Cincinnati Microwave, and his current business, Valentine Research.
Valentine and his wife, Peg, are both University of Cincinnati alumni. Through the years, the couple have been prodigious philanthropists at UC and across the region, giving both time and money to many causes close to their hearts.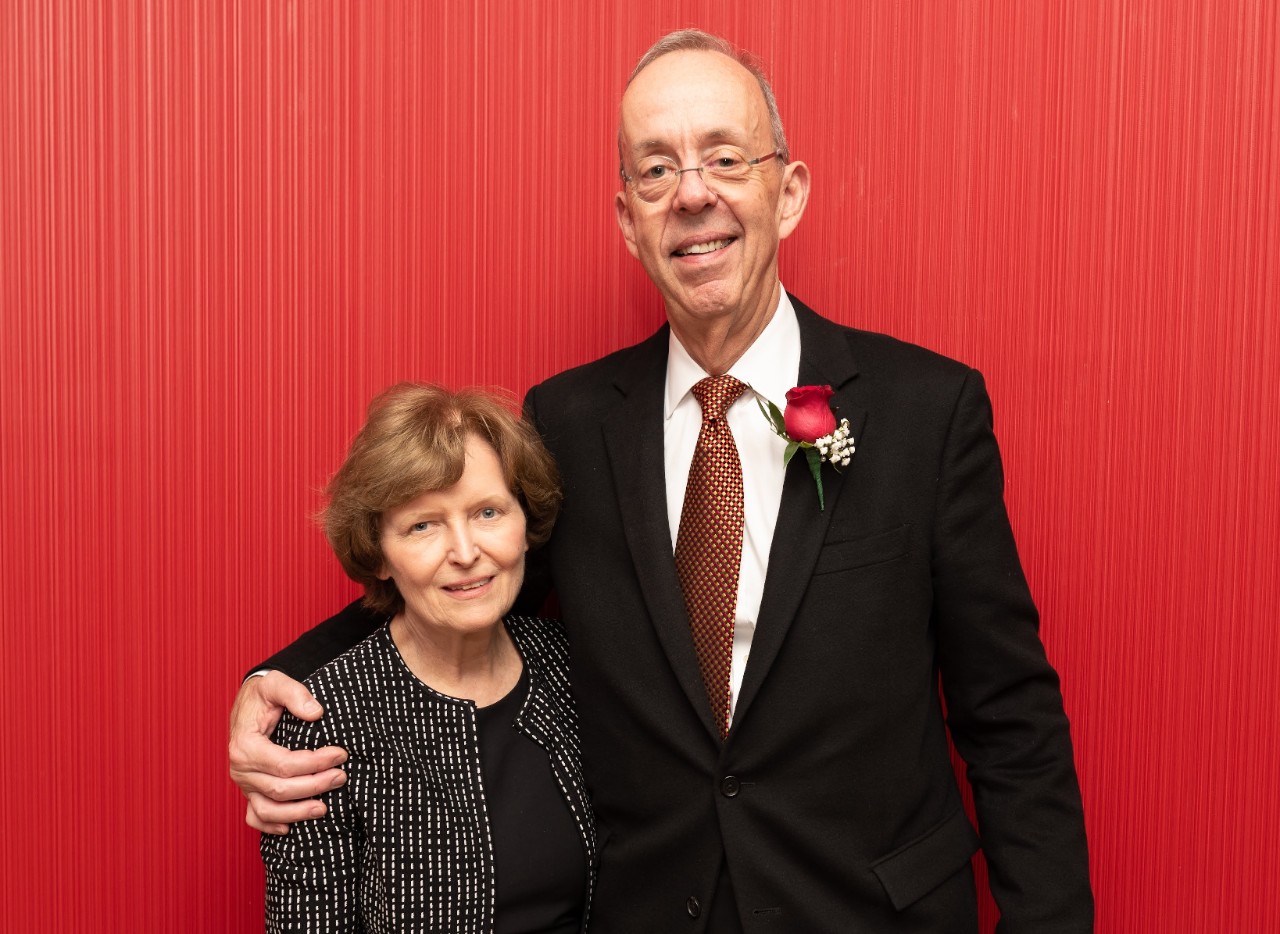 The University of Cincinnati Alumni Association and the UC College of Engineering and Applied Science honored Michael Valentine, class of 1973, with the Lifetime Achievement Award. It honors a distinguished graduate whose career reflects the college's commitment to excellence, achievement, and service. 
As a high school student in Vandalia, Ohio, Valentine enjoyed playing music and basketball, but he didn't plan to make a career out of either. He also had an amateur radio license from an early age, which sparked an interest in electronics and ultimately led him to study electrical engineering.  
His father — who worked as a mechanical engineer and valued his own experience with hands-on education — thought UC's cooperative education program was an ideal way for him to earn money to help pay for college while gaining industry experience. 
In reflecting on his college years, Valentine is quick to admit that he had a rocky start to his academic career as an engineering student. Relying on the determination that later made him a successful businessman, Valentine persevered and ultimately succeeded in bringing up his grades and graduated from UC with his electrical engineering degree.
After graduation, Valentine was hired by one of the companies where he had worked as a co-op student.
Later, he sold electrical components and noticed that several of his clients were getting into the growing radar detector business. He reached out to a friend he met on one of his UC co-op jobs and the pair developed a technologically advanced radar detector and launched Cincinnati Microwave in 1976.
Valentine said his wife agreed they should take on the substantial financial risk required to get the company off the ground. The investment paid off. The company's radar detector quickly became an industry-leading product.

Valentine has continued innovating electronic devices and selling directly to users at Valentine Research, the company he and Peg founded.
Previously, Valentine was honored with the CEAS Herman Schneider Distinguished Alumnus award; the UC President's Award for Excellence Medal and the Lindner College of Business Distinguished Service Award.
Mike and Peg Valentine, who have both served on the UC Foundation Board of Trustees, were given the 2019 Chairman's Award from the UC Foundation for their noteworthy, institution-wide philanthropic impact. The Valentines have also received designation as UC Circle of Excellence Benefactors, recognizing donors of more than $5 million.
The Valentines' immense generosity and countless hours of service through the years made a lasting impact on the physical and academic landscape of the university, as well as the region. They recently made a significant gift to the Cincinnati Ballet that paved the way for the construction of the new Margaret and Michael Valentine Center for Dance.  
As longtime fans of UC athletics, they are often spotted courtside at Bearcats basketball games or in the stands cheering on the football team. The Valentines' enthusiastic volunteer efforts, along with their significant leadership for the renovation of Fifth Third Arena, motivated others to give generously as well. The Valentines support student athletes through scholarships, as well as UC programs in languages, world cultures, business, and engineering. 
As a young entrepreneur, Mike Valentine relied extensively on the UC engineering library during the research and design phase for his first radar detector. That experience spurred him to create the Michael D. Valentine Engineering Library Fund to further enhance the College's resources to provide the best education for UC engineering students for generations to come.