Cincinnati media: UC surprises area high school students with admissions and scholarships
Decision Day is one of the 'most exciting' days for the University of Cincinnati
Class was already underway when Anna Horgan was ushered into a meeting room at Seton High School.
The high school senior was genuinely surprised with a visit by the Bearcat mascot, her family and the television cameras, who came along to capture the moment. Horgan was the first Bearcat admitted to the University of Cincinnati in 2023. She also received a $2,000 UC grant.

"I am very excited. I was not expecting it at all," Horgan told Fox 19. "They did a good job of keeping it a secret."
UC sent 25,000 of letters of admissions to students who applied by the early deadline for fall 2023. University officials, joined by members of UC's Bearcat Bands, dance and cheer teams and the Bearcat mascot, made surprise visits to area high schools.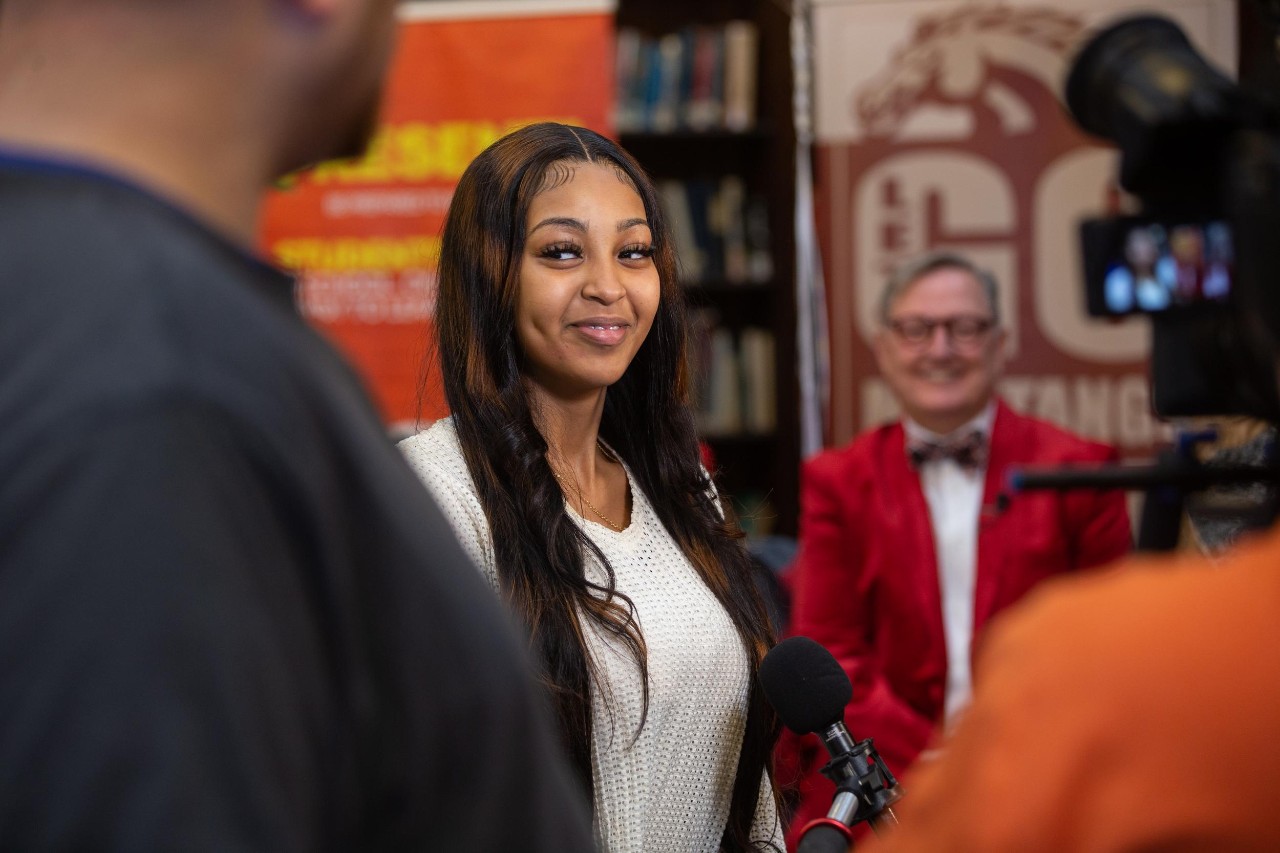 Four students who attended Cincinnati Public Schools also learned they were winners of the Marian Spencer Scholarship. The first batch of Spencer scholars were Helen Dawit of Western Hills University High School, Jaylen Green and Jamiah Mixon, both of Withrow University High School, and Kailei Brown of Woodward High School.

Some programs at UC are now closed for admissions while others are continuing to accept applications until March 1.
Media from across Cincinnati covered the day's events:
"Happy Decision Day," said Jack Miner, vice provost of enrollment management, to a Fox 19 audience. "This is the most exciting day for the University of Cincinnati and one of the most exciting days for Cincinnati as a whole. We are surprising some of the greatest students we have in the city."
Read our full story and see photos from the day.
Featured image at top: Anna Horgan with her parents Jen and Tim Horgan at Seton High School on Decision Day 2023. Photo/Andrew Higley/UC Marketing + Brand
2
Bearcat dreams come true on Decision Day
January 23, 2023
The newest Bearcats learn they've been accepted into the University of Cincinnati on Decision Day, and UC officials surprised area students at their high schools with admission, scholarships and more.