President Pinto looks ahead to 2023
UC President Neville G. Pinto shared the below message with the campus community today
Dear UC Community,
Welcome to the first official day of Spring Semester. I hope you had a restful and rejuvenating break and are ready to start the new term. Before we look toward the exciting year that awaits us, I'd like to thank you for your contributions to UC's historic 2022.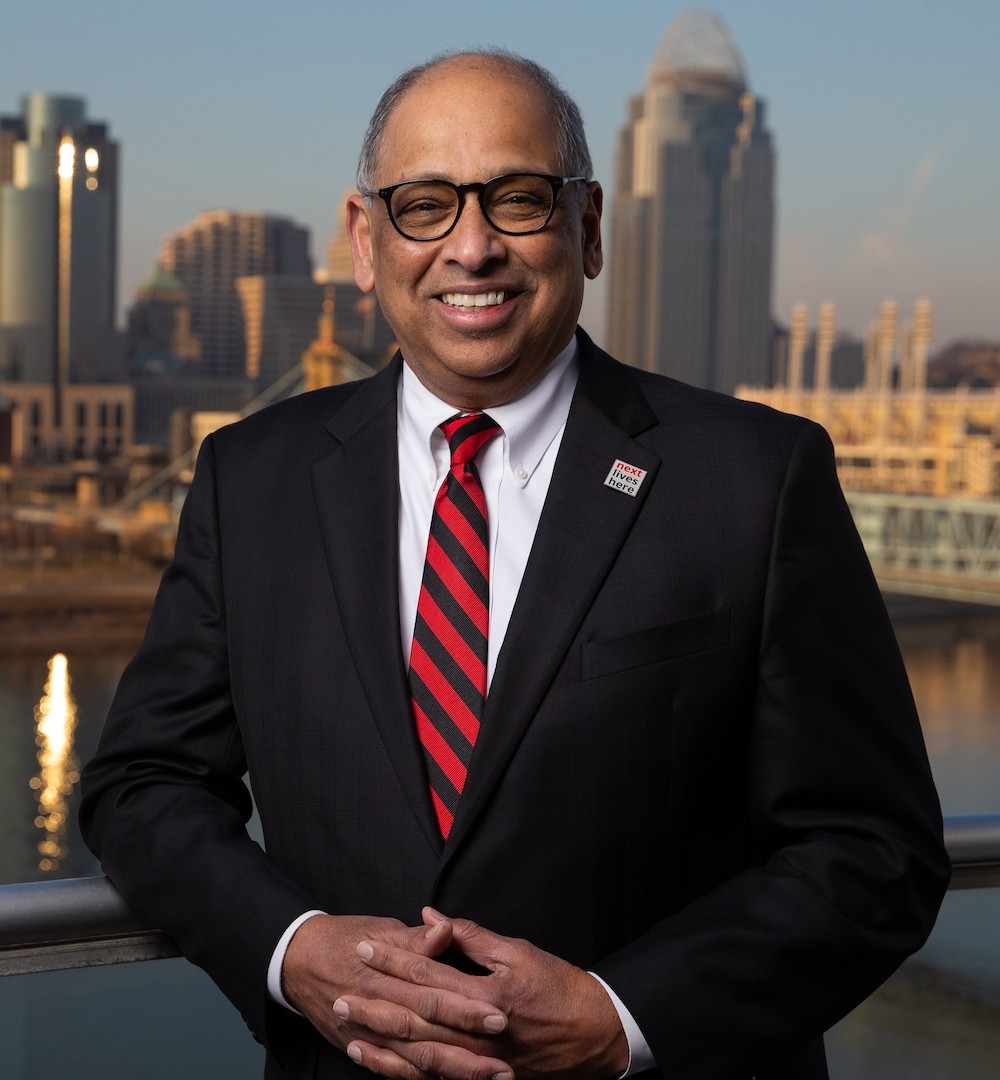 Among the year's highlights, we set an enrollment record with nearly 48,000 students, including the most students of color ever. It was also our best year in history for external research funding, elevating us among leading universities. These are among the many accomplishments I shared with you in my year-in-review letter last month.
We kicked off 2023 by cutting the ribbon on a beautifully renovated Calhoun Hall, now home to nearly 800 students who moved in over the weekend. Each of the 13 residential floors features more spacious rooms and light-filled common areas where our students can socialize, collaborate and study together. Next, Calhoun's neighbor — Siddall Hall — is undergoing a similar transformation.
I'd like to extend a special welcome to new UC Health CEO Cory Shaw, who begins in his new role today. I have every confidence that his leadership will greatly advance clinical care at our Academic Health Center. All of us take great pride in the work of the UC medical team who has assisted Damar Hamlin, following his cardiac arrest during the Bengals-Bills game. Our thoughts and prayers remain with Damar and his family throughout his recovery.
The coming year holds many reasons to celebrate, including Decision Day later this month. With applications to UC up 29% over last year, more incoming students than ever will discover on that day if they will become a Bearcat. This upward trend is a testament to many factors, including our outstanding academic programs, rich campus experiences and supportive university community. 
This spring, up to a million dollars in Inclusive Leadership Grants will be awarded during the annual Equity & Inclusion Conference. Deans and vice presidents from all colleges and business units across campus are eligible to apply, and the top proposals that enhance inclusive excellence at UC will be awarded between $1,000 and $100,000.
As Bearcats fans, few days in UC history will be more anticipated than July 1, 2023, when UC officially joins the Big 12 Conference. We look forward to watching our women's and men's teams compete for championships on such an impressive and fitting national stage. 
The summer will also bring the completion of Clifton Court Hall, which will provide much-needed classroom space, faculty office spaces and student collaboration spaces for classes and projects that cross college disciplines. I look forward to seeing our students' faces light up when they walk into the five-story atrium or climb the grand staircase on their way to class this fall.
No matter your role at UC, I encourage you to embrace 2023 by taking advantage of the many opportunities for learning, leadership and personal growth. I hope you have a great start to the semester, and I look forward to seeing you on campus.
Warm regards,
Neville G. Pinto
President
Impact Lives Here
The University of Cincinnati is leading public urban universities into a new era of innovation and impact. Our faculty, staff and students are saving lives, changing outcomes and bending the future in our city's direction. Next Lives Here.
1
The Power of Vision: 5 Years of Momentum
April 28, 2022
The last five years rank among UC's best. Take a look at some of our recent accomplishments and proudest moments since President G. Pinto began his term as UC's 30th President.
2
UC names chief digital officer
May 19, 2022
UC President Neville Pinto announces hiring of Bharath Prabhakaran to guide the University of Cincinnati's digital transformation.
3
National rankings highlight UC's co-op program, innovation
September 12, 2022
The University of Cincinnati's co-op program stands at No. 4 in the U.S. News & World Report's latest rankings, continuing its historical placement among the top five co-op programs in the country — and No. 1 for co-op among public universities. The latest 2023 issue of the magazine's influential "Best Colleges" guide ranks UC in the top tier, including among the "most innovative among national universities," (No. 68) — UC's first-ever ranking in that category.