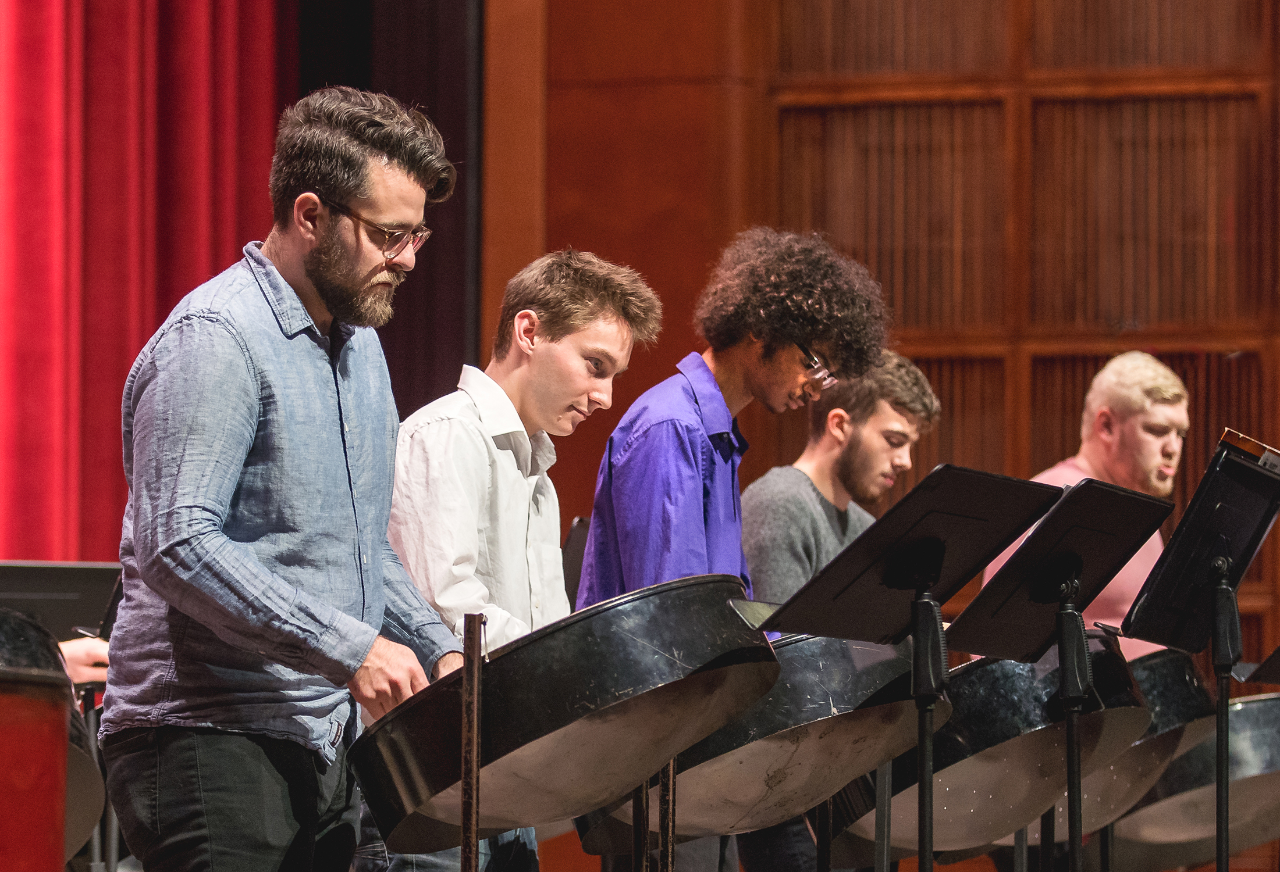 WATCH: Preview CCM's annual Steel Drum Band Concert
CCM's spring 2023 concert series opens with 'A Trip to Trinidad' on Friday, Jan. 20
The UC College-Conservatory of Music opens its Spring 2023 ticketed concert series at 7:30 p.m. on Friday, Jan. 20, with a performance by the CCM Steel Drum Band. Experience a musical trip to Trinidad and back in Corbett Auditorium during this popular annual concert.
The CCM Steel Drum Band is an ensemble made up of percussion majors under the direction of Professor Russell Burge. The band focuses on the traditional music of Trinidad but also incorporates pop, folk and reggae. Improvisation has become a key element of the band's repertoire. The Steel Band gives one annual program each spring at CCM, as well as several outdoor concerts in the Cincinnati area.
The concert is scheduled to feature works by artists like steelpan music composer/ arranger Len "Boogsie" Sharpe and Trinidadian calypsonian Lord Kitchener. Sharpe's composition "Birthday Party" is featured in the video below. View the concert program online now.
Below, watch a preview of the concert created by CCM staff member Melissa Godoy with CCM Digital student workers.
Director: Melissa Godoy
Music Recordist/Engineer: John Curley
Camera: Lauren Dull, Kurt Knue ,Trevor Payne (also lighting design), Rob Simmang and Ryan Stringer (also co-editor)
Tickets for "A Trip to Trinidad and Back" can be purchased online through CCM's box office, over the phone at 513-556-4183 or in person at the CCM Box Office in the atrium of UC's Corbett Center for the Performing Arts.
7:30 p.m. Friday, Jan. 20
Corbett Auditorium, CCM Village
University of Cincinnati
CCM is located on the campus of the University of Cincinnati. For detailed driving directions, visit ccm.uc.edu/directions.
Parking is available in UC's CCM Garage (located at the base of Corry Boulevard off Jefferson Avenue) and additional garages throughout the UC campus. 
CCM OnStage patrons can add pre-paid parking to their checkout carts when purchasing tickets. Pre-paid parking is date/performance specific. CCM Garage parking rates for a performance or special event is usually available for $10-15. Learn more about parking at UC's CCM Garage.
For additional information on parking at UC, please visit uc.edu/about/parking.
Louise Dieterle Nippert Trust

Scholarship and Resident Artist Sponsor

The Andrew W. Mellon Foundation

CSO/CCM Diversity Fellowship Sponsor

The Corbett Endowment at CCM

Dance Department Sponsor
All-Steinway School Sponsor

Louise H. & David S. Ingalls Foundation, Inc.

Community Partners

The Joseph and Frances Jones Poetker Fund of the Cambridge Charitable Foundation, Ritter & Randolph, LLC, Corporate Counsel

Visiting Artists & Thinking About Music Sponsor

CCMpower: Friends and Alumni Fueling the Future of the Arts 
The Strader Fund at the Greater Cincinnati Foundation

CCM Digital Sponsors

Dr. & Mrs. Carl G. Fischer 
Greg Mathein 
Gary & Barb Cummins 
Jim & Linda Miller 
George & Carroll Roden

Musical Theatre Department Sponsors

Genevieve Smith

Opera Production Sponsor

Rafael and Kimberly de Acha

Opera D'Arte Sponsor

An Anonymous Donor

Estate of Mr. William A. Friedlander

Mrs. William A. Friedlander

Dr. Randolph L. Wadsworth

Judith Schonbach Landgren and Peter Landgren

Mr. & Mrs. Harry H. Santen

Elizabeth C.B. Sittenfeld

Mr. & Mrs. Thomas E. Stegman

Mrs. Theodore W. Striker

Mrs. Harry M. Hoffheimer

Ariel Quartet Sponsors

Jan Rogers

Willard and Jean Mulford Charitable Fund of the Cambridge Charitable Foundation

Choral Studies Sponsors
Anonymous
  Classical Guitar Sponsor


Mr. & Mrs. Joseph W. Hirschhorn

Orchestral Sponsor

Dorothy Richard Starling Foundation

Starling Pre-Collegiate Sponsor
Starling Strings Sponsor

Dr. Timothy E. and Janet L. Johnson

Thom Miles and Roberta Gary

Organ Department Sponsors

Keyboard Club of Cincinnati
Louis and Susan Meisel

Piano Department Sponsors
Kevin and Nancy Rhein
   Wind Studies Sponsor



Edward Donovan and Cheryl Carter

Jeff Thomas Catering

The Castleberry Family

KMK Law

Paula Boggs Muething & Brian Muething

Patti Myers & Alan Flaherty

Trish & Rick Bryan

Graeter's Ice Cream 


CCMpower

eat well celebrations and feasts 
The Summit Hotel

Event Sponsors

Buddy Rogers Music

LINKS Sponsor
Sponsors listed as of August 30, 2022
A preeminent institution for the performing and media arts, the University of Cincinnati College-Conservatory of Music (CCM) is the largest single source of performing arts presentations in the state of Ohio. All event dates and programs are subject to change. For a complete calendar of events, visit ccm.uc.edu/onstage.  
Featured image at the top: Students perform in the CCM Steel Drum Band on the Corbett Auditorium stage. Photo/UC Creative + Brand
1
CCM shares fall 2022 schedule of performances and public events
August 12, 2022
Audiences are invited to return to the University of Cincinnati College-Conservatory of Music's (CCM) concert halls and theaters to experience world-class performances and presentations by the next generation of performing and media artists! The college's fall 2022 schedule of free and ticketed events is now available. Tickets go on sale beginning on Monday, Aug. 22, through the CCM Box Office website.
2
CCM's fall schedule of ticketed performances now available
September 28, 2021
Area arts lovers are invited to return to the University of Cincinnati College-Conservatory of Music's (CCM) concert halls and theaters to experience world-class performances in person! The largest single-source of performing and media arts events in the state of Ohio, CCM shares its initial lineup of ticketed September and October CCMONSTAGE performances.
3
CCMONSTAGE: Watch CCM Wind Symphony's Sept. 13 performance
October 6, 2020
The Wind Symphony at UC's College-Conservatory of music reunites on the Corbett Auditorium stage to present a socially-distanced virtual performance. Led by Director of Wind Studies Kevin Michael Holzman, the concert features works by Kevin Day, Andrea Tarrodi, Samuel Barber, Joaquin Rodrigo and Richard Strauss.