UC announces 'One IT' collaboration to improve efficiency
College and unit-level information technology managers from across the University of Cincinnati joined Digital Technology Solutions leadership to re-imagine IT collaboration in January at the Digital Futures building.
The day focused on learning from the past and envisioning a future as "One IT."
Digital Technology Solutions partnered with UC's Staff Success Center to design and facilitate the agenda, which featured a series of working sessions that:
Allowed space for reconnection among the teams.
Utilized tools to address change management and productive conflict.
Provided time for forecasting future trends to incorporate into strategic planning.
Included a tour of Digital Futures to appreciate the excellent collaborative and inter-disciplinary research happening there.
"We are all here to support student success, and I feel we can definitely work towards that goal of shared success when we work together as 'One IT,'" UC Vice President & Chief Digital Officer Bharath Prabhakaran said. "IT operational excellence is one of Digital Technology Solutions' primary areas of focus and the One IT Collaboration is key to delivering more efficient and effective IT services to the university."
The new One IT Collaboration group will meet monthly. Prabhakaran invited everyone to lend their expertise to working groups that will meet more often to kickstart the group's efforts to improve IT efficiency and effectiveness across the university.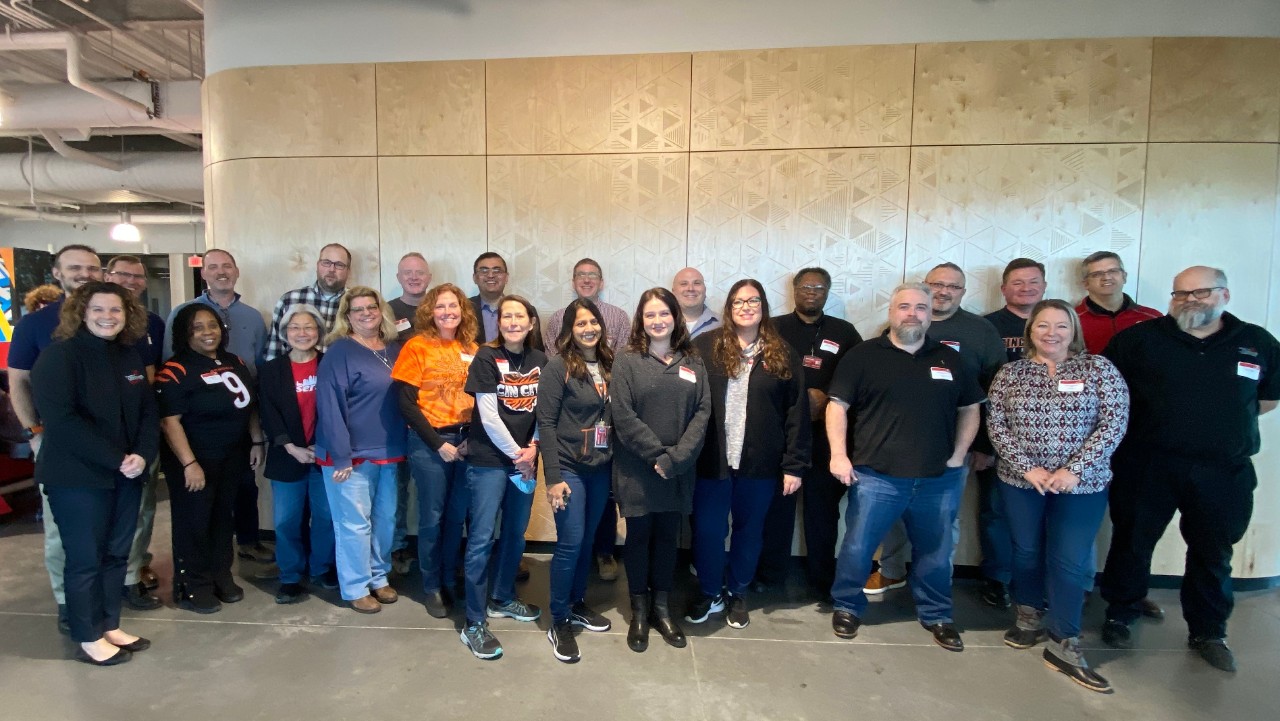 "Excellent IT operations must provide a secure foundation that seamlessly weaves through all aspects of our UC students' educational experience," said Sighle Denier, director of the Center for Educational Technology and Instructional Support in UC's College of Allied Health Sciences.
The 'One IT' strategic and collaborative vision, leadership and actionable plan promises the creation of an infrastructure that embraces IT talent across the university, she said.
"With trust in the foundation, UC's College of Allied Health Sciences IT can align with Digital Technology Solutions and focus on targeted program solutions. Our students can focus on becoming the Allied Health Science professionals of tomorrow, knowing they have state of the art technology," Denier said.
"I'm excited about the potential for 'One IT' to drive innovation, support student success, and enhance the technology experience for everyone at the University of Cincinnati," said Carl H. Lindner College of Business Director of Information Technology Andrew Becker.
"As part of the One IT Collaboration team, I am looking forward to the opportunity to work with a larger and more diverse group of IT professionals, sharing best practices and learning from one another to continuously improve technology services," Becker added.
Becker also said he looks forward to the increased ability to leverage shared resources and expertise, resulting in more effective and efficient technology support for not only the Lindner College of Business but also the greater University of Cincinnati community.
"By being part of the One IT Collaboration, my department within the UC College of Nursing will be able to spend more time working on innovation and faculty and student support," Assistant Dean for Technology and Innovation Matthew Rota said.
Rota is director of the Center for Academic Technology, Educational Resources and Instructional Design.

"At the end of the day, we are all here for one main purpose — student success," Rota said.
"UC Libraries provides services to all UC students at Langsam and other college and department libraries. We look forward to being part of One IT to ensure that all students have access to the technology they need for their education and beyond," UC Libraries Chief Technology Officer May Chang said.
"We also want to build strong relationships with DTS and other colleges' IT staff, increasing security by implementing better patch management systems, and collaborating to leverage UC's buying power to minimize hardware and software costs," added UC Libraries Service manager Scott Sorrell.
2
October is cybersecurity awareness month
September 30, 2022
Throughout the month of October, we'll share a variety of resources to help you outsmart cyberthreats and protect you and your family from online attacks.