Urban Morgan Institute at UC to host Butler Human Rights Medal Award
Distinguished human rights activist, the Honorable Unity Dow, to receive the award.
The Urban Morgan Institute for Human Rights at the University of Cincinnati College of Law is hosting the William J. Butler Human Rights Medal Award at 4:00 p.m., Sat., April 15, 2023, at the college. This event will recognize the inspirational achievements and service in the area of human rights of the Honorable Unity Dow of Botswana. Attendees must register for the event; a registration link is below. Contact Madeline Hellmich at (513) 556-2576 or hellmimm@ucmail.uc.edu for more information.
Program: 4:00 - 6:30 pm
Reception: 6:30 - 7:00 pm
Dinner: 7:00 - 9:00 pm
Location: University of Cincinnati College of Law (2925 Campus Green Dr. Cincinnati, Ohio 45221)
About the Honorable Unity Dow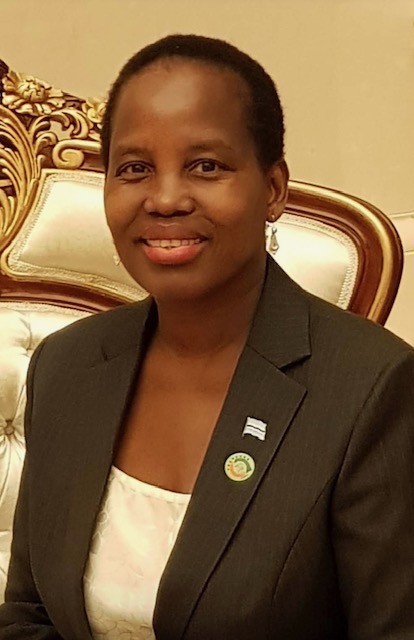 Lawyer, human rights activist, writer, and specially elected member of parliament, the Honorable Unity Dow began her legal career working in the chambers of the Attorney General as a criminal prosecutor in Gaborone, Botswana. After serving in this position for several years, she entered private practice, focusing on criminal law and opening the firm Dow Malakaila, the first all-woman law firm in the country.  Later in 1997, she became the first woman to be appointed as a judge on the country's High Court, a very distinguished honor. Dow served in this role for 11 years. Coincidentally, she is the only person to have served in all three arms of the Botswana government.
Judge Dow was elected to the National Assembly in 2014 as a special elected member of parliament. She was appointed as an Assistant Minister of Education and then became the Minister of Education and Skills Development. She also worked as Minister of Basic Education, Minister of Infrastructure and Housing Development, and Minister of International Affairs and Cooperation. She has served on numerous international commissions and committees, examining and advising on issues surrounding the human rights of people living in Kenya, Palestine, Rwanda, and Sierra Leone. Finally, she is an author, focusing her work on social and legal issues and their impact on gender and power structures.
Today, Dow, along with her daughters Cheshe (Law'07) and Natasha, operate The Dow Academy, a private daycare, preschool, primary, secondary, and boarding school in the village of Mochudi, Botswana. The educational facility offers an innovative model of integrating and continuously developing technical vocational and life skills alongside a strong academic program. Their vision is to reimagine education to nurture well-rounded global citizens who build sustainable communities. The academy works in partnership with the University of Cincinnati to provide an online coding class to primary (fourth grade) students, building upon the university's Next Lives Here vision and global outlook. Staff members from UC International and Professor Mohamed Elwakil from UC Blue Ash assist with leading the program. Other initiatives are being planned.
Dow has been involved in three historic cases in Botswana. In 1990, she was the plaintiff in the landmark case Unity Dow v. Attorney-General, which ended gender discrimination in the nation's nationality laws that had prohibited children from deriving nationality from their married mothers. The case led to changes that eliminated gender disparity in nationality laws across Africa. In 2006 as the presiding judge in the case of Roy Sesana and Others v. the Government of Botswana, Judge Dow ruled against the government's actions prohibiting the Basarwa indigenous people from living and hunting on their ancestral lands, forcing them to resettle outside the Central Kalahari Game Reserve. She ruled that the government had to restore basic services, allow the Basarwa to return to the land and obtain hunting permits, and pay damages to those who had been forcibly relocated if they decided not to return. And in 2014, Judge Dow served as legal counsel for LEGABIBO (Lesbians, Gays & Bisexuals of Botswana) in their case to register their organization with the Department of Civil and National Registration. She won the case, receiving a ruling for the government to allow the organization to be registered.
The recipient of numerous awards and honors, she has received the William Brennan Human Rights Award, the Phyllis N. Stern Distinguished Lectureship Award of the International Council on Women's Health Issues, the Prominent Women in International Law Award of the American Society of International Law's Women in International Law Interest Group, the Legion of Honour by the French Ambassador to Botswana, and the Global Achievement Award of the Middle East Excellence Award Institute of Dubai.
Judge Dow is a graduate of the University of Botswana and Swaziland and the University of Edinburgh.
Lead photo: courtesy of istockphoto.com; Dow photo: provided.
2
CCM premieres 'Hope After Hate' immersive play
June 23, 2021
The University of Cincinnati College-Conservatory of Music premieres Hope After Hate, a story of struggle and survival during the Holocaust, at 7:30 p.m. EDT on Saturday, June 28.
3
UC takes center stage in Amazon Prime series
January 19, 2022
Filmed in July 2021, UC's episode is a crash-course in being a Bearcat, starring a few of the university's best and brightest students and alumni. Some are lifelong Cincinnatians; others are from across the globe. But they're all excited to show viewers why they've called UC home: From its beautiful spaces and state-of-the-art facilities to co-op and campus life.