A bend, not an end: Graduate's road to nursing bachelor's winds back to UC
Fifteen years after she started at UC, Alexis Mundy is a BSN-prepared nurse and Bearcat for life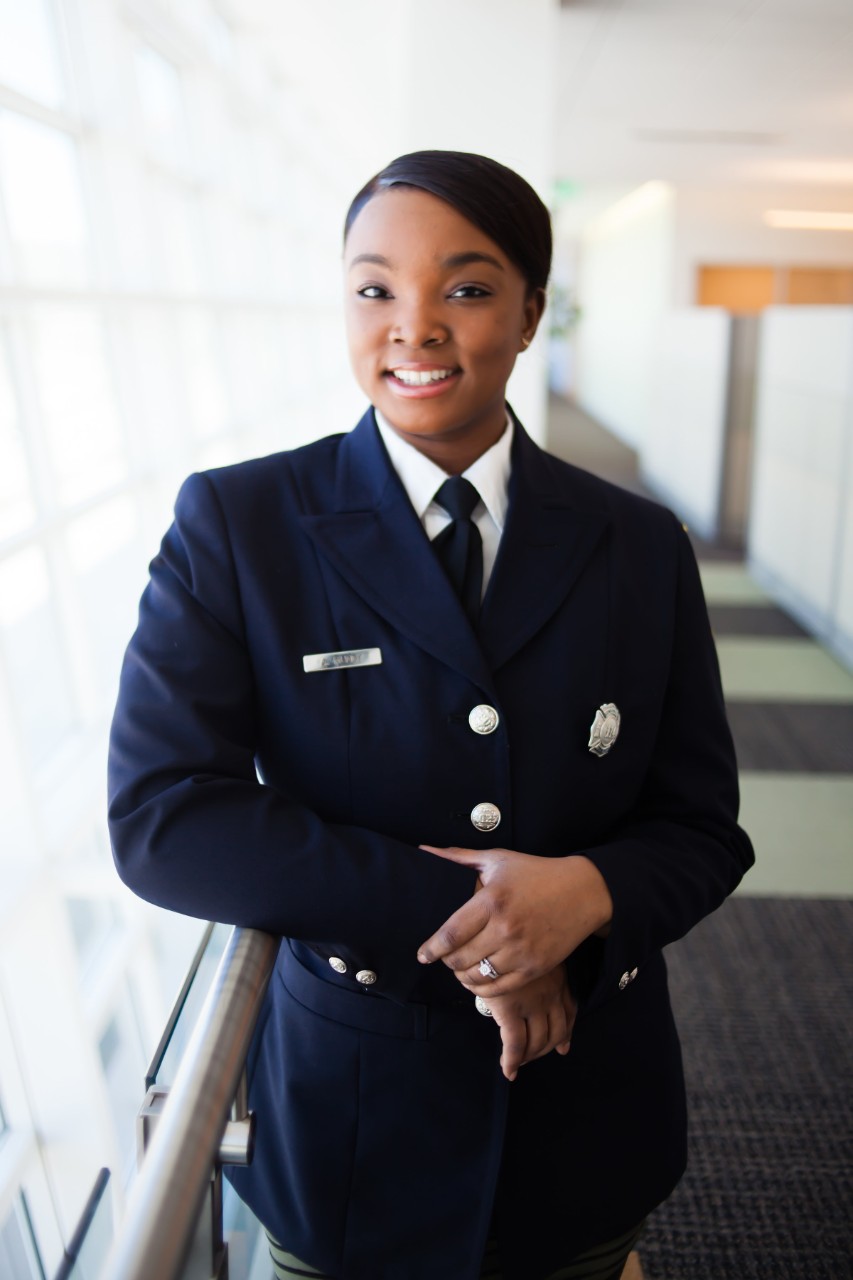 A bend in the road is not the end of the road, Helen Keller said, unless you fail to make the turn.
Alexis Mundy came up on many bends in her road to a baccalaureate nursing degree, but she made the turns. In the past 15 years, she's gone from pre-pharmacy student to paramedic to associate-prepared registered nurse (RN) and now graduate of the University of Cincinnati's RN to Bachelor of Science in Nursing (BSN) program.
"I wouldn't recommend the path I took — starting and stopping, the multiple different schools. But in the end, I was able to accomplish the task," Mundy says. "I really wanted to follow through on what I originally set out to do."
After high school, Mundy entered UC's pre-pharmacy program, but as a new mom she could not balance schoolwork and family. She briefly attended an associate in nursing program at another school, then switched to Cincinnati State community college, but a long waitlist for clinical placements kept her from completing a nursing degree. Instead, she earned an associate in paramedicine in 2012 and began working for Cincinnati's fire department. In 2014, she also took on a role as a poison control specialist in the Cincinnati Children's Drug and Poison Information Center (DPIC). A year later, Mundy decided to finish what she started and entered an EMT to associate degree in nursing (ADN) program online.
"I initially wondered if it was worth it to go back and finish my nursing degree, but I knew I was going to have to pay back those student loans regardless and I didn't want to limit myself and be boxed into one career path," she says.
It took four years, but Mundy graduated in 2019 and became a licensed RN, which allowed her to move into a new role in the Children's DPIC, advising physicians and pharmacists in hospitals, rather than fielding calls from the community. When it came time to earn her bachelor's — required for nurses at Children's — she was reluctant.
"I knew it was a requirement, but I really couldn't understand how it was going to be beneficial to me," Mundy says. "But in getting through the curriculum, I was really able to find some purpose and not feel like I have to be in a managerial role to apply the knowledge I gained."
UC's RN to BSN online program empowered her to look for more ways to make an impact. Already, she has talked with her manager at Children's about using her skills to take on a research project.
Mundy chose UC because, again, she wanted to finish what she started and finally become an alumna. She received ample support from program advisors and faculty who helped ensure she met the GPA requirement, despite her early stint in pre-pharmacy, and her previous credits transferred.
"My advisors always did a great job of checking in and all of the instructors I had were wonderful," she says.
Mundy completed her bachelor's in four semesters, which she says allowed her to balance her full-time work and home life. In the near term, she plans to continue working for the fire department and Children's DPIC. She admits her nursing path could take another turn, a master's degree, but not any time soon.
"Maybe later on, but for now I'm good," she says.
Learn about UC's RN to BSN Online Program
UC College of Nursing's RN to BSN online program requires only nine nursing courses, offers seamless credit transfer from previous institutions, and provides dedicated support from faculty and advisors from enrollment through graduation.
1
'To make him proud was high on her list'
April 1, 2021
Alex Lewis lost her 82-year-old grandfather to Covid-19 just five weeks before her dream school showed up on the front steps of Roger Bacon High School to tell the senior that she has been admitted to the University of Cincinnati College of Nursing as part of a touching Decision Day surprise effort this year.
3
New UC program focuses on caring for the underserved
January 20, 2021
The UC College of Nursing and James L. Winkle College of Pharmacy are collaborating on a graduate certificate to train students to care for the underserved. There is a growing need in the community for health care workers with these skills.