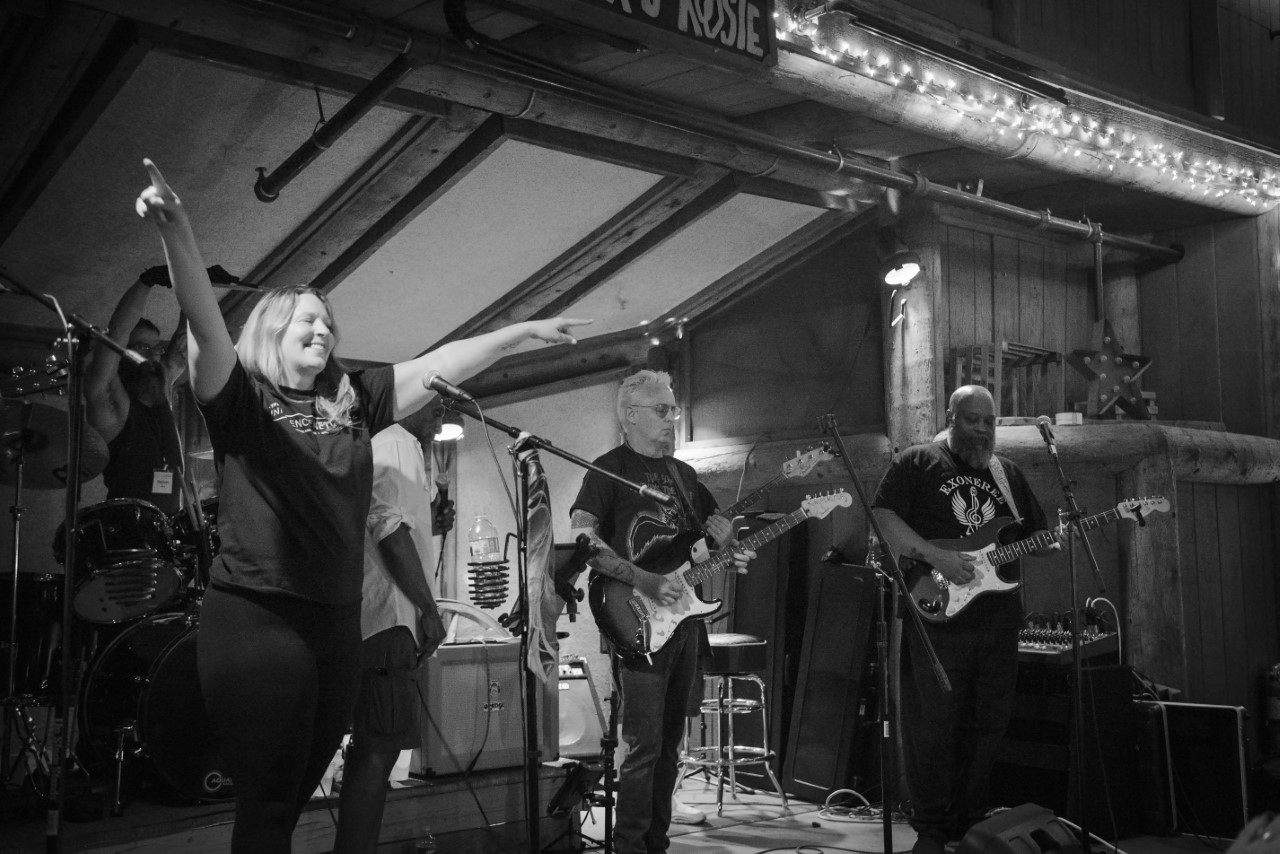 The sounds of sweet freedom
Ohio Innocence Project's Raymond Towler jams with the Exoneree Band as lead guitarist
Raymond Towler got hold of his first guitar at age 12 and couldn't let go.
That coveted six-string was his stepfather's pride and joy and a way to channel an idol of the day: famed guitarist, songwriter and singer Jimi Hendrix.

"He bought a guitar, but never played it," says Towler, now 65. "I would sneak and try to play it and break all the strings on it. So, he got tired of that and finally got me my own. He had all the Jimi Hendrix records and stuff. He had one of those Philips stereos. 
"I would be up in the morning listening to all that music," says Towler. "That's kind of been part of me since that age. I just stuck with it and kept playing."
Towler, an exoneree of the University of Cincinnati-based Ohio Innocence Project (OIP), still loves making music and is lead guitarist in the Exoneree Band, a group of former inmates-turned-musicians, each wrongfully convicted for crimes someone else committed, that plays gigs regularly all across the country.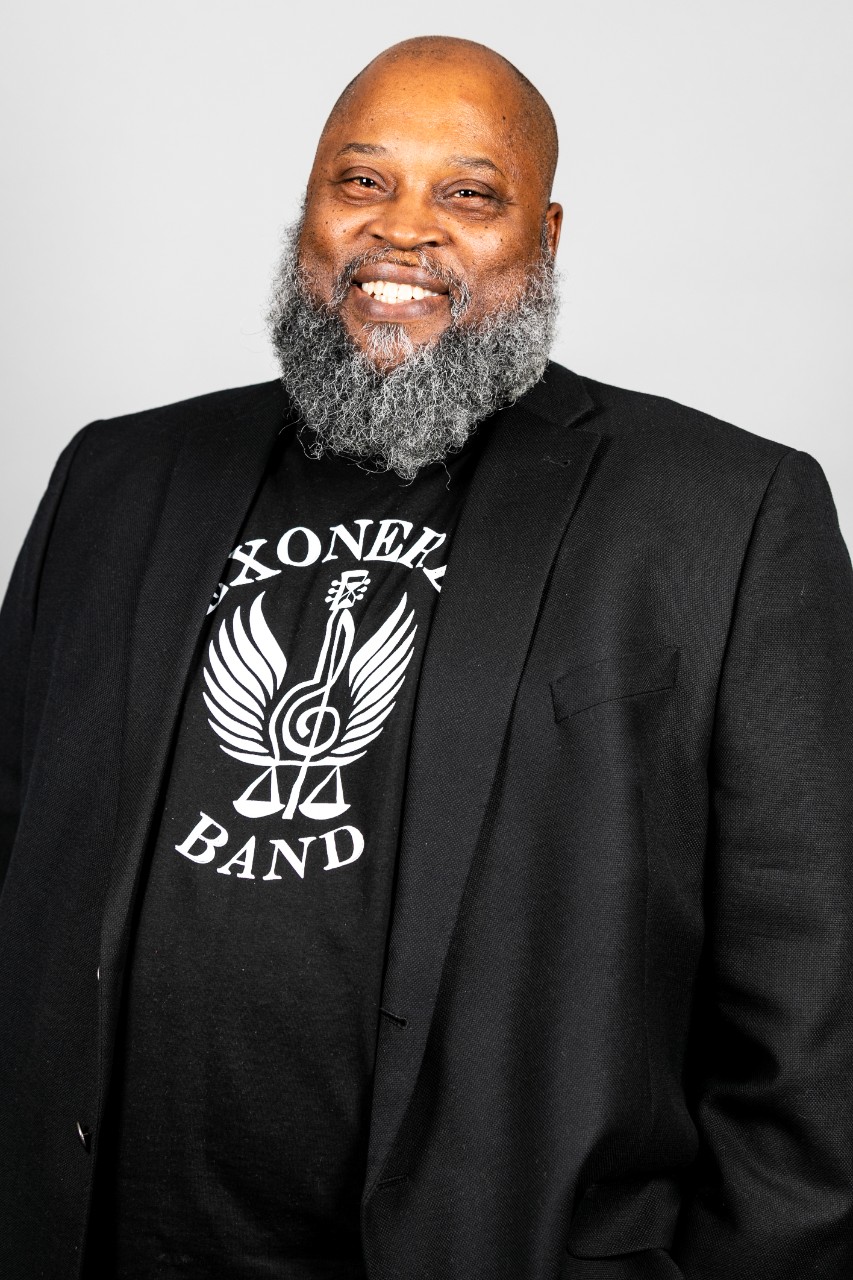 The Ohio Innocence Project was founded in 2003 with a goal to free every innocent person in Ohio who has been convicted of a crime they didn't commit. Since its inception, the OIP's work has led to the release of 42 wrongfully convicted Ohioans who collectively served more than 700 years in prison. This makes the OIP one of the top-performing members among the international innocence network.  
The Exoneree Band formed in 2010 and then played its first performance in Cincinnati in 2011. It will return again to the Queen City on Thursday, May 18, for a special event at Music Hall, to mark the 20th anniversary of OIP. The gala celebration will feature keynote speaker, bestselling author John Grisham.
Towler, William Dillon, Eddie Lowery, Darby Tillis and Antoine Day were the original band members. All band members are connected to innocence organizations across the nation. When Tillis died in 2014, Ted Bradford took over in his stead. Together the exonerees write and perform songs about injustice and their own wrongful convictions.  
Towler says OIP Director Mark Godsey was among those who initially convinced him and other exonerees to put their talents to use. 
"He got everybody together and it was really like an exoneree talent show," says Towler, "It was like at a national innocence conference and they asked us what we wanted to do. We had a couple of days to get things together to determine who could do what musically."
Towler never lost the creativity and joy music provided, even while battling the wrongful conviction that ultimately took 29 years of his life. He was convicted in a 1981 rape, assault and kidnapping case based on misidentifications by witnesses. 
Despite an alibi that was corroborated by witnesses, he was sentenced to life in prison — a sentence required by state law because the victim was under age 13. More than 20 years passed before Ohio law allowed DNA testing in limited cases of old crimes. 
OIP attorneys pushed for DNA testing and were helped by a series of articles in the Columbus Dispatch that featured 30 prisoners seeking DNA tests for exoneration. Towler was released from prison in 2010 and in 2011 he was awarded $2.5 million in compensation by the state of Ohio. He settled a federal civil rights lawsuit in 2012 for $4.7 million.
Other members of the Exoneree Band faced their own challenges.

Dillon was cleared of a Florida murder in 2007 after 27 years of imprisonment, while Lowery was locked up for almost a decade for a rape he didn't do. Day was falsely convicted of a murder and attempted murder and released after serving 10 years in prison, while Tillis was sentenced to death for the robbery and murder of two employees at a hot dog stand in Chicago. 
Ten years after that conviction, it was learned the witness who identified him and her boyfriend actually committed the crimes. Tillis was the first death row exoneree in Illinois history.
Ted Louis Bradford spent almost 10 years in prison for a rape he didn't commit — and another four years awaiting a new trial — before he was retried and acquitted based on DNA evidence proving his innocence in 2010.
What else can you do with something that just won't go away? I can't stop playing music.
Raymond Towler
Creativity and advocacy are key
Towler now lives in Sheffield Village, Ohio, and fills his days making music, dabbling in art, producing multicolored abstract paintings and helping other exonerees after incarceration.
His love for art dates back to his childhood and he continued painting hundreds of pieces of art while incarcerated. That creativity continues to enrich. He has been among the numerous artists featured in the "Marking Time: Art in the Age of Mass Incarceration" exhibit that has been featured at locations across the country. That exhibit explores the visual art and creative practice of incarcerated artists and art that responds to mass incarceration.

"It feels good to have an avenue to exercise your talent," says Towler. "With the Exoneree Band, we are just doing what we love doing. Having a purpose behind it is really great. I think the band is getting the message out about wrongful conviction."
"What else can you do with something that just won't go away?" says Towler. "I can't stop playing music."
Amanda Knox, a journalist and author who spent four years in an Italian prison following her wrongful conviction for the murder of a fellow exchange student with whom she shared an apartment in Italy, has performed with the Exoneree Band. Towler considers her a member, too.
Towler has at least 20 songs out on the internet that he's either had a hand in writing lyrics, mixing music or acting as a lead guitarist. His favorite tune, "It wasn't my fault" was the result of lyrics by band member Darby Tillis, while Towler wrote the music and played electric guitar. American musician and music producer Jim Tullio produced the song and recorded it in his studio. 
"Everybody always gets up and dances to it and, as long as it is a fan favorite, we will keep giving the people what they want by playing it," says Towler.
Towler also finds time to help other inmates who have been released from prison and are now trying to clear their name and rebuild their lives. 
He knows he is fortunate to have received some compensation for his wrongful conviction, but that's not the case for many who have endured the trauma and come out to a world without family, friends or any means of support.
Towler owns two homes that house exonerees who have been released from incarceration and are trying to rebuild their lives. The effort is known as X-Freedom Studio and Towler hopes to expand what's being offered in the future.
"I have a couple of exonerees staying at a house right now," says Towler. "One is at the end of his journey as far as just getting out and getting his feet on the ground and the other is just getting out and getting to where he can legally begin seeing the end of the tunnel.
"Sometimes it is a long journey," says Towler. "You can get out on parole, but you are still fighting your case before you are eventually exonerated."
The truth is the truth, and some truths are easy to pull in the sun, while some people are working really hard to keep those truths in the shade.
Raymond Towler
Towler says laws are needed to support individuals who are wrongfully convicted.
"The whole premise is that someone deserves compensation because they were innocent," says Towler. "I was lucky that my DNA test was available and that opened the door for compensation for me. But not every case has DNA for exoneration."
Misidentified assailants, recanted testimonies and additional evidence also lead to exonerations. In these cases, it often is much more difficult for a wrongfully convicted person to obtain compensation for lost freedom and life wasted. 
"The government does not automatically give compensation to an innocent person who is wrongfully convicted. Our clients have to hire attorneys and fight for that compensation for years before they receive a dime," says Pierce Reed, director of policy and engagement for OIP.   
"The client has to go back to the court in which that the client was convicted and persuade a judge to find that the client is a wrongfully convicted individual," explains Reed. "If the client succeeds in doing so, the client then takes that declaration to the Ohio Court of Claims in Columbus, where the client must sue the state for compensation.   
"The process is a long one, and one without any guarantee," says Reed.
No amount of money will ever make things right, but compensation can be slow and   exonerees are vulnerable, often dependent on public assistance and the kindness of strangers, says Reed.
"One battle we are trying to win is fair compensation for everyone that is innocent," says Towler. "The truth is the truth, and some truths are easy to pull in the sun, while some people are working really hard to keep those truths in the shade. It's really a battle."
Guys need help getting a job and someone helped me get a job, says Towler.
"There are people in the world who want to help and give a hand up, not a hand out," Towler says. "For most exonerees, that's all they need. They have some skills that they want to exercise. They just need a chance."
Rather than turn away from the pain of the world after bearing so much of it himself, he turns toward it — on behalf of others.
Pierce Reed Director of policy and engagement, OIP
Reed offered a few thoughts about Towler's commitment to OIP and the larger community,

"Rarely does one person have so many talents, and I am fortunate to have been able to see his visual art as well as listen to him perform his music," says Reed. "His resiliency and strength is present in everything he does. But perhaps Raymond's biggest gift to us is his heart.   
"Rather than turn away from the pain of the world after bearing so much of it himself, he turns toward it — on behalf of others," says Reed. "Raymond provides housing to some of the most vulnerable people in our society, including those who have been wrongfully convicted. He creates homes — not just houses — for them.   
"It is a testament to his character and capacity to show love, even when so much hate has been shown to him," says Reed.
Learn more and follow Raymond Towler on Facebook.
Featured image at top: Raymond Towler (far right on guitar) performs with the Exoneree Band. Photo/provided
Impact Lives Here
The University of Cincinnati is leading public urban universities into a new era of innovation and impact. Our faculty, staff and students are saving lives, changing outcomes and bending the future in our city's direction. Next Lives Here.
1
UC's OIP helps free 29th defendant
April 21, 2020
Christopher Smith served 12 years in prison for a crime he didn't commit and then even after a federal judge ordered his release when his conviction was overturned on constitutional violations, faced a COVID-19 scare when prison officials refused to release him. He's finally free, thanks to the Ohio Innocence Project at the University of Cincinnati College of Law.
2
UC Law lends expertise to local residents in need
June 9, 2022
The vast majority of tenants facing eviction in Hamilton County go through legal proceedings without a lawyer and many turn to the Help Center for Hamilton County Municipal Court. The center helps individuals without legal representation access the court system by providing education, information and limited legal advice. It is a partnership between the UC College of Law and the Hamilton County Clerk of Courts.
3
The sounds of sweet freedom
April 20, 2023
Raymond Towler, an Ohio Innocence Project exoneree, will perform as part of the Exoneree Band for OIP's 20th anniversary celebration event set for Thursday, May 18, at Cincinnati's Music Hall. The gala celebration will also feature keynote speaker, bestselling author John Grisham.