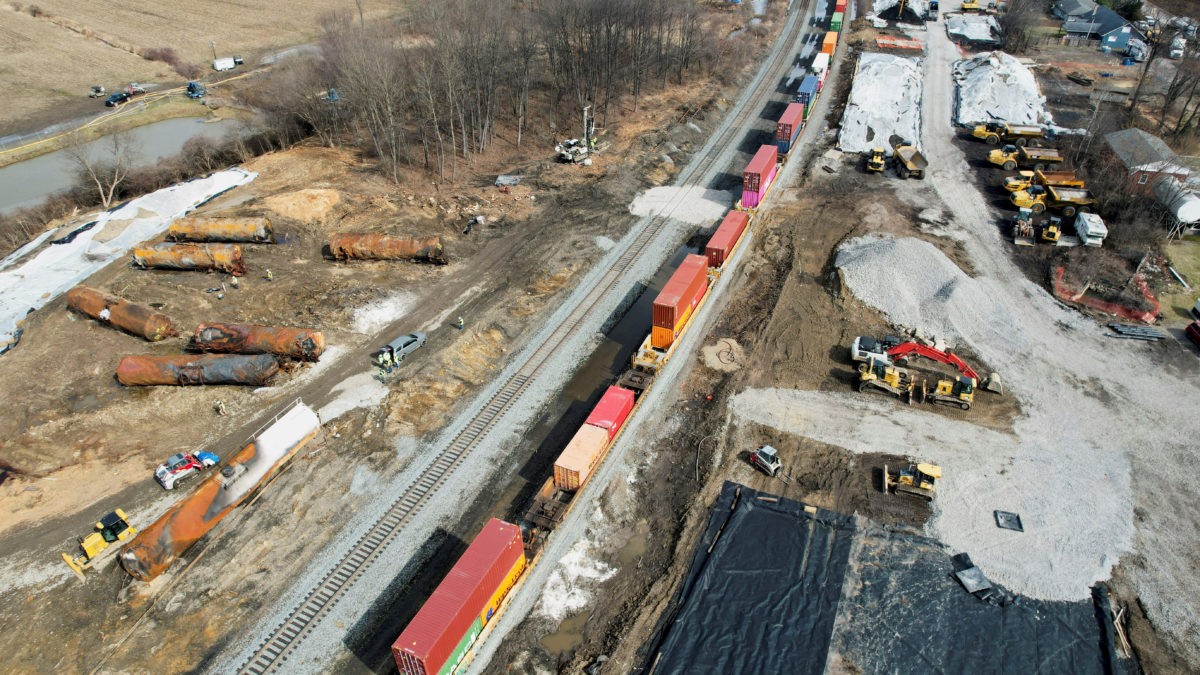 PBS NewsHour: Why tracking these pollution indicators is key after the East Palestine train derailment
UC expert says after such a disaster, a coordinated effort to determine exposure is the key
Two months after a train carrying hazardous chemicals derailed in East Palestine, Ohio, state and federal agencies are monitoring air, water and soil samples in and around the derailment site for signs of pollution. Some are wondering how long will those steps be necessary to ensure the safety of the community?
In a story produced by PBS NewsHour, one of the experts interviewed was Glenn Talaska, PhD, professor emeritus in the Department of Environmental and Public Health Sciences in the UC College of Medicine. 
Talaska was chosen by Ohio Sens. Sherrod Brown and J.D. Vance to offer his expert take on what a robust public health response in the community should look like. He said he thinks in the aftermath of a disaster, a coordinated effort to get "a better handle on exposure" among residents is key.
"It's a relatively easy process of just collecting a urine sample from individuals who you may be evacuating, getting a sample from them so that we could assess – with whatever biomarkers are going to be available and appropriate – what the exposures were," Talaska said.
Immediate biomonitoring after disasters like the East Palestine train derailment would both help fill in gaps in exposure assessments in subsequent epidemiological studies, Talaska said. CNN reported in late March that the Ohio Department of Health was poised to offer blood and urine testing to first responders who worked at the derailment site.
The lingering uncertainty in the absence of that type of data collection exacerbates fear and anxiety about their long-term future, he added. But quick-turnaround biomonitoring wasn't pursued in East Palestine or, generally, during the myriad similar crises that have come before or after it.
That's because it's not mandatory for officials to incorporate tools that can help assess exposure early on – like urine sampling – as part of their standard practice in the aftermath of disasters like the one in East Palestine, Talaska said. That's a problem, in his view, given that the incident in East Palestine is not an isolated event.
"It will happen again. We will have some sort of chemical exposure from this or that or the other thing that we have to deal with as a nation," he said. "And I think the key takeaway is that we're not quite ready."
Lead photo of the East Palestine derailment/Alan Freed/Reuters
Next Lives Here
The University of Cincinnati is classified as a Research 1 institution by the Carnegie Commission and is ranked in the National Science Foundation's Top-35 public research universities. UC's graduate students and faculty investigate problems and innovate solutions with real-world impact. Next Lives Here.
2
Business Courier: UC part of nearly $2M CDC grant to develop next generation of health care PPE
November 10, 2021
UC researchers are taking part in a new nearly $2 million, multiyear study that will help develop a new generation of PPE, or personal protective equipment, for health care workers. UC researchers will work with teams from Iowa State University and the University of California-Davis to improve the design, function and safety of PPE, or personal protective equipment, the university said in a release this week. The study is part of a multi-institutional, four-year grant worth $1.8 million from the Centers for Disease Control and Prevention. The Cincinnati Business Courier published a story on the research.
3
AP: Communities await first US limits on 'forever chemicals'
March 2, 2023
The Associated Press interviewed Susan Pinney, PhD, of the University of Cincinnati Department of Environmental Health and Public Sciences about the expectation that the EPA to propose restrictions on harmful "forever chemicals" in drinking water after finding they are dangerous in amounts so small as to be undetectable.