DAAP instructor taught himself to use AI — which led to working for his music idol
UC artist/designer Ryan Newman uses AI to create cover art for Bootsy Collins' 'Funk Not Fight'
Bootsy Collins is widely known as an American bass guitarist, songwriter and music producer, but he is perhaps equally known for his larger-than-life persona, dressed head to toe in over-the-top, flashy clothing and accessories reminiscent of the 1970s — which is when he got his start in the music industry with James Brown and later with the group Parliament-Funkadelic.
For those who have met Bootsy, one look at the cover art for his latest album and peace-driven initiative, "Funk Not Fight," and it is easy to see that the cover artist captured the essence of both Bootsy and his wife, Patti Collins, who is depicted in her own bold, personal style to perfection.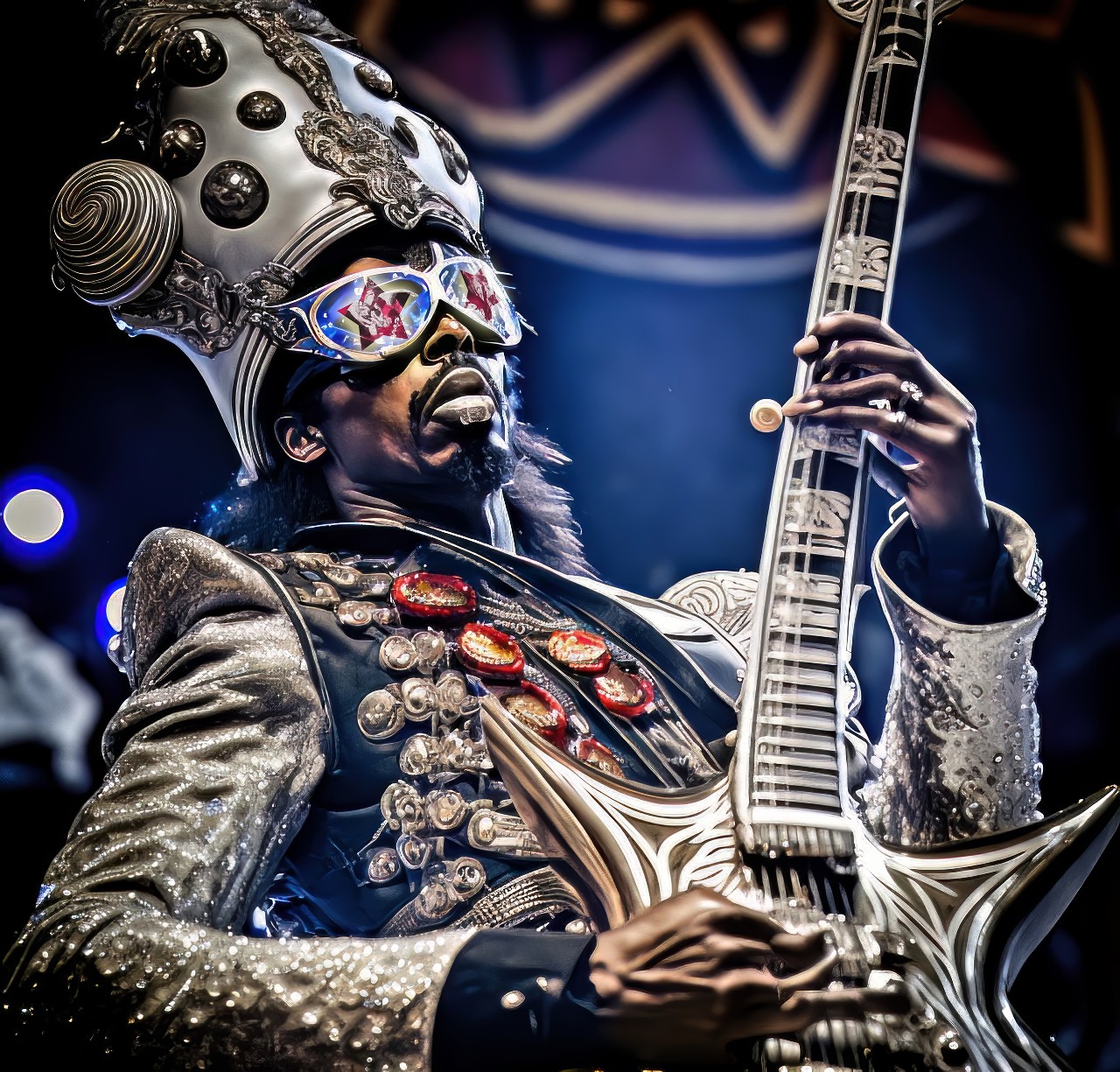 "The art is all inspired by my love of Bootsy and his music," says the cover artist Ryan Newman, a University of Cincinnati adjunct instructor of design in the College of Design, Architecture, Art, and Planning and innovation director at LPK, a Cincinnati brand consultancy. 
How Newman came to be the cover artist for "Funk Not Fight," he says, was due in part to mother nature and her polar opposite, artificial intelligence (AI).
It was over the 2022 winter break when snowstorms canceled Newman's planned holiday trip to visit family in Boston, Massachusetts. 
After four canceled flights, he gave up on going, but now had extra time on his hands, and decided to teach himself how to use image generating AI, specifically a program offered by research lab Midjourney. 
Newman says this exploration of AI technology marked the beginning of a profound journey. He treated the program much like a painter would treat a canvas and paintbrush, studying its capabilities and pushing its boundaries. His intent was twofold: to understand this new medium and to channel his newfound knowledge into a visual tribute to his favorite musician, Bootsy Collins. 
"It's not just the output of a computer program. My artistic expression is there," says Newman.
Once the first pieces were complete, Newman took a leap of faith and sent it to Bootsy, via LinkedIn.
To Newman's delight, the music legend answered within the hour, responding: "We have multiple album projects coming out this year and would love to hook up…I know we can Funk up the World! Blessings from Bootsy baby!!!"  
As it turned out, "Funk Not Fight" was not just the name of a song, but an ongoing initiative the Collins family were undertaking to install music centers in cities across the country, where people can go to escape the anger and violence that has been on the uptick.            
"We want to create opportunities in communities that encourage peace, creativity and anti-violence," says Bootsy, with the first center to open in Cleveland, Ohio.
With the title track released in May, the rest of the "Funk Not Fight" album will be a compilation of recognized talent and unknown young artists. Bootsy has put out a call to young talent — musicians, rappers, poets — from all over the country to send in their collaborations by the end of June.
Newman will be continuing to collaborate with Bootsy, Patti and Bootzilla Productions creating cover art and branding for the initiatives and is leveraging AI to do it. 
"I've listened to him since I was four years old," Newman says, and the art is a homage to Bootsy's legacy and craft.
Featured image at top of Bootsy and Patti Collins by Ryan Newman
Impact Lives Here
The University of Cincinnati is leading public urban universities into a new era of innovation and impact. Our faculty, staff and students are saving lives, changing outcomes and bending the future in our city's direction. Next Lives Here. 
1
UC honors students to lawmakers: Here are ideas to fix public education
December 2, 2020
On Dec. 7, University of Cincinnati honors students in the Save our Schools! seminar will present Ohio political leaders with their best ideas to address some of the state's thorniest education issues at an educational reform symposium, to be held via remote technology.
2
FOX19: UC's DAAP helping address COVID-19
September 9, 2020
Claudia Rebola is an associate professor and the associate dean for research at the University of Cincinnati's College of Design, Architecture, Arts, and Planning. She is part of a UC team using innovation and design expertise to respond to COVID-19.
3
Traffic of tomorrow
June 10, 2020
More driverless cars. More networked roads. More naps. UC is helping change how we drive.