UC cancer research presented at national meeting
Gastrointestinal, ovarian and head and neck cancer research highlights ASCO abstracts
University of Cincinnati Cancer Center researchers will present abstracts at the American Society of Clinical Oncology (ASCO) annual meeting 2023, held in Chicago June 2-6.
New trial tests immunotherapy before liver transplant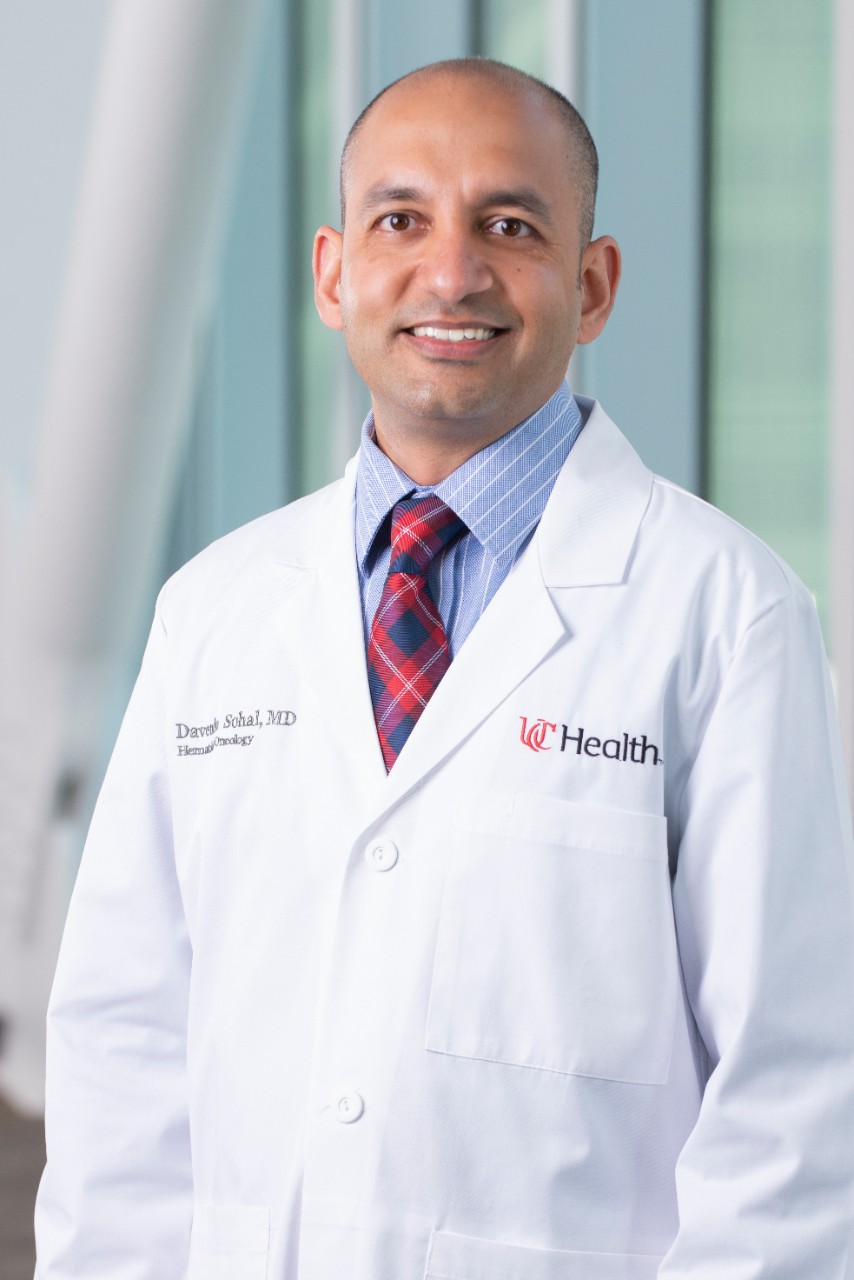 Liver transplant is the best treatment for early stage liver cancer in patients with liver cirrhosis, but 25% to 35% of patients fail to reach the transplant stage due to the cancer's progression while waiting for a transplant. 
UC's Davendra Sohal, MD, will present information on a clinical trial testing the effectiveness of immunotherapy treatment in early stages to keep the cancer from progressing long enough for patients to undergo a transplant. 
"These immunotherapy drugs that stimulate the body's immune system make it fight the cancer," said Sohal, associate director of clinical research at the Cancer Center. "They have been successful in advanced liver cancer; now we are testing them in early liver cancer. We have a very strong liver transplant program, and we are leveraging our combined expertise in experimental therapeutics as well as liver transplant." 
This Phase 2 trial has been co-developed by Sohal and Shimul Shah, MD, chief of the Solid Organ Transplant Program at UC and professor of surgery in the UC College of Medicine. In the  trial, liver cancer patients will first receive the immunotherapy drugs. Approximately four weeks later, they will receive a therapy which consists of treatments with chemicals or radiation beads injected directly into the liver cancer. 
The aim is for the combination of treatments to hold the cancer at bay so that the patient can receive a liver transplant 72 days following the immunotherapy.  
Sohal said a total of 30 patients are planned to be enrolled in the study, with four enrolled so far.  
"Safety is our paramount concern, so we are monitoring results carefully and going slowly," he said. "Any patient with liver cancer who is considering a liver transplant should be evaluated for this trial." 
Sohal will present "Durvalumab and tremelimumab for hepatocellular carcinoma in patients listed for a liver transplant" during the Gastrointestinal Cancer – Gastroesophageal, Pancreatic, and Hepatobiliary poster session June 5 at 9 a.m. CDT.  
Dose density an important metric in pancreatic cancer treatment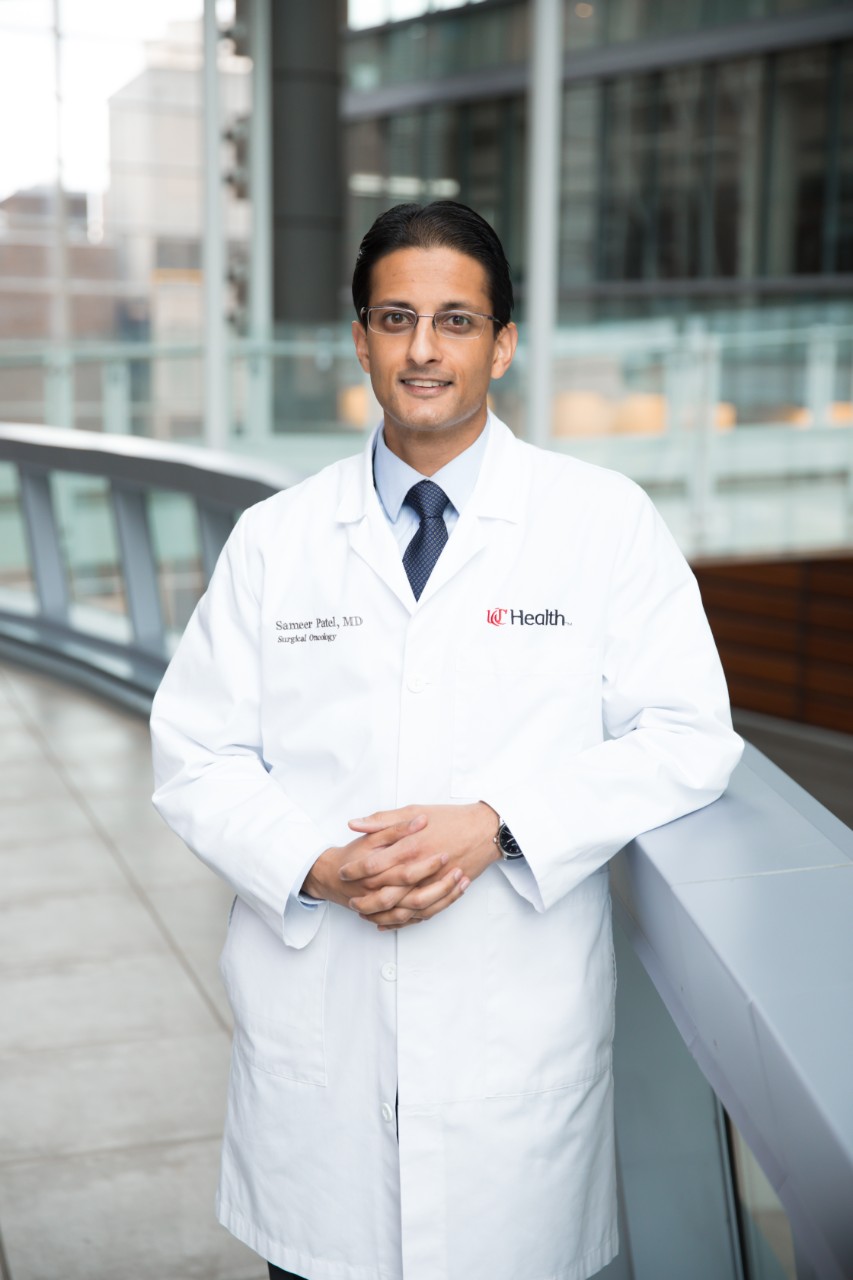 Pancreatic cancer is one of the most deadly cancers, with diagnoses increasing more rapidly than any other cancer and many patients being diagnosed at late stages. 
Chemotherapy, along with surgery, is the standard treatment for pancreatic cancer, but it's been unclear what amount of chemotherapy is most effective for patients, according to Sameer H. Patel, MD, Cancer Center member and associate professor of surgery in UC's College of Medicine. 
UC's Sohal and Syed Ahmad led the first clinical trial in the U.S. examining the role of perioperative (both before and after surgery) chemotherapy for resectable pancreas cancer. These results were published in 2021, and Patel said the question of trying to determine how much chemotherapy is enough was profound enough that it warranted further study using the trial data. 
Patel led the secondary analysis that looked at the importance of dose density, or the percentage of how much chemotherapy the patient received compared to the total that was planned. 
"Over half of patients receive a reduced dose density commonly due to side effects from the treatment," Patel said. "Options to overcome this are to reduce dose and/or give longer duration of treatment." 
For the first time, this study identified the percentage of dose density a patient receives can be used to predict overall survival. 
"Chemotherapy dose density holds prognostic value, and patients that are able to receive greater than 85% before surgery have significantly improved overall survival," Patel said. "Our hypothesis was accurate, but the magnitude of survival improvement was surprising." 
Patel said dose density is an important metric and should be carefully tracked in clinical trials for pancreatic cancer moving forward. 
Since patients are able to receive higher dose density before surgery, and higher dose density improves survival, Patel said the trial data also supports using chemotherapy as a first step to shrink a tumor before the main treatment or prior to surgery for these patients. 
Patel will present "Chemotherapy dose density and its effect on prognosis for patients with resectable pancreas cancer: A secondary analysis of SWOG S1505" during the Gastrointestinal Cancer – Gastroesophageal, Pancreatic, and Hepatobiliary poster session June 5 at 9 a.m. CDT. 
Combination therapy does not appear to increase efficacy in head and neck cancer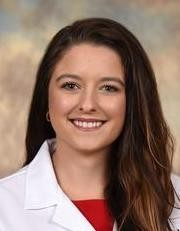 Head and neck cancer is the sixth most common cancer, and 15% to 50% of all patients will have their cancer return. Current palliative treatments have low response rates, creating a need for new combination therapy approaches. 
Former UC hematology/oncology fellow Vidhya Karivedu, MD, wrote a clinical trial testing the effectiveness of a combination of immunotherapy with a type of targeted cancer drug called PARP inhibitors to treat recurrent or metastatic head and neck cancer under the mentorship of Trisha Wise-Draper, MD, PhD. Olga Zamulko, MD, in collaboration with Karivedu, has completed analysis of the results.  
The trial tested the combination of two drugs for patients whose head and neck cancer had returned or spread. The first drug, niraparib, blocks a specific protein called PARP, which leaves cancer cells more vulnerable to DNA damage and more sensitive to cell death. 
Dostarlimab, the second drug, is a monoclonal antibody that targets the binding of PD-1 receptor with its ligand PD-L1 and work to turn off the human immune system.  
"We hypothesized that the combination of PARP inhibitors with anti-PD-1 therapy would increase therapeutic efficacy," said Zamulko, an internal medicine resident in the College of Medicine. 
The trial enrolled 10 out of 24 planned patients with recurrent or metastatic head and neck cancer who had previously been treated with PD-1 inhibitors, with the primary goal to evaluate cancer response to the treatment. One out of the 10 patients had their cancer decrease in size, and one had their cancer stay the same. 
"The trial was terminated early for futility as the response rate was lower than expected," Zamulko said. "Therefore, it appears that the efficacy of combining PARP inhibitors and PD-1 inhibitors is limited in patients with recurrent/metastatic head and neck cancer who were previously treated with PD-1 inhibitors."   
Zamulko said while the combination treatment did not have much activity in this study, follow-up research could focus on treating patients with the combination therapy who had never been treated with PD-1 inhibitors prior to the trial. Additionally, trials could focus on subsets of patients with specific biomarkers like the absence or presence of homologous recombination (HR), a DNA process within cells. 
"A biomarker selective trial could have increased response," Zamulko said. "Homologous recombination deficient head and neck cancer may have increased response as compared to HR-proficient cells."   
Zamulko will present "Phase II Study Evaluating the Efficacy of Niraparib and Dostarlimab (TSR-042) in Recurrent/Metastatic Head and Neck Squamous Cell Carcinoma (HNSCC) Patients" during the Head and Neck Cancer poster session June 5 at 2:15 p.m. CDT. 
Trial tests combo immunotherapy for ovarian cancer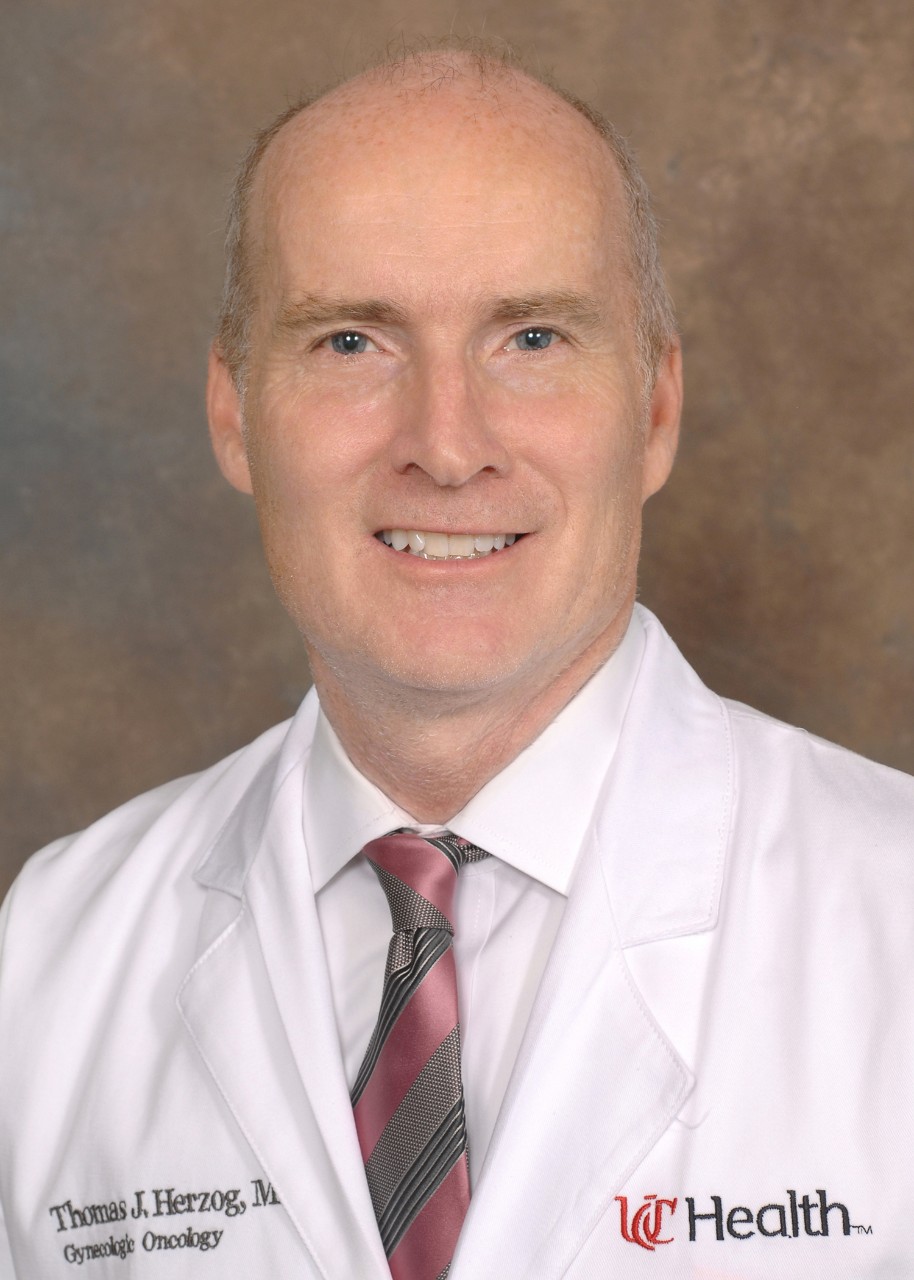 Current standard treatments for ovarian cancer include surgery and platinum-based chemotherapies, which contain the chemical element platinum as part of their molecular makeup and form structures that prevent cancer cells from growing or cause them to die.
A majority of patients' cancers will eventually develop resistance to platinum-based chemotherapy, said Thomas Herzog, MD. For platinum-resistant ovarian cancers, the standard of care is a non-platinum chemotherapy, but this treatment offers a low likelihood of long-term effectiveness.
Herzog will present information on a clinical trial, ARTISTRY-7, that is studying the effectiveness of a combination of immunotherapy treatments for patients with platinum-resistant ovarian cancer.
The trial will examine the effectiveness of a combination of two immunotherapy drugs called nemvaluekin alfa and pembrolizumab, compared to the standard of non-platinum based chemotherapy. Immunotherapy helps boost and train the body's own immune system to identify and kill diseased cells.
"​​There is a high unmet clinical need for treatment of patients with platinum-resistant ovarian cancer, and the ARTISTRY-7 trial provides a pathway to meet those unmet needs by incorporating cutting-edge scientific advancements in targeted cancer therapy in a treatment regimen in combination with pembrolizumab," said Herzog, a Cancer Center member, the Paul and Carolyn Flory Professor in Gynecologic Oncology in the UC College of Medicine and director of UC Health's Gynecologic Cancer Disease Center.
The trial plans to enroll a total of 376 patients across multiple sites into one of four study arms. One group of patients will receive both immunotherapy drugs, one group will receive nemvaluekin alfa only, another group will receive pembrolizumab only and the final group will receive standard chemotherapy treatments. 

ARTISTRY-7 is a Phase 3 trial, meaning it is designed to confirm preliminary evidence from previous trials that the treatment option is safe, beneficial and effective for the patient population. Herzog said the preliminary evidence has been promising. Global biopharmaceutical company Alkermes is the sponsor of the trial, and Herzog helped design the study for the specific patient population it will target.
Three patients have been enrolled in the study at UC so far. 
"If this trial is successful, patients will have a novel treatment option where limited options exist, and it allows a break from repetitive chemotherapy, thereby potentially having better efficacy and safety profiles," Herzog said.
Herzog will present "ARTISTRY-7: A phase 3, multicenter study of nemvaleukin alfa in combination with pembrolizumab versus chemotherapy in patients with platinum-resistant epithelial ovarian, fallopian tube, or primary peritoneal cancer (GOG-3063; ENGOT-OV68)" during the Gynecologic Cancer poster session June 5 at 2:15 p.m. CDT.
Impact Lives Here
The University of Cincinnati is leading public urban universities into a new era of innovation and impact. Our faculty, staff and students are saving lives, changing outcomes and bending the future in our city's direction. Next Lives Here.
Featured photo at top of Dr. Patel, right, speaking with a patient. Photo/UC Health.
2
FLASH radiation therapy shows promise in first-in-human trial
October 24, 2022
University of Cincinnati researchers presented results from the first-in-human trial of FLASH radiotherapy at the ASTRO 2022 annual meeting, with data suggesting FLASH may hold promise as a potential treatment for tough-to-kill tumors.