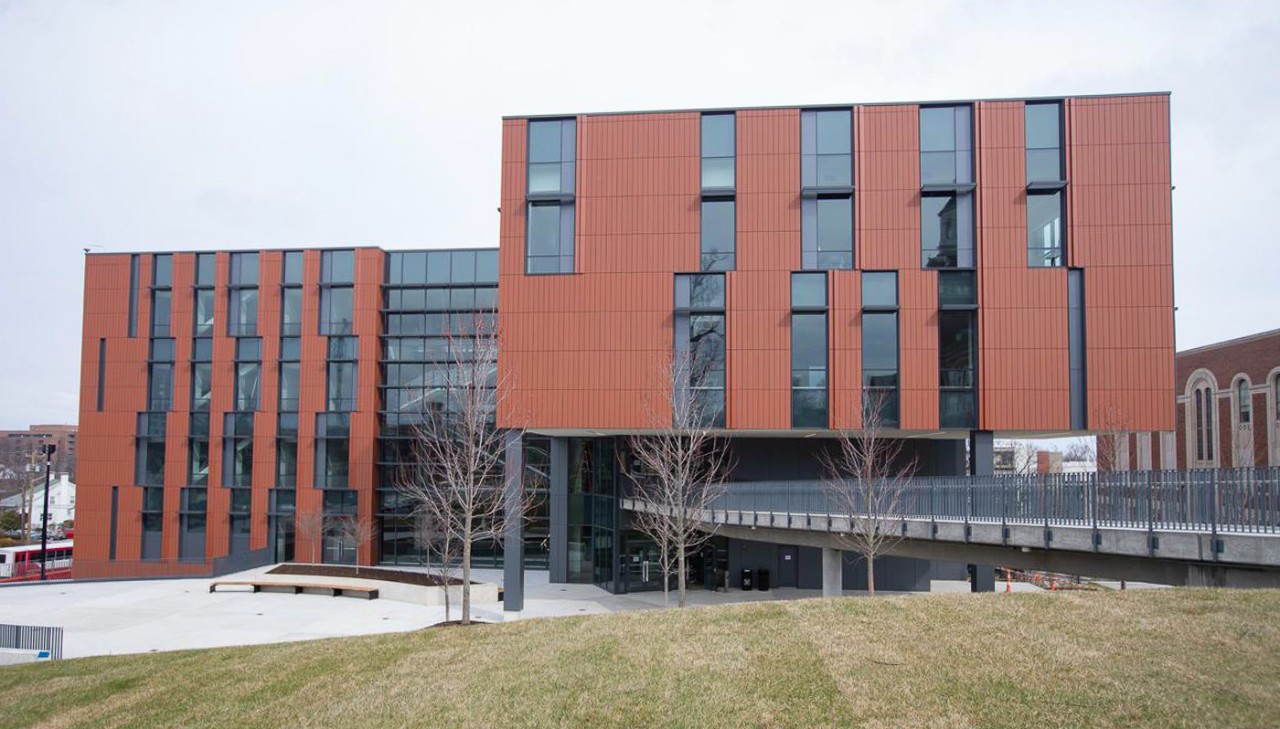 Business Courier: UC prepares to open new Clifton Court Hall
The classroom building will serve UC's biggest college
The University of Cincinnati gave local news media a tour of its new $93 million Clifton Court Hall.
At 185,000 square feet, Clifton Court Hall is the university's largest classroom building, designed to serve its largest college, the College of Arts and Sciences.
Its classrooms, specialized labs and offices will serve a number of departments:
Journalism



Psychology
School of Public and International Affairs
School of Communication, Film and Media Studies
Asian, Eastern European, and German Studies
Philosophy
Romance and Arabic Languages and Literatures. 
"Because of the size and growth of the college, Arts and Sciences has been distributed across many buildings over the past decade," said Jamie Accurso, director of planning at UC. "So Clifton Court gives each of these departments a center of gravity and front door. So if you are in psychology, you know where to go to find help with your programs."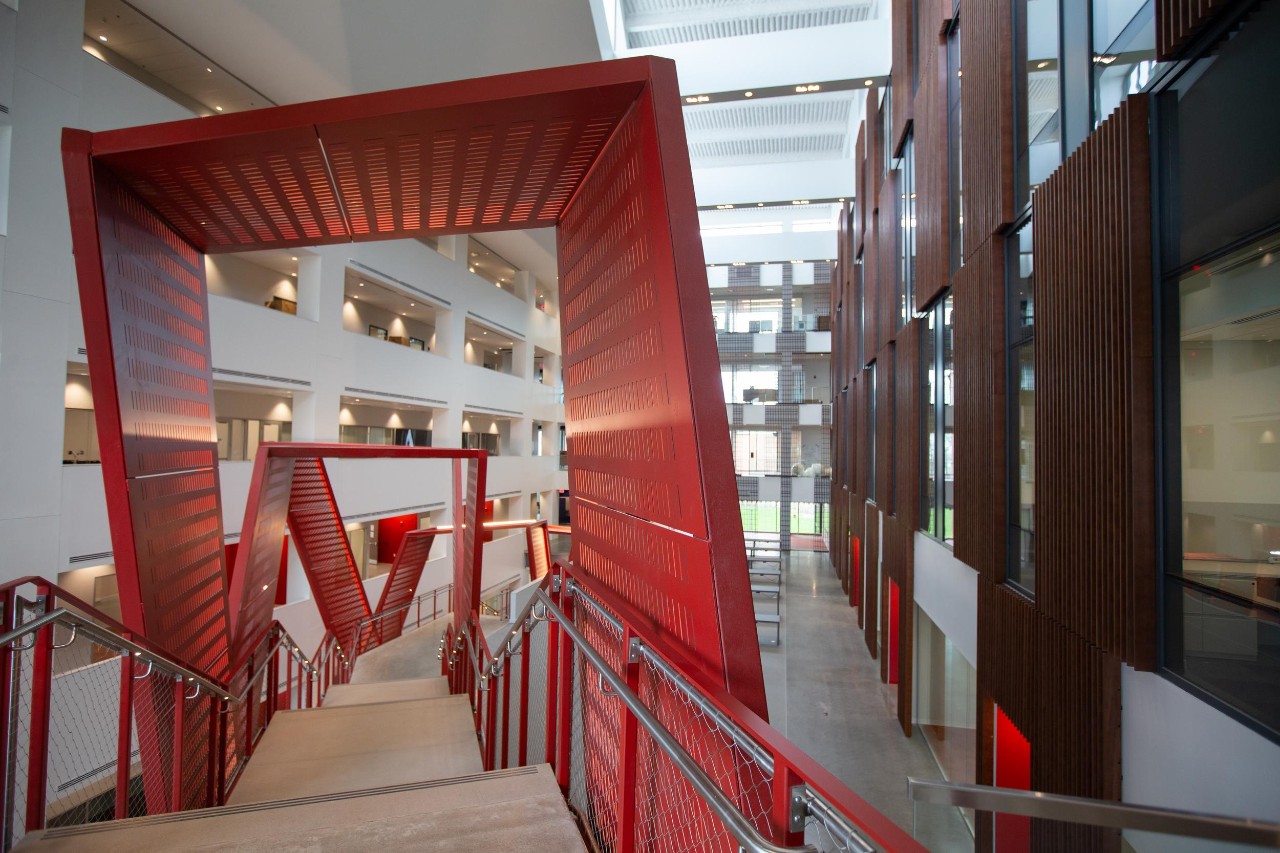 Clifton Court Hall features several innovative spaces, including state-of-the-art TV production and digital animation studios. The building was designed collaboratively by LMN Architects and KZF Design and built by Messer Construction Co.
The Cincinnati Business Courier spoke to MaryKate Genis, architect at KZF Design, about the building's novel design and practical features.
Genis said the exterior facade is a modern application of terracotta designed to blend into the surrounding brick buildings. The interior features a five-story atrium and custom grand staircase and decorative panels that match the exterior design.
Classrooms and lecture halls were designed with functionality in mind. Instead of fixed auditorium desks, the large lecture hall allows students to adjust seating to work in small groups if desired. Classrooms can be configured for traditional lectures or group instruction using multiple smart TVs.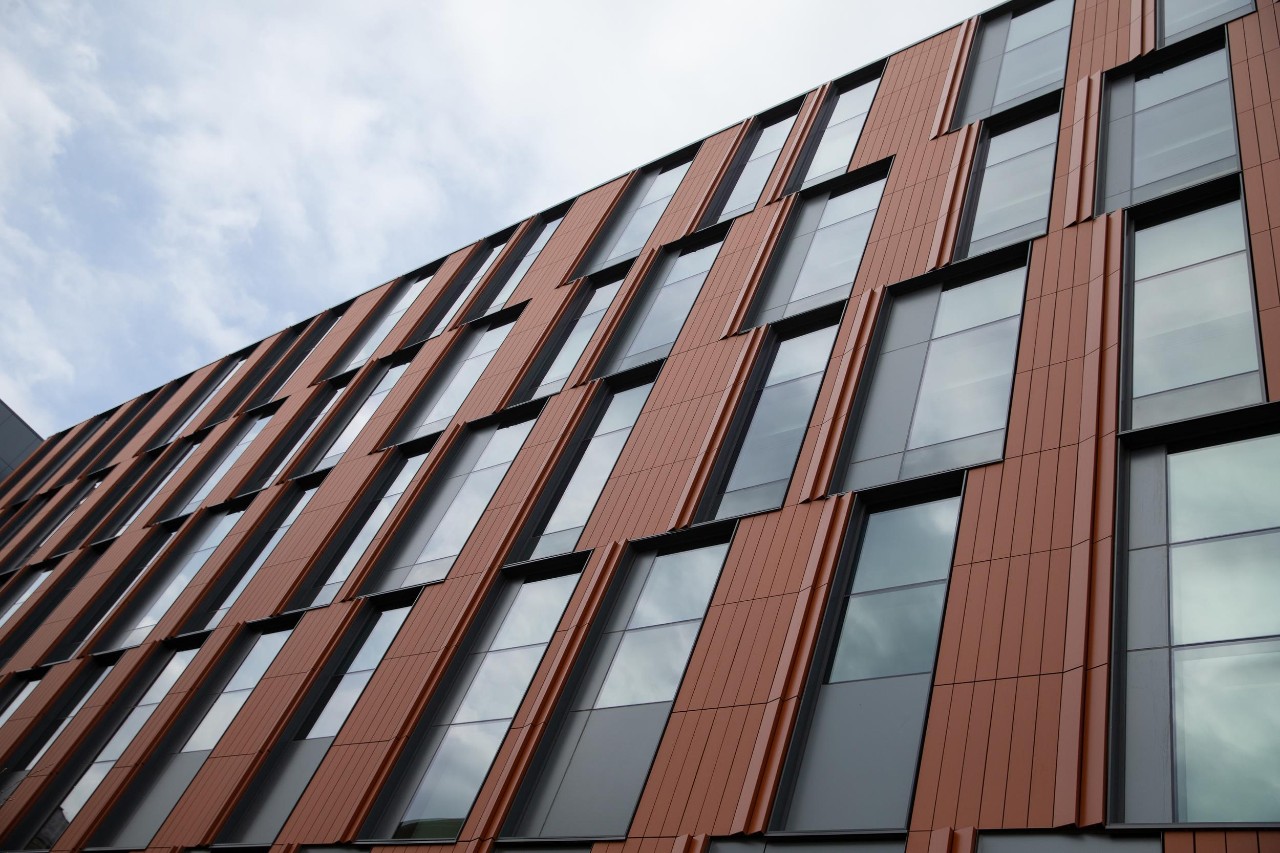 Like the five-story atrium, the lecture hall was built with sound-dampening features to minimize distracting echoes in the large space.
A multi-purpose room in the southeast corner of the fifth floor features floor to ceiling windows looking out at Bearcat Commons and Arts & Sciences Hall. But the room has automatic blackout curtains to accommodate three ceiling projectors designed for video screenings for students in programs such as UC's Digital Media Collaborative.
"This is my favorite room because you can see and feel a part of all the activity at the center of campus," Genis said.

Like the Lindner College of Business, the hallways at Clifton Court feature work counters to give students a place to meet, talk or work between classes.
The atrium features a grand staircase with striking red "gates." Large windows in the stairwells invite visitors to use the stairways instead of the elevators to improve pedestrian flow.These features enhance the accessibility around campus and connect the heart of west campus to Clifton Avenue.
"I couldn't be more excited about its opening," said Assistant Professor Mike Gasaway, interim director of UC's Digital Media Collaborative.
Gasaway is an Emmy-nominated director and filmmaker who has worked extensively in digital animation. Students in his classes use the latest tools to create their own projects in game design, animation, short films, documentaries and more.
The Digital Media Collaborative lab at Clifton Court Hall will feature the latest technology for students to complete their capstone projects, he said.
"What I really like is for students who come into the lab to feel creative," Gasaway said.
He is especially looking forward to using the new screening room to share the students' hard work.
"I think students are going to love it," he said.
Featured image at top: UC College of Arts and Sciences faculty are beginning to move into offices and labs in the new Clifton Court Hall. Photo/Andrew Higley/UC Marketing + Brand
Impact Lives Here
The University of Cincinnati is leading public urban universities into a new era of innovation and impact. Our faculty, staff and students are saving lives, changing outcomes and bending the future in our city's direction. Next Lives Here.
1
UC takes center stage in Amazon Prime series
January 19, 2022
Filmed in July 2021, UC's episode is a crash-course in being a Bearcat, starring a few of the university's best and brightest students and alumni. Some are lifelong Cincinnatians; others are from across the globe. But they're all excited to show viewers why they've called UC home: From its beautiful spaces and state-of-the-art facilities to co-op and campus life.