UC Blue Ash veteran gets unexpected support in his drive to succeed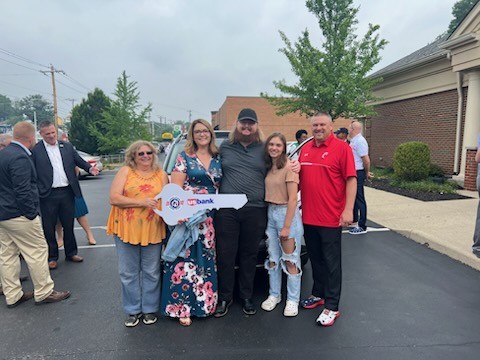 Zach Betsch never asked for the help he received through Operation Homefront, but he was overwhelmed with the generosity. "The whole experience was surreal. It's something that has never happened to me before."
The U.S. Air Force veteran and University of Cincinnati Blue Ash College student is the recipient of a 2022 Hyundai Tucson that is loaded with a wide range of features, including a heated steering wheel, and has just 1,800 miles on the odometer. Betsch was selected to receive the car after being nominated by Veterans Affairs administrators and fellow veteran students at UC Blue Ash.
"I'm still in disbelief, like I'm going to wake up and the car is not going to be there," he said.
Operation Homefront is a nonprofit organization whose mission is to build strong, stable, and secure military families so they can thrive, not simply struggle to get by, in the communities they have worked so hard to protect. As part of the organization's programs, it works with business and community partners to provide support and resources for veterans and military families in need. Operation Homefront collaborated with U.S. Bank and the local Mike Castrucci Chrysler Jeep Dodge Ram dealership to secure the nearly brand-new Hyundai, then put out a request for nominees.
Jill Cochran is the veterans success on-campus counselor from the U.S. Department of Veterans Affairs who serves the University of Cincinnati campuses. When she began asking around for nominees at UC Blue Ash, Betsch's name kept coming up. After serving eight years in the Air Force, Betsch is studying information technology at the college and frequently needed to get rides from family members for the 45-minute commute from southeast Indiana since his old car was constantly breaking down.
"Zach would often be here in our veterans lounge until 5:00 or 6:00 p.m. because he was waiting to get picked up. He didn't make a big deal about not having a car, but it was something we noticed," said Jim Gribben, veterans affairs program coordinator at UC Blue Ash.
Along with getting rides to class, Betsch also needed help getting to appointments to treat lingering injuries from his military service. When you combine the genuine need with the fact that Betsch is not only a very good student but was also recognized with several medals for conduct and service during his time in the Air Force, it was clear that he was a worthy candidate for a new ride.
"Zach is very consistent, very responsible," said Cochran. "He takes advantage of his resources on campus, he's a good friend, and he is all around a really good guy."
Cochran worked with Jessica Alba at Operation Homefront to go the extra mile in making sure they could provide reliable transportation for Betsch. It will help him continue the pursuit of his goals to finish his bachelor's degree and work in IT for the U.S. government.
Betsch says he is still amazed by the gift and is very grateful for the support and friendship from the student veteran community at UC Blue Ash. "The veterans' group is absolutely fantastic. I've never felt that people had my back more than with this group. I'm still really touched by it."
This is the 60th vehicle that U.S. Bank has donated to a military family through its Driven to Serve program, and it's the 23rd time it has donated a vehicle through Operation Homefront.
Featured image: Zach Betsch gets behind the wheel of his new Hyundai Tucson during the ceremony.
About UC Blue Ash College
UC Blue Ash College is a regional college within the University of Cincinnati. It offers one of the best values in higher education with access to a nationally recognized UC education in more than 50 degree and certificate programs, as well as tuition that is about half of most colleges and universities. The college is located on a scenic 135-acre wooded campus in the heart of Blue Ash, Ohio. To learn more, call 513-558-9495, visit us online, like us on Facebook or follow us on Twitter and Instagram.