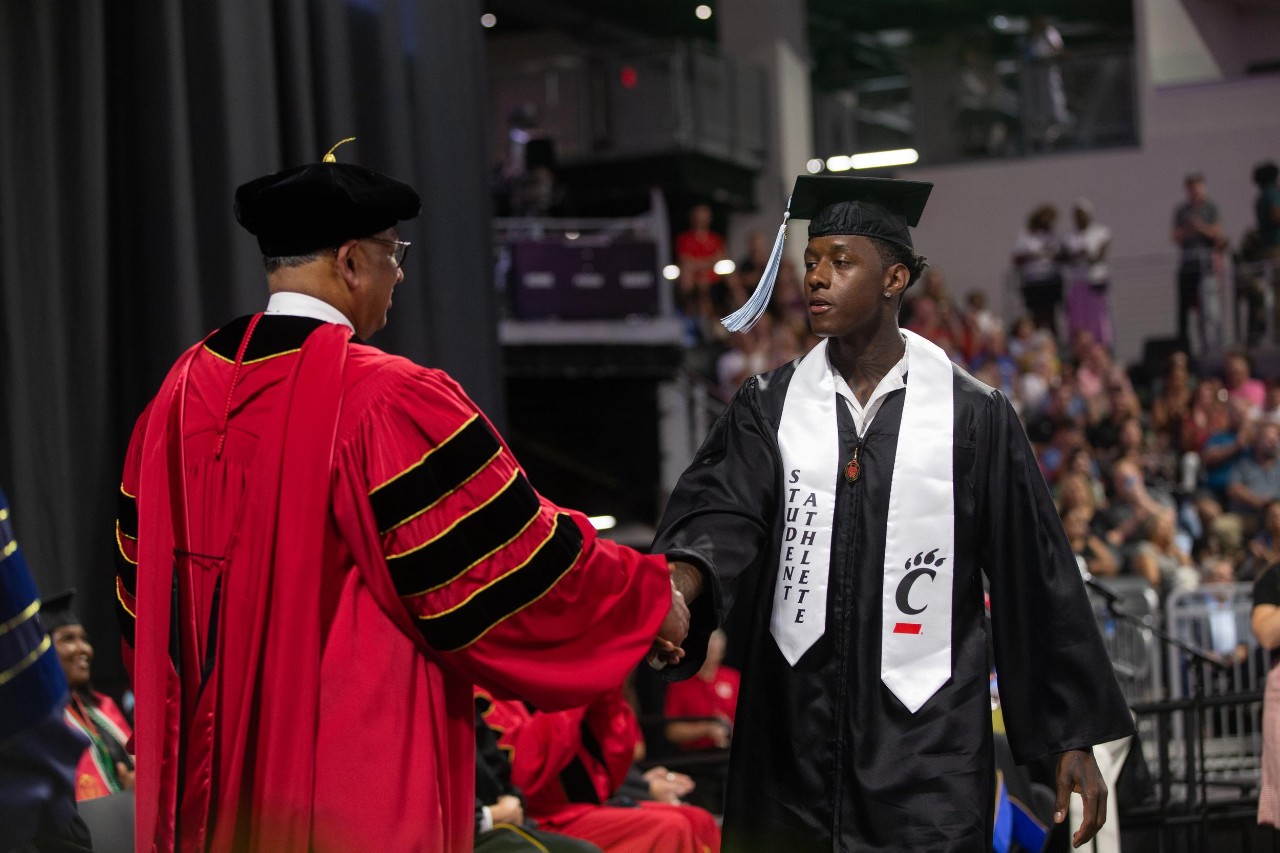 Summer grads ready to turn page
UC celebrates summer class of 2023 at Fifth Third Arena
The University of Cincinnati celebrated its summer class of 2023 with two ceremonies at Fifth Third Arena.
While the summer ceremonies traditionally are the smallest of UC's three commencement celebrations, parents, friends and supporters were no less enthusiastic, cheering graduates loudly from the stands.

The undergraduate ceremony featured two of the biggest names in the history of UC Athletics: NFL defensive rookie of the year Ahmad "Sauce" Gardner and NBA All-Star Nick Van Exel.
On Friday the two added new titles to their careers as graduates of UC's College of Arts and Sciences.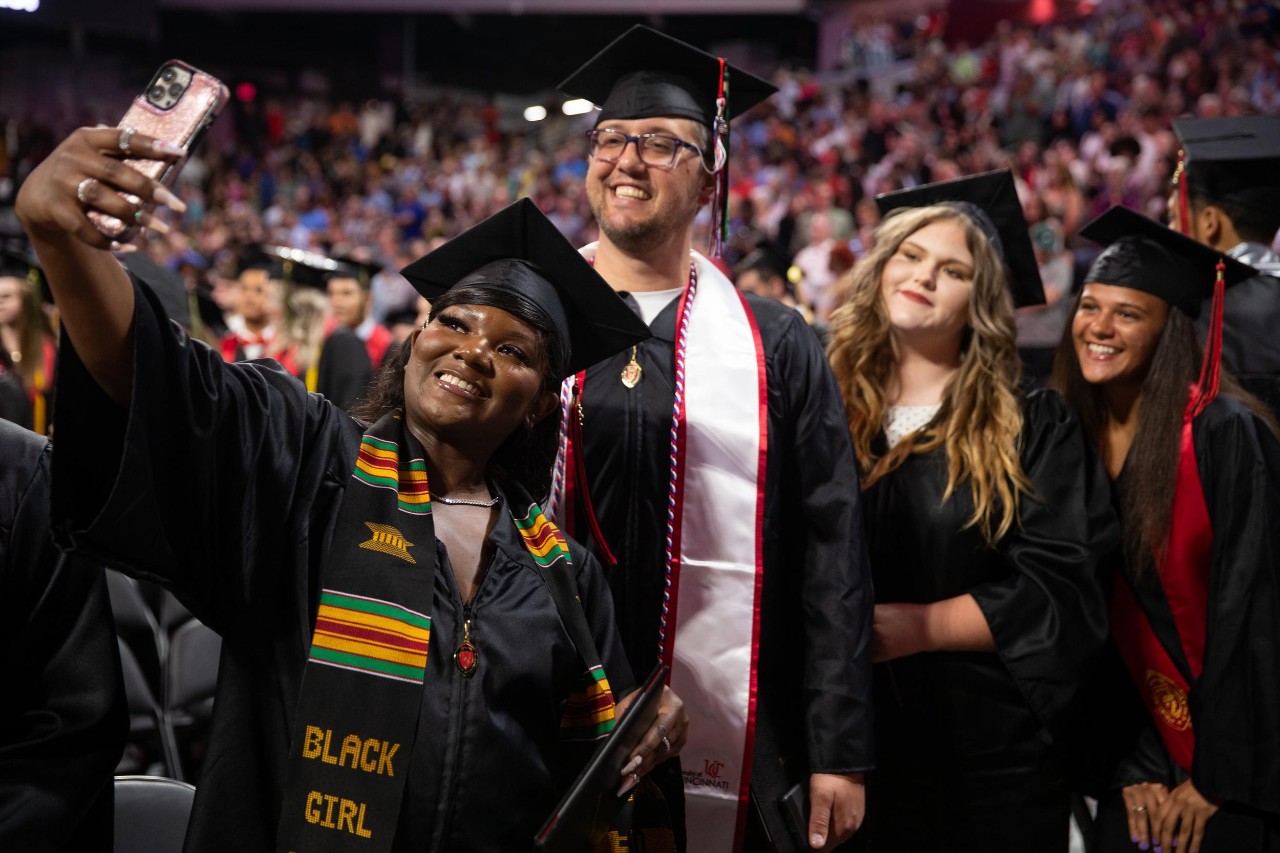 UC President Neville Pinto framed his commencement remarks around "umwelt," a German concept for the world as it is experienced.

"My family has a dog. She's a 1-year-old goldendoodle named Josie," Pinto said.
When he walks Josie, she tries to follow her nose to intriguing smells, but he prefers to stick to the path where he can enjoy the view. Similarly, graduates have unique perspectives shaped by their skills and experience.
Pinto urged grads to seek out and embrace new people, cultures and ideas to expand their umwelt and gain a broader understanding of the world.
"We have so much to learn from one another — and you are going to be better at everything you do if you can understand the perspectives of others," he told the grads.
And next time he walks Josie, he said, he will let her follow her nose. 
"Perhaps, she will lead me to a hidden world I had never noticed before," he said.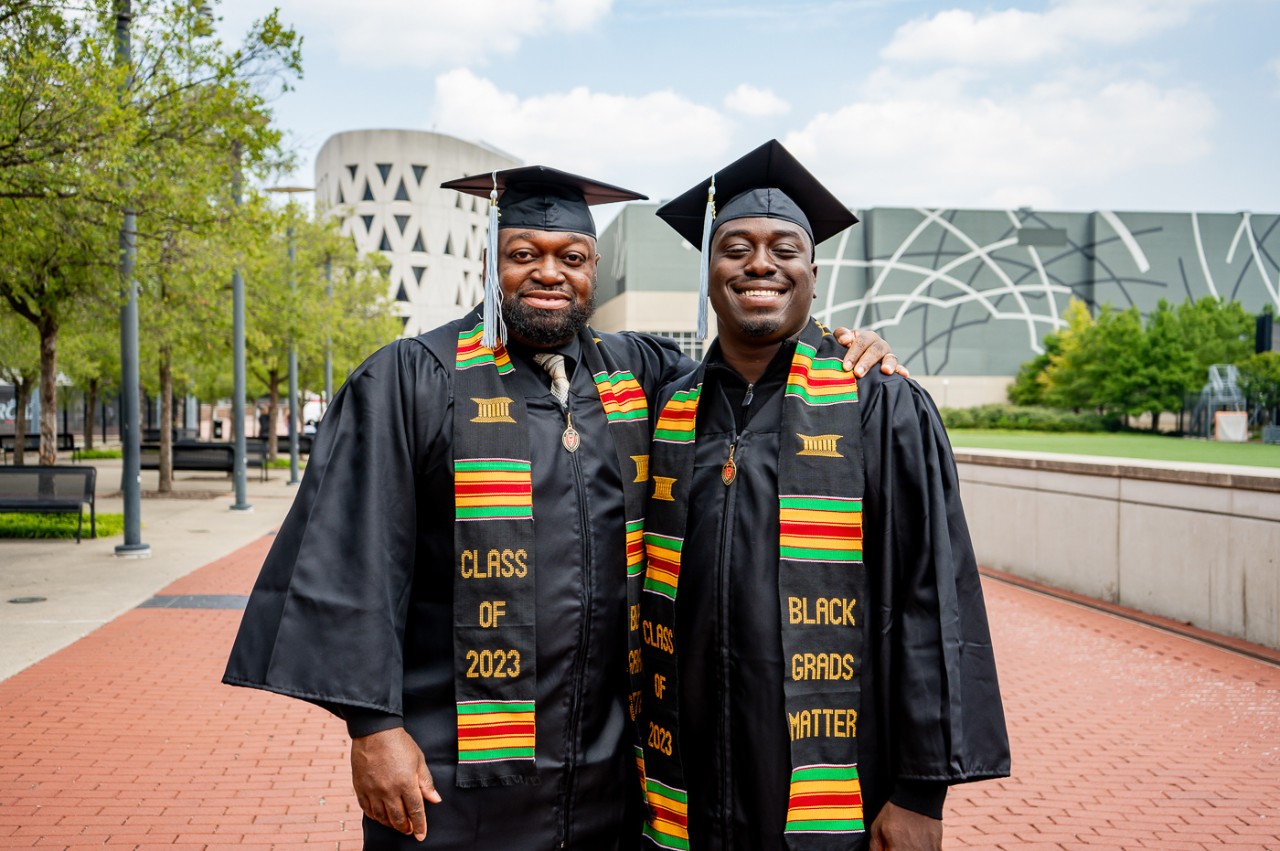 UC kicked off this highlight of the academic calendar with its doctoral hooding and master's recognition ceremony.
Graduate speaker Miguel Nuñez earned a doctoral degree in psychology from UC's College of Arts and Sciences. He spoke about his classmates' and his own resilience in the face of adversity.
"I remember my grandma's words when I told her I wanted to get my doctorate in psychology," he said.
She replied, 'Sí, se puede,' he said. It can be done.
"Over the course of my life, I have heard those three simple words many times not realizing how impactful they were," Nuñez said.
"When I moved to the United States and couldn't understand anything at school because I didn't speak English, my mother said, 'Sí, se puede,'" he said.

"When I was in juvenile detention and thought any prospect of attending college was ruined, it was a friend who said, 'Sí, se puede,'" Nuñez said. "When I was homeless and living in a shelter, it was a teacher who told me, 'Sí, se puede.'"
At UC, Nuñez worked in the lab of Associate Professor Farrah Jacquez, studying resilience in young adults leaving foster care. He congratulated his classmates for overcoming their own personal challenges to walk on stage at Fifth Third Arena.
"Regardless of the path we took, we worked countless hours for this," Nuñez said. "We were all resilient. And today we can celebrate. We are proof that it can be done — in no small part because of every person who raised us, taught us, mentored us and guided us."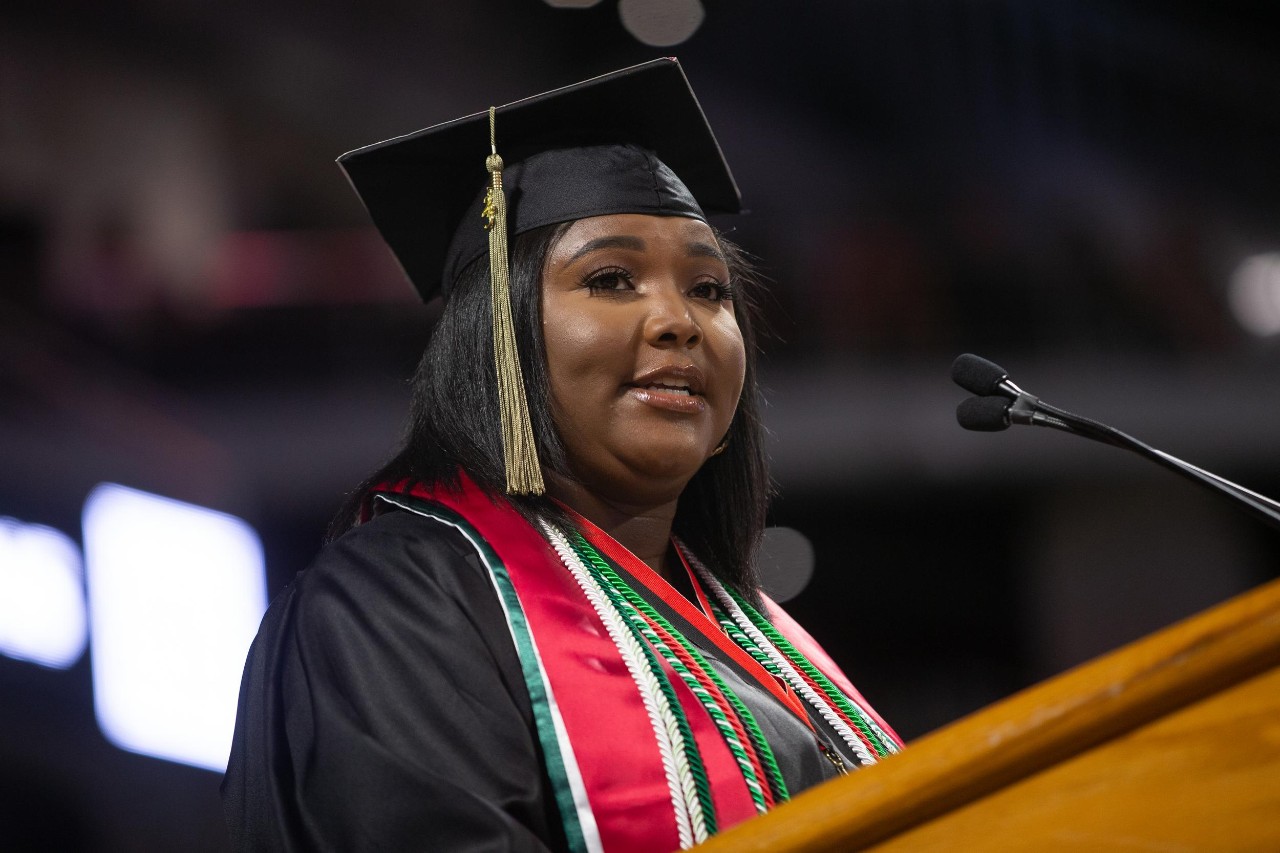 Undergraduate student speaker Taylor Richardson, a graduate of UC's College of Allied Health Sciences, spoke about the unique challenges of going to college during the global COVID-19 pandemic.
"While our lives were disrupted, plans were upended and we faced unforeseen hardships, we persevered," she said. "We embraced new technologies and found innovative ways to connect, learn and support each other virtually."
Richardson invoked UC's strategic direction called Next Lives Here.
"During our time at UC, we put the next in 'next lives here,''" she said. "We came as students but we leave as the next: nurses, engineers, businessmen and women, Allied Health professionals, teachers, artists, professional athletes and so, so much more."
I wouldn't be where I am today without school.
Ahmad "Sauce" Gardner UC graduate and NFL star
Gardner led the Bearcats to the College Football Playoff before becoming the highest draft pick in UC history, going fourth to the New York Jets in 2022. He took part in the annual Hall of Fame preseason game against the Cleveland Browns in Canton, Ohio, on Thursday night before coming to Cincinnati for commencement.
Gardner wore the traditional white student-athlete stole with his black cap and gown. Football obligations prevented him from taking part in his high school graduation.
"I never walked across the stage. There was always football," he said. "I feel like it was part of my story. I wouldn't be where I am today without school."
Gardner said as a role model, he feels a responsibility to demonstrate the value of education to children.
"I have youth looking up to me, so it would be a disservice to them if I didn't get my degree," he said.
His extended family came to watch him walk on stage.
When he looks back at his time at UC, he most remembers scoring a touchdown as a freshman on an interception during a game against Central Florida. 
"I caught that pick-six and everybody got to call me Sauce. It was a great feeling," he said.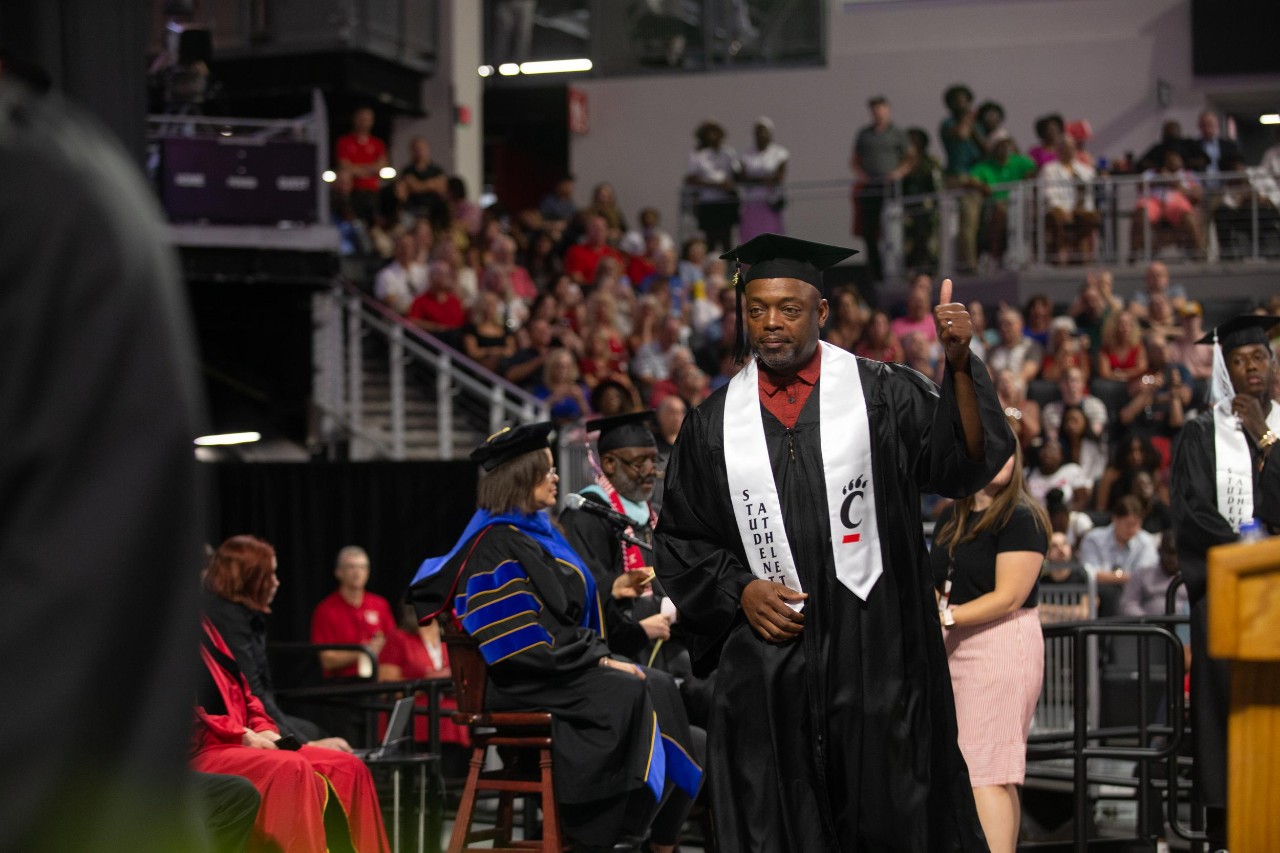 It's never too late to be great.
Nick Van Exel UC graduate and NBA All-Star
Van Exel said earning his degree was important to him. But finding the time to complete classes in UC's College of Arts and Sciences while coaching full time with the NBA's Atlanta Hawks was a challenge.
"It was hard. I'm not going to lie," he said. "I started and stopped several times. It was hard because I was working so much."
He credited his college teammates with pushing him to finish.
"My wife pushed me — a lot. But my teammates, Corie Blount, Allen Jackson, Tarrance Gibson, Erik Marten, Terry Nelson: All those guys kept pushing me."
Blount this week tweeted his congratulations to Van Exel, noting that all of the 1992 Final Four starters have now graduated.

While Van Exel has had a storied career in the NBA as both player and coach, most of his fellow UC graduates are just starting their careers. If he had any advice, Van Exel said they should dream big.

"Have a passion. Have dreams and try to reach for those dreams," he said.
Like Gardner, Van Exel said he feels a responsibility to demonstrate the importance of education to young people, particularly his daughter.
"I tell kids all the time — get that degree," he said. "It's never too late to be great."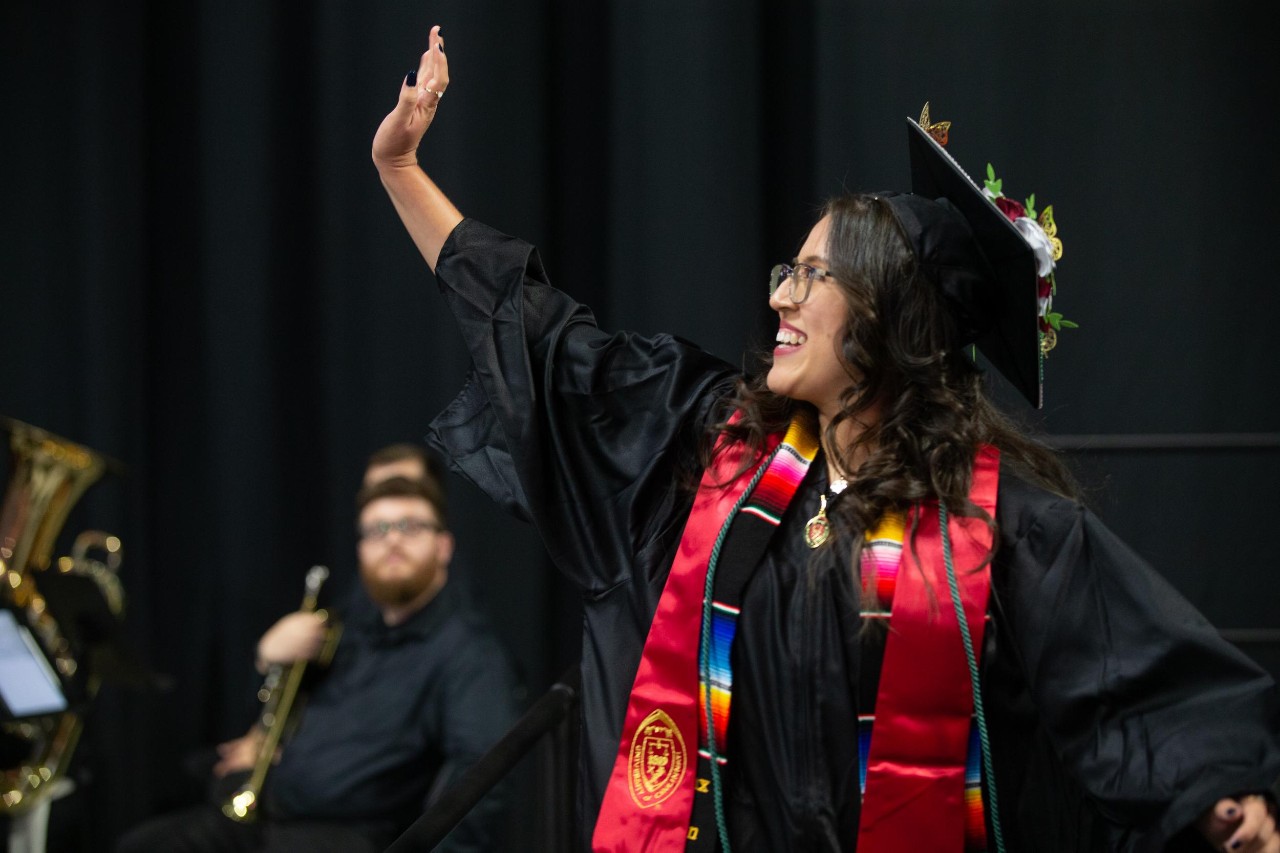 About the summer class of 2023
UC's summer graduation is always the smallest of the year. Still, UC awarded 2,014 degrees to 2,007 graduates. (Some grads earned multiple degrees.)
UC awarded 179 associate degrees, 676 bachelor's degrees, 975 master's degrees and 184 doctoral degrees. Nearly half of degrees are in science, technology, engineering, math or medicine.
Summer commencement honored 266 first-generation college students, 46 graduates from Cincinnati Public Schools and 82 student veterans or dependents of veterans.
Graduates hailed from 48 countries across five continents and 46 U.S. states including Ohio, the state that 1,128 summer grads call home.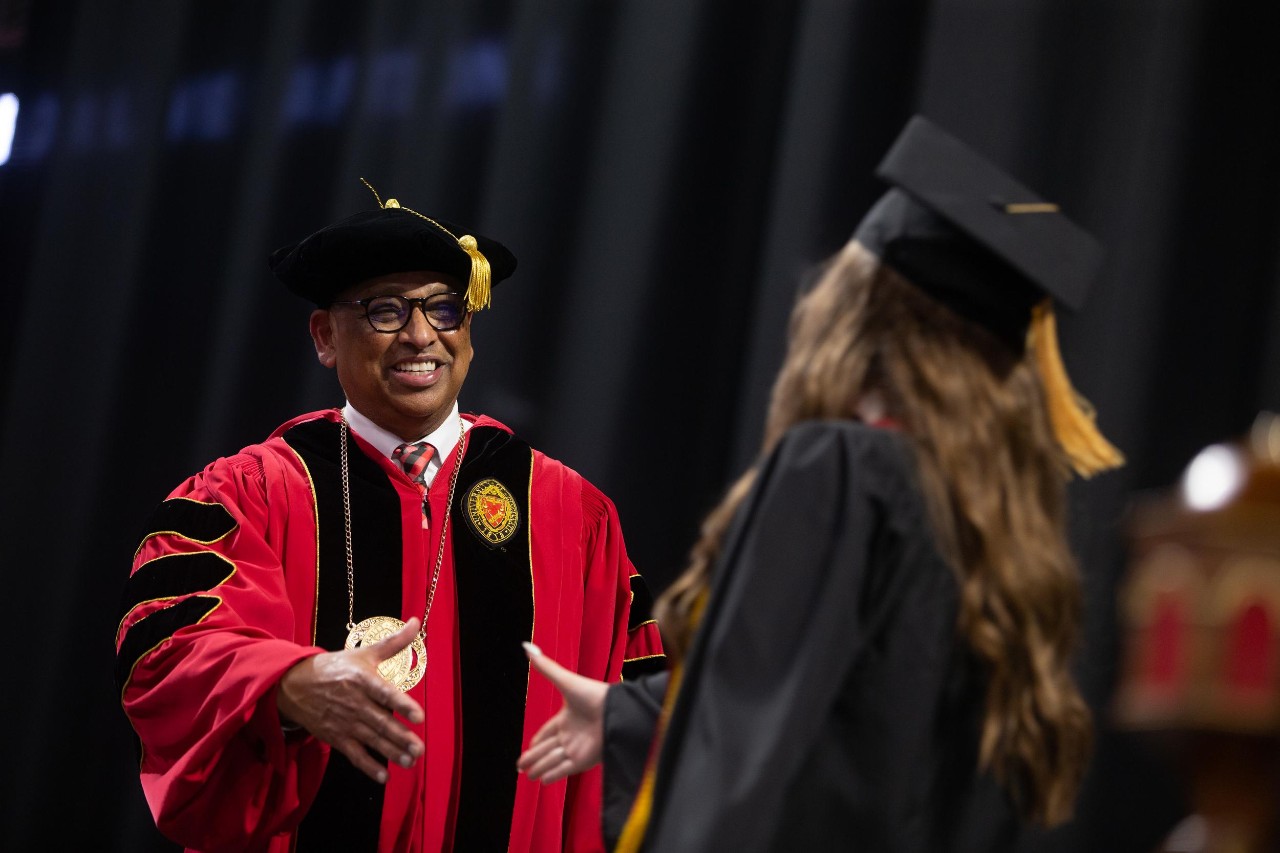 Graduates in the class of 2023 have much to celebrate. The 2022 academic year kicked off with the opening of the new home for UC's College of Law after 18 months and $45 million in renovations, including the new Honorable Sandra S. Beckwith Courtroom, named for the UC alumna who was the first woman appointed to the U.S. District Court for the Southern District of Ohio.
The two-time defending national championship Bearcat was nominated to the Mascot Hall of Fame. UC's cheerleading team won back-to-back national championship titles in competition in Orlando, Florida. And UC's Discats, the disc golf team, are national champions in both team and singles competition after beating 80 other schools this year in Marion, North Carolina.
And in July UC officially joined the Big 12 conference.
UC opened its new Digital Futures building in 2022 as a collaborative research hub for science and industry. And UC unveiled a new Esports Innovation Lab in the 1819 Innovation Hub.
Earlier this year, UC's Calhoun Residence Hall reopened after an $80 million renovation. The hall can accommodate 800 students. Each of its 13 residential floors has a light-filled common area where students can meet and socialize.
UC created a new College of Cooperative Education and Professional Studies. It builds on the model that Dean Herman Schneider pioneered in 1906 in which students spend part of the year in the classroom and part of the year working full time at employers in their chosen fields.
UC was named the nation's top public university for co-op by U.S. News & World Report in its latest rankings.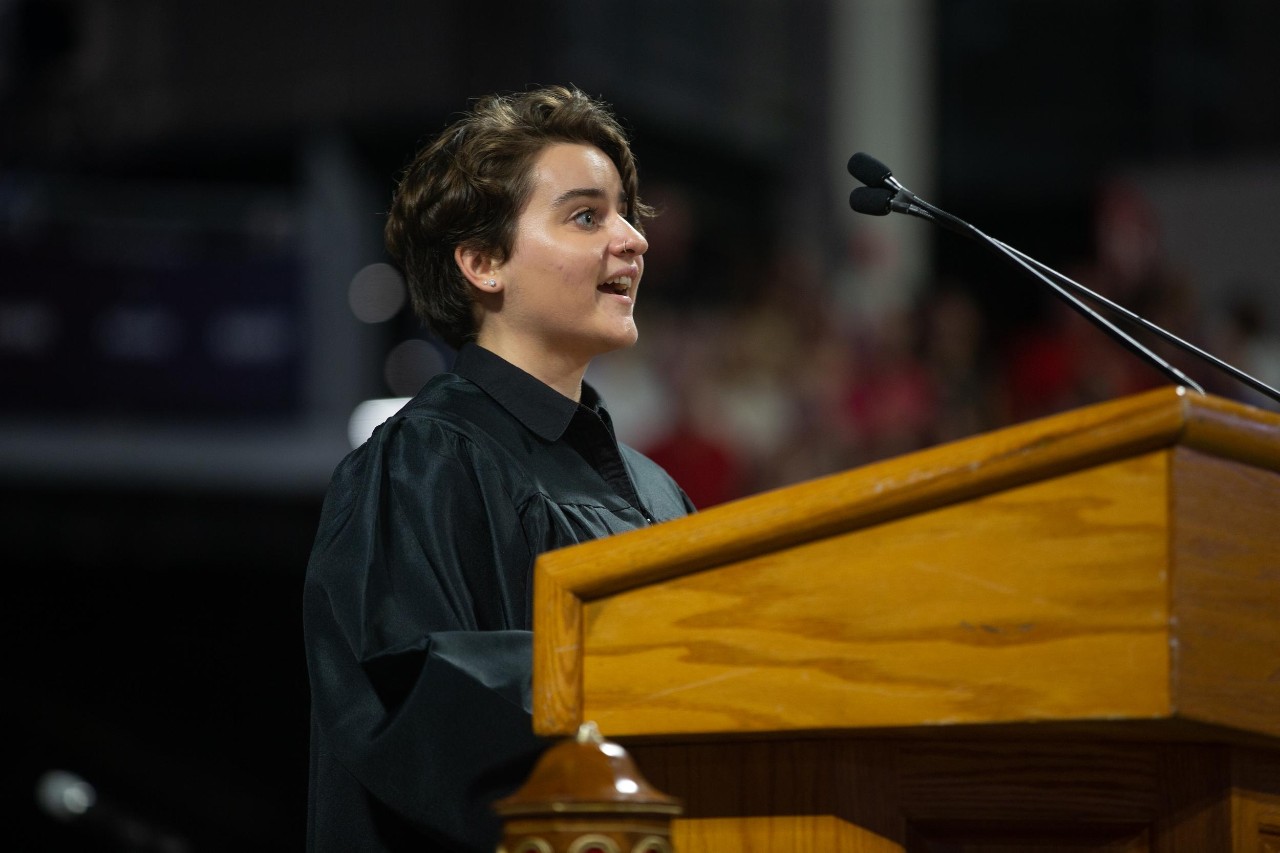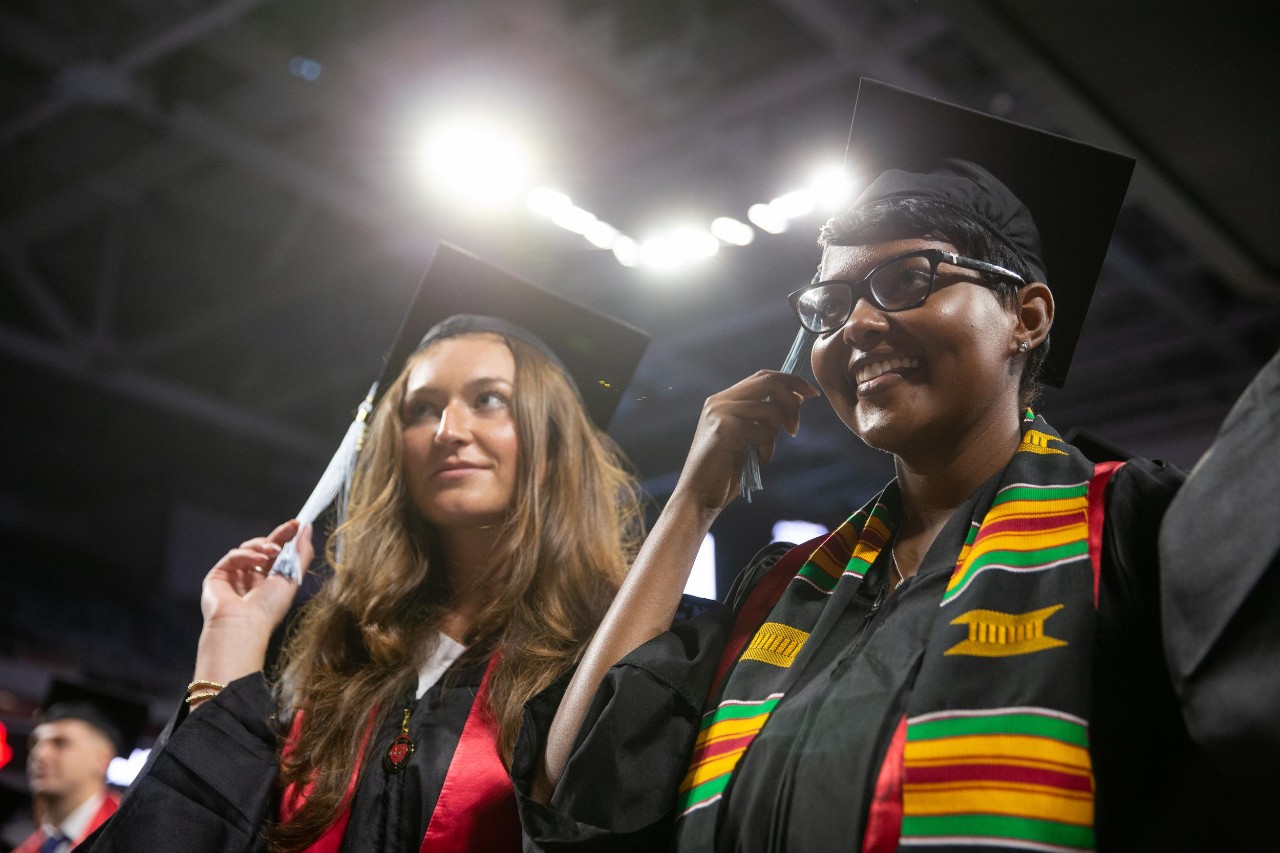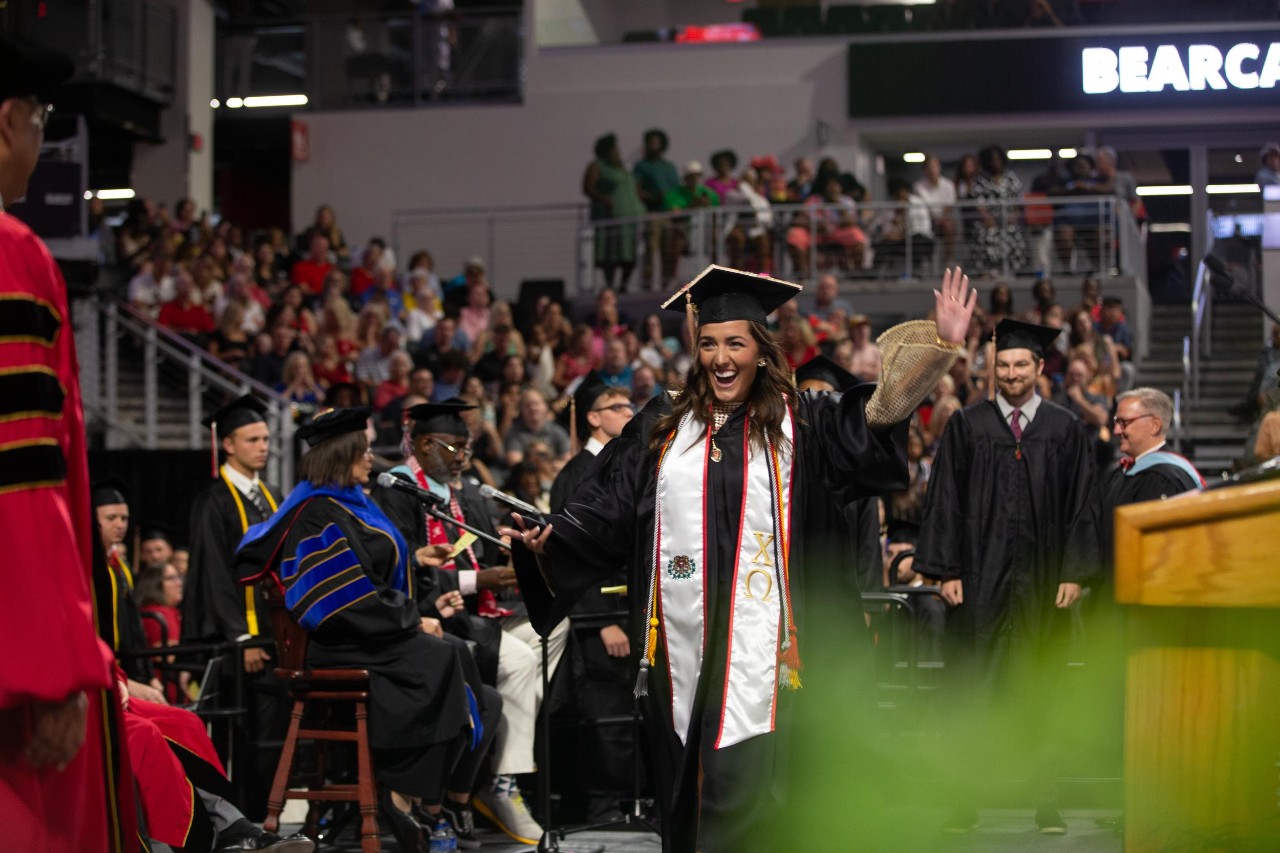 Featured image at top: Ahmad "Sauce" Gardner crosses the Commencement stage, shaking hands with President Pinto. Photo/Andrew Higley/UC Marketing + Brand
Become a Bearcat
Whether you're a first-generation student or from a family of Bearcats, UC is proud to support you at every step along your journey. We want to make sure you succeed — and feel right at home.
1
Summer grads ready to turn page
August 4, 2023
The University of Cincinnati celebrated summer commencement with two ceremonies Friday at Fifth Third Arena.
2
Path to 50K: A journey defined by our impact
August 28, 2023
University of Cincinnati President Neville G. Pinto shares the importance of UC's impact as enrollment projected to eclipse 50,000 students for first time in university history.