CCM Media Production faculty, alumna win Emmy Awards for sports programs
Joe Brackman won an Ohio Valley Emmy & alum Paula Gibson Pujol won a Northwest Regional Emmy
A faculty member and an alumna of UC College-Conservatory of Music's Media Production program won National Academy of Television Arts and Sciences Emmys during the 2023 award cycle. Professor Joe Brackman won an Ohio Valley Emmy Award in the Director category and alumna Paula Gibson Pujol (BFA, '19) won a Northwest Regional Emmy in the Sports Program, Post-Produced or Edited category.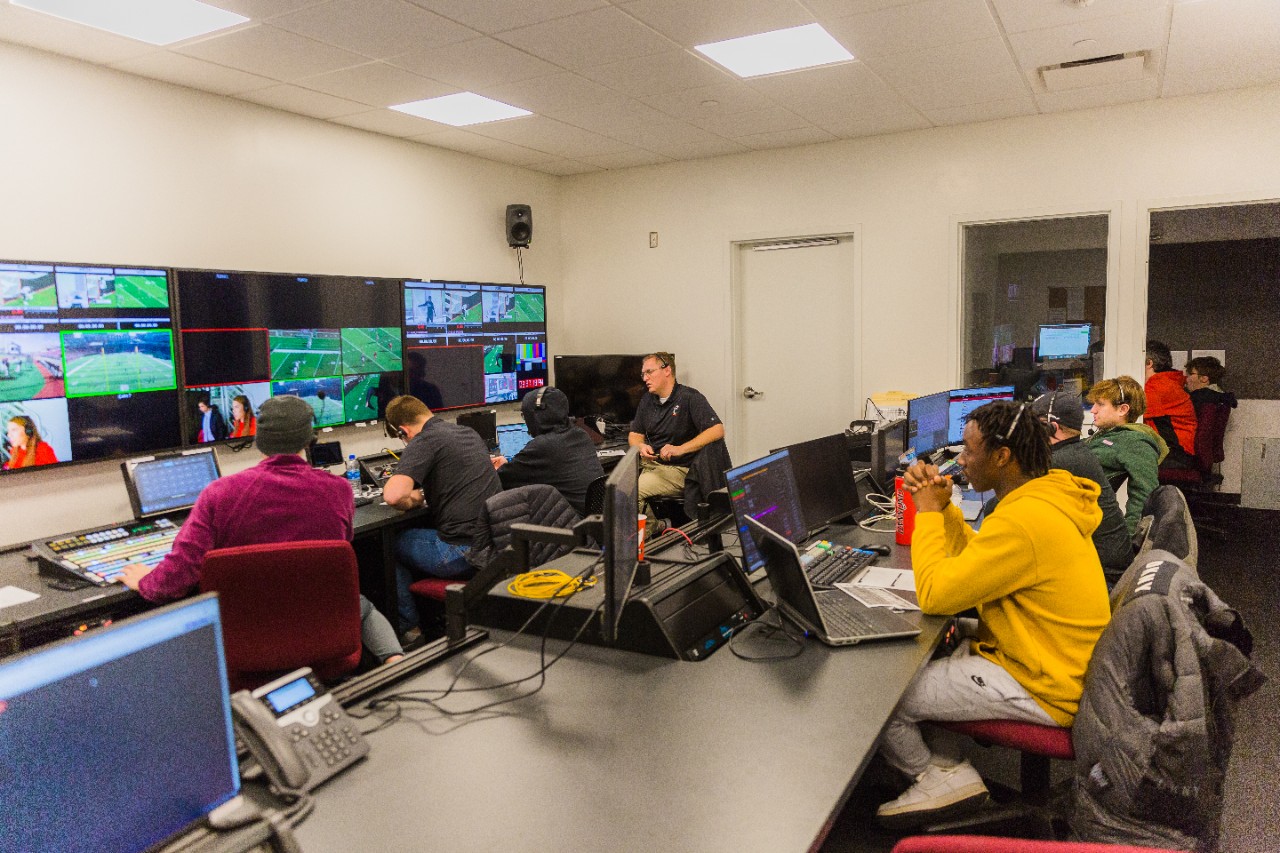 The awards ceremony for the Ohio Valley Emmy Awards took place on July 29, 2023 at the Lawrenceburg Event Center. For Brackman's winning entry, he submitted an excerpt of an ESPN+ broadcast of a UC Men's basketball game that he directed in December 2022. 
"The ability for me to produce content at a high level, that is worthy of recognition from the Ohio Valley Chapter of NATAS, alongside our students in Media Production Division is what makes teaching at UC so special," Brackman says. "CCM's partnership with UC Athletics and ESPN+ provides a valuable platform for me to teach and our students to learn modern workflows and techniques for media production."
This was Brackman's 11th Emmy award of his career, but the first as a director for a live sports broadcast. The crew for the broadcast was mostly made up of current students and recent alumni of CCM's Media Production program:
Camera 1: Nick Goss (BFA, '22)
Camera 2: Tre Harris, current student
Camera 3: Skyler Ficklin, current student
Camera 3/ Utility: Noah Edwards, current student
Camera 4: Trey Durr, current student
Camera 4/ Utility: Hayden Ducker, current student
Camera 5: Andrew Davis, current student
Replay 1: Will Lemmink, current student
Replay 2: Jeremy Youngquist, freelancer
Replay (training): Jack Rieth (BFA, '21)
Audio 1: Seth Johnson, current student
Audio 2: Lillian Smith, current student
Audio (training): Jared Fleckner, current student
GFX 1: Tommy Rochester, current student
GFX 2 (AP): Jack Langen, current student
GFX 3 (BUG): Alex Jacob, current student
Video Shader: Gabe Schmidt, current student
Tech Manager: Todd Schutter, freelancer
Assistant Director: John Anderson, current student
Technical Director: Jack Bolander (BFA, '22)
Producer: Matt Noonan, UC Athletics Staff Assistant Director/Broadcasting and New Media
The Northwest Regional Emmy awards ceremony took place on June 3, 2023, at the Fremont Studio in Seattle. Alumna Paula Gibson Pujol won an Emmy award her work as Assistant Editor on "The Trail: Episode 3." The eight-episode docuseries follows NBA Basketball team the Portland Trail Blazers through its 2022-23 season; watch online. A media creative with a focus on real-life narratives, Gibson Pujol is pursuing a master's degree in journalism at the University of Groningen in Netherlands. Learn more on her professional website.
1
CCM shares fall 2022 schedule of performances and public events
August 12, 2022
Audiences are invited to return to the University of Cincinnati College-Conservatory of Music's (CCM) concert halls and theaters to experience world-class performances and presentations by the next generation of performing and media artists! The college's fall 2022 schedule of free and ticketed events is now available. Tickets go on sale beginning on Monday, Aug. 22, through the CCM Box Office website.
2
WVXU: Podcast showcases CCM's pipeline to entertainment industry
June 21, 2021
The School, Stage & Screen podcast created by UC College-Conservatory of Music alumni takes listeners inside the entertainment industry with stories and advice from Broadway performers, television actors, movie producers, make-up artists and more. WVXU's Cincinnati Edition recently featured the podcast in an interview with co-hosts Brian J. Leitten (BFA E-Media, '02) and Dylan Mulvaney (BFA Musical Theatre, '19).
3
CCM premieres 'Hope After Hate' immersive play
June 23, 2021
The University of Cincinnati College-Conservatory of Music premieres Hope After Hate, a story of struggle and survival during the Holocaust, at 7:30 p.m. EDT on Saturday, June 28.