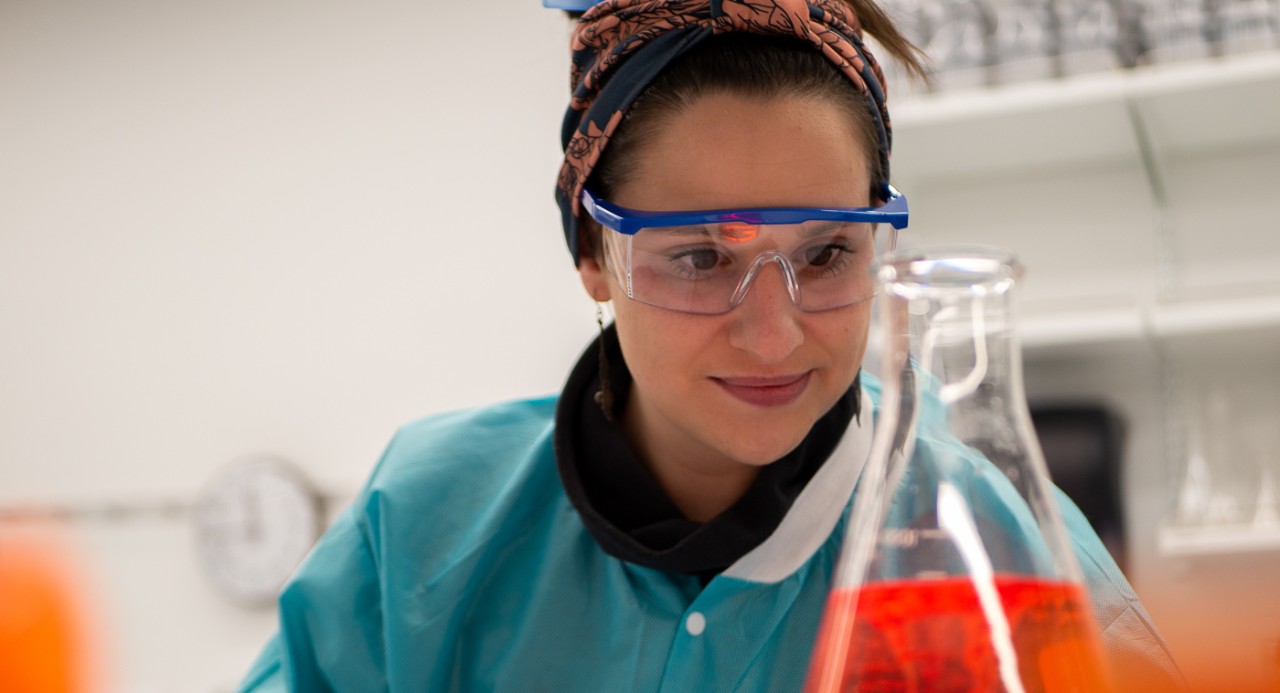 UC Bioscience Center promises new medical research partnerships
UC will host an open house on Aug. 16
The University of Cincinnati will cut the ribbon Wednesday on its new Bioscience Center, where engineers are working closely with doctors on research projects in public health.
The new Bioscience Center on UC's Uptown East Medical Campus (3159 Eden Ave.) opened in the former Hamilton County Coroner's Office after an $11.5 million renovation.
"Having experts in engineering and medicine co-located is of significant benefit to both," said Professor Thomas Talavage, chairman of the Department of Biomedical Engineering in UC's College of Engineering and Applied Science.
If you go
The University of Cincinnati will host an open house for the new Bioscience Center from 10 a.m. to 1 p.m. Wednesday, Aug. 16, at 3159 Eden Ave. The ribbon-cutting is scheduled for 11 a.m.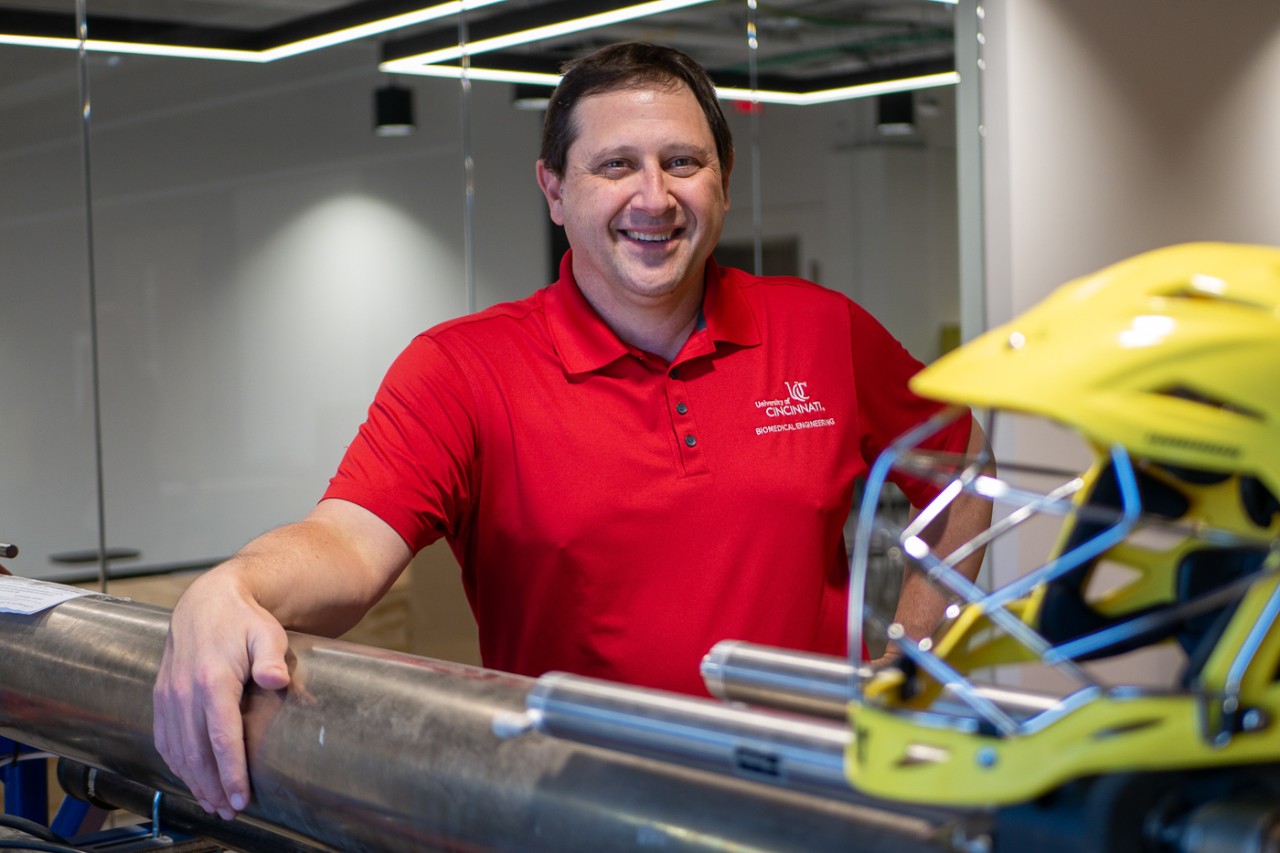 Engineering new medical solutions
Talavage said the 35,000-square-foot center opens research opportunities between students and faculty in engineering and the UC College of Medicine and area hospitals across clinical specialties. In his Functional Neuroimaging and Neural Modeling Lab, Talavage uses functional MRI to understand neural behavior and health.
Among his students' projects are studies in concussions in youth sports and cochlear implants that improve a patient's speech and language perception.
"Ultimately engineering benefits from early engagement in solutions of new problems while medicine benefits from having technical expertise available to help shape these early solutions," he said.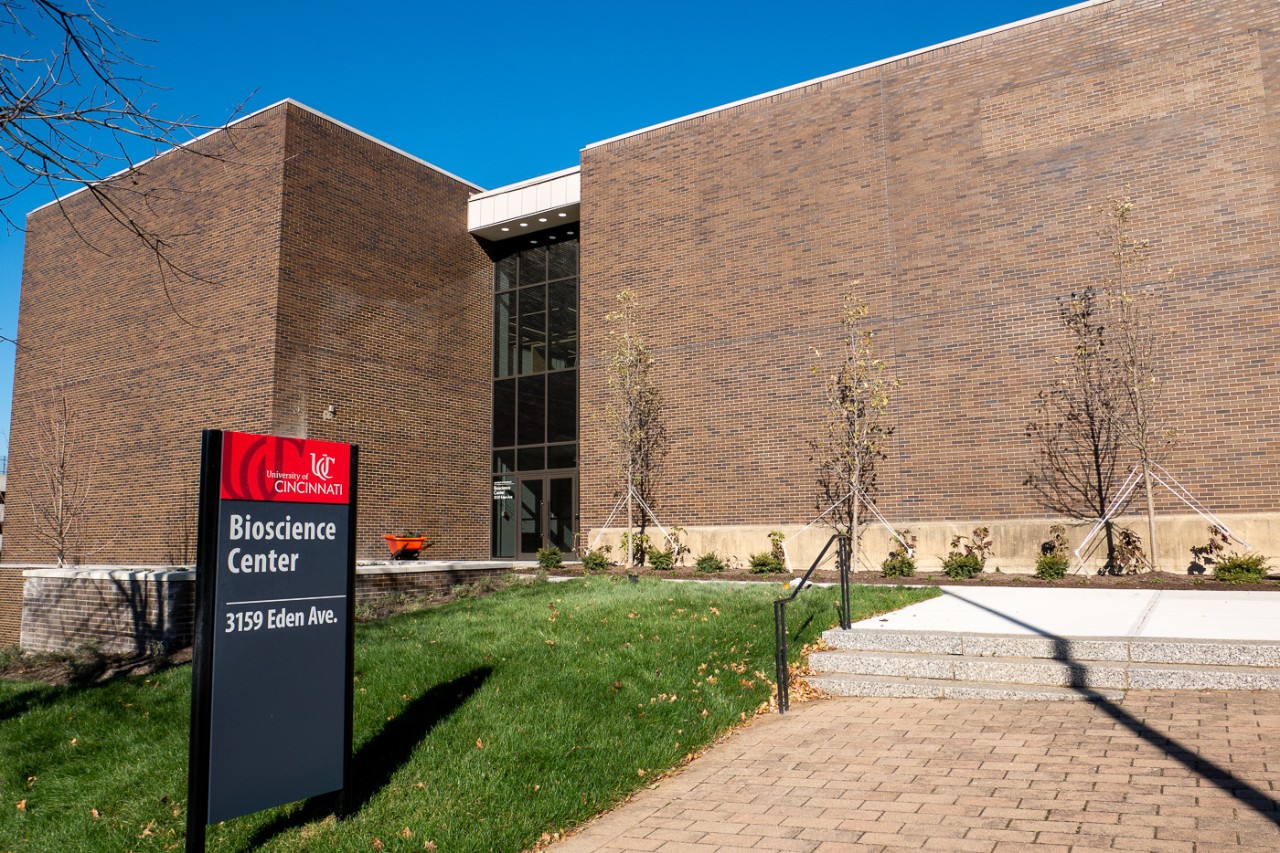 The center features 13 custom research labs, 12 offices, resources for co-op students, a lecture room and six study rooms.
"The Bioscience Center is just tremendous. We needed a facility where we could interact with clinicians from places like Children's Hospital, UC Health and the Veterans Administration," UC biomedical engineering Professor Eric Nauman said.
In his lab, he and his students are putting sports equipment such as football helmets to the test to find better ways to prevent injuries such as concussions.
"We're collaborating with doctors who are coming to talk to us every day," he said. "That's been a wonderful experience. It gives us the impetus to keep pushing."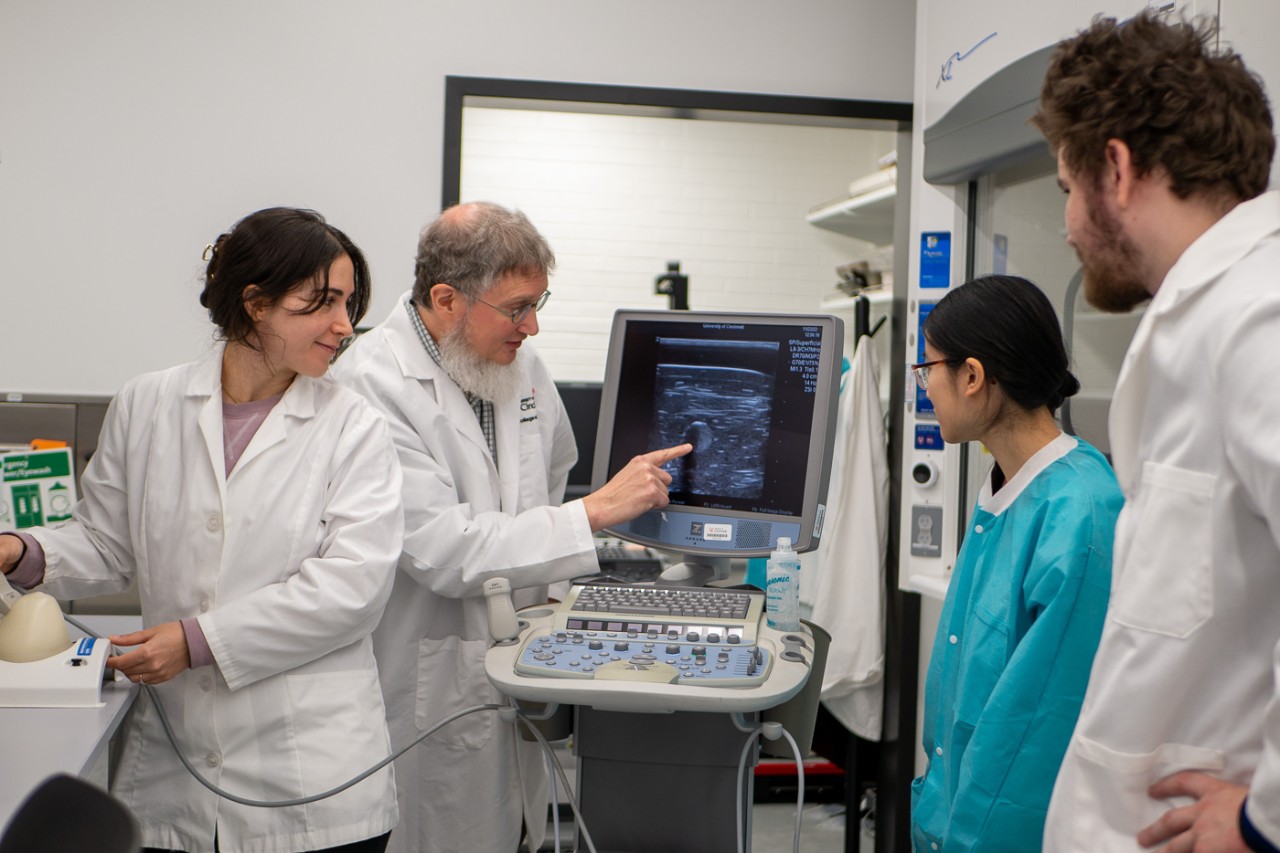 In his Bioresponsive Materials Lab, Assistant Professor John Martin and his students study "smart" materials that can help regenerate diseased tissue.
"The UC Bioscience Center is a state-of-the-art facility that truly enables our group to conduct top-class biomedical research," Martin said.
Martin said his lab has hired more staff, doubling its research capacity.
"The close proximity to the UC Medical Center and Cincinnati Children's offered by this new space has allowed us to create new collaborations and more easily take advantage of medical campus amenities," Martin said.
UC Assistant Professor Stacey Schutte also studies regenerative medicine in her Schutte Tissue Engineering Lab.
"Being on the medical campus allows us to work with faculty more easily in the medical school and UC Health, which improves the research we do and ensures that the focus is on improving health care," Schutte said.

"The location is also close to the many core facilities that we use for biomedical research while still being close to the main campus for classes and collaborations with our engineering faculty."
CEAS Marketing Manager Anya Rao contributed to this story.
Featured image at top: UC graduate student Carolyn Nietupski works in a lab in UC's new Bioscience Center. The center will promote innovation in health care technology at UC. Photo/Corrie Mayer/CEAS Marketing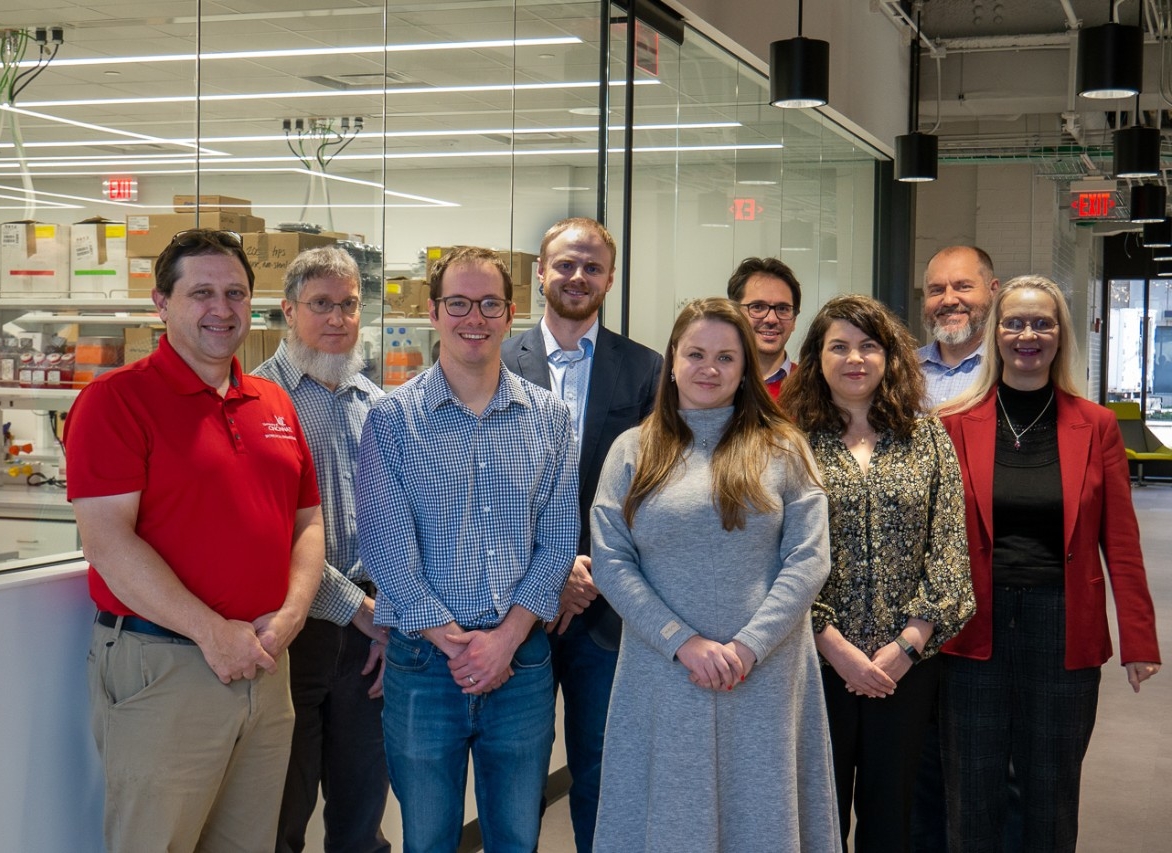 Impact Lives Here
The University of Cincinnati is leading public urban universities into a new era of innovation and impact. Our faculty, staff and students are saving lives, changing outcomes and bending the future in our city's direction. Next Lives Here.
1
What computers tell us about synthetic biology
March 3, 2022
Creating synthetic life could be easily within our grasp soon based on a comparison with the evolution of computer chips. Computer programming and gene synthesis appear to share little in common. But according to University of Cincinnati professor Andrew Steckl, an Ohio Eminent Scholar, leaps forward in technology in the former make him optimistic that wide scale gene manufacture is achievable.
2
UC research seeks to protect athletes from brain injuries
December 1, 2022
Former football players worry about the effects of concussions suffered during their playing careers and hope research from the University of Cincinnati will help them and future generations avoid the worst consequences of brain injuries. UC's Office of Research hosted a panel discussion in the Flashpoint Series, "Brain Injuries in Sports: How we can help our athletes," which addressed the effects of brain injuries and how research aims to develop solutions to protect athletes.