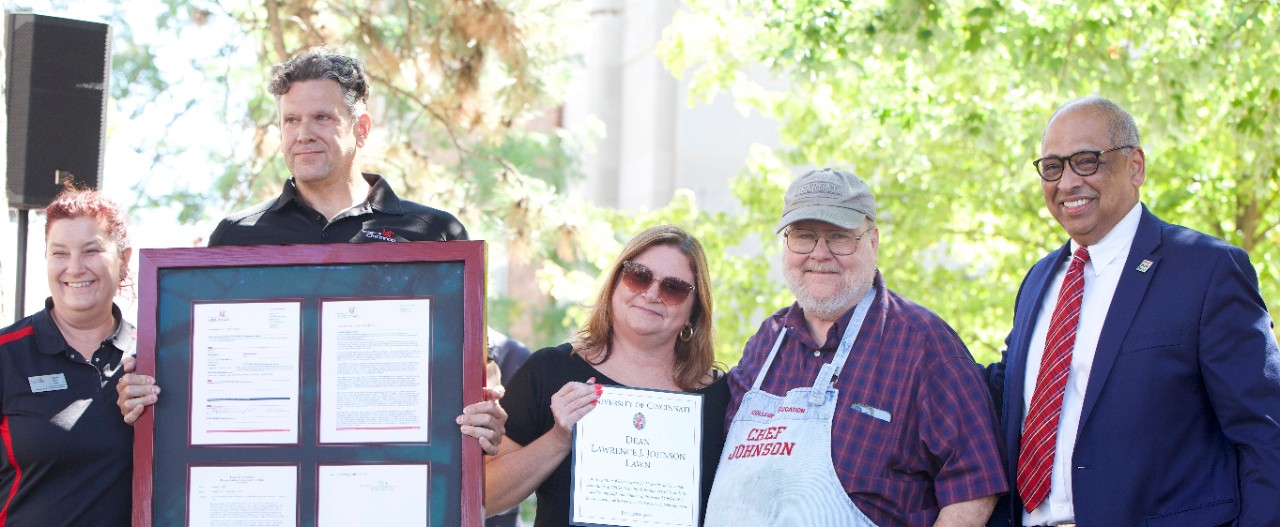 CECH celebrates renaming of iconic campus space in honor of longtime dean
On a warm and sunny Friday afternoon, University of Cincinnati's College of Education, Criminal Justice, and Human Services (CECH) gathered on the lawn outside of Teachers-Dyer Complex was alive with joy and gratitude. This day, Sept. 15, 2023, marked the end of an era, as Dean Lawrence J. Johnson, the longest-serving dean in CECH history, hosted his final Welcome Back BBQ before his retirement during the 2023-24 academic year. The annual barbecue has persisted since 1999 and has become synonymous with the start of the academic year.
During the barbecue, UC President Neville Pinto made a surprise announcement — that the event space, between the Teachers-Dyer Complex and Blegen Library, had been renamed as the "Lawrence J. Johnson Lawn" in honor of Johnson's retirement and outstanding contributions to the university and the Greater Cincinnati community.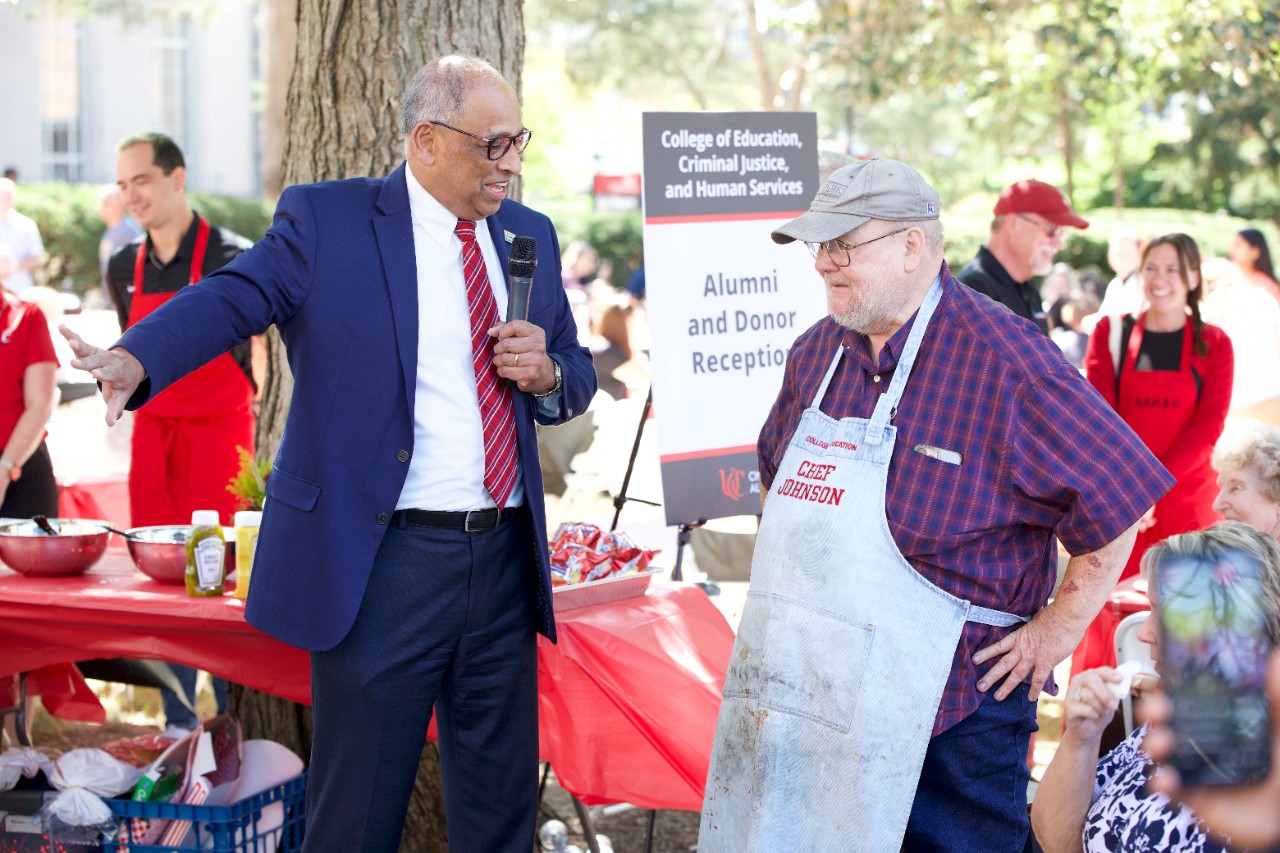 "What we will miss most [about Dean Johnson] isn't what comes from his kitchen," Pinto said in a speech during the barbecue. "What we will miss comes from his heart. It is your compassion, leadership, and friendship that we will miss the most."
Johnson has been an integral part of UC since his arrival in 1990. He assumed the role of associate dean in 1993 and dean of CECH in 1999 and, for over two decades, has steered the college to unprecedented heights of academic excellence, community engagement and student success.
It's been a great honor to be here and be a part of this great family.
Dean Lawrence Johnson
Throughout his tenure, Dean Johnson's leadership transformed CECH from its humble beginnings into a thriving educational institution. When he began his term as dean, CECH had 1,782 students, 84 faculty members, no ranked programs, and a small portfolio of externally funded projects. Today, CECH totals nearly 6,000 students, more than 150 faculty members and over the last four years the college obtained over $30 million in external funds each year. CECH now proudly holds multiple national rankings, including recognition by U.S. News and World Report for five of its programs.
In the proposal to rename the lawn, Johnson is described as a public sector entrepreneur by embracing and facilitating innovations that produce revenue and resources to support college and the children and families in our community that are challenged by society. He is committed to fostering a sense of community at CECH through cooking, celebrations, equity and personal relationships. For example, in the 2022-23 academic year, $9.3 million in scholarships were awarded to CECH students, making higher education accessible to many.
"Under [Johnson's] leadership, CECH has almost tripled in size," Pinto said in his speech. "Generations of students have been impacted by his leadership. And that's what we should remember, because that's what our university is about. [Johnson's] ability to keep students at the center of all his decisions is truly inspiring."
Featured image at top from Dean Johnson's Welcome Back BBQ: (left to right) Associate Dean Laura Dell, CECH Facility and Research Program Director Greg Hollon, Associate Dean Kathie Maynard, CECH Dean Lawrence J. Johnson and UC President Neville G. Pinto. Photo by Jason Carter, CECH Marketing Services. 
Teneisha Dyer
Assistant Dean, CECH
For more information about Dean Lawrence Johnson and his legacy at the College of Education, Criminal Justice, and Human Services, please contact Teneisha Dyer.
1
Just in: UC tops 50,000 students
August 21, 2023
The University of Cincinnati is anticipating a record fall enrollment with a projected 50,500 students. The growth represents a 5.39% increase and reflects the university's core values around academic excellence, access and inclusion, and affordability.
3
President Pinto's 2021 year-in-review message
December 17, 2021
University of Cincinnati President Neville G. Pinto looks back on a historic year that brought students, faculty, staff and the community back together like never before.