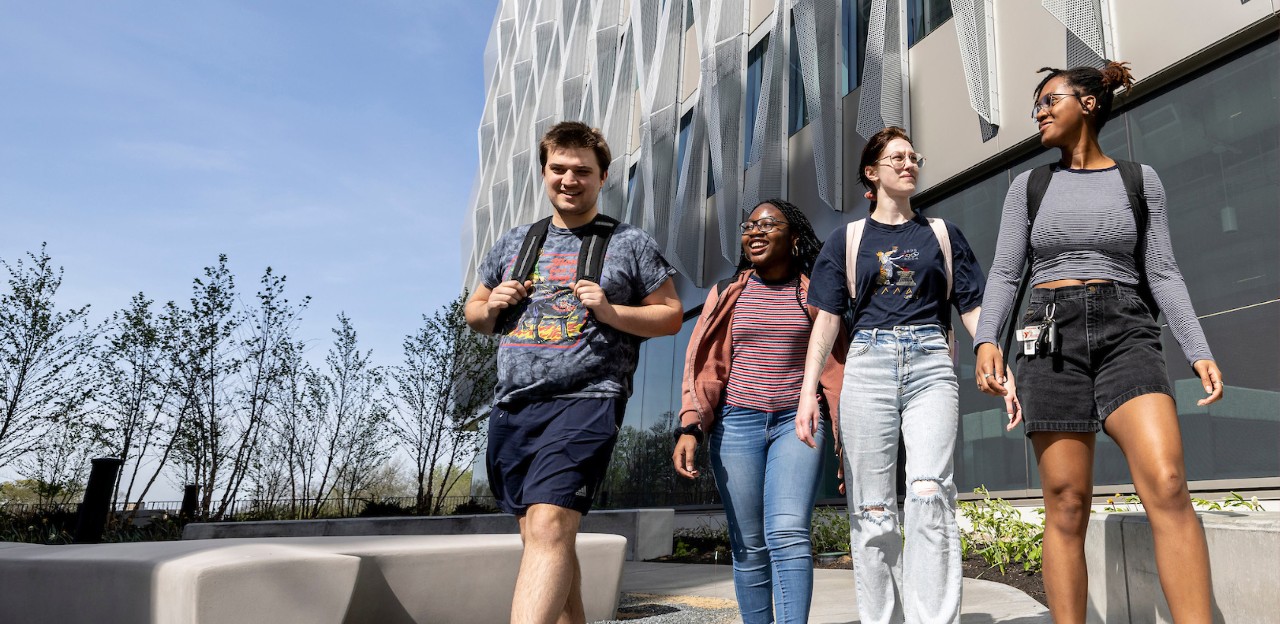 Next, Now Campaign reaches $2 billion
University of Cincinnati and UC Health celebrate fundraising milestone
The University of Cincinnati Foundation announced that it has raised $2 billion through Next, Now: The Campaign for Cincinnati. The UC and UC Health fundraising campaign has reached its goal in advance of a planned June 2024 close.
Thanks to the support of 131,086 donors, this breakthrough places the university among a prestigious group of U.S. colleges and universities who have surpassed the $2 billion mark. Donors from across the country have changed the lives of generations of Bearcats through scholarship support and investments in UC and UC Health's unique programs and initiatives. This includes more than $212 million in gifts supporting scholarship and fellowships.

Gifts to Next, Now date back to 2013, with the public phase of the campaign launching in 2019 at the end of the university's Bicentennial year. Fundraising for the campaign will continue through June 2024.
This astounding philanthropic milestone is an achievement that deserves celebration. I am proud of what our donor community has accomplished together on behalf of the University of Cincinnati and UC Health.
Peter E. Landgren President, UC Foundation
"This astounding philanthropic milestone is an achievement that deserves celebration. I am proud of what our donor community has accomplished together on behalf of the University of Cincinnati and UC Health," said UC Foundation President Peter E. Landgren. "While celebrating this transformative number, we want to thank and recognize every single donor who contributed. Nearly 90% of gifts that contributed to this $2 billion total were under $1,000."
During the campaign, UC Athletics launched the Day One Ready campaign, to support UC's more than 450 student-athletes as part of the university's move to the Big 12. In May 2023, UC Athletics celebrated the largest gift in its history and broke ground on the multimillion-dollar Indoor Practice Facility and Performance Center.
"Generosity leads to innovation and impact," said UC President Neville G. Pinto. "The start of our next 200 years has been remarkable, with the university receiving visionary gifts. I'm grateful for the investments in our students and university, and I'm excited about the campaign's final year."
Donors also supported new facilities, patient care initiatives and research supporting UC Health, Greater Cincinnati's academic health care system. This includes philanthropic investments for construction of the UC Gardner Neuroscience Institute, a state-of-the-art outpatient care and clinical research facility; renovation of the inpatient Neuroscience ICU at University of Cincinnati Medical Center; and construction of a new state-of the-art emergency department at UC Medical Center, which opened in July.
"Philanthropy plays an integral role in the success of UC Health and its ability to provide our region with world-class patient care and solutions," said UC Health President and CEO Cory D. Shaw. "I'm thankful for the significant investments that highlight our supporters' faith in our ability and elevate our community."
Contributions during the campaign include transformational advancements, programs and spaces within its three major initiatives:
Empowering our next leaders
UC scholarship funds received more than $212 million in gifts including more than $43 million from corporate and foundation partners.
One of the campaign's largest gifts came from alumnus Jim Goetz, BSEE '88, whose $25 million donation inspired the renaming of the Engineering Research Center to the new Mantei Center after Thomas Mantei, PhD, emeritus professor, and created the Marian Spencer Scholars program for top Cincinnati Public School graduates.
At the UC College of Medicine, an anonymous donor established the Webster-Gustin Medical Scholarship, providing full tuition for 40 students.
A $9 million donation from Richard, Bus '74, Hon '09, and Cornelia Thornburgh empowers student-athletes and students at the UC Carl H. Lindner College of Business.
Explore our next frontier
Donors have invested in visionary talent, innovation-driven programs and life-changing advances in patient care.
Greater Cincinnati corporate leaders, foundations and individuals advanced research at the University of Cincinnati Cancer Center and created new programs in survivorship care. 
Craig and Frances Lindner have committed $15 million in support of John Byrd, MD, and the future Blood Cancer Healing Center.
A $5.5 million gift from Bernard Osher and The Bernard Osher Foundation established the Osher Center for Integrative Health at UC.
Across campuses, donors created 26 endowed faculty chair positions, supporting research and scholarly innovation. Overall, more than 7,862 gifts supported research initiatives, contributing over $214 million towards discovery and innovation.
UC and UC Health's spaces have been transformed during the life of the campaign.
The Carl H. Lindner College of Business and College of Law have engaging new learning spaces.
Signature athletic facilities such as Fifth Third Arena and Nippert Stadium were upgraded and ground was broken for a new Indoor Practice Facility and Performance Center.
"As we enter the last year of the campaign, we are inspired to continue to meet the needs of our students and community with even greater promise and possibility," Landgren said.

The Foundation's previous campaign, Proudly Cincinnati, raised $1.1 billion by its June 30, 2013 close.
Featured image at top: Photo/Chris Radcliffe for the UC Foundation
Next, Now
With its focus on innovation and impact, Next, Now: The Campaign for Cincinnati is where ambition meets action. At the University of Cincinnati and UC Health, we're driven by next; thinking bolder and dreaming bigger to create the tomorrow we envision, today. Learn more at nextnow.uc.edu.
3
A foundation of faith and philanthropy
January 25, 2023
Jerry Harris, JD '72, is not the fearsome litigator you expect when he opens the door to his home. His hair is shoulder-length; his feet are bare. He has two raucous (yet adorable) dogs on leashes and an adorable grandchild on the couch with his wife of 50-plus years, Carol.