PAC brings special events to UC
Bearcats enjoy comedians, movie nights, yoga sessions, shaved ice and more throughout the year
Joe Gatto is the original impractical joker.
The popular improvisational comedian brought his routine to Fifth Third Arena as part of this year's Bearcats Welcome activities and attracted more than 3,700 students for a night of entertainment. 

It was one of the year's major events presented in part by UC's Programs and Activities Council (PAC), a student-run organization responsible for special events and concerts and bringing speakers and comedians to campus.
Gatto, part of a comedy troupe known as the Tenderloins, is widely popularized by the hidden camera reality television series, "Impractical Jokers." 
"I attended the Joe Gatto event with my roommates and we all loved him," says Makenzie Lashley, a second-year student from Dayton, Ohio, studying neuroscience and psychology. "All of us used to watch 'Impractical Jokers,' so we were really excited for this event once we saw it posted on the PAC Instagram."
Lashley says she would like to see more comedy shows, concerts and movie nights for students. And it appears she is in luck. On Wednesday, Sept. 27, the Out West Fest will be held at Sigma Sigma Commons from 4-7 p.m., and other activities are planned throughout the fall.
So far, students have also enjoyed free events offering popsicles or Kona Ice frozen treats and even a zipline, thanks to PAC.
PAC is one of many groups offering fun activities
Last semester PAC hosted a "Top Gun" movie night in Nippert Stadium, yoga sessions along MainStreet, an '80s arcade night in TUC, mini golf sessions in Bearcat Commons and ice skating with free hot chocolate in Sigma Commons. 
"Each one of our events is very unique, and attracts different students from all around campus," says Joseph Rainford, a senior majoring in information systems and operations management who is president of PAC.
"All our events are free and accessible and they give students a place to go for an afternoon, evening or between classes," says Rainford. 
PAC partnered with the team of UC staff organizing Bearcats Welcome, a four-week immersive campus experience to welcome students to the Bearcats community through intentional programs designed to help them connect, adjust, thrive and succeed, says Emily Callon, program manager of large campus programming and an advisor to PAC.
Joe Gatto was among the most popular, but Bearcats Welcome also featured more than 120 events sponsored by more than 90 organizations and programs at UC that drew thousands of student participants.
Rainford says PAC consists of about 40 students chosen from colleges across the university in hopes of creating a good cross section of representatives for the student body. Students interested in organizing campus activities are encouraged to apply to become part of PAC.
"We elect members into positions to plan events," says Rainford. "We have concert chairs, speaker chairs and special events chairs. These chairs are responsible for creating proposals at the beginning of each semester with all potential events.
"Our organization then discusses and votes on which events will be the most successful," says Rainford.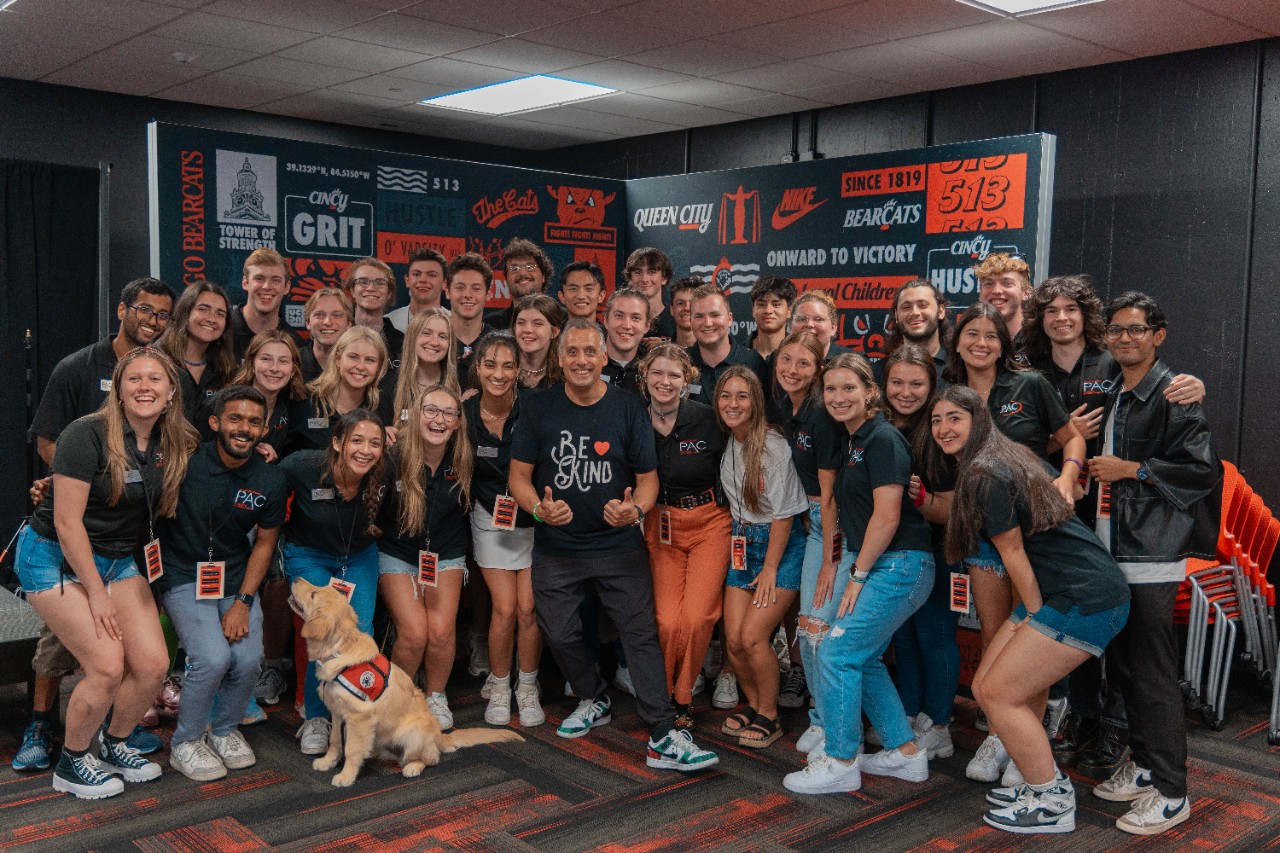 More Fall 2023 activities offered by PAC
PAC works with an agent to find out costs and to arrange speaker events.
A portion of the student life fee that each student pays is allocated to PAC for these activities. The organization's total budget is allocated through a collaboration of the Division of Student Affairs, Student Advisory Committee on the University Budget and the University Funding Board. 
"Our budget is reviewed each year, and modified with consideration of campus trends and engagement," says Rainford. "PAC members are super engaged and want to be involved in campus life. These events provide students a safe place on campus where they are able to mingle with students from all over."
Follow the Programs and Activities Council on Instagram.
Learn more about events online.
Check out what's in store later this semester below:
Out West Fest: 

4-7 p.m., Sept. 27, Sigma Sigma Commons

Pumpkin Palooza: 

1-4 p.m., Oct. 10, Bearcat Commons

PAC x SAC/Homecoming Celebration: 

12:30-3 p.m., Oct. 11, MainStreet

Movie Night: 

8:30-10:30 p.m., Oct. 18, Nippert Stadium

Nostalgia Night: 

5-8 p.m., Oct. 24, TUC Great Hall

Sweets and Squishmallows: 

1-4 p.m., Nov. 14, Mainstreet
Featured image at top from Joe Gatto performance at UC/provided
Become a Bearcat
Whether you're a first-generation student or from a family of Bearcats, UC is proud to support you at every step along your journey. We want to make sure you succeed — and feel right at home.
2
Just in: UC tops 50,000 students
August 21, 2023
The University of Cincinnati is anticipating a record fall enrollment with a projected 50,500 students. The growth represents a 5.39% increase and reflects the university's core values around academic excellence, access and inclusion, and affordability.