How one alum graduated from student worker to president of a top UC co-op employer
Few understand the value of cooperative education quite like Jeremy Jarrett.
As an engineering student at the University of Cincinnati in the '90s, Jarrett worked for a local technology-consulting company through co-op.
Kinetic Vision was at the forefront of predicting structural performance for everything from aircraft wings to machines that make diapers. Jarrett ran modeling simulations for national clients that are household names.
"We had seven employees, including me," Jarrett says.

Jarrett still works at Kinetic Vision, which now employs 200 people, only now he is president and CEO.
"I started here and took different assignments along the way," Jarrett says. "I guess you could say my first co-op job got me to where I am as president."
The co-op program at UC is a crown jewel.


Jeremy Jarrett | UC alum, Kinetic Vision CEO and president
Jarrett's advancement from the classroom to the boardroom might be the quintessential example of the UC co-op's success. But it's not so unusual. Co-op has launched countless careers since the late Dean Herman Schneider approached Cincinnati City Council about what he called "the Cincinnati Plan."

In its inaugural year in 1906, 27 engineering students worked at 13 area companies. The program never looked back. Today, U.S. News & World Report consistently ranks UC's co-op program among the best in the country.
Kinetic Vision employs students across UC colleges, particularly in engineering. The company's conference room is dedicated to Schneider.
"It's something we've built so much muscle memory over in our more than 30 years. It's a strategic part of what we do," Jarrett says.
"I think the co-op program at UC is a crown jewel," Jarrett says.
The reason, he says, is that UC's co-op programs are mandatory. As a result, UC invests heavily in making connections with employers and streamlining student applications and employee recruiting.
"When a program is mandatory, that means the university does a lot for employers and they do a lot for students to make sure there's a plan to follow," he says. "That makes it successful for the employers as well as the students. And that's what makes UC very special."
Students such as Brooke Boeding don't need any convincing.
UC was her first choice in schools for some of the typical reasons. The Bearcats are a big part of her family's legacy. Her brother graduated from UC with a degree in construction management. Her father is a UC computer science alumnus.

But the opportunity to co-op made her choice easy, she says.
"UC's co-op program is unmatched," Boeding says. "Being able to graduate with a full-time job and years of experience in engineering will set me apart from other graduates."
UC's co-op program is unmatched.


Brooke Boeding | UC student and Kinetic Vision co-op
Boeding's first co-op took her to Kinetic Vision's modeling and simulation department where they can run computer analyses to help clients make better products.

"A lot of it is testing out new designs to see how they compare to existing designs on the market," she says. "The skills on my resume have doubled."
Boeding plans to follow her brother and father into the sciences as a mechanical engineer in UC's College of Engineering and Applied Science.
"Math was always my favorite subject. I realized how much I like computer modeling and the broad spectrum of opportunities that engineering provides," she says.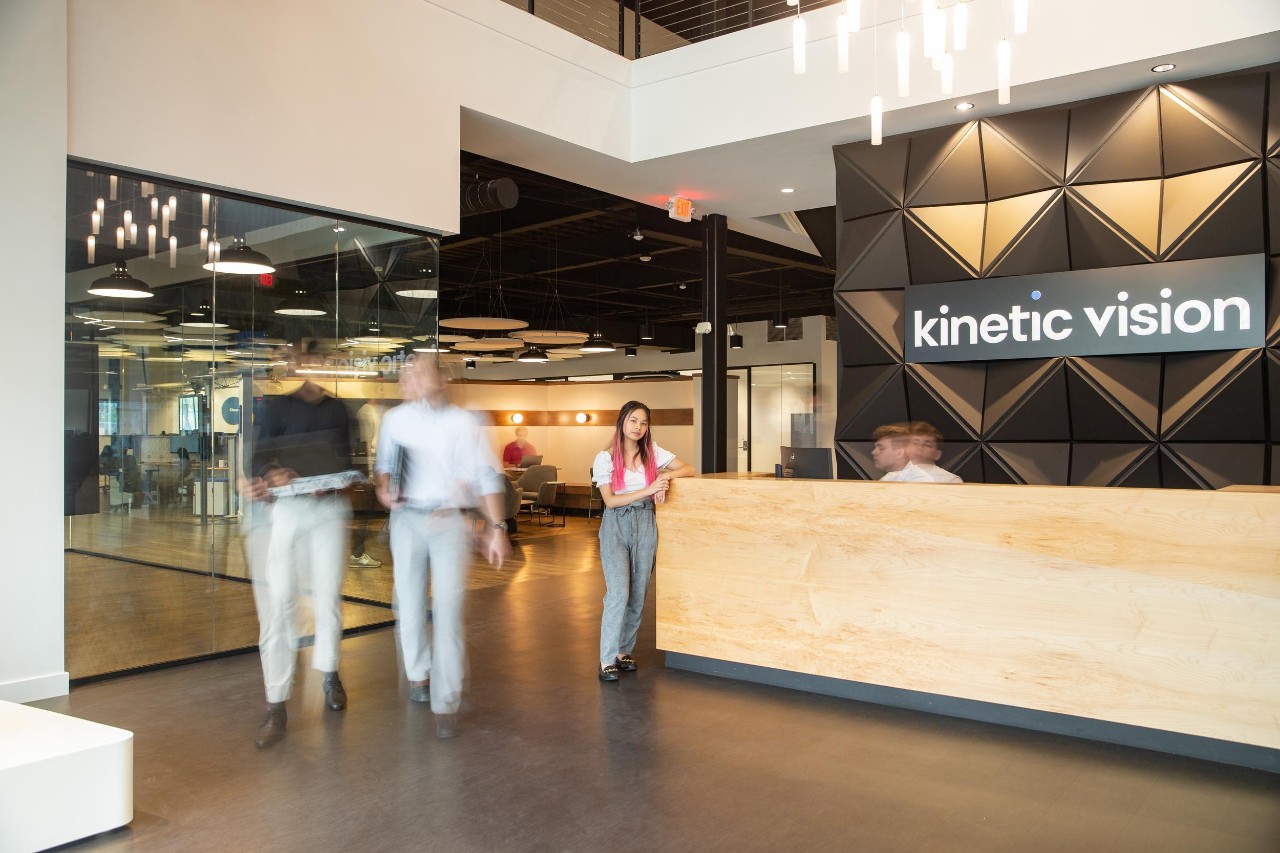 UC student Vivian Tran is psychology major in UC's College of Arts and Sciences, but her marketing minor brought her to Kinetic Vision where she writes about the company's people and projects and produces social media for its marketing department.
"I was in charge of directing a video. I had to record myself doing the introduction, which was nerve-wracking," she says.
At Kinetic Vision, she is surrounded by other co-op students.
"It's intimidating to go into your first job with working professionals. But since Kinetic Vision has a big co-op program, it's nice to be around other students like you and professionals who have been in your shoes as a co-op," she says.
The company's president hosted a recent lunch for co-op students where he shared career advice, she says.
"His story is inspirational because he was just like us in co-op and now he's in a great position. I think a lot of people would want that for themselves," she says.
Biomedical engineering student Keller Weston works in Kinetic Vision's metrology and inspection department, where employees use industrial CT scanners to create detailed three-dimensional digital models of objects for clients.
I wouldn't trade it for any other experience.


Keller Weston | UC student and Kinetic Vision co-op
They consult with companies ranging from aerospace manufacturers to makers of household goods. Building a better shampoo bottle might sound trivial, but with more countries levying taxes on plastic manufacturers, even small efficiencies in design can lead to big cost savings.

The CT scanners model not just the exterior of an object but its interior spaces as well. The device can depict every pore in a sponge and every seed inside a pumpkin in high-definition detail.
The technology can measure how parts or products change during the manufacturing process. Some of the work involves solving technical issues. How are these products getting crushed in transit? Why does this container leak? Where is the weakest point on this bottle?

Weston interviewed with Kinetic Vision after a UC career fair.

"The more I learned about them, the more I dreamed of working at this place. It was everything I hoped it would be," he says.
He quickly made friends with his dorm mates and moved in with them off campus. Over the summer, he traveled across Ohio and Kentucky visiting his new friends.
"It's been very fun," he says. "I wouldn't trade it for any other experience."
Recruiting UC's co-op partners
Assistant Professor Raechel Scarchilli serves as a co-op adviser for UC's College of Engineering and Applied Science.
"Kinetic Vision is in our top-10 employers for biomedical engineering," she says. "They're a fantastic co-op partner. Our students get to work cross-functionally there. They get to work in large and small teams. They really appreciate the collaborative effort Kinetic Vision offers."
Employers get a talent pipeline to hire students once they graduate. They're getting a lot of bang for the buck for some good, young talent.
Richard Hoyt
| UC assistant processor and co-op adviser
Assistant Professor Richard Hoyt serves as a co-op adviser for UC's College of Education, Criminal Justice, and Human Services. Hoyt says Kinetic Vision is unusual among employers because it hires students from across UC's many colleges.

"Our students fit the bill for everything they're looking for," Hoyt says.
"I think employers get a talent pipeline to hire students once they graduate," he says. "They're getting a lot of bang for the buck for some good, young talent."
"Co-op students are our bread and butter, and we wouldn't be the company we are today without these students, our partnership with UC and its co-op program," adds Makenze Rose, HR generalist at Kinetic Vision. 
She says that the growing UC student body gives their company access to even more talent and diversity.
"UC's record enrollment will only allow us to do more mentoring and further enhance our already stellar employee base," she says. "It's always been a win-win situation, but growth at the university can only help with the growth within Kinetic Vision, as well."
Companies such as Kinetic Vision are part of Ohio's growing high-tech industry. Intel Corp. is building two fabrication plants off I-71. Honda is building a new factory to manufacture batteries needed to power electric vehicles. And UC is a key partner in the Cincinnati Innovation District, anchored by UC Digital Futures and the 1819 Innovation Hub.
"We have students who co-op all over the country and internationally," Hoyt says. "But some students prefer to co-op near their home in Ohio and sleep in their own bed. Companies like it, too, because those students are more likely to stay in Ohio after graduating."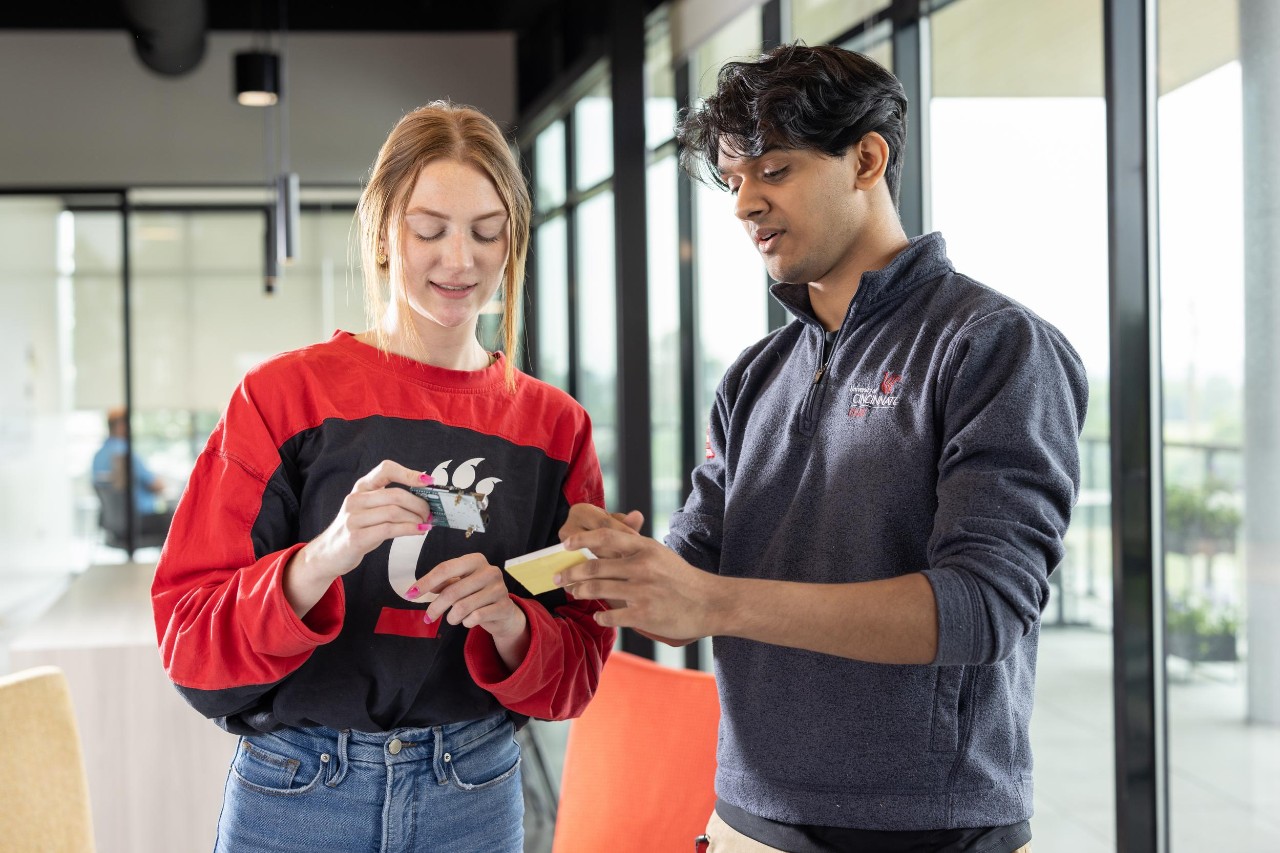 What do companies get out of co-op?

"Our co-ops have a lot of experimental energy," Jarrett says. "You're injecting all this new energy into the system from the students and what they learn each semester. And these great teachers who become better each year at what they do."
An aerospace major, Jarrett graduated from what is now called the College of Engineering and Applied Science in the 1990s. His brothers, Tim and Jessie, followed him to UC, pursuing degrees in applied science.
After graduating, Jarrett bought a house near campus where his brothers lived during college and where he would hang out after work.
"I extended the social part of my college career by an additional six years by hanging out with them," he says.
His UC experience stuck with him even today.
"I spent my first quarter in the dormitory surrounded by people who became my best friends in those formative years," he says. "They're still a big part of my life."
Featured image at top: Jeremy Jarrett works with UC students at Kinetic Vision. Photo/Andrew Higley/UC Marketing + Communications