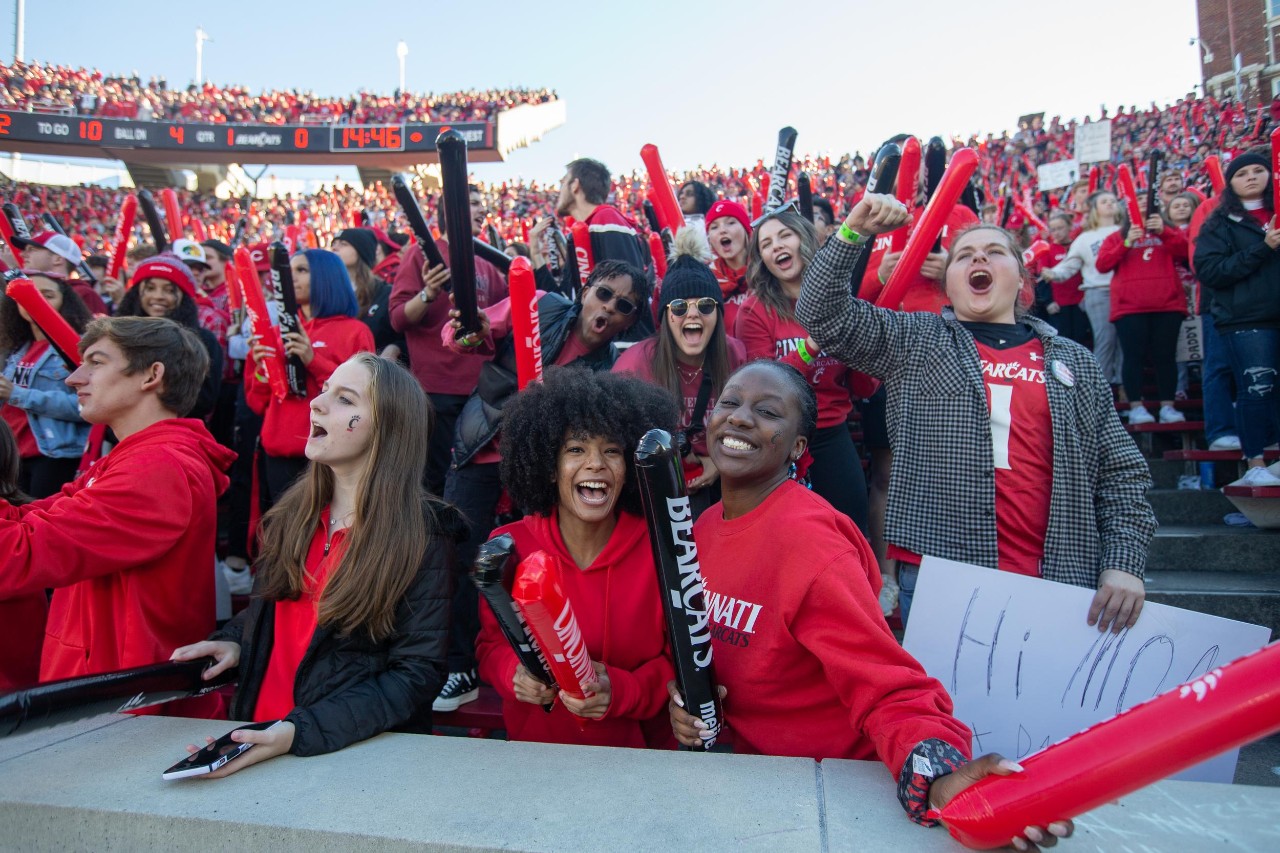 UC growth continues as Big 12 newbie admits largest class
Census figures show UC sails past 50,000
The University of Cincinnati hit a new milestone — a record shattering enrollment of 50,921 students for the fall semester.
The official head count released this week shows an increase of nearly 6.3% over last year's enrollment amounting to an additional 3,007 students.
UC's first-year class is the largest ever with 8,966 students, representing a 9.1% increase. Some 9,259 students enrolled at UC are the first members of their family to attend a four-year institution of higher learning. That's an increase of 8% for first-generation students.

Overall, the UC student body is its most diverse ever with students of color representing 26%. The university's online enrollment is up 11.8% and now accounts for 8,681 students.
UC colleges with the largest enrollment are the College of Arts & Sciences with 8,661 students; the College of Engineering and Applied Science (CEAS) with 7,010 students; and the College of Education, Criminal Justice, and Human Services (CECH) with 6,841 students. CECH saw the most growth, an increase of 16.6% or an additional 975 students.

UC Blue Ash enrolled 4,446 students or a 5.6% increase while UC Clermont enrolled 2,841 students or an increase of 18%. All told, the UC student community now consists of 38,748 undergraduates and 12,173 graduate and professional students.
"This is not only our largest first-year class ever, but also our most academically prepared and the most diverse we have ever seen," explains Jack Miner, vice provost for enrollment management at UC.
"We now have more than 8,000 online students, an 11% growth over last year and that represents working adults who are going back to school to finish a degree, to gain new skills for their current job, or to seek out a promotion or new role," says Miner.
"What is so critical about the number 50,921 is that behind that number are 50,921 dreams, opportunities and lives that are being changed by the education at UC."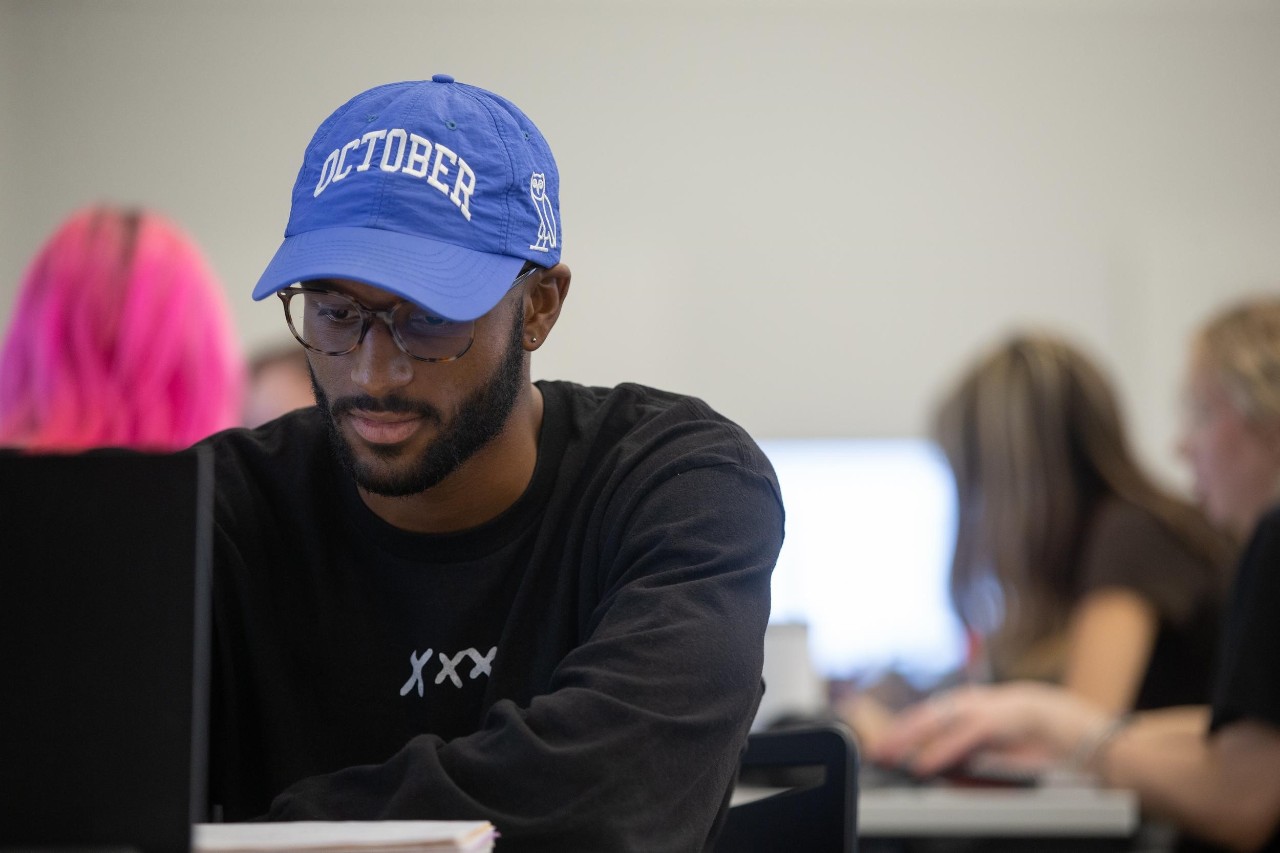 As a state university, we are delivering on our public mission, evidenced in part by our impact on the regional economy.
Neville G. Pinto UC president
Industry, innovation, athletics part of UC's rise
During the past decade UC enrollment has grown more than 19%, offering opportunities that have improved economics, innovation and athletics for the region and state. UC's recent entry into the Big 12 athletic conference heightens the university's national profile drawing athletes and many nonathletes to Cincinnati for study and the opportunities for talent sharing.
"The move to the Big 12 absolutely shines an enormous spotlight on our university," says Miner. "The result of that attention is students seeing the incredible faculty and academic programs, a top-ranked co-op program and an unmatched campus culture and student life experience."
Innovation is on display at UC with the creation of the 1819 Innovation Hub, which celebrates its fifth year and provides a space for industry and a broader community to interact with UC. Also, nearby Digital Futures, the university interdisciplinary research space, marks its first anniversary this fall and serves as an incubator for researchers from across UC and the region to create impactful new knowledge to apply solutions to real-life problems.
UC President Neville Pinto says faculty are making impressive strides in teaching, scholarship and research. Citing the latest figures from the National Science Foundation, Pinto notes that university researchers have outpaced UC's highest-ever research expenditures with more than $615 million.
"As a state university, we are delivering on our public mission, evidenced in part by our impact on the regional economy," says Pinto.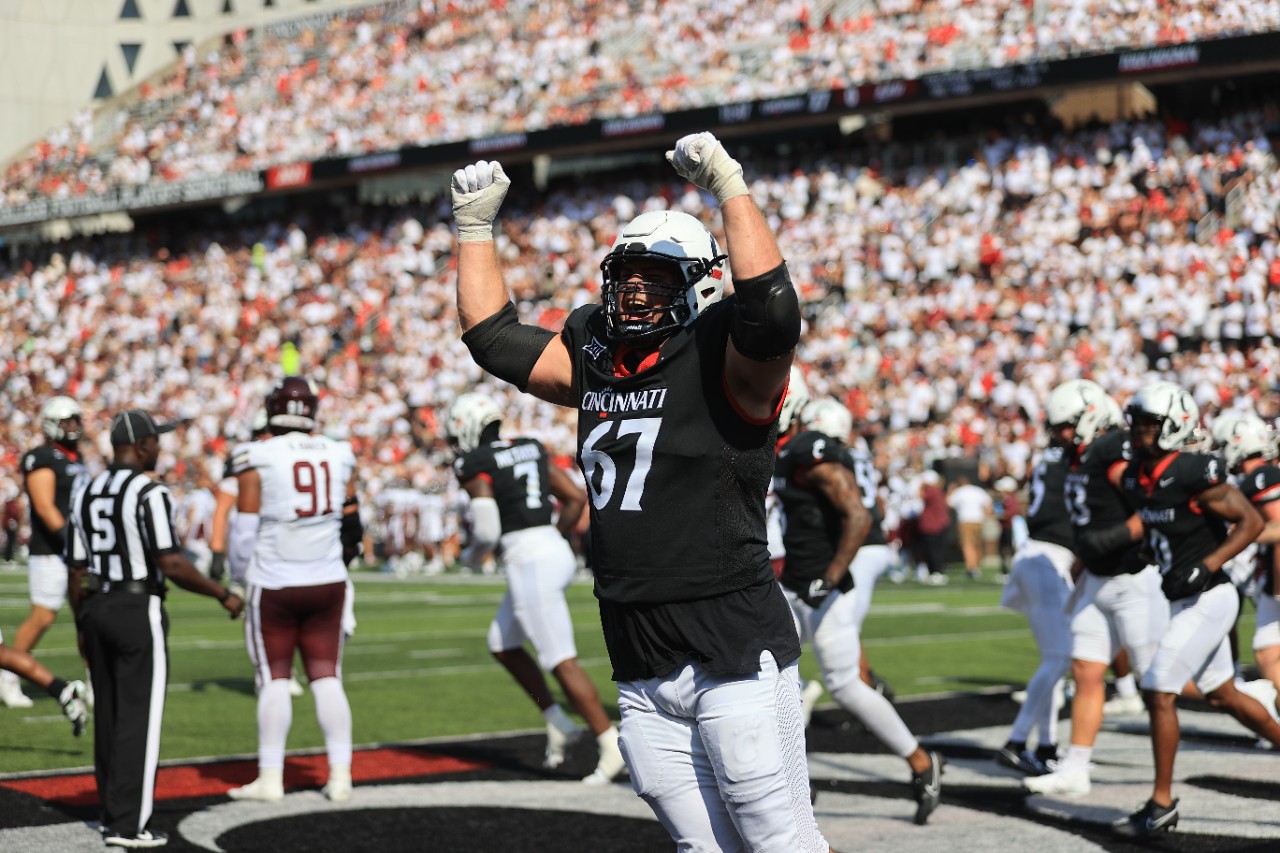 From growth within the innovation district to joining the Big 12, its $10.6 billion economic impact and now this milestone enrollment, the University of Cincinnati continues to pave the way for the future of Cincinnati.
Aftab Pureval Mayor of Cincinnati
A recent study looking at the 2021-22 fiscal year finds that UC's overall impact on southwest Ohio, northern Kentucky and eastern Indiana is $10.6 billion in added income to the business community, an amount that supports 125,057 jobs. For perspective, this means that one out of every 12 jobs in the region is supported by the activities of the university and its students.
Statewide, the study found that UC increases the economic base by $22.7 billion.
"Our successes as an institution are largely thanks to our dedicated and talented faculty and staff who work so hard to build a welcoming, innovative and inclusive culture here," says Pinto. "We have much to celebrate."
The study was conducted by Lightcast, an independent consulting firm, on behalf of the Inter-University Council of Ohio, and is part of a larger report that found Ohio's 14 public universities delivered $68.9 billion in total economic impact in fiscal 2021-22
"From growth within the innovation district to joining the Big 12, its $10.6 billion economic impact and now this milestone enrollment, the University of Cincinnati continues to pave the way for the future of Cincinnati," says Cincinnati Mayor Aftab Pureval. "This is just one more feather in the city of Cincinnati's cap and points to continued success for years to come."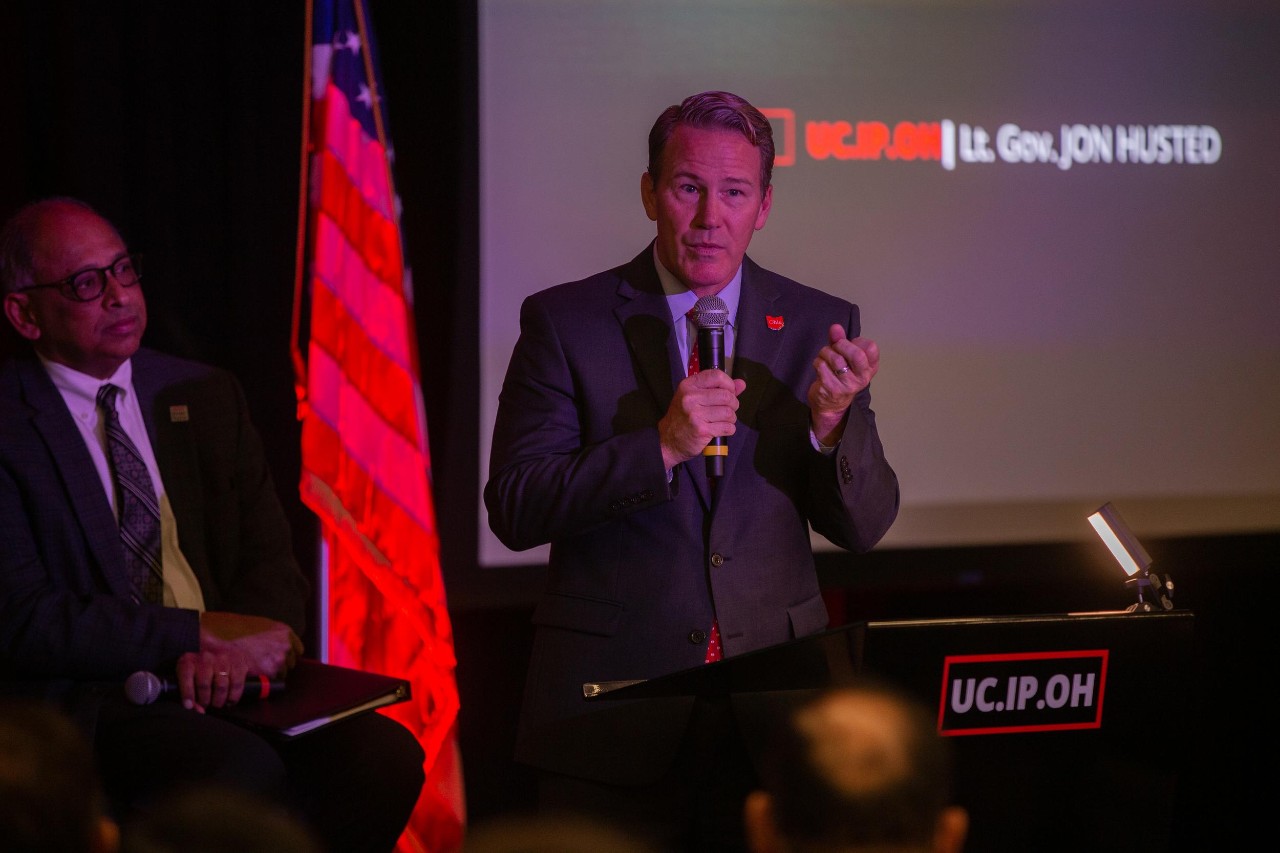 Bringing enthusiasm, talent and new perspectives
UC students share their talents through interaction with the surrounding community and contributing to businesses locally, nationally and globally through cooperative education, which allows students to gain real world experience and bring their new perspectives and enthusiasm to the business community and nonprofit and governmental sectors through internships, co-ops and service learning. 
UC's co-op program is among the Top 5 in the country, according to U.S. News & World Report. 
"The growth at UC gives us access to even more talent and diversity in the student body," says Makenze Rose, HR generalist at Kinetic Vision, a technology consulting firm and co-op employer based in Cincinnati. "Co-op students are our bread and butter, and we wouldn't be the company we are today without these students, our partnership with UC and its co-op program."
Rose says that one in every four employees at the company is a co-op student and that Kinetic Vision has supported UC's co-op education mission since it opened in 1988.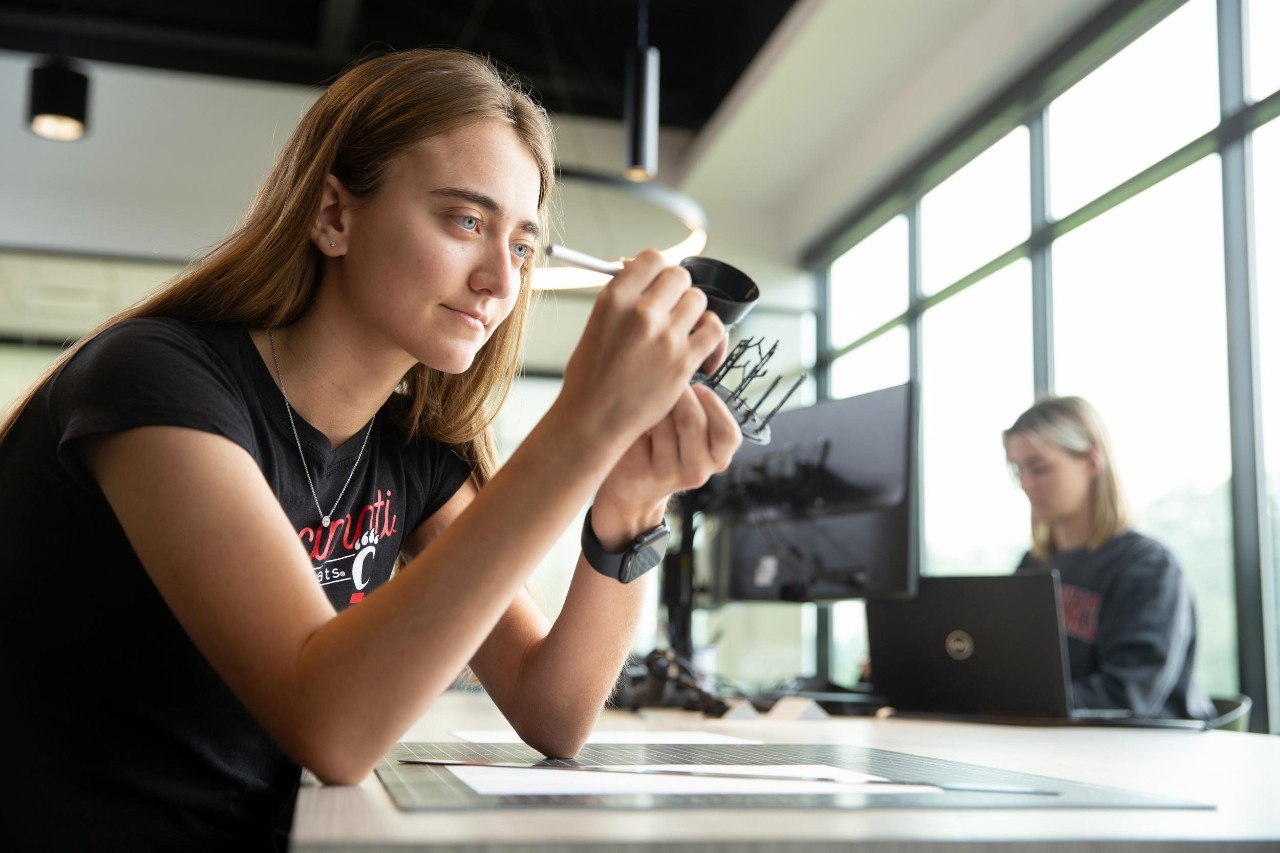 "UC's record enrollment will only allow us to do more mentoring and further enhance our already stellar employee base," she says. "It will also help us grow our reputation, as these students are not all local — they come from all over the country. This will allow our clients and potential new clients to see us as we mentor students who will grow in areas spanning from engineering to systems management. It's always been a win-win situation, but growth at the university can only help with the growth within Kinetic Vision, as well."
Local businesses also see a direct benefit from UC's larger footprint.
"From my perspective and the work that I do, our business districts rely on the university community," says Matt Bourgeois, director of the Clifton Heights Community Urban Redevelopment Corporation. UC is located near Clifton Heights.
"A growing university means a growing business community. We have tenants that stay longer — there's not as much turnover. We experience less vacancy which makes our area more vibrant. The saying is, 'A rising tide lifts all boats.' This absolutely applies when thinking about the growth at UC."
He adds that UC's entrance into the Big 12 also adds a new layer of opportunity.
"More people will be traveling here for games," he says. "Better games bring more people. Those weekends will make a tremendous difference. Clifton Heights businesses have been aggressive in their assumptions for the trajectory of UC, which has been realized in the last few years."
"UC's growth strategy is the region's growth strategy," adds Brendon Cull, president and CEO of the Cincinnati USA Regional Chamber. "If we want to have a thriving community with cultural vibrancy, we need to continue to invest in the talent coming from UC.
"What happens around the university's campus presents probably the most important development opportunity for our community. Our hope should be that people attend UC, graduate, find a great job and stay in the city. UC is the gateway to this region for many people, and the university brings in talent from all over the world. That's what businesses in this region want and need."
The environment here is just so welcoming.
Amelia Tyson-Mueller UC student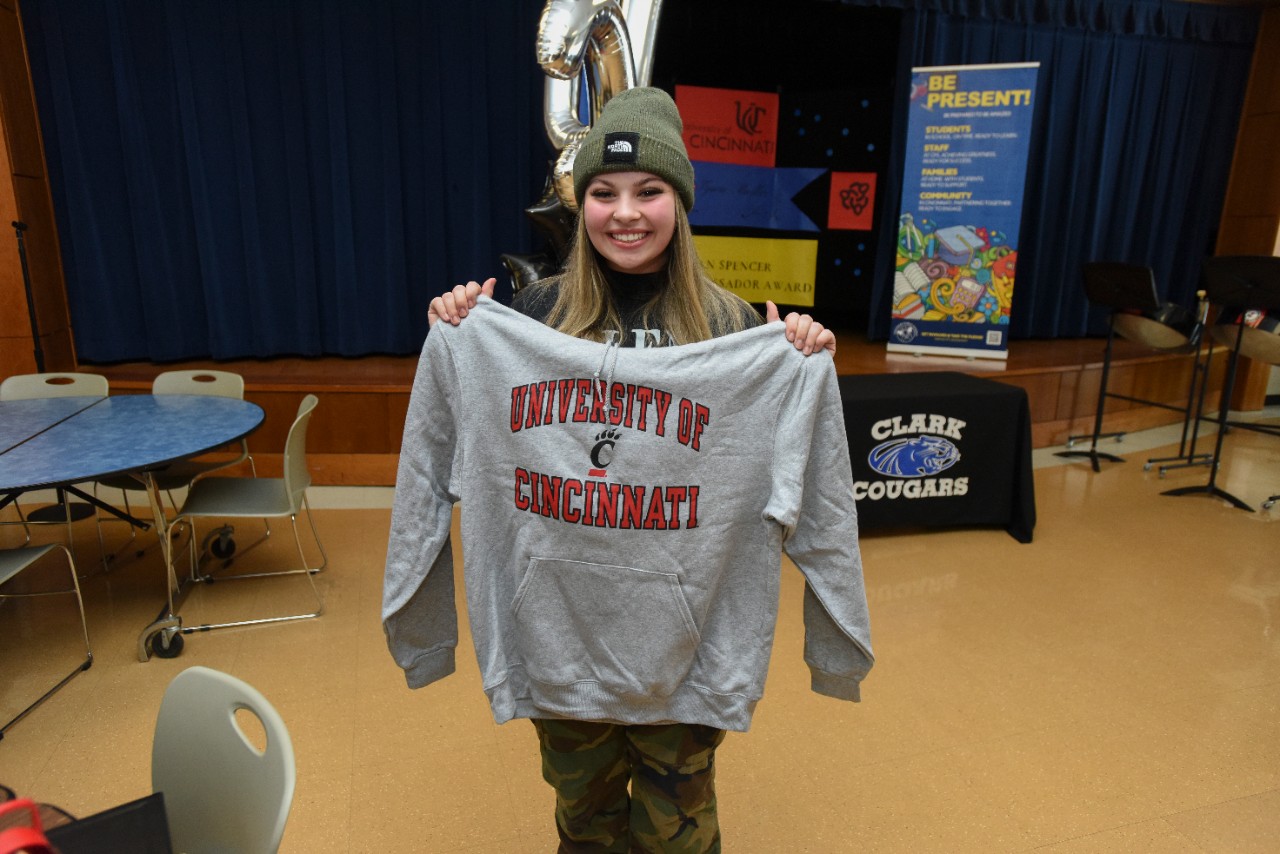 The welcome mat is always out at UC
Amelia Tyson-Mueller, a first-year student majoring in medical sciences, calls UC the smart choice. She is also the first in her family to attend a four-year college or university.
"I was deciding between Ohio State and UC and I decided to become a Bearcat and I am so glad I did," says Tyson-Mueller, who hopes to someday become a dermatologist. "UC is such a great place for community and you meet so many new people. It's a chance to make new friends. 
"The environment here is just so welcoming," she continues. "As soon as you step on the campus it is like, 'Wow.' I remember at the end of Welcome Week I was walking back to my car thinking, 'Oh my gosh, I am a college student and this feels real.' It was just the best experience."

Tyson-Mueller is a graduate of Cincinnati Public Schools and among the second cohort of Marian Spencer Scholars at UC. The Marian Spencer Scholarship is awarded to high achieving CPS graduates and part of UC's goal of increasing the number of Cincinnati residents holding UC degrees.
"It's so beautiful here," she says. "You can find so many different opportunities at UC. We are part of the city and we aren't far from a Bengals game or the chance to watch the Reds play."
Tyson-Mueller calls her first football game in Nippert Stadium amazing. The Bearcats defeated Eastern Kentucky University, 66-13, during the season opener, Sept 2. She got a chance to practice the UC school cheer, "Down the Drive."
"Once you hear chant going, you join in and just keep doing it over and over and it's the best feeling," Tyson-Mueller says.
UC alum Dan Schimberg, who is father of a current Bearcat as well as president of nearby Uptown Rental Properties, sees the benefits personally and professionally.
"UC is an extraordinary institution that has brought so many positives to the community, and under its leadership, has continued its trajectory as a renowned institution," he says. "This is a university that is driving innovation, growth and advancement for the region. We are fortunate to have it, and I think so many people benefit from it being in our community."
Schimberg points to the recently reported economic impact study.
"One out of every 12 jobs in the region are supported by the activities of the university — that speaks for itself when it comes to the benefit of UC's growth," he says. "Change and growth is difficult in all areas of life. Construction is a nuisance in life, whether it's at the airport or when you're renovating your kitchen at home. But it is necessary. It's easy to zero in on the negatives, but there are so many positives. UC is a first-class institution that has an enormous impact on all of us."
Featured image at top/Photo/Andrew Higley/UC Marketing + Brand
Become a Bearcat
Whether you're a first-generation student or from a family of Bearcats, UC is proud to support you at every step along your journey. We want to make sure you succeed — and feel right at home.
2
Just in: UC tops 50,000 students
August 21, 2023
The University of Cincinnati is anticipating a record fall enrollment with a projected 50,500 students. The growth represents a 5.39% increase and reflects the university's core values around academic excellence, access and inclusion, and affordability.
3
UC Serves 2023 underscores university's commitment to Cincinnati community
April 27, 2023
This year, the university is celebrating the return of UC Serves – a day for staff and faculty to share the experience of intentional, focused service to the communities surrounding the University of Cincinnati campuses and beyond. The day of service helps connect UC with community neighbors and build stronger connections among university employees. UC Serves brings staff and faculty to the front lines in supporting UC's institutional commitment to service and community impact in support of our local non-profit partners.