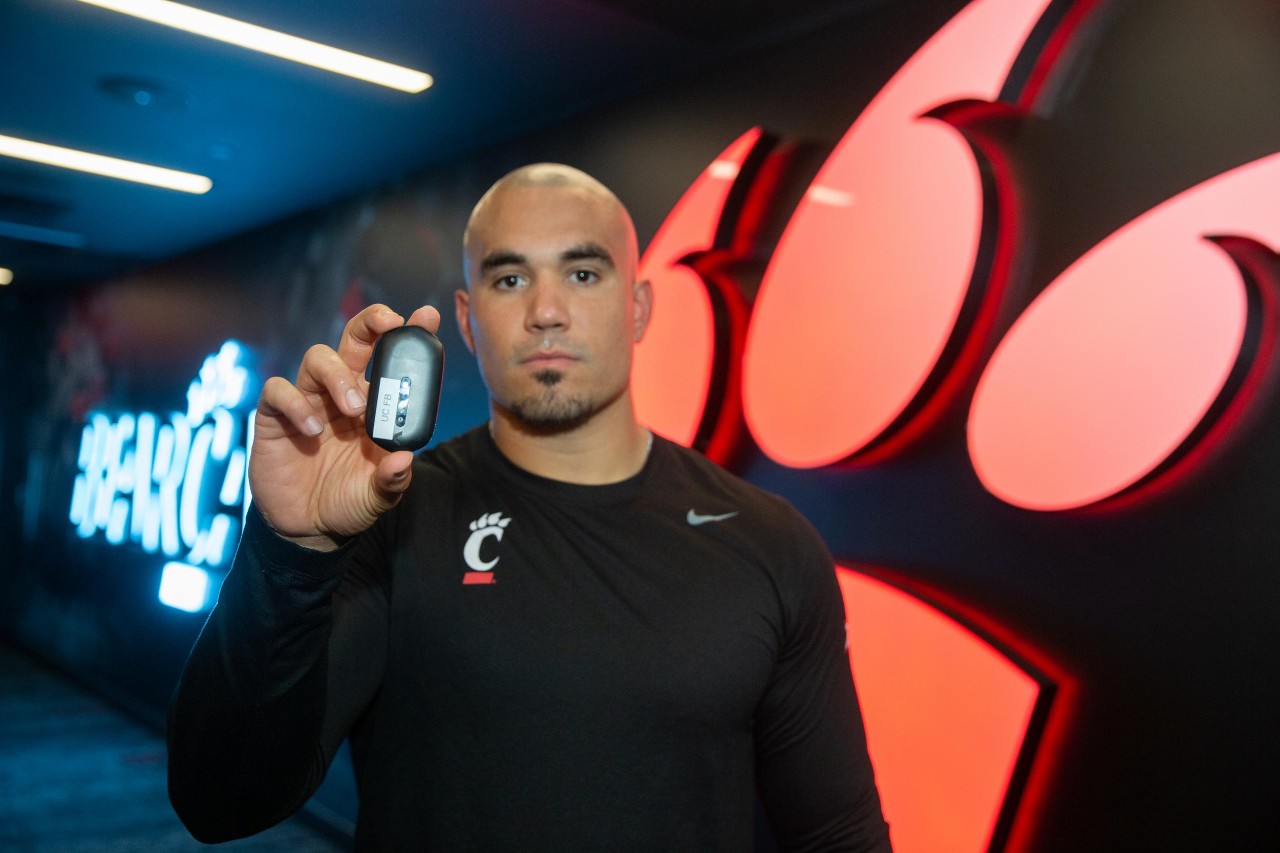 Bearcats football turns to engineers for training help
UC's Digital Fabrication Lab helps protect team's wearable tech
If a picture is worth a thousand words, how many might describe a 3D model of a child's heart before her surgery?

These are the life-changing projects the University of Cincinnati's Digital Fabrication Lab helps researchers visualize by creating custom models of everything from surgical devices to stage props.
The lab uses industrial machines to create custom models to exacting specifications for a variety of student and faculty research projects and commercial uses. The lab is in UC's College of Engineering and Applied Science but works with colleges and departments across campus.
Their latest project took them to the UC Athletics Center to help the Bearcats' football team with wearable technology.

Director Samuel Antoline said the team needed a housing for tiny sensors that strength coaches use to monitor each athlete's performance during practices and games. The little sensor attaches to the back of the shoulder pads and measures the player's acceleration, velocity and distance traveled.
The sensors needed to be able to hold up to the rigors of a contact sport. After going through several design iterations, Antoline came up with a sturdy 3D-printed plastic case.
"I came up with a custom design that worked out really well for them," he said. "They used them throughout all of last season."
The team is using them again this season under new head coach Scott Satterfield.
Antoline's lab has worked with doctors at hospitals such as UC Medical Center and Cincinnati Children's, where the lab produced patient-specific heart models for surgical planning and practice.
And they have helped aerospace engineering students visualize their new engine designs for jet turbines. They also support local industry by offering their services to companies that need help with modeling electronics, machine parts or other equipment.
But this was the first time they worked with wearable technology, Antoline said.
Brandon Garcia, assistant director of football sports performance at UC, said the sensors provide valuable information on player conditioning during practices and games.
"You have to be in condition to play or you won't be worth anything in the third or fourth quarters," Garcia said.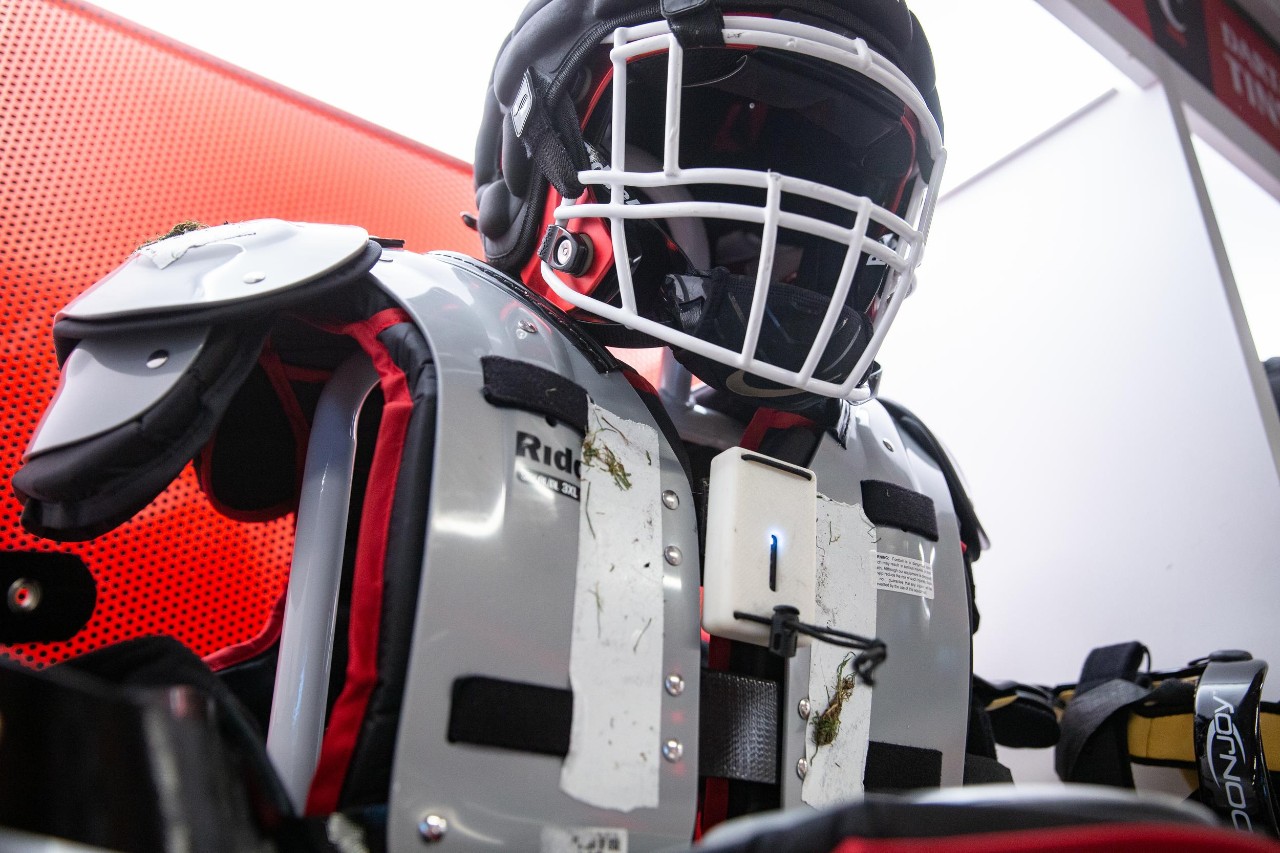 The sensors provide information that coaches can use to tailor practices and training.
"It's like another assistant coach with no emotions or feelings," he said. "It confirms your gut feeling about the team. You can read the team's energy when they're down or feeling good. The sensors provide feedback to what you're doing as a strength coach."
The sensors are especially helpful to monitor players coming off an injury, Garcia said.
They can customize conditioning and drills for players. The sensors also tell coaches if the players are back to their former speed and fitness after an injury.
"The purpose is to intervene and make sure the player is recovering to improve fitness and prevent fatigue," Garcia said. "Are they eating right and sleeping right? We talk to the position coaches and players about limiting repetitions or controlling how much contact exposure they get in practice."
Today, most college and professional teams across sports use wearable technology to gauge player performance, he said.
Garcia said other tools eventually could replace the stereotypical Xs and Os on a blackboard with digital animations showing whether each player executed a play as it was designed.
But for Antoline, the project demonstrated the versatility of UC's Digital Fabrication Lab in developing creative solutions.
So how much of the Bearcats' success this season might be attributed to UC engineering?
"No comment," Antoline said and laughed.
Featured image at top: Assistant Director of Football Sports Performance Brandon Garcia holds up wearable technology that helps monitor player performance. Photo/Andrew Higley/UC Marketing + Brand
Next Lives Here
The University of Cincinnati is leading public urban universities into a new era of innovation and impact. Our faculty, staff and students are saving lives, changing outcomes and bending the future in our city's direction. Next Lives Here.
2
Bearcats football turns to engineers for training help
October 6, 2023
The University of Cincinnati's Digital Fabrication Lab uses industrial machines to create custom models to exacting specifications for a variety of student and faculty research projects and commercial uses. Its latest collaboration is with the UC Bearcat football team.