UC celebrates service and sacrifice of veterans
The university will be closed Friday in observance of Veterans Day
The University of Cincinnati recognized the sacrifice and service of current and former members of the military during its annual Veterans Day ceremony.
Veterans from every branch gathered in the atrium of Tangeman University Center, where the Bearcats Band welcomed them with an ensemble of military branch songs. U.S. Air Force Maj. Venancio Deocariza offered the invocation.
U.S. Army veteran and UC student Jonathon Leicht spoke on behalf of UC's student veterans.
"Once you serve, you become a member of an enormous family," Leicht said. "Being a veteran means never being alone."
This year, 1,838 military-associated students are enrolled at UC, representing more than 3% of UC's student body.
UC President Neville Pinto welcomed veterans and other guests to campus, including Hamilton County Commissioner Denise Driehaus and state Rep. Cecil Thomas, D-Cincinnati.
"Thank you for joining us as we recognize the 1.4 million active service members who serve our nation in the military today, as well as the 800,000-plus reserves," Pinto said. "Even if we cannot know them all, we owe them all."
Retired U.S. Army Col. Richard Prior spoke about his 25-year military career where he served roles such as chief nursing officer and family nurse practitioner. Prior is senior associate dean in UC's College of Nursing. He thanked the veterans in attendance.
"If people only knew the amazing and extremely difficult things you've done in service of your country," he said.
The presence of veterans on campus is enriching.
Richard Prior, UC College of Nursing
Prior said UC opened its arms to him when he transitioned to civilian life. Veterans have much to contribute to higher education as well, he said.
"The presence of veterans on campus is enriching," Prior said. "You want veterans in your classroom because they don't give up and they demand excellence of themselves, even when things get hard."
"Veterans are accustomed to putting the needs of their organization above their own," he said.
And the G.I. Bill provides one of the most valuable post-career benefits for members of the armed services, he said.
"Thank you for making UC a welcome place for veterans," he said.
Featured image at top: UC hosted its Veterans Day celebration at Tangeman University Center. Photo/Andrew Higley/UC Marketing + Brand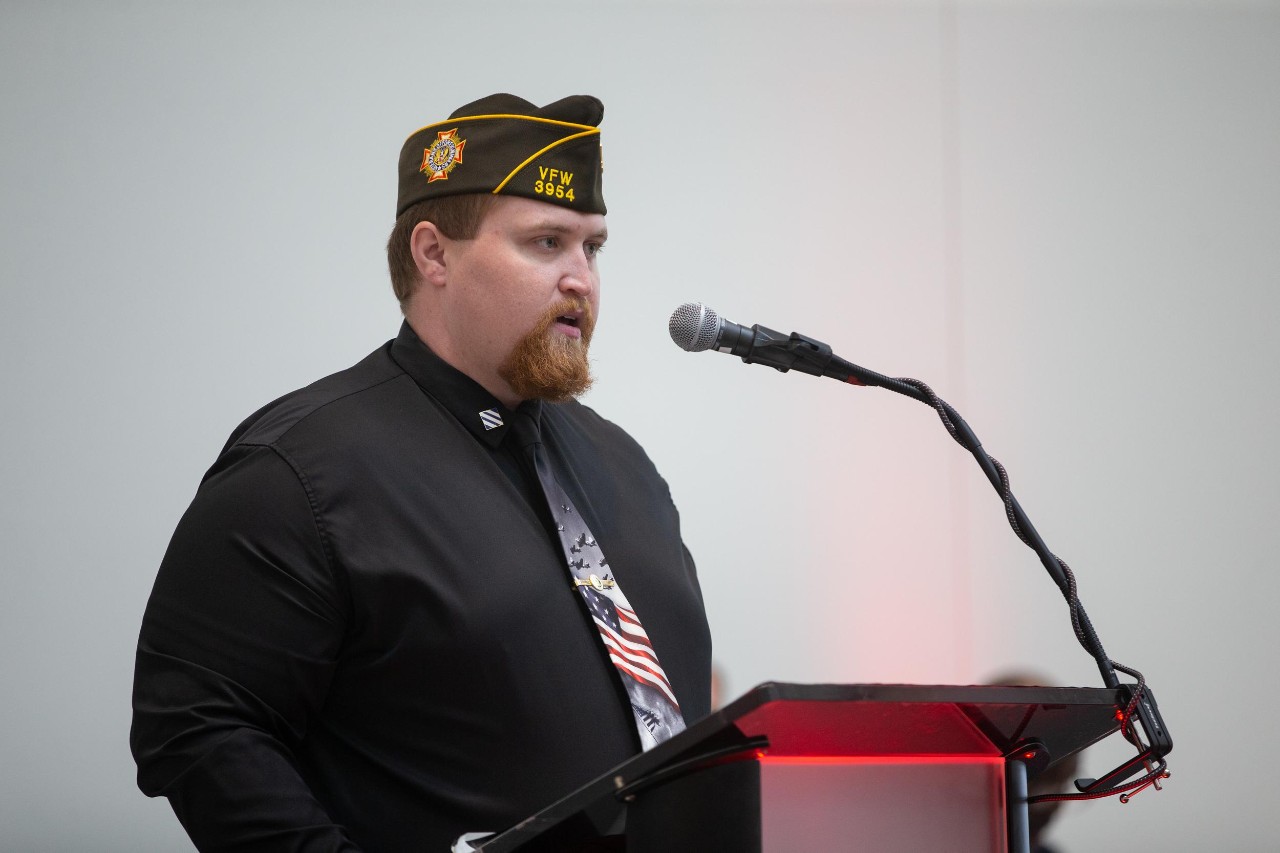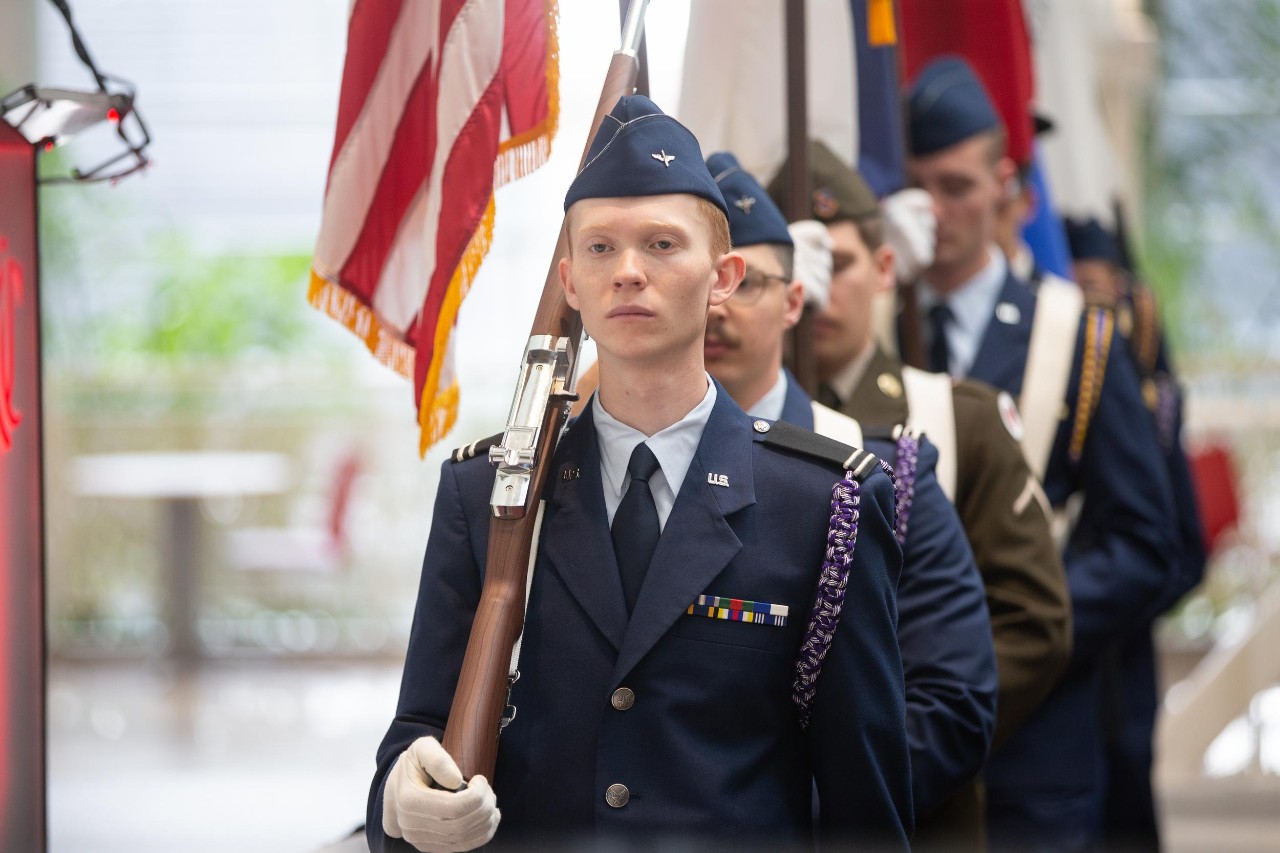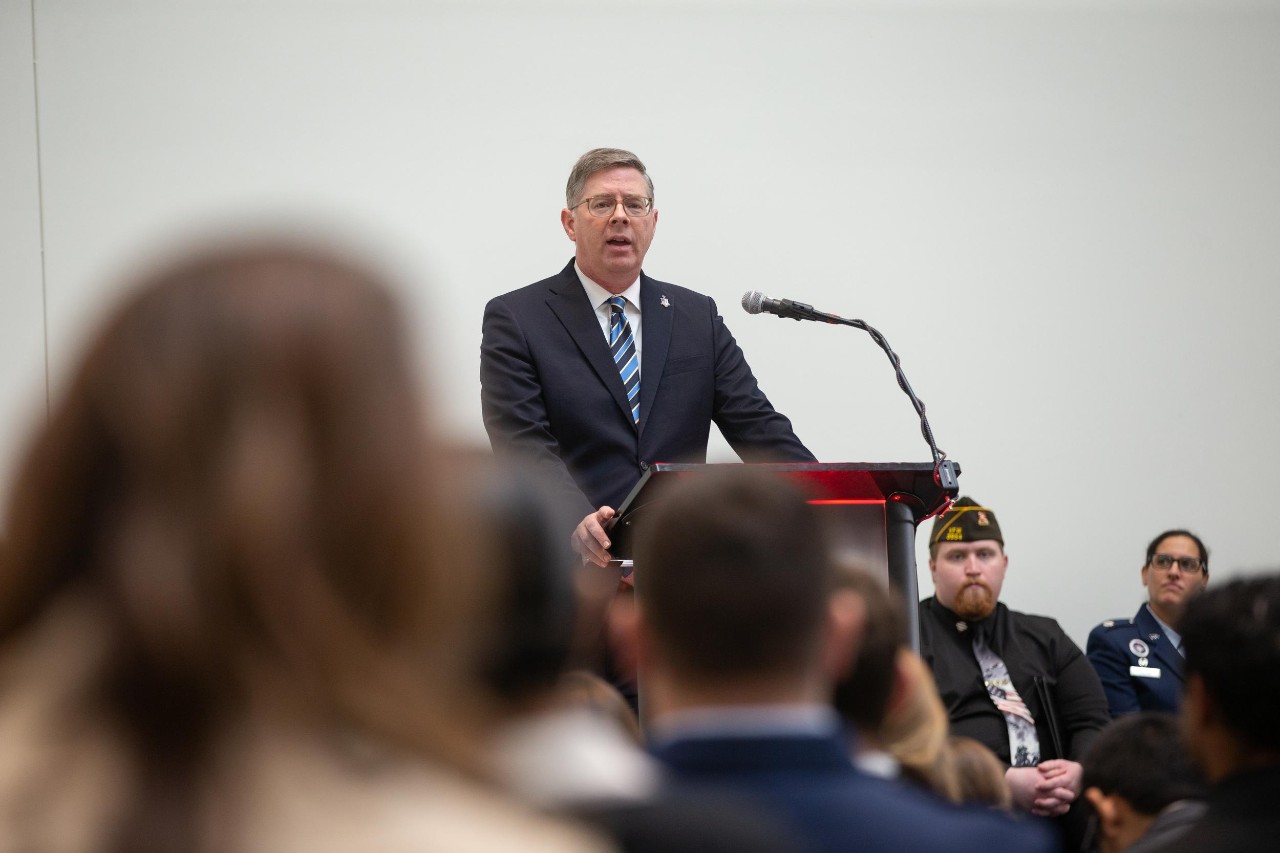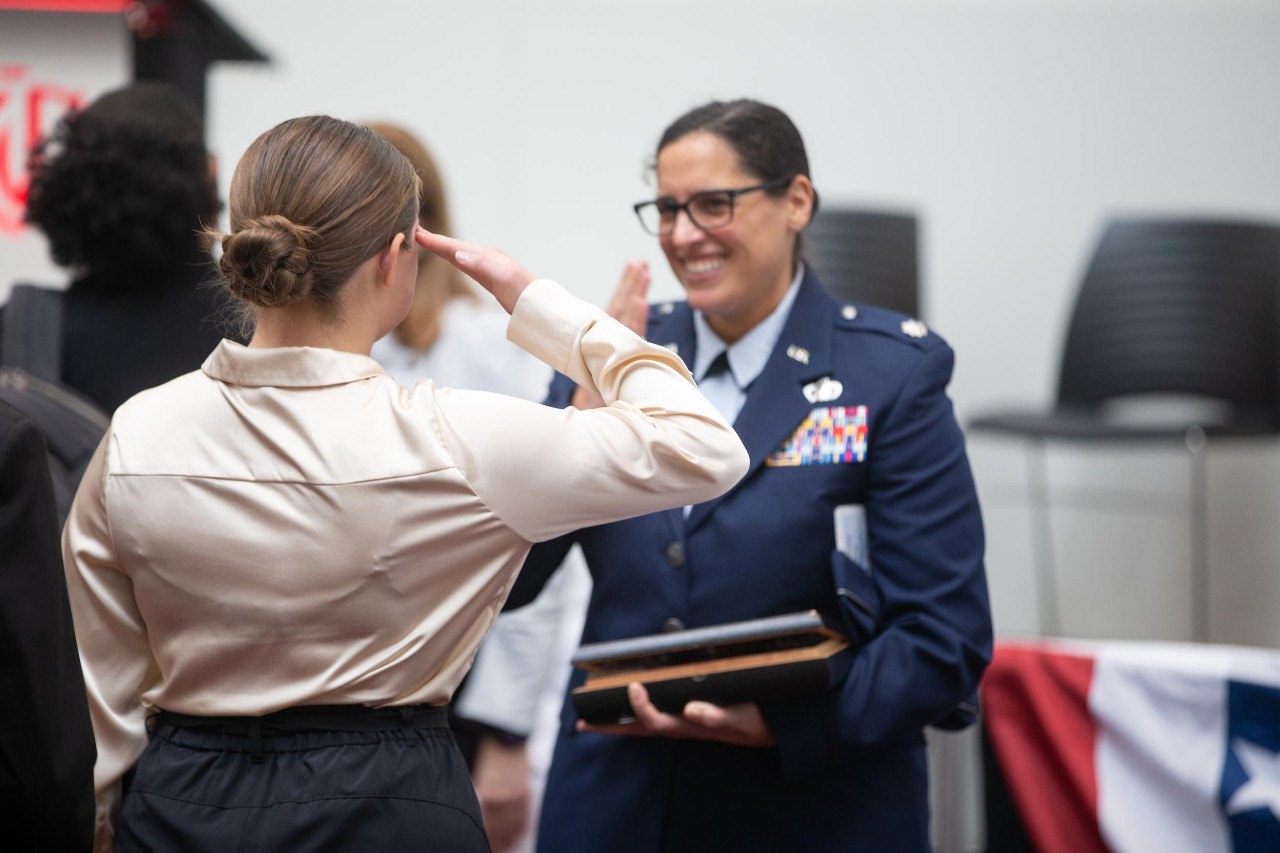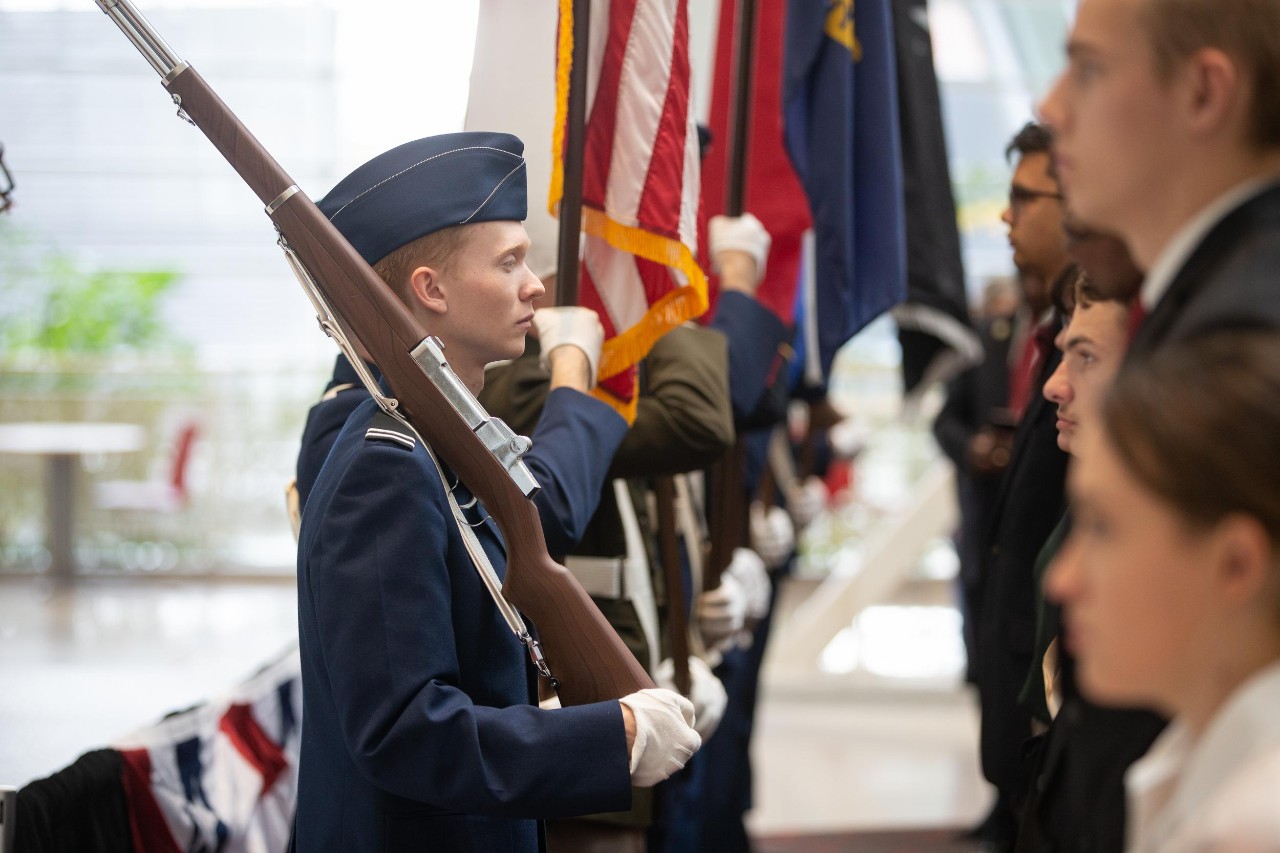 Next Lives Here
The University of Cincinnati is leading public urban universities into a new era of innovation and impact. Our faculty, staff and students are saving lives, changing outcomes and bending the future in our city's direction. Next Lives Here.
1
UC celebrates service and sacrifice of veterans
November 9, 2023
UC paid tribute to military-affiliated students, staff and faculty along with members of the public during its annual Veterans Day ceremony. UC welcomed veterans and their guests to a ceremony at Tangeman University Center honoring their service and sacrifice to the country.
2
President Pinto's 2021 year-in-review message
December 17, 2021
University of Cincinnati President Neville G. Pinto looks back on a historic year that brought students, faculty, staff and the community back together like never before.
3
UC Serves 2023 underscores university's commitment to Cincinnati community
April 27, 2023
This year, the university is celebrating the return of UC Serves – a day for staff and faculty to share the experience of intentional, focused service to the communities surrounding the University of Cincinnati campuses and beyond. The day of service helps connect UC with community neighbors and build stronger connections among university employees. UC Serves brings staff and faculty to the front lines in supporting UC's institutional commitment to service and community impact in support of our local non-profit partners.